These incredible chicken breast recipes are the best way to use up any chicken you've been keeping in the freezer! From chicken soups to sandwiches to pasta and everything in between, there is something on this list for everyone. With so many fabulous chicken breast recipes to try, you will never get tired of having chicken for dinner!
The Best Chicken Breast Recipes
Chicken is one of the most used ingredients in all recipes across the world because it is versatile and can be baked, fried, grilled, or roasted! Not only is chicken breast used as a source of protein, but it is also used for its delicious flavor and excellent texture.
Below we are going to give you multiple unique recipes that all share one common ingredient, chicken breasts! Use these recipes in your own kitchen or feel free to share them with a friend for them to use in theirs!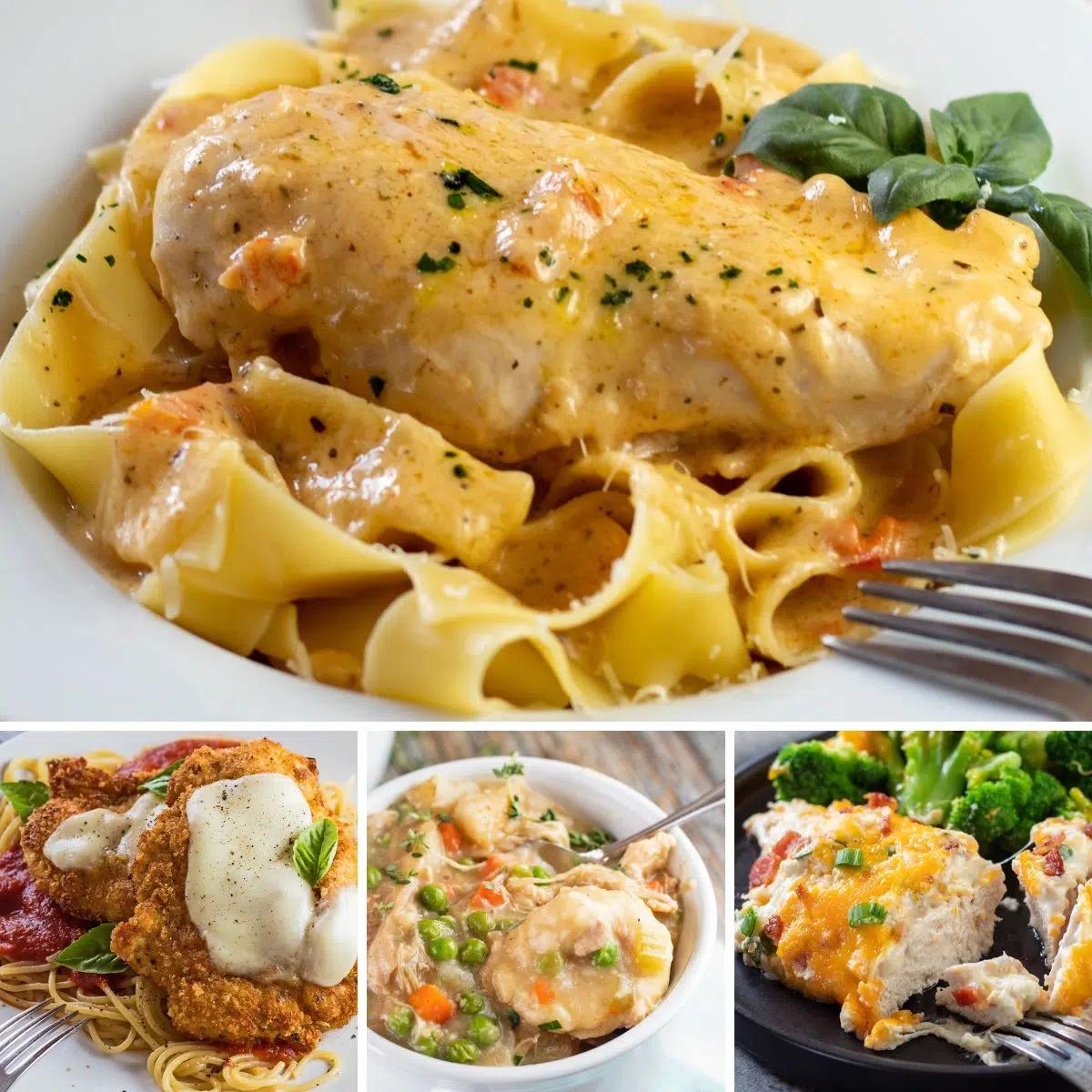 Jump to:
1. Million Dollar Baked Chicken Breast
Million dollar baked chicken breast is moist and cheesy! This succulent chicken breast is made with three types of cheeses and it is topped with crispy, thick-cut bacon!
2. Baked BBQ Chicken Breast
Baked BBQ chicken breast will make your tastebuds dance! This baked BBQ chicken breast is made with a tangy sauce that smothers the chicken and allows all of its moisture to lock in and keep it extra tender!
3. Stuffing Stuffed Chicken Breast
Stuffing stuffed chicken breast is great for all occasions! Whether you have a dinner party or a solo night at home, this stuffed chicken breast is tender and full of flavor!
4. Oven Roasted Bone-In Chicken Breast
Oven roasted bone-in chicken breast is juicy and flavorful. This chicken breast recipe is something everyone will love and enjoy. Serve this at a family dinner or backyard party!
5. Oven Baked Split Chicken Breasts (Bone-In)
Oven baked split chicken breast is a one-of-a-kind dish. They are simple, yet completely perfect for even the pickiest of eaters!
6. Panda Express SweetFire Chicken Breast
If you want a delicious copycat recipe then you must try this Panda Express SweetFire Chicken Breast! This chicken breast recipe tastes exactly like Panda Express and will have your guests thinking you picked it up at the local fast-food chain.
7. Panda Express String Bean Chicken Breast
Panda Express also makes a delicious string bean chicken breast dish that you will love! Enjoy the bold flavors of ginger, garlic, and crushed garlic.
8. Maple Bacon Dijon Chicken Breasts
This maple bacon Dijon chicken breast is just as delicious as its name suggests! This sweet and savory dish is perfectly balanced to allow your guests to thoroughly enjoy themselves.
9. Marry Me Chicken
Marry me chicken is a great dinner dish to make for Sunday dinners! It is creamy and filling with multiple layers of textures.
This marry me chicken recipe has delicious sun-dried tomatoes and freshly grated Parmesan cheese, what more can you ask for?
10. Chicken Marsala
Chicken Marsala is one of the best Italian dishes that you can make! It has the perfect blend of textures and just the right amount of flavors. The Marsala wine really helps take this dish to the next level!
11. Mushroom Swiss Chicken
If you need something savory and cheesy then you should try this mushroom Swiss chicken recipe! This mushroom Swiss chicken has tender mushrooms and perfectly cooked chicken all in one scrumptious meal!
12. Chicken Broccoli Rice Casserole
Chicken broccoli rice casserole is the best dish to serve for a large gathering. It is easy to make and can the recipe can easily be doubled for a big crowd!
13. Shredded Chicken Tacos
Shredded chicken tacos are a great family dinner option! They are customizable with various taco toppings such as lettuce, onions, and tomatoes, or serve them plain for picky eaters!
14. Baked Avocado Chicken
Baked avocado chicken might be the perfect dish! This baked avocado chicken not only has creamy avocado, but it also has mouthwatering cheese and bacon!
15. Rotisserie Chicken Salad
This rotisserie chicken salad is perfect for summertime picnics at the park! If you don't have rotisserie chicken, just roughly chop some chicken breast!
You can pair it with crackers, bread, or even your favorite chips!
16. Instant Pot Shredded Chicken
Instant pot shredded chicken is one of those recipes that you have to try! It's amazingly juicy and perfectly flavored. It's great for gatherings, holidays, or dinners with friends!
17. Baked Huli Huli Chicken
Baked Huli Huli chicken is completely unique and will have everyone talking about it! This Hawaiian chicken has tangy flavors such as pineapple juice and ketchup which bring this dish to life!
18. Creamy Parmesan Garlic Mushroom Chicken
Creamy Parmesan garlic mushroom chicken is just as delicious as it sounds! You can't go wrong with this recipe so make this dish for your next potluck or Sunday dinner with your friends and family!
19. Bisquick Chicken And Dumplings
You will love the soft and savory dumplings and the tender and juicy chicken. This dish is a fan favorite and will not disappoint!
20. Chicken a la King
Chicken a la king is an easy dish to make and is perfect for busy nights when you are short on time! This creamy chicken dish has red bell peppers, mushrooms, and peas. Yum!
21. lnstant Pot Crack Chicken
Instant pot crack chicken is kind of addictive! You won't be able to stop yourself from eating more and more! Eat this Instant Pot crack chicken on crackers, buns, or by the spoonful!
22. Chicken Stuffing Casserole
Chicken stuffing casserole is basically Thanksgiving mashed into one delicious dish! This chicken stuffing casserole is filling and extra savory.
Make this dish on nights when you crave some comfort food!
23. Crock Pot Chicken & Gravy
Crockpot chicken & gravy is hearty and delicious. This crock pot chicken & gravy can be eaten over bread as an open-faced sandwich or on top of mashed potatoes!
24. Chicken with Garlic Sauce
Chicken with garlic sauce is a great dish that has plenty of crisp vegetables. This dish is packed with flavor and is a great meal for all occasions.
25. Chicken Parmesan Sandwich
This chicken Parmesan sandwich is going to be your new favorite way to eat chicken. This sandwich has layer upon layer of flavor and is great for any occasion!
26. Chicken Parmesan Pizza
If you love pizza then you will love this chicken Parmesan pizza recipe! This chicken Parmesan pizza is great for date nights or even birthday parties!
27. Sweet and Sour Chicken
Sweet and sour chicken is tangy and delicious. This sweet and sour chicken is great as a stand-alone meal or add it to a perfectly steamed bed of white rice for a complete experience.
28. Hasselback Chicken With Spinach Bacon & Mozzarella
Hasselback chicken with spinach, bacon, & mozzarella is a dish that you never knew you needed in your life, until now! This creamy chicken dish is great when served with delicious vegetables or pasta!
29. Chicken Manchurian
Chicken Manchurian has the perfect amount of spices without being too overbearing! This dish is great as a main course or even an appetizer.
30. Biscuit Chicken Pot Pie
This biscuit chicken pot pie is extra filling for nights that you are ready to indulge! This pot pie is topped with perfectly baked biscuits and filled with hearty chicken pot pie filling that you will love!
31. Grilled Chicken Fettuccine Alfredo
Grilled chicken fettuccine Alfredo is an excellent option for dinner, maybe even lunch!
This grilled chicken fettuccine Alfredo is extra creamy. You will wonder why you didn't make it sooner!
32. Chicken Parmesan
Chicken Parmesan is an Italian classic. This chicken Parmesan is easy to make and tastes restaurant-quality!
33. Hibachi Chicken
I love hibachi chicken, especially this recipe! This hibachi chicken is made with fresh mushrooms and tangy lemon juice to create a flavor explosion in your mouth!
Top this hibachi chicken on a bed of white rice or brown rice to complete the meal!
34. Coconut Chicken
Coconut chicken is a great recipe for coconut lovers! This dish is made with coconut oil and coconut milk and tastes just as good as it sounds!
35. Italian Chicken Pastina Soup
Italian chicken pastina soup is the best dish to make for cold or rainy days! Serve this soup with a piece of your favorite bread topped with creamy butter!
36. Chicken Spaghetti with Rotel
Chicken spaghetti with Rotel is a quick and easy family dinner to make any day of the week!
If you don't have spaghetti noodles at home, no worries! Replace the spaghetti with fettuccine, linguine, or penne pasta!
37. Instant Pot Mongolian Chicken
Instant Pot Mongolian chicken is an easy meal to make in under 20 minutes! If you are running low on time tonight, this recipe is perfect for you!
38. Panda Express Mushroom Chicken
Panda Express mushroom chicken is a copycat recipe from the Chinese fast-food chain, Panda Express. This mushroom chicken has bold flavors such as ginger, garlic, and soy sauce that blend perfectly together.
39. Chicken Pot Pie
This chicken pot pie is great comfort food for any time or reason. It is thick and hearty with loads of veggies and sauce.
40. Panda Express Kung Po Chicken
Panda Express Kung Po chicken is an excellent choice, and it's even better when it is made at home with our copycat recipe! Enjoy making this Panda Express Kung Po chicken in the comfort of your own kitchen!
41. Hunan Chicken
Hunan chicken is one of my favorite dishes to get at my local Chinese take-out restaurant. This Hunan chicken recipe is just as tasty and can be done without leaving your house!
42. Best Chicken Tortilla Soup
This chicken tortilla soup will leave your mouth and stomach excited and waiting for more! Make a large batch of this delicious soup and have everyone you know to come over for dinner this weekend!
43. Slow Cooker Crack Chicken
Slow cooker crack chicken is both creamy and extra cheesy! This crack chicken is made with cream cheese and cheddar, making it thick and perfectly scoopable!
44. Zoodles With Ginger Sesame Teriyaki Chicken
Zoodles with ginger sesame teriyaki chicken is a healthy meal that is great for people who want to limit their carbohydrate intake. This delicious dish is made with more than just Zoodles made from squash and zucchini, it's made with love!
45. Chicken Club Sandwich
This chicken club sandwich is multiple layers of flavors that blend together perfectly. This sandwich has layers of chicken, bacon, avocado, tomato, and red onion. Don't forget the mayo!
46. Crock Pot Butter Chicken
Crock Pot butter chicken has many flavors that blend together in an undeniably amazing way. The aroma fills the air with the delectable smells of the spices and herbs used to create this masterpiece.
47. Chicken Cordon Bleu Bake
This chicken Cordon Bleu bake is surprisingly easy to make and will have your guests believing that you spent all day prepping in the kitchen! This imitation gourmet meal is great for Sunday dinners or afternoon potlucks.
48. Slow Cooker Chicken Alfredo
Slow cooker chicken Alfredo is a full meal all in one spectacular dish! This slow cooker chicken Alfredo recipe is loaded with heavy cream, cheese, and butter!
49. Crock Pot Chicken and Dumplings
These slow cooker chicken and dumplings will keep you warm and happy. Enjoy these dumplings with your friends and family or make the whole pot for yourself!
50. Parmesan Crusted Chicken
Parmesan crusted chicken is a true gem of a dish! Pair this recipe with sautéed vegetables or roasted potatoes and make it a full meal!
With so many fabulous chicken breast recipes to choose from there is no doubt that you will find one that is perfect for you and your family! Let us know in the comments below how each recipe turned out!
📋 Recipe