All of my Hibachi Recipes for making hibachi at home, from chicken and beef main dishes to hibachi fried noodles, rice, vegetable sides, salad dressing, and addictive dipping sauces! Fan-favorite hibachi dinners like hibachi chicken, hibachi noodles, Yum Yum sauce, and Benihana's authentic recipe salad dressing, and much more!!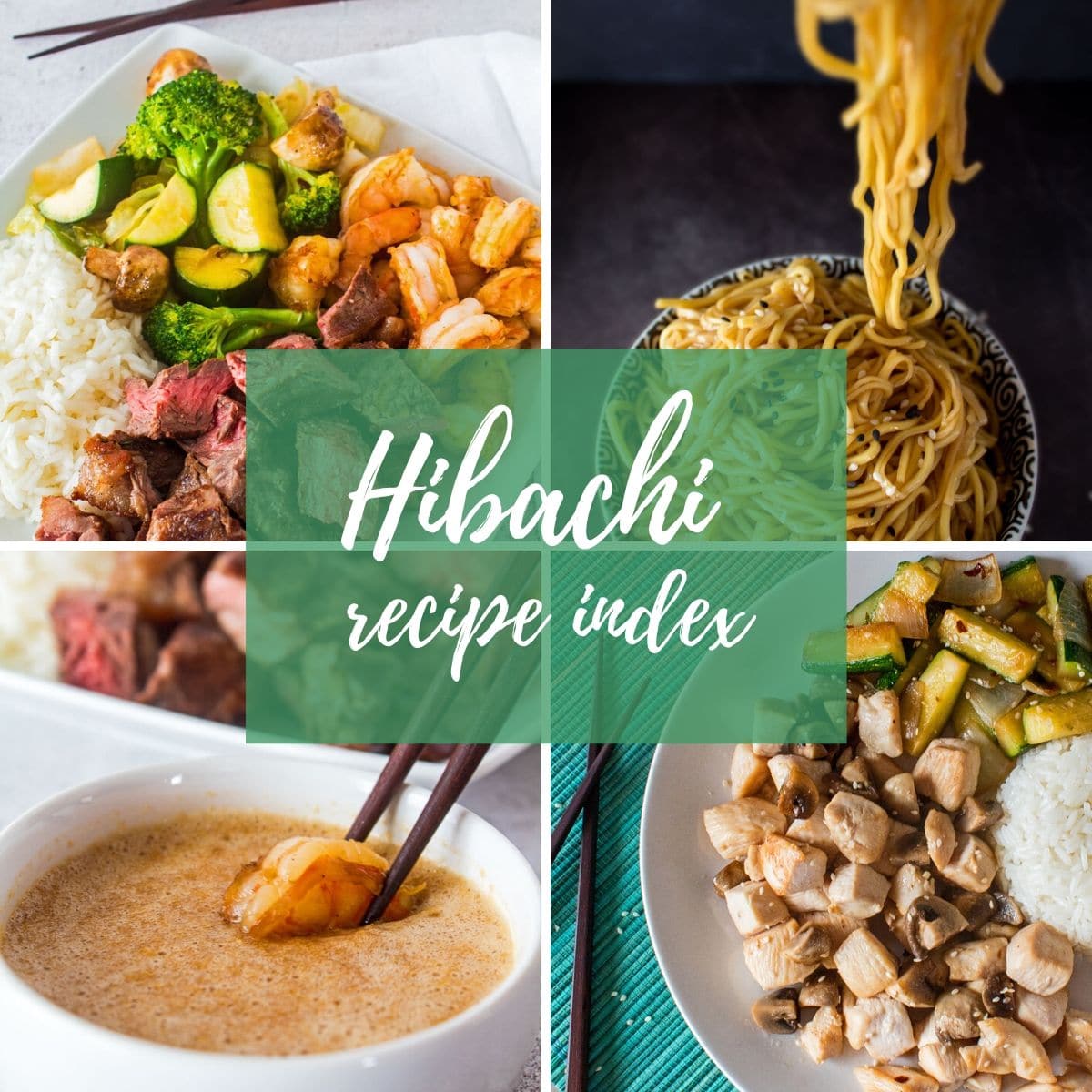 Homemade Hibachi Recipes (Japanese Steakhouse and Benihana Copycat Recipes for Hibachi Dinner At Home)
I love making these quick and easy hibachi recipes at home! Tasty Japanese steakhouse-style homemade hibachi dishes are really fast to get on the table for fantastic family hibachi dinners any night of the week!!
If you're a super-fan of Benihana's like my family is, you'll absolutely love each of these recipes too! So give them a try and let me know what your favorites are!
Do you have a Blackstone grill? My lovely husband just unboxed and assembled my new grill and I couldn't be happier!!
This has got to be the coolest thing ever for better-than-restaurant hibachi grilling! Plus I'm beyond elated to have an outdoor grilling option to save the kitchen from heating up in the summertime.
There's another bonus to making hibachi dinner at home, as you can skip the hibachi buffet prices. Everything you need to make an entire hibachi menu is right here!
My fixation with Benihana recipes hit an all-time high when they had their recipes listed on the Benihana website. Quite a few of these recipes that I share here are the real deal authentic recipes, just as shared online in the early 2000s. Enjoy!!
Jump to:
Hibachi steak and shrimp is a great surf and turf meal that is an affordable, quick meal to make! Plus, the tender shrimp and juicy steak are unbelievably delicious. You simply can't go wrong with this entree as the star of your hibachi night!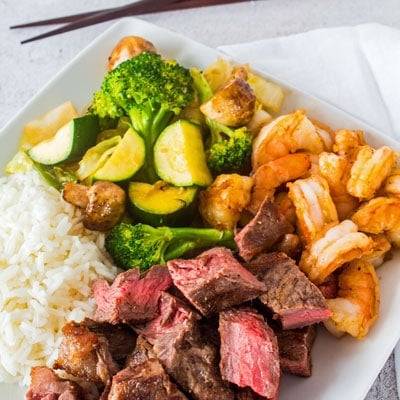 Hibachi Chicken is a delightfully tasty entree that is a great lighter fare option! The bite-size pieces of chicken cook up super fast, so getting dinner ready is a snap! The whole family will love this easy chicken dinner!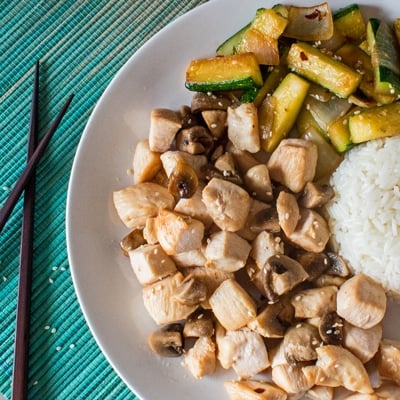 My Hibachi Noodles are just the way you remember them! They're fabulously tasty, and perfect to pair with any hibachi entree! Pile on some veggies and meats for the best ever hibachi bowl lunch or dinner!!
Hibachi Zucchini & Onions is the perfect side to serve with any meat and a family favorite! They're seared to just the right amount of tenderness, and taste of that super just-grilled flavor!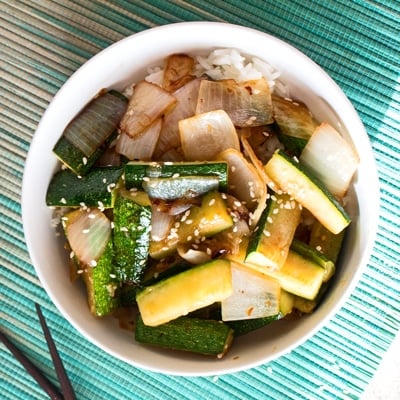 My authentic recipe Benihana Ginger Salad Dressing is a long-standing fan favorite here on the blog! It blends to perfection, just be sure to let the flavors 'marry' in the fridge for a while ( it's so much better on day two )!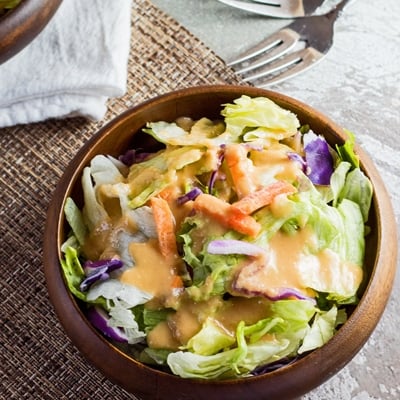 There's no mistaking the delicious Hibachi Ginger Dipping Sauce flavor! It's the perfect sauce to dip your homemade hibachi meats and vegetables into!!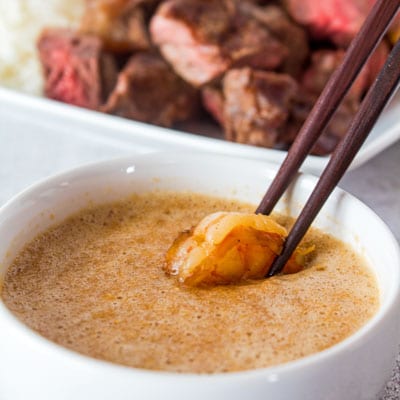 Hibachi Vegetables pair perfectly with any meat entree you make hibachi-style! Tasty and seared slightly, but left with a touch of crunch for a super fresh vegetable side dish!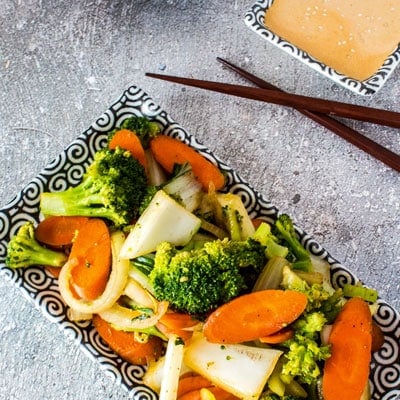 Fantastic and easy to make Yum Yum Sauce is almost as popular as the ginger salad dressing, and for great reason! It's a deliciously tangy sauce to dip everything in ( hibachi or not )!
Hibachi Fried Rice is the perfect side to any hibachi night dinner! It's a quick and easy side to make, and a great use of leftover rice!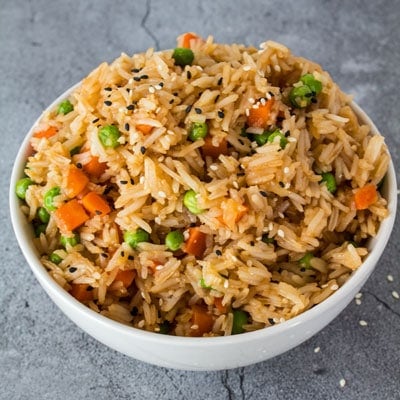 My husband's heart dipping sauce, the Hibachi Mustard Sauce aka Magic Mustard Sauce, is a wonderful dipping sauce for all of your grilled favorites! This sauce is creamy, filled with flavor, and absolutely perfect when served warm!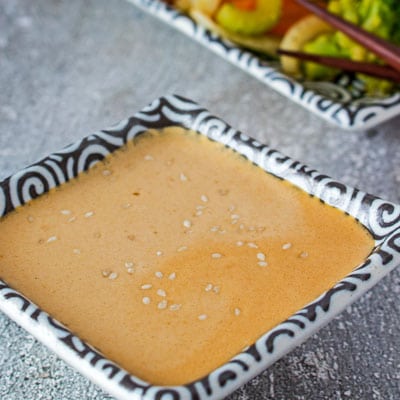 Amazingly tasty onion broth soup topped with thin-sliced mushrooms, sliced green onions, and a smattering of fried onions! It's an incredibly easy soup to make, and it's the perfect light soup to enjoy before your hibachi dinner!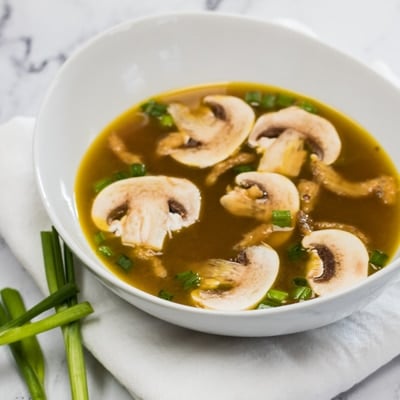 Super soft and perfectly seared scallops are the hit of this dish! Keeping it simple means that the truly addictive delicious scallop flavor truly shines as the star of your entree! Mix and match these fabulous scallops with some of the other great hibachi recipes here for a complete meal!!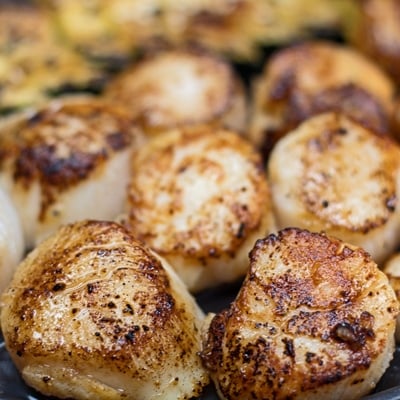 Perfectly seared salmon with just the right amount of hibachi flavor! Garlic and ginger are infused into the hibachi cooking oil before adding the salmon to finish with an amazing flavor!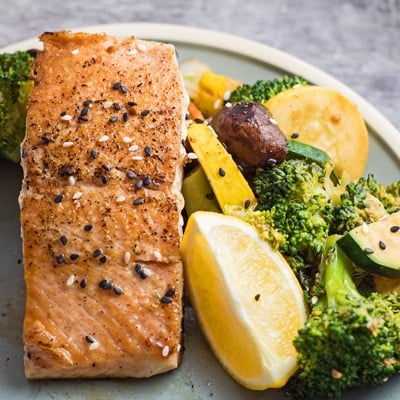 I have more authentic recipes that I have saved from the old version of the Benihana website, so watch for more fabulous hibachi meal ideas to be added to the blog soon!
Is there a Japanese steakhouse-style recipe that you'd like to see added? Leave a comment and let me know!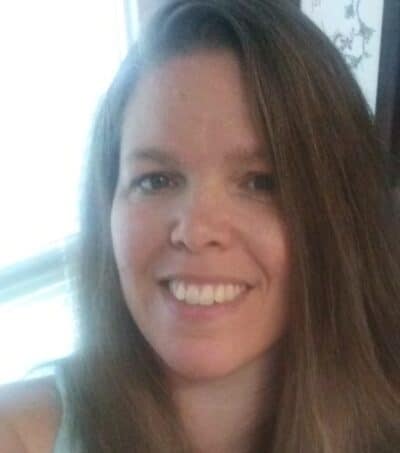 Angela is an at home chef that developed a passion for all things cooking and baking at a young age in her Grandma's kitchen. After many years in the food service industry, she now enjoys sharing all of her family favorite recipes and creating tasty dinner and amazing dessert recipes here at Bake It With Love!