Chicken casseroles are an easy way to feed the whole family and many of them can be made in advance to save even more time! Baking everything in one dish means less cleanup, too! Just take a look at these incredible casserole dinners and you might find a new family favorite recipe for busy weeknights!
Best Chicken Casserole Recipes
Just about everyone has a family-favorite chicken casserole they remember from growing up. Because casseroles usually call for simple ingredients and very little prep time, they are a go-to recipe for parents everywhere!
If you're looking for some more easy weeknight dinners to work into your rotation, you've come to the right place. Just take a look at how many flavor combinations and varieties of chicken casserole there are to choose from!
Jump to:
1. Ritz Chicken Casserole
This super easy recipe is ultra-creamy with plenty of cooked chicken and a crunchy Ritz cracker topping. With just 7 simple ingredients, it's a perfect choice for dinner any day of the week!
From start to finish, the whole thing takes about 35 minutes. Not to mention, you can totally freeze it and save it for dinner another night.
2. Doritos Chicken Casserole
This Doritos casserole is always a hit with the kids. It's loaded with black beans, onion, cream cheese, chicken, tomatoes, taco seasoning, cream of chicken soup, and of course, nacho cheese Doritos.
It's crunchy, creamy, and cheesy in one easy-to-make 9x13 casserole
3. Chicken Divan Casserole
Chicken Divan is a classic family dinner recipe that can even be made with leftover or rotisserie chicken! It is filled with chicken, rice, broccoli, and lots of cheese.
You can make it up to 2 days in advance or freeze it for dinner another time.
4. Chicken Broccoli Rice Casserole
This cheesy chicken, broccoli, and rice casserole is true comfort food. Not to mention, you can have it on the table in under an hour and it freezes like a dream!
5. Chicken Stuffing Casserole
Boxed stuffing mix, mixed vegetables, cooked chicken, south cream, and seasonings all combined in one tasty casserole. If desired, you could even use leftover or rotisserie chicken to cut back on prep time!
6. Biscuit Chicken Pot Pie
Chicken pot pie just got easier with this simple version made with biscuits! It has all the classic flavor you know and love, just without a bottom crust.
7. Chicken Spaghetti
Cheesy chicken spaghetti is a family-favorite dinner recipe that you'll want to make again and again. Especially once you see how easy it is!
Heavy cream and Velveeta cheese make this casserole super creamy. It's incredibly flavorful for a recipe that's so simple.
8. Chicken Cordon Bleu Bake
This twist on a traditional cordon bleu is a much easier version that can be in the oven and on the table in no time. It's made by layering chicken, ham, Swiss cheese, and last but not least, buttery Ritz crackers.
9. Creamy Chicken Casserole
Egg noodles, cooked chicken, peas, and onions, all in a creamy chicken sauce. All you have to do is cook the pasta, combine all the ingredients, and bake. Anyone can do it!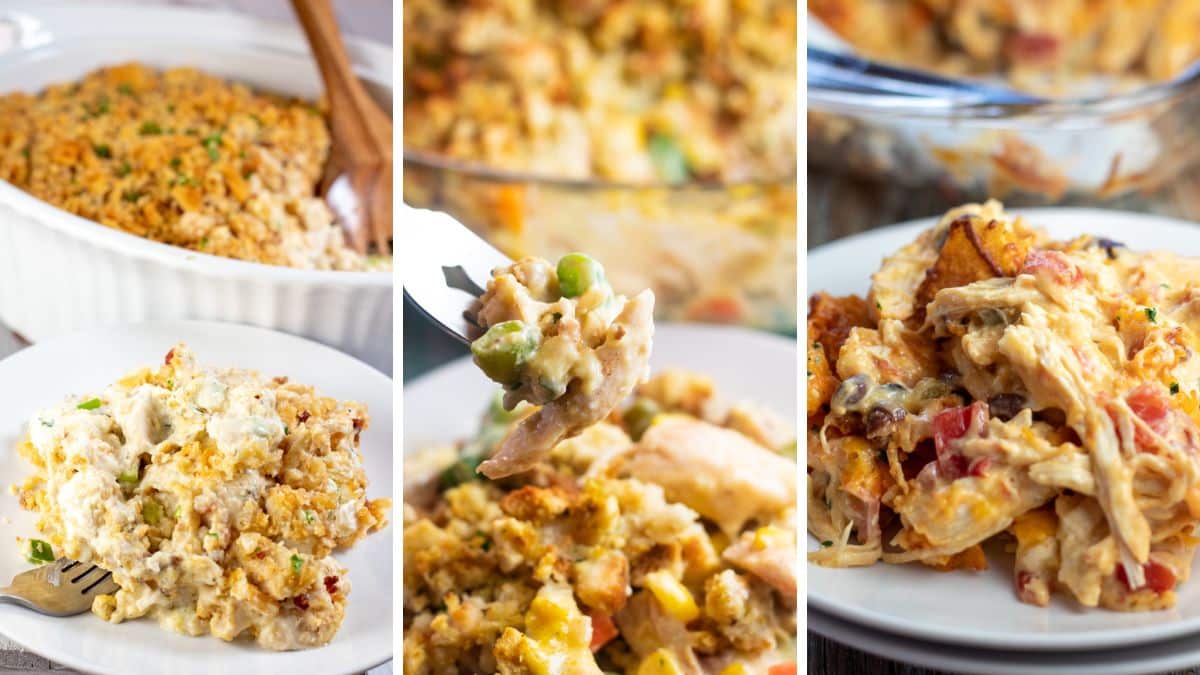 10. Chicken Noodle Casserole
This chicken noodle casserole is also made with egg noodles but includes olives, bell pepper, mushrooms, and a cheesy cornflake topping. It's so creamy and flavorful, be prepared for your family to request this one weekly.
>>>>See all of my recipes HERE<<<<
11. Million Dollar Chicken Casserole
This casserole will have you feeling like you just hit the jackpot. With cream cheese, sour cream, cottage cheese, and cream of chicken soup, the sauce is so rich and indulgent it's hard to resist.
Top it all off with some crushed Ritz crackers and you'll be wondering where this recipe has been your whole life!
12. Crack Chicken Casserole
This casserole gets its name from being downright addicting. With crispy bacon, cream cheese, perfectly cooked chicken, and ranch seasoning, what's not to love?
13. Chicken Bacon Ranch Casserole
You only need 6 ingredients to make chicken bacon ranch casserole. The first 3 are obvious, but it also includes penne pasta, alfredo sauce, and of course, cheese!
You can have it on the table in less than an hour, but it freezes wonderfully too!
14. Fajita Chicken Casserole
If you're looking for some Mexican flavor, this casserole is perfect for you. It's super quick to toss together and you can still use add your favorite fajita toppings like salsa, sour cream, or jalapenos.
15. Confetti Chicken Casserole
Chicken, kale, and corn all come together in this cheesy, comforting casserole. It's flavorful and definitely a good way to work some veggies into your diet. Oh, and did I mention there's bacon?
16. Chicken and Mushroom Casserole
Chicken mushroom casserole, or chicken Gloria, is a rich and flavorful dish your whole family will love. It's perfect for parties or potlucks, too!
Leftover chicken and mushroom casserole reheats wonderfully, so you can even bring leftovers to lunch the next day.
17. French Onion Chicken Casserole
All you need is 5 ingredients to pull off this creamy casserole- chicken, cheddar cheese, sour cream, French onion dip, cream of chicken soup, and some crispy fried onions. It's easy, delicious, and best of all, it's ready in just 30 minutes!
Have you tried making any of these delicious chicken casseroles? Be sure to come back and let me know which ones were your favorite by commenting below!
🍗 More Chicken Recipes
📋 Recipe