After seeing these taco recipes, we will have you believing that anything can be made into a delicious taco for a hearty meal! There's a recipe for vegetarian tacos, fish tacos, spicy meat tacos, even dessert tacos- try one or try them all!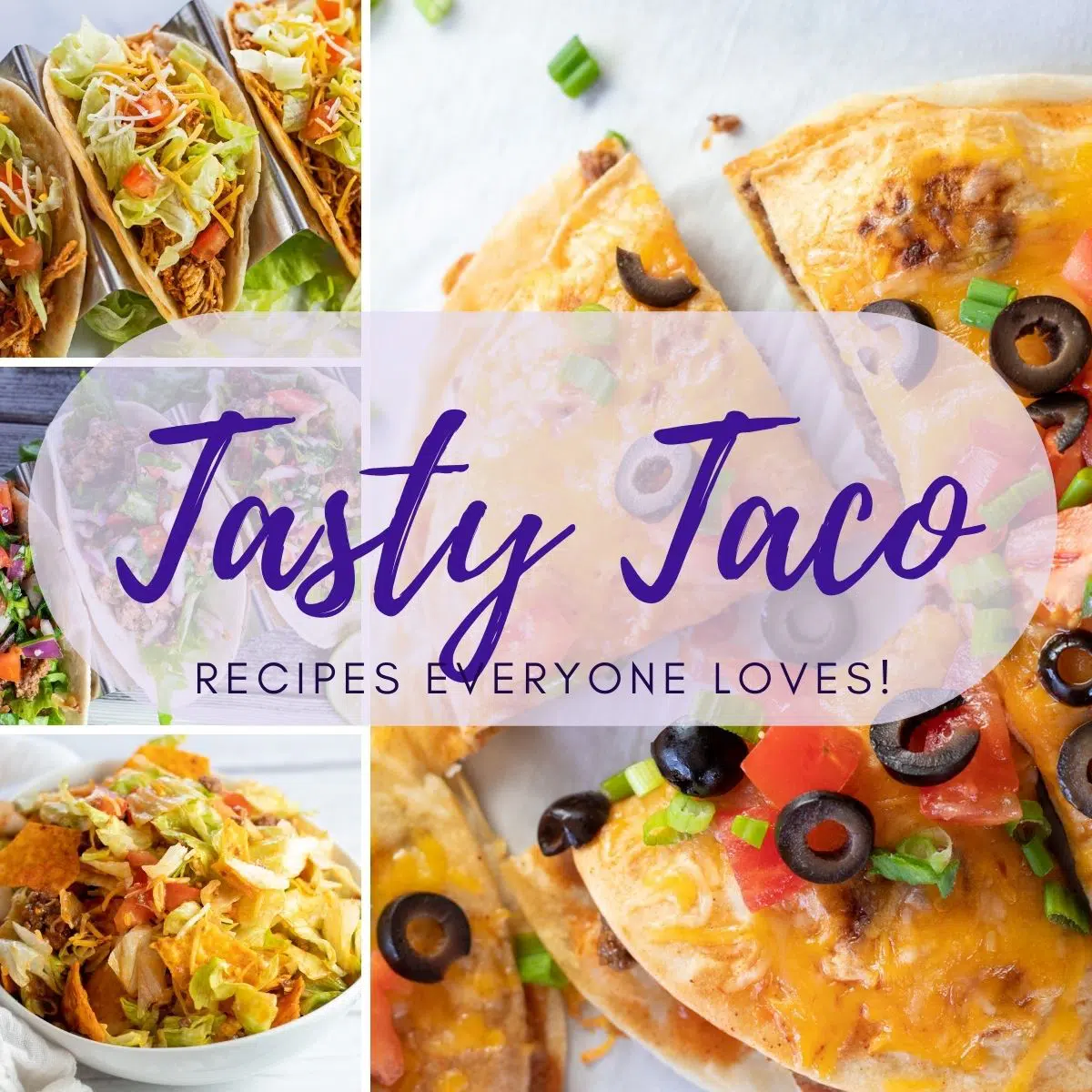 Our favorite and most flavorful taco recipes that you just have to try!
I don't know about you, but when I hear the word taco, my mouth begins to water, and I instantly become very hungry! I mean they even have their own day! Hello, taco Tuesday!
Did you know that there are many different ways to make tacos? Even the kiddos will enjoy some of these fun and unique taco ideas!
Jump to:
If you want the best taco recipes for your taco night, look no further- we have the best 15+ taco recipes right here!
Don't forget the basics before you get started! Try my homemade flour tortillas, taco seasoning, chicken taco seasoning, pico de gallo, salsa verde, and guacamole too!!
Then be sure to check out my guide for what to serve with tacos to round out your night!
1. Carnitas Tacos
If you love authentic Mexican flavors you will surely enjoy these savory carnitas tacos! I can easily eat more than one serving of these delicious tacos!
Switch it up and use hard or soft taco shells for an experience that everyone will love!
2. Black Bean Tacos
Black beans are so versatile­! They can be used as a side dish, or to make delicious black bean tacos!
Spice them up with jalapeños, or cool them down with sour cream!
3. Cilantro Lime Shrimp Tacos
Sometimes we just need some bold and tangy flavors to satisfy what our palates are craving! Cilantro and lime is a classic flavor combination that pairs perfectly with grilled shrimp.
Cilantro lime shrimp tacos will leave you completely satisfied!
4. Veggie Tacos
No meat? No problem! Hearty veggie tacos are so filling, you won't even realize that they were vegetarian!
Made with fresh summer veggies like zucchini, green chilis, and tomatoes, these tacos are jam-packed with flavor!
5. Turkey Carnitas
Slow cooked turkey meat is the way to get the best ever carnitas meat with this flavorful recipe! It's the perfect use for dry or not-so-tender leftovers, and an amazing meal!
Top it all off with salsa fresca, keeping it simple to let the flavors shine!
6. Walking Tacos
This taco is a childhood classic for me! Walking tacos aren't really tacos at all. They are all of your favorite taco toppings and flavors piled in a bag of your favorite chips!
If it were a contest of efficiency and convenience, these would take the cake! Whenever I make walking tacos I feel like a kid again!
You can also try my walking taco casserole for an easy weeknight dinner!
7. Crispy Potato Tacos
Crispy potato tacos! Yes, please! I will gladly eat these yummy tacos any day of the week!
These meat-free tacos are still substantial and filling because they are full of crispy fried potatoes! Add your favorite taco toppings and you have yourself a unique, delicious taco that everyone will be talking about.
8. Spicy Chicken Tacos
If you like a little heat when you eat, spicy chicken tacos are just what you need!
Shredded chicken and chipotle powder make a unique taco that goes perfectly with a refreshing margarita. Make these for the foodies in your life who like a little spice!
9. Queso Fundido Tacos
You are never too old to try a new type of taco! Queso fundido tacos are full of ooey, gooey cheese, and crumbly, flavorful chorizo.
Add some veggies, or eat them as-is, these tacos are addicting either way!
10. Fried Fish Tacos (Baja Style Fish Tacos)
Fried fish Fridays can now be fried fish taco Fridays! Crispy fried fish with a drizzle of avocado crema and the ease of eating a taco? Sign me up!
Add a squeeze of lemon or lime and you will be in taco heaven.
11. Shredded Chicken Tacos
These shredded chicken tacos are incredibly easy to make and absolutely packed with flavor. Use some salsa to take your plain shredded chicken to smothered chicken delicousness!
These tasty chicken tacos are quite the treat and will definitely be a family favorite for taco night! Add your favorite toppings to make them just how you like them!
12. Chicharron Tacos
Crispy chicharron pork rinds are irresistible when paired with an easy salsa verde in this one-of-a-kind taco!
Chicharron tacos are a unique and flavorful option that is sure to wow and impress.
13. Ground Venison Tacos
Ground venison tacos are quick, flavorful, and a nice change from typical taco meat! This recipe yields totally tasty, perfectly seasoned ground venison that doesn't taste gamey at all.
Venison tacos taste amazing with any type of tortilla and with any of your favorite toppings!
14. Calamari Tacos
Who said calamari can't go into a taco? Crispy fried calamari and fresh homemade slaw are a match made in heaven!
Because squid cooks quickly, you can have unique gourmet tacos ready in a flash!
15. BBQ Pork Tacos
BBQ pork is a sign of summertime where I come from. BBQ pork tacos are the perfect combination of sweet and savory!
Seve them with a cold glass of sweet tea and you have a taco dinner that will leave everyone full and happy.
16. Birria Tacos
Mexican birria tacos are are savory, sweet, tangy, and just a tad bit spicy. If you're looking for flavor, these tacos have it all.
Traditionally made with goat meat, birria is rich and savory which adds a uniquely satisfying element to tacos. If you aren't a fan of goat, there are plenty of alternatives you can use to the same effect!
17. Plantain Tacos
Are you familiar with plantains? You may know them more for being sweet if you are, but if you buy green plantains, they are quite savory!
Delicious plantain tacos with black beans are a wonderful savory meal! Plus, they're budget-friendly, too!
18. Prime Rib
Talk about fancy! Prime rib tacos are a real treat when you have extra prime rib leftover from the holidays.
Chunks of perfectly cooked beef, pico de gallo, and queso fresco are all you need to make these savory and satisfying street-style tacos. Dip them in your favorite salsa and dig in!
19. Tacos Dorados
Tacos dorados are made using corn tortillas that are somehow both perfectly crispy while also being slightly chewy and pliable.
It is by far my favorite way to make crispy hard taco shells because thy will hold all the toppings you can handle without falling apart! Fill them with seasoned ground beef and enjoy!
20. Baked Apple Pie Tacos
Everyone likes a sweet treat after they have a nice hearty dinner, and what better than this fun twist on apple pie! Start out with my incredible baked cinnamon apples for this addictive dessert treat!
Indulgent apple pie tacos are a dessert to remember. Top them with a scoop of your favorite ice cream and you will be coming back for more!
🌮 More Great Taco-Inspired Recipes!
We hope we have inspired you to make some delicious tacos for your next meal! Now that you are hungry, it is time to get in the kitchen and find your new favorite taco recipe!
📋 Recipe