Microwave popcorn is a timeless classic and believe it or not, you can make your own with just some popping corn and a brown paper bag! Best of all, this popcorn is incredibly quick and easy, and you can salt and butter it exactly how you like it!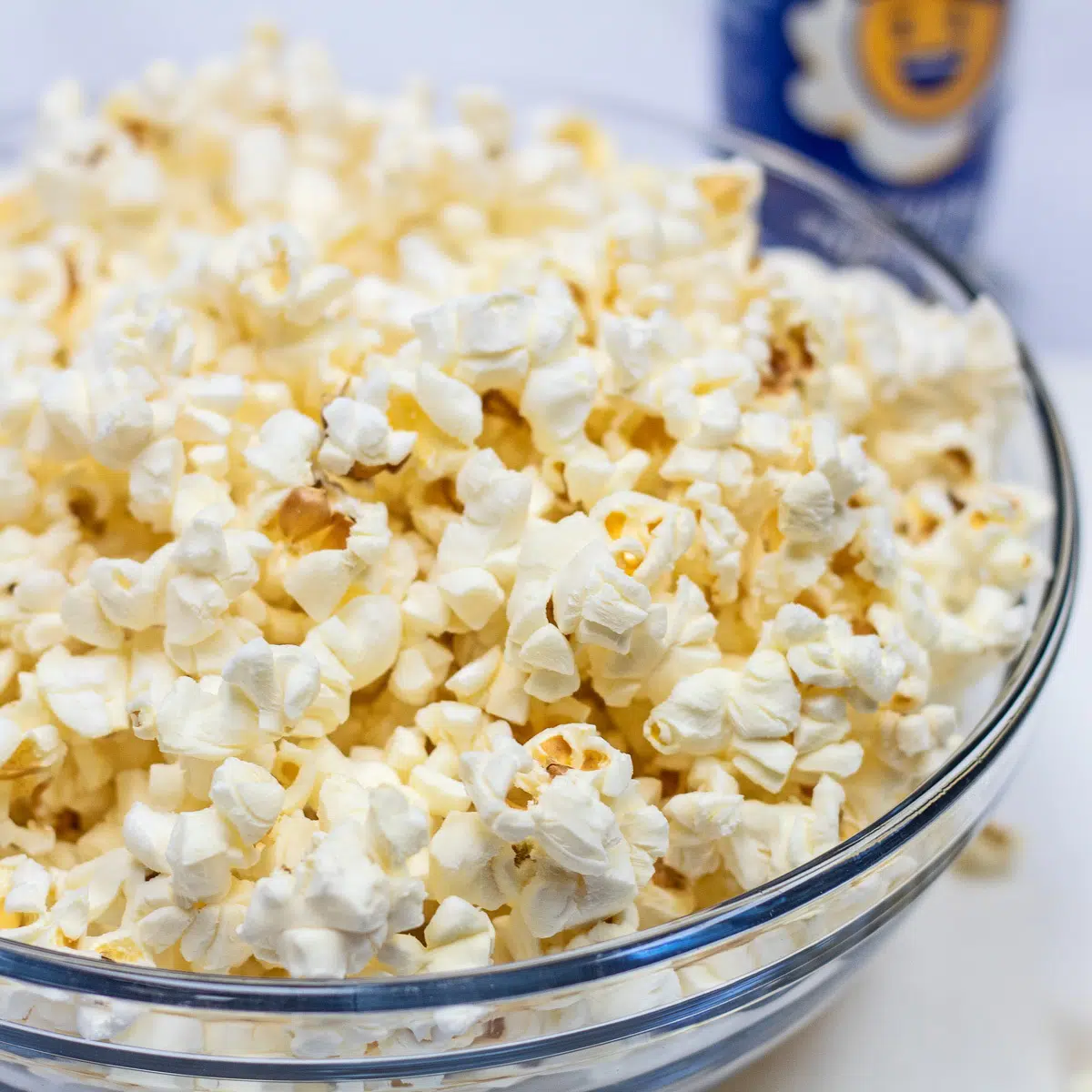 Make your movie nights even better with quick, easy, and delicious microwave popcorn!
If you've never made your own popcorn before, you're in for a treat. It's almost as easy as microwaving a bag, but with the perks of adjusting your own seasonings for the perfect level of saltiness!
When movie nights are a regular part of your week, making your own popcorn can not only be cost-effective, but it can be healthier. No preservatives or extra ingredients on this nutrition label!
Jump to:
The only things in this recipe are vegetable oil, popcorn, and some salt. Don't worry, though, if you're a butter-lover, you can add that, too!
Whether you're having a date night, a family movie marathon, or a sudden craving, this quick recipe will do the trick! Plus, your house will smell amazing when you get done.
❤️ Why You'll Love This Recipe!
Scalable! It's just as easy to cook for 1 as it is for 5 if you have a big enough microwave!
Personalize It! There are loads of different ways to flavor popcorn, so adjust it to your tastes!
It's Simple! There are only 3 ingredients and an equal number of easy steps! 
🥘 Ingredients
After you make this, you'll always keep these things on hand. Popcorn makes a great snack year-round!
½ cup Unpopped Popcorn - For those who haven't bought plain, unpopped popcorn before, you'll find it next to the microwavable bags in the grocery store.
1 teaspoon Vegetable Oil - This adds subtle flavor and helps the salt stick to the kernels.
½ teaspoon Salt - You can add this to taste, if you prefer saltier popcorn, add more!
*Be sure to see the recipe card below for ingredients, amounts & instructions!*
📖 Variations
Cayenne Pepper and Garlic Powder - Spicy garlic is awesome, and the heat keeps you from eating it too fast! 
Black Pepper, Parmesan, and Olive Oil - This is one of my favorite combinations. The olive oil helps the cheese and pepper stick and makes an addictive mix. Note that you can use any flavored-infused olive oils to cook the popcorn in or add as a topping. Just use a drizzle, or the popcorn will get wet and slimy!
Rosemary and Lemon Pepper - Rosemary and lemon go great together. In fact, I think you can even buy this flavor of popcorn from Trader Joes. Now you can make your own! For extra rosemary flavor, infuse the olive oil before popping.
Butter or Garlic Butter - Add this after it has popped for a movie theater-style bowl. Remember, you can get creative with your butter, infusing it with herbs, spices–and yes, garlic– before pouring it over the corn.
Tajín Clásico Seasoning - This delicious combination of chili peppers, lime, and sea salt makes a fantastic popcorn flavoring! Just hold off on the salt until after you add this and taste it. This spice has some salt already mixed in.
Popcorn Seasoning - This is one of my favorite things to top my popcorn with! Shake on some ranch, garlic Parmesan, butter, nacho cheddar, cheesy jalapeno, kettle corn, bacon....and the ideas are endless! I actually usually build a whole 'popcorn bar' and let us each customize our popcorn bowls. Yum!
🔪 Step-By-Step Instructions
Only 3 ingredients for a whole world of flavor. All you need is a brown paper bag or a silicone sandwich bag and a glass bowl.
Prep the popcorn. To begin, mix ½ cup unpopped popcorn with 1 teaspoon vegetable oil. All of the kernels should be coated.
Put it in the bag. Transfer the prepared popcorn into a brown paper bag, and sprinkle in ½ teaspoon of salt. Next, fold down the top of the bag and shake it, distributing the salt.
Cook. Microwave the bag for 2 ½ to 3 minutes at full power. Listen for when there is a 2-second silence between pops before stopping. Then, carefully open the bag, avoiding the steam. Pour the popped popcorn into a large serving bowl and enjoy!
Stir in some butter or other favorite flavorings and enjoy the film! If you have leftovers, you can eat them as a snack or mix them with M&Ms and nuts for trail mix.
💭 Angela's Tips & Recipe Notes
Not sure where to get a paper bag these days? You can usually find some boxed brown paper lunch bags available to purchase in your food storage aisle at the grocery store. Look near the plastic storage bags, aluminum foil, and parchment paper.
Use a silicone sandwich bag. Brown paper bags aren't as easy to find these days as they once were. If you can't find any, you can also use a reusable silicone sandwich bag to pop the popcorn. The instructions remain the same.
No bag? No problem. Just swap the bag for a microwavable glass bowl and cover it with a lid or plate. If you don't have a microwave or prefer to not use it for this, you can also make popcorn on the stove or in the air fryer.
Oil optional. If you'd like, you can make this recipe without oil, but I recommend using the oil for best results. The oil makes it taste better and helps the salt stick.
Scale up or down. This recipe is easily scalable, but you might have to pop in batches. For one person, just use ¼ cup. It's a little over 1 serving, but you'll thank me later. Plus, it'll be easier to measure. For larger groups, just double or triple the amount in the recipe. As written it makes 3 servings. Some people will eat more, and others less than this.
Don't overcook. There will always be a few unpopped kernels after cooking. Don't try to cook it longer, or the already popped popcorn will burn.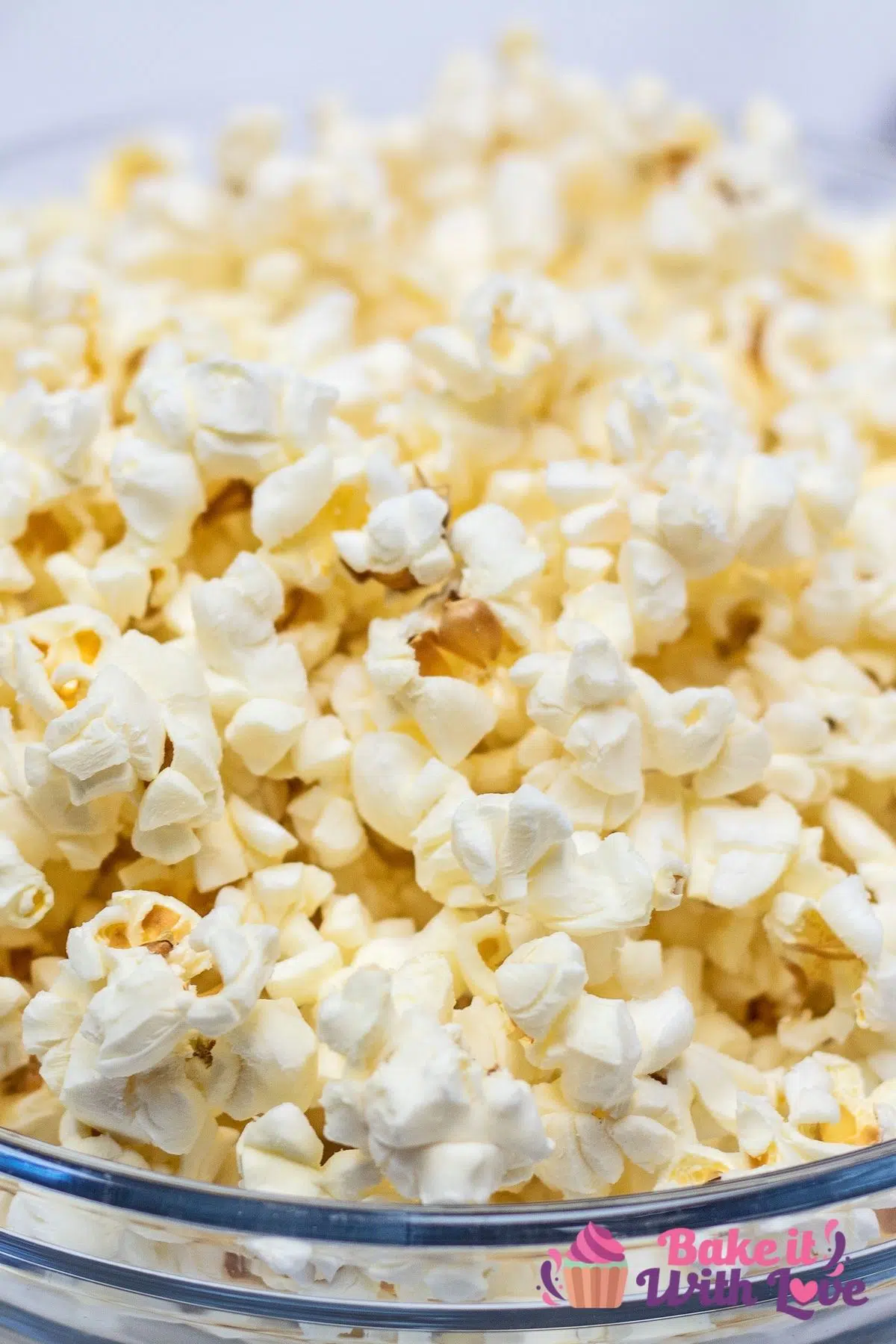 🥡 Storing & Reheating
Popcorn can be left at room temperature. Store in an airtight container or sealed plastic bag. It will go stale in a couple of weeks if you don't eat it before then.
🍿 More Easy Snacks!
📋 Recipe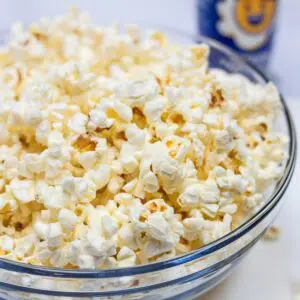 Print Recipe
Leave A Comment
Love This Recipe?
Click On A Star To Rate It!
Microwave Popcorn
Microwave popcorn is a timeless classic and believe it or not, you can make your own with just some popping corn and a brown paper bag! Best of all, this popcorn is incredibly quick and easy, and you can salt and butter it exactly how you like it!
Pin Recipe
Share on Facebook
Ingredients
½

cup

unpopped popcorn

1

tsp

vegetable oil

½

teaspoon

salt

(or more to taste)
Instructions
In a small mixing bowl combine the popcorn and vegetable oil. Mix so that all of the kernels are coated. Then, pour the coated popcorn into a brown paper bag, sprinkle in the salt and fold the top of the bag down to seal it. Give the bag a shake to distribute the salt.

½ cup unpopped popcorn,

1 teaspoon vegetable oil,

½ teaspoon salt

Cook the prepared popcorn at full power for 2½-3 minutes, or until there is a 2 second lapse between pops. Open the bag carefully because the steam will be very hot, and pour the popcorn into a large serving bowl.
Notes
If you don't have a brown paper bag you can use a large silicone sandwich bag in its place, or a large glass bowl with a ceramic plate on top (as if the plate were a lid). Follow the same instructions.
It is normal to have some unpopped kernels remaining. Don't try to microwave the popcorn more or it will burn the kernels that have already popped. 
The oil can be left out, but the popcorn pops and tastes better with a small coat of oil (and the salt sticks to the kernels better)!
Nutrition
Calories:
116
kcal
(6%)
|
Carbohydrates:
20
g
(7%)
|
Protein:
3
g
(6%)
|
Fat:
3
g
(5%)
|
Saturated Fat:
1
g
(6%)
|
Polyunsaturated Fat:
2
g
|
Monounsaturated Fat:
1
g
|
Trans Fat:
1
g
|
Sodium:
389
mg
(17%)
|
Potassium:
75
mg
(2%)
|
Fiber:
3
g
(13%)
|
Sugar:
1
g
(1%)
|
Calcium:
2
mg
|
Iron:
1
mg
(6%)
microwave popcorn, snack foods, snacks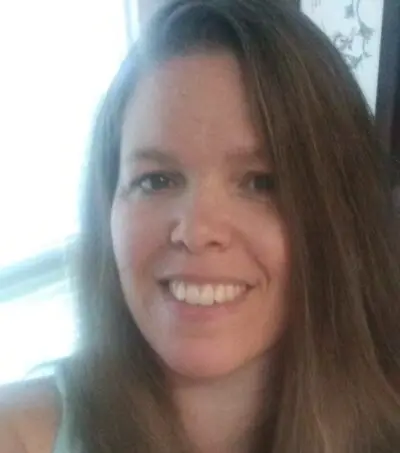 Angela is an at home chef that developed a passion for all things cooking and baking at a young age in her Grandma's kitchen. After many years in the food service industry, she now enjoys sharing all of her family favorite recipes and creating tasty dinner and amazing dessert recipes here at Bake It With Love!