If you're wondering what the most popular Dominican foods are to try and make at home, we've compiled our best and favorite recipes to answer that question! Tasty breakfasts based on mashed plantains and snacking on fried cheese sounds amazing to us!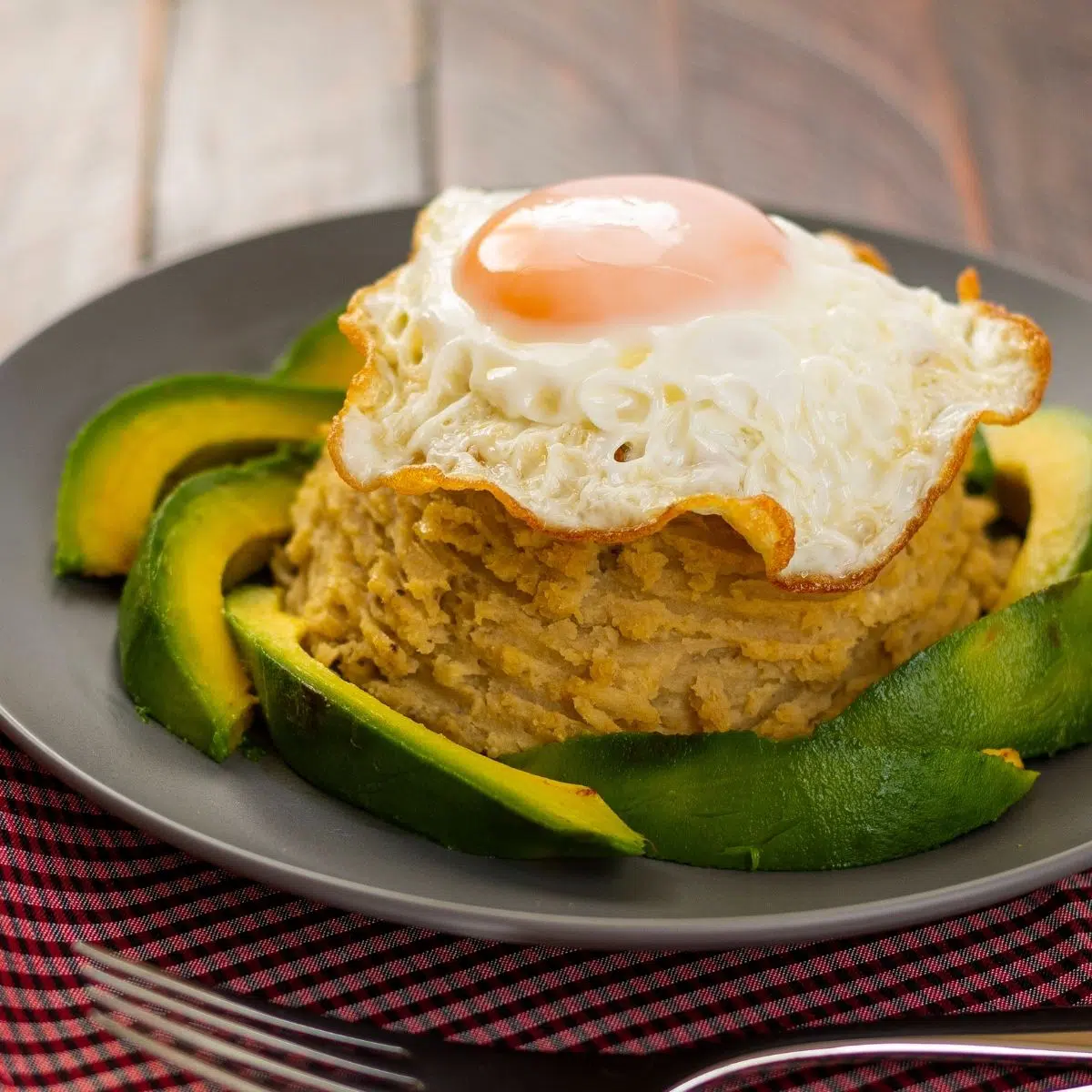 Try these fabulously flavorful recipes that are the most loved foods of the Dominican Republic!
If you know anything about Dominican culture, then you know that they love to cook! They center their lives around mealtime, often they will have one member of the family who stays home and prepares every meal.
Dominican cuisine is delicious and made with love. Dominicans all over the world use traditional recipes that were passed down from previous generations.
Jump to:
Many Dominican women strive to cook just as well as their abuelas. Abuela is the Spanish word for grandmother. Just as many Dominican men are finding their way into the kitchen and becoming better chefs themselves. 
Check out our favorite recipes and meals that are popular in the Dominican Republic!
1. Locrio (Rice and Chicken)
Locrio is one of my favorite Dominican dishes. It is a simple and delicious meal that can be made in large batches to feed a whole family.
Locrio is made with a full chicken cut into smaller pieces, rice, onion, tomato sauce, and spices. You cook the chicken first, then add the rice to the same pot and allow it to finish cooking together. 
To make it an authentic Dominican meal, allow the rice to cook until it is crunchy at the bottom (see the concon below). 
2. Concon (Crunchy Rice)
When you cook white rice, you can allow it to cook longer than it needs to. The crunchy rice at the bottom of the pan is called concon. Concon is a Dominican favorite!
3. Tostones (Fried Green Plantains)
Tostones are crunchy and yummy! They are the perfect side dish for many Dominican meals. They are commonly paired with fried salami and eaten for lunch.
The best part about tostones is that they are quite simple to make. All you need to make this side dish is oil, green plantains, and salt!
4. Chicharron (Fried Pork Skins)
If you love pork, then you will want to try this crispy fried pork recipe! Chicharron is Dominican fried pork skin. 
To make this crunchy snack you will need pork skin, water, lime, oregano, and salt. Add it all to one pan and let it cook for about an hour. Viola! 
5. Habichuelas con Dulce (Sweet Beans)
Habichuelas con dulce is made with beans but tastes like dessert! 
This Dominican sweet dish is made with kidney beans, sweet potato, milk, coconut milk, raisins, sugar, and spices. When finished, it looks like a thick soup that is served cold. 
6. Pica Pollo (Fried Chicken)
If you have ever been to the island of the Dominican Republic, then you know that almost every corner has a pica pollo stand. Pica pollo is the Dominican version of fried chicken.
To make pica pollo, you will want to use the drumsticks of the chicken. Thighs and breasts can be used as well. You first simmer the chicken in a mixture of spices, then coat it in flour and fry it to perfection. 
The final result is the crispiest and juiciest fried chicken you will ever have!
7. Sancocho (Meat Soup)
Sancocho is the perfect comfort food to eat on a cold day. It is soup, but not just your ordinary chicken noodle. Sancocho is traditionally made with seven different types of meat!
To prepare sancocho you will need beef ribs, chuck steak, chicken, smoked pork chops, yuca, plantains, and multiple spices. You can also add pork fat, fresh fish, shrimp, or sausage. 
8. Mangu (Mashed Green Plantain)
Mangu is one of my favorite Dominican dishes. It is a great side dish to almost any meal, especially breakfasts, and it is easy to make.
Mangu is so simple that all you need are green plantains, butter, and salt. You boil the plantains and mash them until they are the consistency of mashed potatoes.
9. Arroz con Habichuelas (Rice with Beans)
When I am with my Dominican family, arroz con habichuelas is always served. It is filling and delicious and a great meal on a budget.
To make arroz con habichuelas you need beans, rice, red pepper, oil, tomato sauce, and spices. The final dish is mixed together and tastes great!
10. Queso Frito (Fried Cheese)
Queso frito is one of my go-to Dominican snacks. It is very easy to prepare and is good for any occasion.
To make queso frito, all you need is oil and queso de freir. Queso de freir is Dominican cheese that is salty and has a high melting point.
11. Pescado Frito (Fried Fish)
Pescado frito is Dominican fried fish that can be made with snapper or many other types of fish. It is crunchy on the outside and moist on the inside.
It is well-seasoned and a real treat to eat at the beach!
12. Empanadas
Empanadas are the perfect hand held snack! A Dominican empanada has a crunchy flour shell and is stuffed with beef, chicken, or queso. 
13. Frijoles (Black Bean Stew)
There are many meals made with beans in the Dominican Republic. I welcome all the bean dishes because I am a bean lover.
Frijoles is a traditional Dominican food, a black bean stew that is served hot, usually over rice or chicken. This yummy stew combines black beans, tomato sauce, oil, sofrito, lime, and spices. 
14. Bolitas de Yuca y Queso (Fried Yuca Balls with Cheese)
Bolitas de yuca is another great on-the-go snack that can easily be eaten with one hand, just make sure they aren't too hot!
To make these snack-sized meals you need yuca, cheese, cream, eggs, salt, and flour. The final product is a hush-puppy-like ball with a soft cheesy center.
15. Croquetas de Pollo
Croquetas de pollo is a popular Dominican street food. Many vendors sell these throughout the island.
The main ingredients for these snacks are chicken, eggs, breadcrumbs, and spices. The final product is a crunchy treat!
If you love trying international cuisine, you will not be disappointed when you explore any of these Dominican recipes. Leave us a comment below about your favorite Dominican food you've tried!
📖 Recipe Card