These taco toppings are quick, easy, delicious, and perfect for adding some variety and customization to an amazing taco bar! There are over 15 recipes that are sure to make your menu truly unique. In fact, these dishes are exactly what you need for an authentic and extremely flavorful taco bar lineup!
Best Taco Toppings
This roundup of tasty taco toppings is more than just your average lettuce and tomatoes. It is a list of 15+ delicious condiments and toppings that will take your tacos to the next level!
First things first, you have to start your taco bar out with a fantastic base of some homemade flour tortillas for everyone to add their favorite toppings! Trust me, using homemade tortillas instead of store-bought ones will make a huge difference!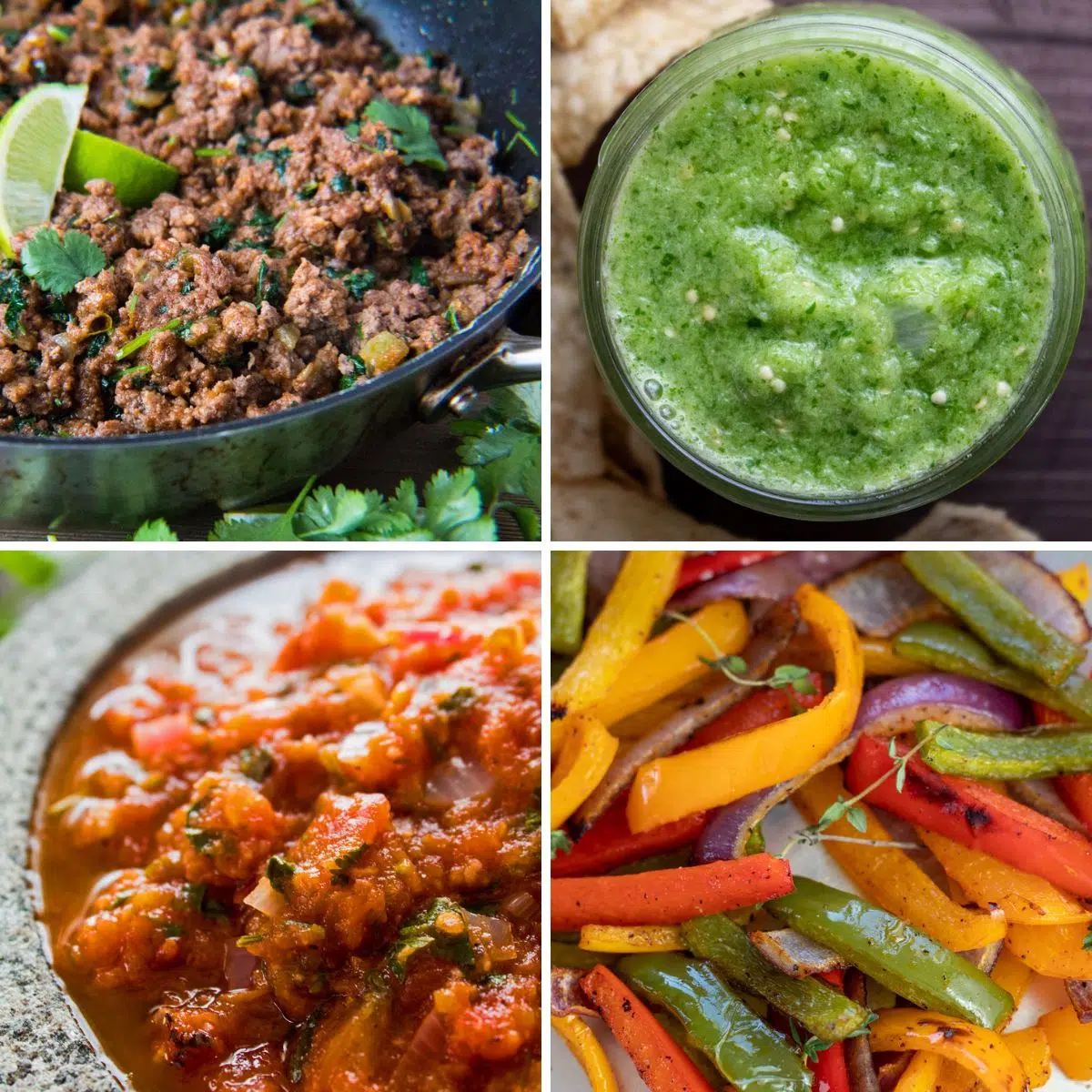 Jump to:
If you love tacos as much as I do, make sure to check out my collection of taco recipes! Plus, if you need some side dish items for your taco bar, take a look at my post about what to serve with tacos for ideas!
1. Ground Beef Taco Meat
Taco meat is probably the most important topping there is! This simple recipe uses some ground beef for a classic Tex-Mex dish.
Any other toppings will taste fantastic pile high on top of this perfectly seasoned beef! It is an ideal way to start out any taco!
2. Carne Asada
If you're wanting something authentic and flavorful, this carne asada is perfect! It uses an amazing marinade to really bring out the flavor and make the meat astonishingly tender.
I recommend making this meat in advance so that it has plenty of time to really be able to soak up all the flavor from the marinade!
3. Pico de Gallo
This classic topping consists of onions, tomatoes, jalapenos, lime, and cilantro! Make this pico de Gallo the night before for convenience (and maximum flavor)!
It is super easy to make as it doesn't even require cooking!
4. Salsa Verde
This vibrantly green salsa is made using tomatillos instead of standard tomatoes (which is why it is green). You can easily adjust the heat level of this salsa by adding more (or less) jalapenos!
Plus, you can choose to use roasted or raw veggies and it is delicious either way!
5. Refried Black Beans
Of course, refried beans are commonly served alongside tacos (and other Mexican entrees) as a tasty side dish. However, they are also extremely satisfying on top of your tacos!
Add on a little (or a lot) of these refried beans for a burrito-taco hybrid that you won't forget!
6. Roasted Peppers And Onions
Roasted peppers and onions are commonly seen served alongside fajitas! However, they taste just as great on tacos!
I love how roasting them brings out their natural sweetness, making them truly addicting.
7. Roasted Salsa Roja
Salsa is a classic accompaniment to any Mexican or Tex-Mex dish! You simply could not have a taco bar without it!
You can customize the consistency to suit your preferred taste. This salsa is better than anything from a jar!
8. Instant Pot Chipotle Barbacoa Beef
If you are wanting to mix up your beef topping options, this chipotle barbacoa beef is the answer! It is made in the Instant Pot for an extra easy dish, plus it tastes amazing!
Adjust the heat by adding or reducing the amount of chipotle peppers you include.
9. Taco Bell Creamy Baja Sauce
Baja sauce and tacos are a match made in heaven! This slightly spicy sauce features jalapenos, bell pepper, onion, mayo, and some spices and herbs!
It is incredibly addicting! Not only will you be using it on your tacos, but you'll want to dip everything in it as well!
10. Sauteed Onions
I love adding sauteed onions to pretty much everything! They only use 3 ingredients and are naturally sweet and delicious!
Make sure to include them in your taco bar for an extra special treat!
11. Hatch Chili Guacamole
This extra flavorful guacamole features roasted hatch chili peppers! If you don't have any hatch chili peppers on hand, you can also try out some classic homemade guacamole or an extra creamy guacamole!
Either way, guacamole is a must-have topping for your taco bar!
12. Instant Pot Cilantro Lime Rice
Cilantro lime rice is a perfect pairing for any Mexican or Tex-Mex dish! I love this recipe because I prepare it in my Instant Pot!
It is practically effortless and is ready to enjoy in less than 20 minutes!
13. Taco Bell Creamy Avocado Ranch Sauce
My copycat recipe for some Taco Bell creamy avocado ranch sauce is a great addition to any taco! It is creamy, rich, and tastes better than the fast-food version!
Simply put a scoop on top of your taco and watch all of the flavors come alive!
14. Grilled Corn
This grilled corn is super simple to make and extra delicious! Once you have it cooked, you can use a long knife to cut the kernels off of the cob for a delicious taco topping!
15. Turkey Carnitas
These turkey carnitas are a fantastic protein option if you don't enjoy beef. You can use up some leftover turkey or start completely from scratch with a raw bird. Plus, you can even make it in your slow cooker!
🥬 Additional Taco Toppings
These classic taco toppings are traditional items that you can grab from the grocery store and have minimal prep work. Add them to your taco bar alongside our awesome homemade options!
Shredded Lettuce
Diced Tomato
Sour Cream
Shredded Cheese
Cilantro
Jalapenos
Sliced Black Olives
Diced Red Onion
Lime Wedges
Avocado Chunks
Green Onions
These taco toppings are going to create an unforgettable taco bar that everyone will keep talking about! Leave a comment down below and let me know what your favorite taco topping is!
🌮 Best Taco Recipes
📋 Recipe