When you're looking for some amazing Sunday dinner ideas, you won't need to look any further than these tasty recipes! So many of our family favorite, tried and true, and best ever dinner recipes are shared here for you to enjoy!
Best Sunday Dinner Recipes
Whether you're looking for a new recipe to try or just need some inspiration, we've got you covered! From easy weeknight meals to more elaborate dishes, we've got something for everyone. So take a look and add one (or more!) of these recipes to your next Sunday dinner plan!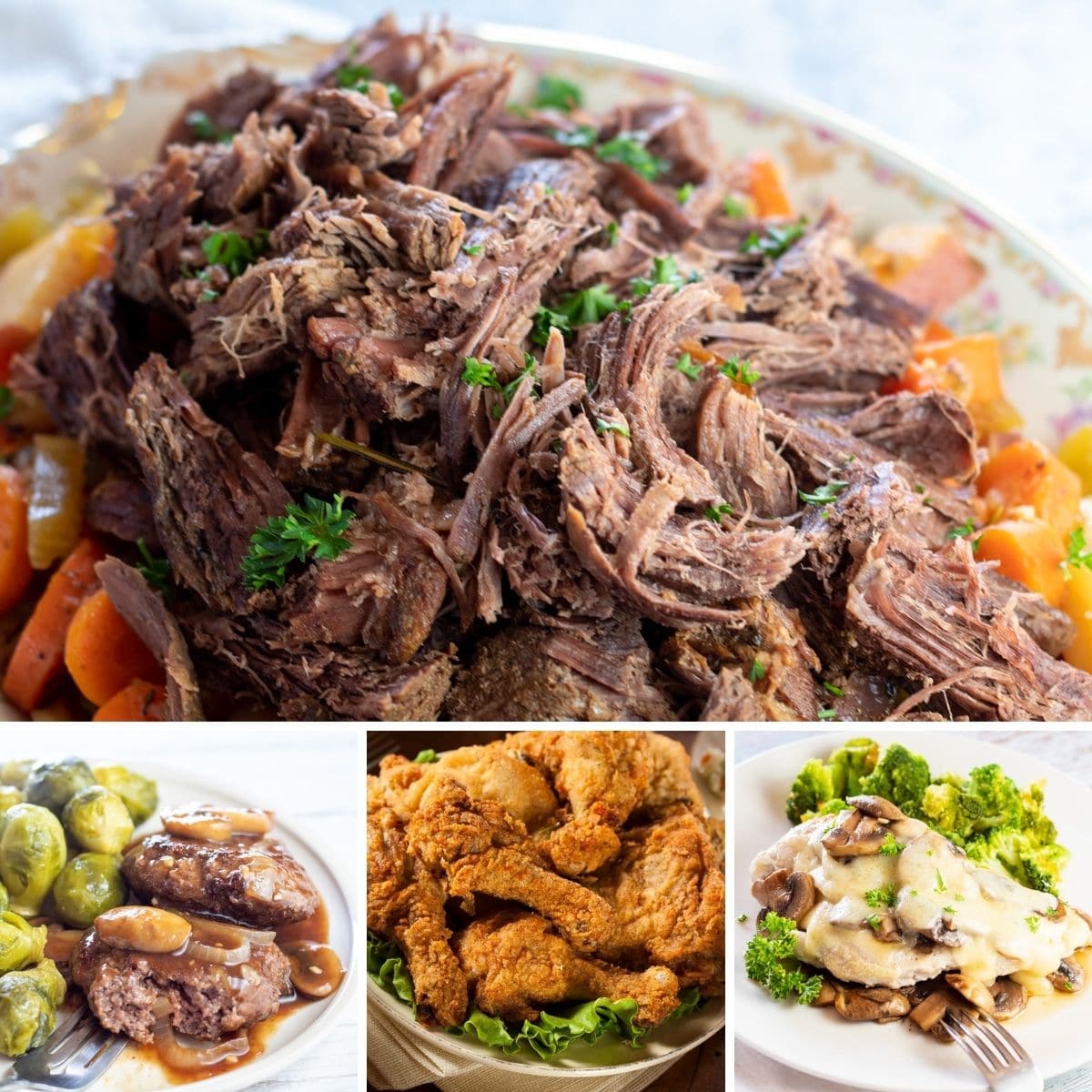 Jump to:
1. Dutch Oven Pot Roast
In need of an easy but impressive pot roast recipe? This simple Dutch oven pot roast is a classic for a reason!
This one-pot dinner is practically impossible to mess up. Plus, the end result is a tender, flavorful roast that will have your family begging for seconds!
2. Mushroom Swiss Chicken
Mushroom Swiss chicken is a dish that can easily be made in under 30 minutes. The pan seared chicken is coated in a delicious mushroom sauce and topped with melted Swiss cheese.
This dish is perfect for Sunday dinner. Serve it with some steamed broccoli or roasted Brussels sprouts for a complete meal.
3. Hamburger Steaks
Hamburger steaks are an easy and affordable Sunday meal idea. This recipe is simple to follow, and the results are delicious!
Plus, it's a great way to use up any ground beef you might have. Give this recipe a try tonight!
4. Fried Chicken
There's something special about fried chicken. Maybe it's the crispy crust or the savory flavor that comes from frying it up in hot oil.
No matter what your reason is for loving this classic Southern dish, one thing is for sure: everyone loves fried chicken! We have a great collection of sides to serve with our fried chicken too!
5. Veal Scallopini
Moms, cooks, and home cooks everywhere will love this recipe for veal scallopini. It is easy to follow and the end result is delicious!
This meal is perfect for a special occasion or a family dinner any night! Plus, we've already gathered all of your veal scallopini sides for easy meal planning!
6. Baked Pork Tenderloin
There are few things as satisfying as a perfectly cooked piece of pork tenderloin. It's lean, juicy, and flavorful - just what you need for an amazing Sunday dinner!
This oven-baked pork tenderloin recipe is simple to follow and produces results that are sure to please. Be sure to check out all of our favorite pork tenderloin sides too!
7. Roasted Lamb Shanks
Is there anything more comforting than a platter full of roasted lamb shanks? This dish is perfect for busy moms and dads who want to put a hearty and home-cooked meal on the table.
Serve with mashed potatoes or roasted vegetables for an easy and delicious dinner. Or visit our best side dishes for lamb collection for more inspiration and meal ideas!
8. Duck Confit
Duck confit is a classic French dish that is really simple to make. It's made by cooking duck legs in their own fat until they're melt-in-your-mouth tender.
This dish is ideal for busy families who want a sophisticated meal without having to spend hours in the kitchen!
9. Chicken Fried Cube Steaks
If you're like me, you're always looking for ways to make a home-cooked meal without spending too much time in the kitchen. That's why cube steaks are such a great option – they're quick and easy to prepare, and they can be served with just about any type of side dish.
In this recipe, I'll show you how to make chicken fried cube steaks – a classic Southern dish that's sure to please even the pickiest of eaters. Pair this hearty breakfast option with my amazingly tasty pan fried potatoes and onions!
10. Ham & Potato Casserole
Is there anything more comforting than a warm, hearty casserole on a chilly day? This creamy ham & potato casserole is sure to become a Sunday family favorite!
It's easy to make, and it's perfect for feeding a crowd. Plus, it reheats well, so you can enjoy this casserole any time you need a quick and satisfying meal.
11. Slow Cooker Eye Of Round Roast
A deliciously tender, slow cooker eye of round roast is an amazing Sunday dinner idea that the whole family will love! Chop up some of your favorite veggies and grab a nice chunk of round roast to get started!
This recipe will show you how to make a delicious eye of round roast that's practically effortless!
12. Crockpot Beef Stew
Do you love a good beef stew, but don't have the time to stand over the stove all day? Then this crockpot beef stew is for you! Just throw all the ingredients in the crockpot and let it cook low and slow all day long.
Plus, it's freezer-friendly, so you can make a big batch and save some for later. Try it with my amazing rolls or easy french bread!
13. Doritos Chicken Casserole
Do you love Doritos? How about chicken casserole? Well, then you're going to love this recipe! It's simple to make and it's perfect for a Sunday evening meal.
14. Chicken & Peppers
Are you looking for an easy Sunday dinner idea that is both tasty and healthy? Why not try our flavorful chicken and peppers?!
This dish is simple to make and can be tailored to your liking. Plus, it's perfect for those who are trying to eat more veggies!
15. Stove Top Meatloaf
Do you love meatloaf? I do! It's one of my favorite comfort foods. And it's so easy to make, too.
I'm going to share my favorite meatloaf recipe using Stove Top stuffing with you. You only need a few ingredients, which makes it ideal for a busy Sunday night dinner!
16. Baked Italian Sausage
I don't know about you, but I love Italian sausage. There are so many ways you can use these rich, delicious sausages too!
Baked sausages turn out delightfully crispy on the outside, and moist and tender on the inside. Plus, it's really easy to make!
17. Spaghetti Bolognese
There's nothing quite like a big pot of Spaghetti Bolognese simmering on the stove, filling your home with the heavenly aroma of Italy. This popular dish is perfect for busy families because it's easy to make and everyone loves it!
Check out all of my favorite spaghetti sides to round out this tasty pasta dinner!
18. Chicken & Dumplings
Are you looking for an old-fashioned favorite? Then look no further than chicken and dumplings. This dish is perfect for a family Sunday dinner, and it's easy to make too.
Just follow the simple steps and you'll have a hearty meal your family will love!
19. Country Style Pork Ribs
These oven-baked country-style pork ribs are fall-off-the-bone tender and so flavorful, that you'll forget that they're made in the oven!
20. Chicken A La King
So, you're looking for a quick and easy Sunday meal that will please your family? Look no further than Chicken a la King!
This dish is simple to make and can be tailored to fit your taste preferences. Plus, it's a great way to use up leftover chicken. Pair it with one of our best sides for chicken a la king too!
21. Stuffed Green Peppers
This recipe is a fun one to make with your family. Stuff the green peppers with a simple mixture of ground beef, rice, and tomatoes, and bake them in the oven until they're golden brown and delicious.
22. Lasagna
If there's one dish that epitomizes comfort food, it's lasagna. This classic Italian-American dish is made up of layers of pasta and cheese, all baked to bubbly perfection.
Best of all, it can be made ahead of time, so you'll have dinner ready when you need it.
23. Stuffing Stuffed Pork Chops
If you're in the mood for something a little special for Sunday dinner, why not try stuffing stuffed pork chops? You can either use homemade stuffing or your favorite store-bought variety.
The best part is that these are super easy to make—just bake them in the oven until they're cooked through. Serve with roasted potatoes and green beans for a delicious dinner everyone will love.
We hope that you've found some amazing Sunday dinner ideas in this tasty collection of hearty meals that are sure to please! If you've found your new go-to meal here, be sure to leave us a comment below to let us know what your fave is!
📋 Recipe