Whenever you're wondering What To Serve With Enchiladas, look no further. I have everything you need to round out your enchilada dinner! Everything is gathered here for your quick and easy dinner planning, from appetizers, chips, and dips to soups, salads, and side dishes!
Everything You Need To Complete Your Meal
Who doesn't love a hearty enchilada dinner? All of your favorite fillings are wrapped in tortillas, topped with a tangy enchilada sauce and cheese, then baked to perfection!
There's so much to love! Whether you're filling the enchiladas with beef, chicken, turkey, pork, shrimp, cheese, or vegetables, they just always hit the spot! See all my favorite enchilada recipes here.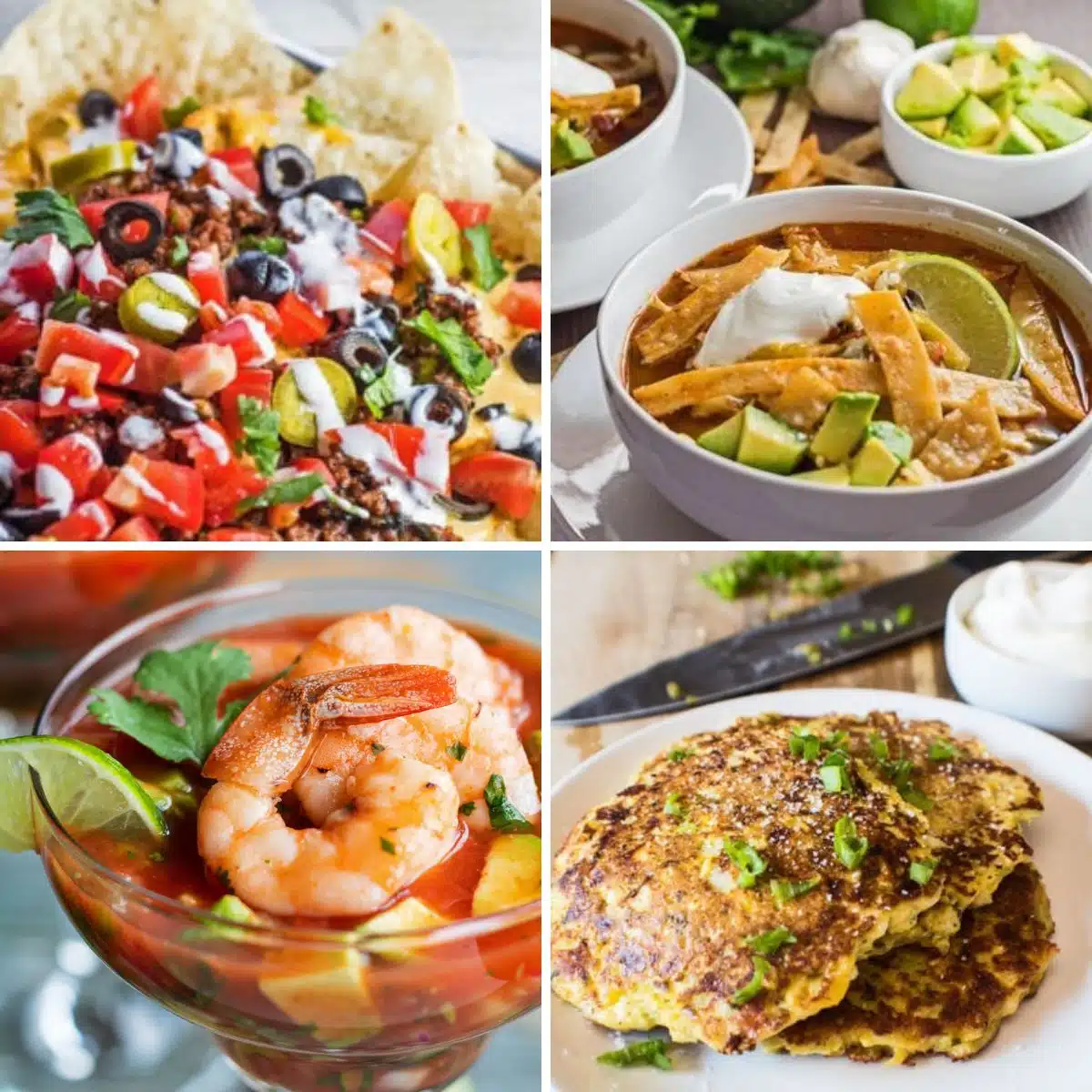 Jump to:
And what dinner is complete without some equally amazing side dishes?! I have all of my best side dishes for enchiladas listed below to get you started!
Appetizers
Start your dinner off right with one (or more) of these wonderful appetizers featuring Mexican-inspired flavors! From nachos to shrimp cocktails, there's something for everyone to enjoy!
1. Nachos Supreme
These tasty nachos are one of my favorite appetizers for enchilada nights! Throw them in the oven first, then snack while your dinner is finishing in the oven!
Load a sheet pan up with crispy tortilla chips, then pile them high with fabulous toppings for this easy-to-make appetizer! This hearty snack is fully loaded with your favorites and can double as a dinner entree!
Add all of your family's favorite toppings, bake, then serve with any additional cold toppings desired. Divide and serve on small plates, which works best when you have little ones that don't enjoy all of your own nacho toppings picks.
2. Corn Fritters
These corn fritters are super easy to make, and they're another great finger-food option to serve as an appetizer with your enchiladas! Spice them up by including your favorite hot peppers, or keep them mild and simple with canned green chiles!
Use roasted corn for a more sensational flavor, or stack up a few fritters and top them with elotes toppings (use sour cream, queso fresco, garlic powder, chipotle chili powder, and paprika).
3. Quesadillas
This family favorite appetizer or snack is not only quick and easy, but it's also extremely versatile! Make your quesadillas with flour tortillas, as shown here, or try my corn tortilla quesadillas!
Keep things simple with a cheese filling, or add some shredded chicken, leftover ground beef taco meat, black beans, or peppers. Fill them to compliment your enchiladas or to contrast with your dinner!
4. Shrimp Cocktail
What's better than a classic shrimp cocktail? One with amazing Mexican-inspired flavors! And my Mexican shrimp cocktail is so GOOD with enchiladas!
This tasty appetizer features so many great flavors that everyone is sure to love it! Every bite is full of fantastic spices and seafood, plus cooling bites of cucumber and avocado!
Chips & Dips
Whether you're using store-bought tortilla chips or freshly cooked homemade tortilla chips, no one will argue that chips and salsa are an all-time favorite! This is the classic appetizer to serve before any taco night or Mexican food dinner!
5. Tortilla Chips
Make delightfully crisp tortilla chips at home! They're absolutely perfect when paired with enchiladas and your favorite salsa.
We've found that the air fryer makes the best homemade chips (seriously, hands down!), whether you're talking about corn tortilla chips, flour tortilla chips, or potato chips.
So it's only right that we include them here for what to serve with enchiladas! They're your best bet for the best chips and dip while waiting for your meal.
6. Pico de Gallo
This super fresh pico de gallo is the best salsa to serve with enchiladas of any kind! The bright flavors combine to make salsa lovers out of even your pickiest eaters!
No matter what Mexican-inspired foods I serve, I know that this pico de gallo is exactly what needs to be put on the table with it!
7. Guacamole
My best guacamole combines fresh, rich, buttery smooth avocados with all my favorites from Pico de Gallo (above)! I can't think of a single enchilada recipe that wouldn't be better with a generous dollop of guacamole on the side!
The fresh flavors of this easy-to-make guacamole are an amazing contrast if you're serving up somewhat spicy enchiladas!
8. Queso Rotel Dip
I think everyone in my house is crazy for my Rotel queso dip!
This perfectly cheesy and beefy dip is just meant for a Mexican dinner night and a big serving of chips! Top with some fresh pico de gallo, or serve with more salsas to choose from when dipping.
Soups & Salads
Any of these fabulously tasty soups and salads are a wonderful addition to your enchilada dinner! Serve them up while you bake the enchiladas - and you might have leftovers!
9. Chicken Tortilla Soup
This flavorful tortilla soup is easy to make and pairs exceptionally well with any chicken enchilada! The ingredients are primarily pantry essentials, plus what you'd have in the kitchen when making enchiladas.
Top your soup with crisp, fried tortilla strips plus some freshly grated cheese, sour cream, or guacamole, diced avocados, and freshly chopped cilantro. Serve with a squeeze of lime juice to bring all the tasty ingredient flavors together!
10. Green Chile Chicken Stew
This easy, hearty green chile chicken stew has rapidly moved up into the top ranks of my family's favorite soups! It's a ridiculously addictive soup and the perfect soup for pairing with a green chile chicken enchiladas dinner!
If you love salsa verde, this entire dinner will be right up your alley! The only way to make it better? Chips and salsa verde for dipping!
11. Caldo de Pollo
My delicious caldo de pollo is a match made in heaven for enchiladas! This broth-based chicken soup is full of tender pieces of chicken, vegetables, jalapeno, and cilantro!
This delightful comfort food chicken soup is a light option for serving with your meal that everyone will devour. Once you try this Mexican chicken soup, you'll be hooked!
12. Tex-Mex Salad
The Tex-Mex salad is a popular salad to serve with enchiladas.
Add a selection of toppings and let everyone finish their own salads to their liking. This is always a win when dealing with picky eaters!
13. Mexican Salad
A flavor-packed Mexican chopped salad loaded with fresh veggies and ready to serve over your enchiladas! Top off some hearty meat-filled enchiladas with this tasty salad to complete your meal.
This easy salad can stand on its own as a side, too! It features jicama, bell peppers, onion, corn, zucchini, tomatoes, black beans, and cilantro for a vibrant, fresh Mexican salad!
Rice And Beans Side Dishes
It's no secret that rice and beans are some of the very best side dishes for enchiladas! That's why they're a standard side featured on pretty much any plate of enchiladas at Mexican restaurants!
14. Cilantro Lime Rice
The mellow flavor of a simple rice variety gets a punch of flavor with this easy rice side dish with the classic combo of cilantro and lime! It's so perfectly suited to serve with any enchilada recipe that you should just go ahead and plan on making it. 🙂
Make your rice as usual in any method that you love - instant pot, rice cooker, stove top, microwave, or oven. Toss with as much lime juice and fresh, chopped cilantro as you like. Simply start with a bit and add more to taste.
15. Mexican Rice
Remember those side dishes I mentioned that you see with enchiladas at restaurants? This restaurant-style Mexican rice is it!
There are so many great flavors combined in my delicious rice that you could totally just enjoy it on its own! But since you're making enchiladas, go ahead and generously spoon it onto your plates when serving to enjoy a better-than-restaurant meal at home!
16. Refried Beans
To add to those standard restaurant-style side dishes for enchiladas, we have also to mention some refried beans! Since I LOVE black beans, this recipe is in regular rotation whenever I'm dishing up a Mexican-inspired meal!
Start with canned black beans for a really quick and easy version of refried beans that the whole family will love! They'll be ready to spoon onto your plates with the Mexican rice in no time!
This makes the trifecta of a perfect enchilada dinner in my home. Yum!
Fruit & Desserts
It's time to round out your enchilada dinner or menu planning with some tasty treats! Keep it light and simple with some fresh fruit, fry up some addictive churros, or try a classic rice pudding!
17. Mexican Fruit Salad
Take a simple fruit salad to sweet and savory deliciousness. A fun take on this not-your-average fruit salad recipe!
This sweet-tart salad is perfect for serving after enjoying a full night of rich and hearty enchiladas!
18. Churros
Churros are ridiculously tasty, fun to make, and even more fun to eat! They wouldn't be available at Disneyland if they weren't literally every kid's dream dessert!
Crispy fried dough that's coated in cinnamon sugar is absolutely perfect for dipping in some melted Mexican chocolate after you've finished an enchilada dinner.
19. Arroz con Leche
If you're looking for an amazing feel-good comfort food dessert to round out your meal, then look no further! This classic Puerto Rican rice pudding is so heart-warming that it could be served alongside the caldo de pollo when you're feeling under the weather!
Pick your favorite side dishes and get those enchiladas in the oven! You'll enjoy a completely satisfying meal by combining any of these tasty sides with your fave enchilada recipe!
📖 Recipe Card