These lobster recipes are perfect for any time you are wanting a homecooked, elegant, and delicious seafood meal! You don't need a special occasion to serve any of these easy-to-make dishes. Lobster is so versatile and tasty that all of these recipes will be a hit!
Best Ways To Cook Lobster
Lobster isn't only served at gourmet restaurants. It can be made in the comfort of your own home for special occasions or for any occasion at all!
We love sharing our delicious lobster recipes and have put together our favorites in the article below! Check out my post about what to serve with lobster for some tasty side dish ideas!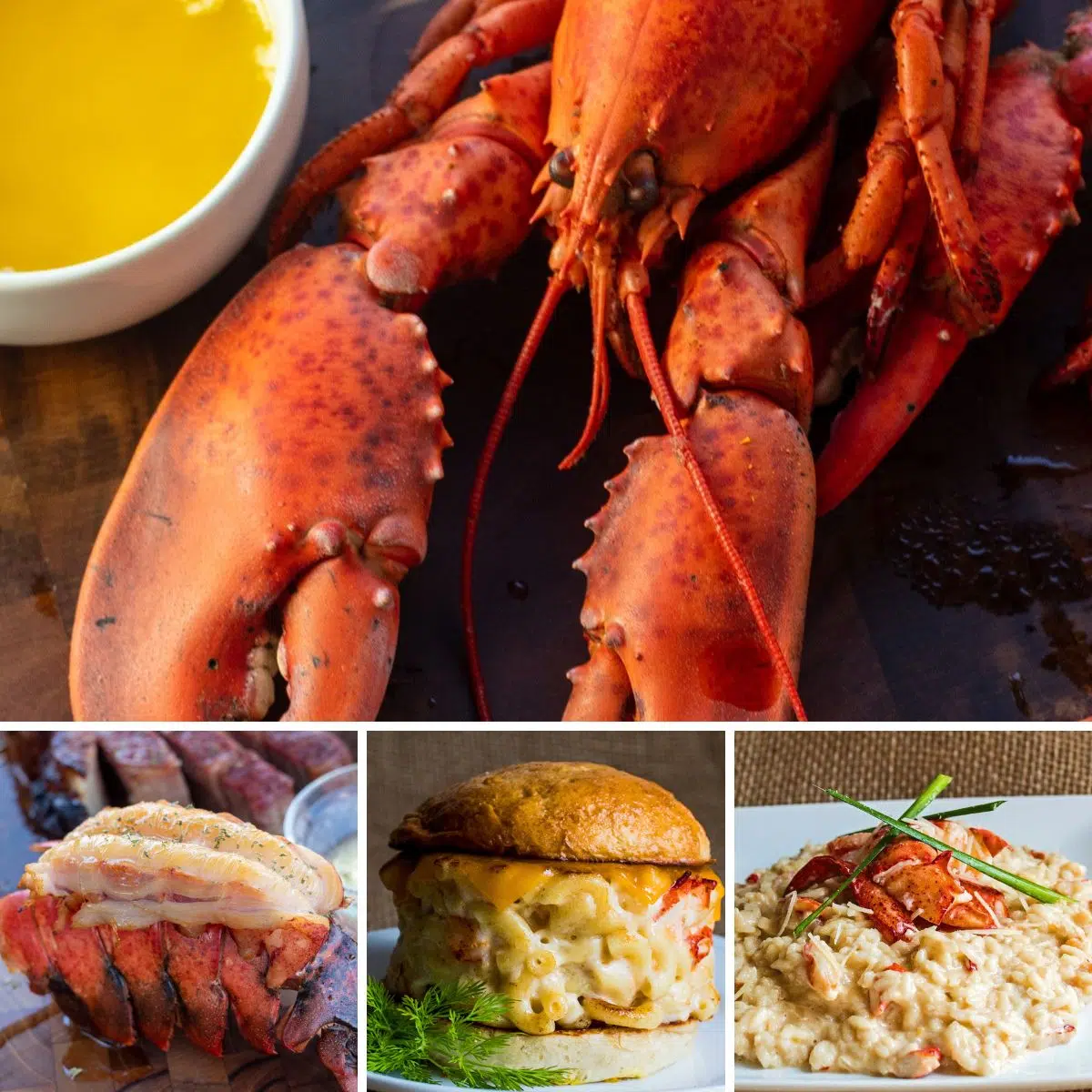 Jump to:
If you're cooking for a crowd, check out my page on how much lobster to serve per person. You can also learn how to reheat lobster so you can make the most of your leftovers (if there are any)!
1. Smoked Lobster Tails
Smoked lobster tails are a unique dish that can be made with fresh or frozen butterflied lobster tails. These delicious lobster tails are smokey, salty, and buttery!
Serve smoked lobster tails with other dishes made in your smoker, such as smoked Brussel sprouts or smoked asparagus!
2. Broiled Lobster Tail
Boiled lobster tail is a succulent and tender way to prepare lobster tails. The lemon juice adds a little bit of tanginess, and the butter makes it even more savory!
Try your broiled lobster tail with sautéed yellow squash or roasted garlic mashed potatoes! In fact, I have an entire page dedicated to what to serve with lobster tails!
3. Boiled Lobster
I love boiled lobster! This recipe used the whole lobster rather than just the tail, so you get the full experience with claws and all! This boiled lobster recipe is so simple and great for serving a crowd!
Serve boiled lobster with milk butter boiled corn on the cob or our roasted vegetable medley!
4. Lobster Mac and Cheese Burger
If you haven't tried our lobster mac and cheeseburger, then you are truly missing out! This dish is tasty and full of flavor that you won't be able to resist!
This recipe can be prepped the day before, which is great for busy days!
5. Lobster Artichoke Dip
If you want a new twist on cheesy artichoke dip, then you have to try this lobster artichoke dip! This decadent dip is baked until golden and is creamy, cheesy, and very delicious!
Serve this lobster artichoke dip with toasted onion rolls or air fryer tortilla chips!
6. Lobster Breakfast Sandwich
The lobster breakfast sandwich is great any time of the day, not just for breakfast! This delicious sandwich is made with creamy scrambled eggs, tender lobster tails, and juicy asparagus spears!
We recommend using our brioche sandwich buns, but you can also make this sandwich on a bagel or French bread as well!
7. Lobster Chowder
I am obsessed with this lobster chowder recipe! When the air begins to cool and the autumn chill comes through, I start to crave something hearty and warm.
This comforting lobster chowder fulfills all of my cravings, especially when I pair it with a crunchy piece of toasted garlic bread!
>>>>See all of my recipes HERE<<<<
8. White Cheddar Lobster Macaroni and Cheese
White cheddar lobster macaroni and cheese is a gooey, cheesy masterpiece! The juicy lobster paired with the savory white cheddar makes this my go-to recipe when I want something hearty and filling!
Top this macaroni and cheese with a thick slice of air fryer garlic bread for the ultimate feast!
9. Lobster Jalapeño Poppers
Lobster jalapeño poppers are my favorite appetizer! These poppers are simple to make and are great for movie nights, afternoon brunch, or as a midday snack!
Don't forget to make our homemade ranch dressing to dip these delicious poppers into!
10. Lobster Stock
Lobster stock is rich and flavorful, which is exactly what a good stock should be. This stock can be used in many recipes, so it's a great thing to know how to make!
11. Lobster Risotto
Lobster risotto is a hearty and delicious meal that combines multiple layers of incredible flavors into one dish. This risotto is decadent and will be a crowd favorite at your next Sunday dinner event!
Serve this risotto with a delicious wedge salad or a tangy cucumber vinegar salad for a well-rounded meal!
12. Lobster Salad
Chunks of juicy lobster meat and crispy celery tossed in a creamy mayonnaise-based dressing! It's a great summer side dish because it's so cool and refreshing.
You can serve lobster salad over lettuce as a traditional salad, pair it with crackers as a delicious dip, or just enjoy it as-is right out of the bowl!
13. New England Lobster Roll
When you put lobster salad on a bun, it becomes a different meal entirely! Put that lobster salad on a toasted bun with some crisp lettuce, and you have a New England lobster roll!
You can learn all about the differences between New England, Connecticut, and Main lobster rolls right here!
14. Poached Lobster Tails
For classic, buttery lobster tails in no time at all, poaching is the way to go. The tails turn out perfectly tender and are on the table, ready to eat in just 20 minutes. All you need is a side of drawn butter!
I love lobster and enjoy sharing new and unique recipes that you can incorporate into your everyday lives! I would love to know your experiences with these recipes, so let me know which one is your favorite in the comments below!
📋 Recipe