This amazingly tasty boiled lobster is an easy way to make the perfect lobster dinner at home whether it's a special night for two or a huge lobster-fest! Serve your lobster with my simple drawn butter and dip every bite into the rich deliciousness!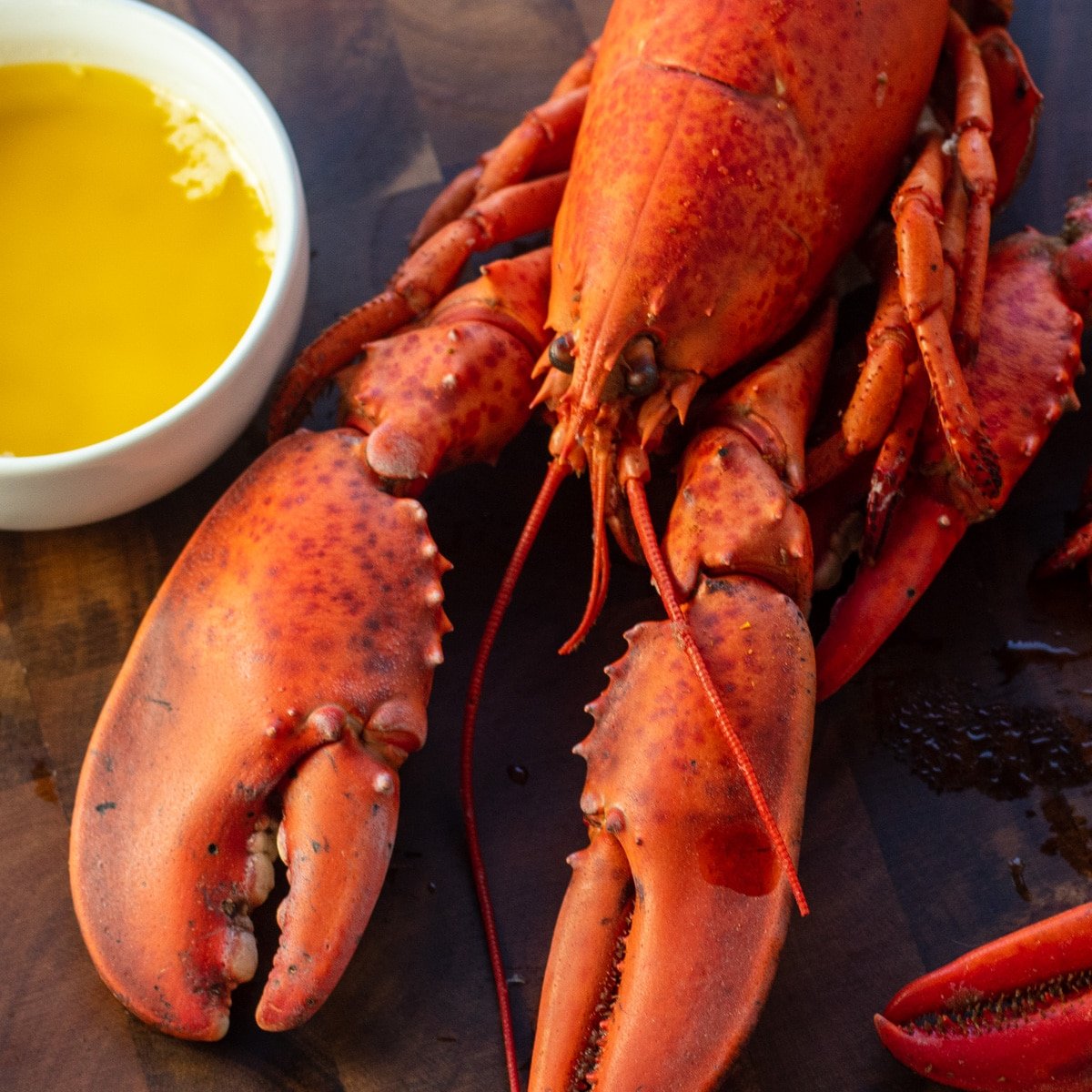 Unforgettable lobster you can make in 20 minutes!
Lobster is usually associated with classy restaurants near the coast, but it doesn't have to be! It's easy to serve up perfectly cooked lobster at home with minimal effort for this upscale treat!
Introduce flavor into the cooking water with bay leaves, salt, lemon juice, and Old Bay seasoning. Serve with a rich drawn butter sauce and lemon wedges. My drawn butter for seafood combines the fresh taste of citrus, the flavor of wine, and spice-enhanced butter - and it's mouth-wateringly good.
If you're cooking to impress, this makes an excellent date night dinner. Throw in something chocolate and indulgent for a meal you'll remember for a long time. Just don't forget the white tablecloth and candles!
Jump to:
❤️ Why You'll Love This Recipe!
---
Surprisingly Easy! There are only 4 steps in this easy lobster recipe!
Very Quick! It will only take 20 minutes start to finish to create this high-end restaurant meal.
It's Special! I don't know about you, but I usually reserve lobster for special occasions! Birthday dinners, date night, Valentine's Day, and something special for my seafood fans!
🥘 Ingredients
---
You're likely to already have a lot of the things on this list, but I'm assuming you'll have to go out for lobster. There's a reason it's considered a special ingredient.
Water - You'll use this to boil the lobsters and to cool them down afterwards to prevent overcooking.
Whole Bay Leaves - Bay leaves come from the laurel tree and are used in this recipe to flavor the water the lobster will soak up.
Kosher Salt - Kosher salt has bigger flakes than regular table salt, not only does it dissolve fast but it also helps your water boil faster!
Lemon - You'll need both the juice and wedges of this fresh-tasting citrus.
Old Bay Seasoning - There are 18 different herbs and spices in this classic blend!
Lobsters - Don't be intimidated! Check out the tips for where to buy lobster.
Drawn Butter - Drawn butter combines white wine, garlic, onion, dill, black pepper, and lemon into a rich, salted butter sauce. It's as good as it sounds.
🔪 Step-by-Step Instructions
---
Pull out your biggest stockpot and get ready to create some magic. It's an easy recipe that will leave an impression.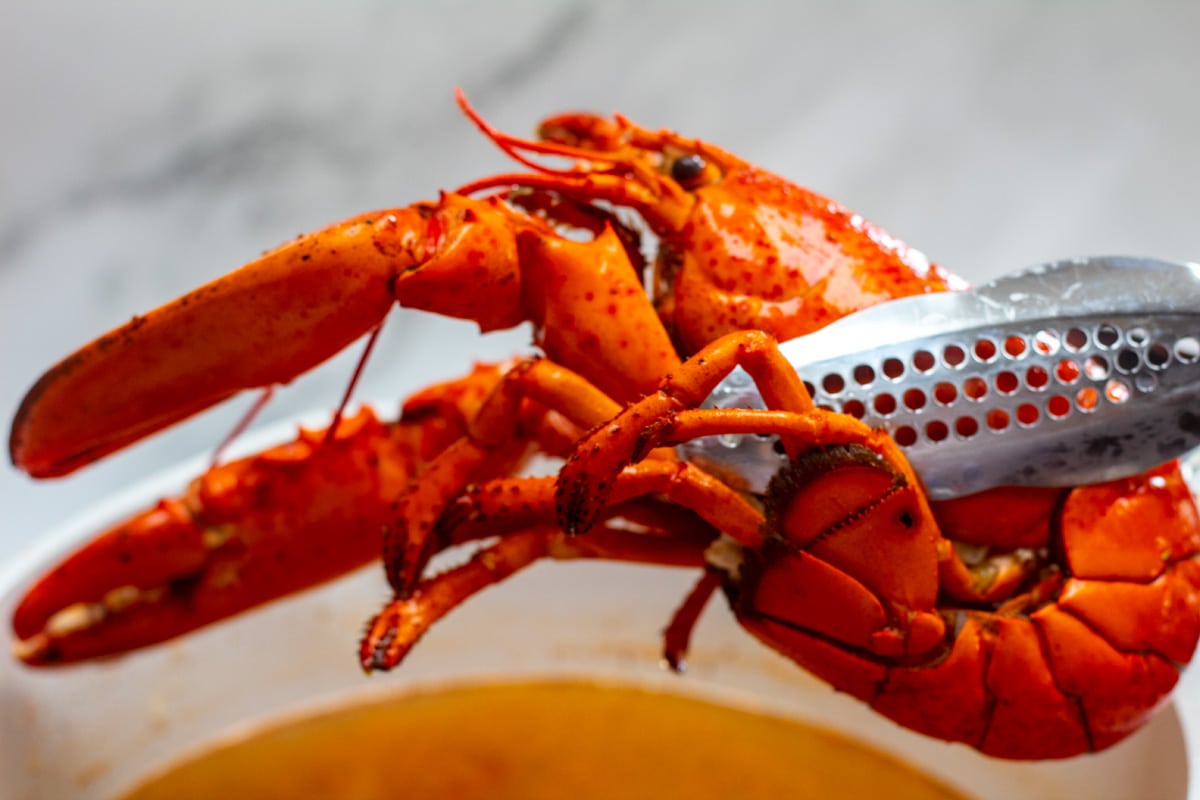 How to Boil Lobster
First, prepare the cooking water. In a large stockpot, add enough water to cover the lobsters. Lobsters should remain outside the pot for now. Flavor the water with 2 whole bay leaves, ½ tablespoon Kosher salt, 2 tablespoons lemon juice, and 1 tablespoon Old Bay seasoning. Put the lid on the pot and bring everything to a rapid boil. When it is ready, it will be bubbling violently.
Next, add the lobsters. When the water is fully boiling, add 4 lobsters, approximately 1 ½ pounds each. You should hold them by the back and put the heads in first. Leave the claw bands on. They should all be fully covered with water. If you need to cook in batches to guarantee this, do so.
Cook thoroughly. Put the lid back on and bring the water back to a boil. When it has returned to a boil, cook for 8 minutes. Now, transfer the lobsters into a cold water bath to stop the cooking process. Leave them submerged for about 1 minute.
Finally, serve and enjoy! Remove the lobsters from the water and shake them off. Serve with drawn butter and lemon wedges on the side while your boiled lobster is still hot.
I think lobster is best for dinner, as it tends to feel the most like a celebration, but this dish is great for lunch, too! Serve it with creamy caesar calad, white cheddar mac and cheese or corn on the cob, and garnish with parsley if desired. 
💭 Tips & Recipe Notes
---
Maine lobster is commonly thought to be the most flavorful. They have delicious claw and tail meat.
Market prices usually are highest in early spring and lowest in May and June. If you live in Maine, you're in luck!
Watch carefully when cooking. You can tell when the lobster is finished, because the shell will turn bright red, and the antennae can easily be pulled out.
If you pull the boiled lobster out of the water too soon, don't worry. Just put them back in and check again after a couple of minutes.
Measure the internal temperature to make sure the shellfish is safely cooked. Use a digital meat thermometer to verify the internal temperature of the lobster is 140℉ (60℃) at a minimum.
To prevent overcooking, don't let it get hotter than 145℉ (63℃). It's a tender meat, and heating it too long will make it rubbery!
When making the drawn butter, use salted butter. There is no salt in the recipe, so using a salted butter adds extra flavor and amplifies the other flavors. You definitely won't regret the extra time it takes to make this once you try it!
The flavors blend and complement it like nothing you can imagine. Plus, there are plenty of ways you can tailor it to your specific tastes by adding herbs you love. It only takes 10 minutes, and if you have extra, use it with some crusty bread.
Servings of Lobster
Expand the recipe if you expect more people for dinner. The recommended serving size for lobster is 6-8 ounces per person. To get this yield, you'll need a 1 ½ pound lobster.
In other words, to serve 2 people you'll need 3 pounds of lobster. For 4 people, you'll need 6 pounds, and so on.

Lobster Cooking Times
Calculate cooking times based on weight of individual lobsters. Add 6-7 minutes for the first pound of lobster you're cooking. Add 3 minutes for each extra pound after that.
In this recipe, I call for 1 ½ pound whole lobsters, so the total cooking time is around 8 minutes. If each lobster weighed 3 pounds, you would cook them for 12-13 minutes.
🥡 Storing & Reheating
---
Leftovers will keep 3-4 days in the fridge if stored in an airtight container or tightly wrapped in foil or plastic wrap. If you happen to have leftover lobster you can use it in my amazing lobster risotto or my out-of-this-world lobster mac!
Boiled lobster is best when eaten freshly cooked, but if there happen to be some leftovers, they can be frozen. This is only true if they have not been previously frozen, they cannot be re-frozen – you need to have bought them fresh.
Wrap tightly in tin foil or plastic wrap and put in a freezer bag or airtight container. Frozen lobster will be good for 2-3 months.
Reheating
Your best option for reheating lobster is in the oven. Wrap shelled lobster in tin foil with a bit of butter placed on top. Put in a 350℉ (175℃) oven for 5-10 minutes or until warmed to your satisfaction.
🦞 What To Serve With Boiled Lobster
---
❓ FAQ
---
Where can I buy lobster?
Lobster is sold in the seafood department of most grocery stores, but I would recommend finding a store or market that specializes in seafood. Seafood markets tend to offer the best, fresh lobster and seafood.
Why are lobsters usually boiled alive?
Lobsters naturally have dangerous bacteria in them. When they die, that bacteria multiplies and releases toxins, and not all of it can be killed through cooking. By boiling them alive, you reduce your chance of food poisoning. 
Do you love a recipe you tried? Please leave a 5-star 🌟rating in the recipe card below and/or a review in the comments section further down the page.

Stay in touch with me through social media @ Pinterest, Facebook, Instagram, or Twitter! Don't forget to tag me when you try one of my recipes!
📋 Recipe
Print Recipe
Leave A Comment
Love This Recipe?
Click On A Star To Rate It!
Boiled Lobster
This amazingly tasty boiled lobster is an easy way to make the perfect lobster dinner at home whether it's a special night for two or a huge lobster-fest! Serve your lobster with my simple drawn butter and dip every bite into the rich deliciousness!
Pin Recipe
Share on Facebook
Ingredients
water

(enough to cover the lobster - plus cold water for a cold water bath after boiling)

2

whole

bay leaves

½

tablespoon

Kosher salt

2

tablespoon

lemon juice

1

tablespoon

Old Bay seasoning

4

whole

lobsters

(approx 1 ½ pounds each)

1

drawn butter

(for serving)

1

lemon

(sliced into wedges for serving)
Instructions
Fill a large stockpot with enough water to cover the lobsters. Add bay leaves, Kosher salt, lemon juice, and Old Bay seasoning. Cover and bring the water to a full rolling boil (bubbling rapidly).

water

,

2 whole bay leaves

,

½ tablespoon Kosher salt

,

2 tablespoon lemon juice

,

1 tablespoon Old Bay seasoning

Once the water is at a full boil, hold the lobsters by the back and place them into the boiling water head first (leave the claw bands on). Completely submerge each of the lobsters as they are added. *Cook in batches if needed.

Return the cover to your stock pot and bring the water back to a boil, cooking the lobster for 8 minutes. After the cooking time has elapsed, plunge the boiled lobster into a cold water bath for about a minute to stop the cooking process.

Serve immediately with drawn butter and lemon wedges.
Notes
*Nutritional information is for 1 ½ pound whole lobster as boiled, but not including the drawn butter or lemon that may be served on the side.
A 1 ½ pound lobster yields the ideal 6-8 ounce serving of lobster meat per person for a serving.
Cook your lobster for 6-7 minutes for the first pound, and add 3 minutes for each additional pound. We are using 1 ½ pound lobster for this recipe, so the total cooking time is 8 minutes.
Lobster is done when the shell is bright red and the antennae can easily be pulled out.
Cooked lobster should have a minimum internal temperature of 140°F (60°C) for food safety. The maximum internal temperature I recommend is 145°F (63°C) to prevent over-cooking the tender lobster meat.
Nutrition
Calories:
163
kcal
(8%)
|
Carbohydrates:
4
g
(1%)
|
Protein:
32
g
(64%)
|
Fat:
2
g
(3%)
|
Saturated Fat:
1
g
(6%)
|
Polyunsaturated Fat:
1
g
|
Monounsaturated Fat:
1
g
|
Trans Fat:
1
g
|
Cholesterol:
242
mg
(81%)
|
Sodium:
1698
mg
(74%)
|
Potassium:
436
mg
(12%)
|
Fiber:
1
g
(4%)
|
Sugar:
1
g
(1%)
|
Vitamin A:
78
IU
(2%)
|
Vitamin C:
18
mg
(22%)
|
Calcium:
193
mg
(19%)
|
Iron:
1
mg
(6%)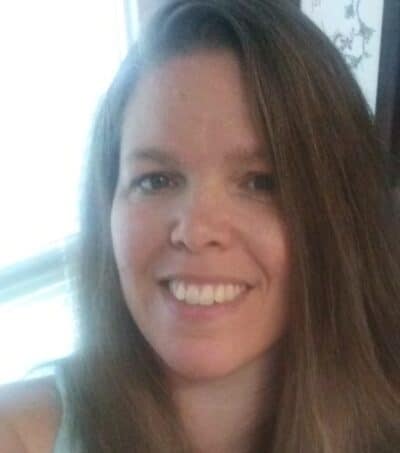 Angela is an at home chef that developed a passion for all things cooking and baking at a young age in her Grandma's kitchen. After many years in the food service industry, she now enjoys sharing all of her family favorite recipes and creating tasty dinner and amazing dessert recipes here at Bake It With Love!