If you're wondering what to serve with lobster, take a look at this list of my favorite lobster side dishes that will pair perfectly! Every dish on this list is made better when served with tender, buttery lobster!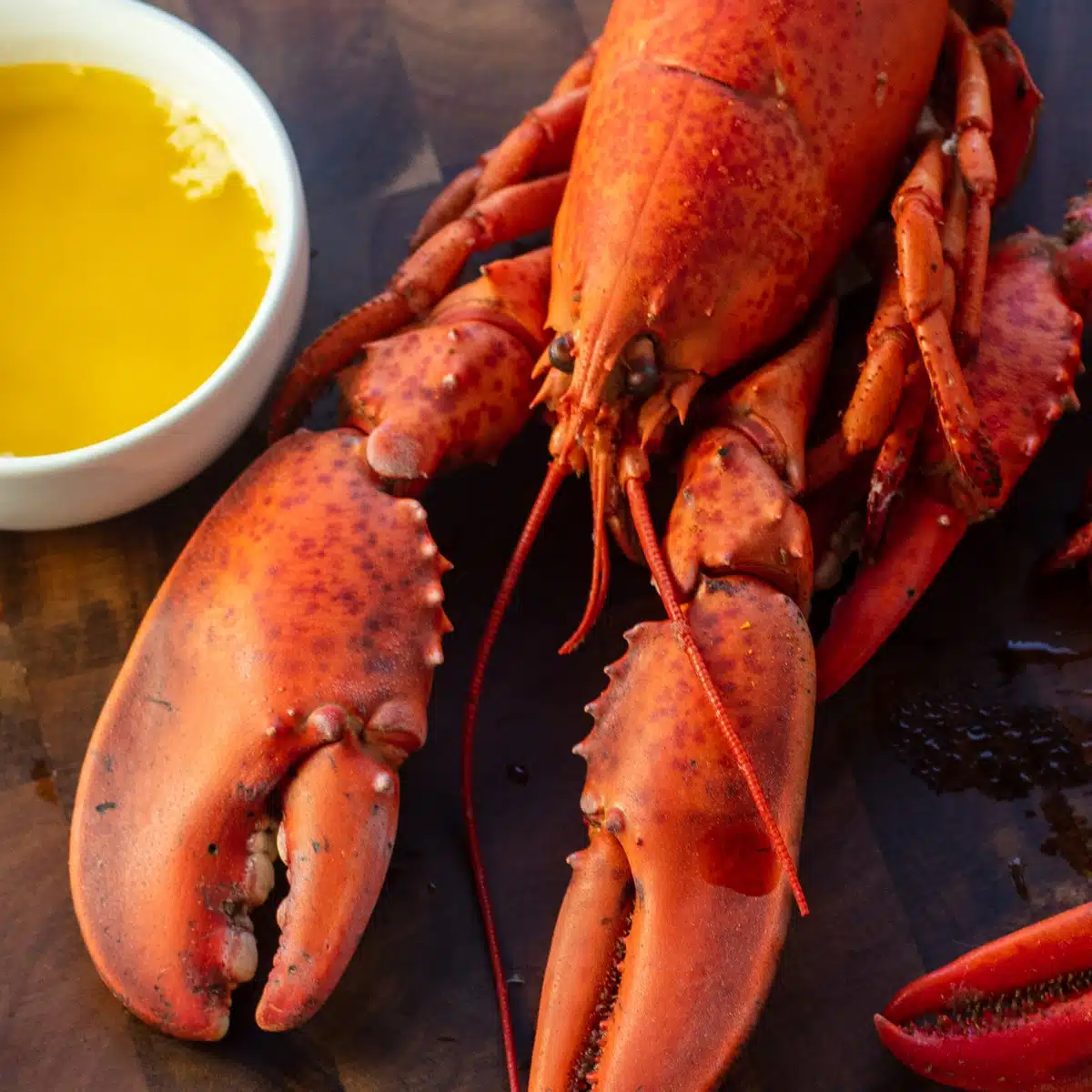 You can never go wrong with lobster as the main course of any dinner!
Lobster is sumptuous seafood that is often associated with celebrating a special occasion. Well, there is no reason to wait for a holiday or formal occasion, you can have a lobster dinner any day of the week!
As delicious as lobster is on its own, you may be wondering what else you can serve with it to make it a complete dinner. Since you don't need a ton of ingredients or hours of preparation time to cook lobster, you can really focus on making the perfect sides!
Jump to:
We've compiled a list of the best dishes to serve with lobster down below, each one is bursting with flavor and a perfect match for lobster!
1. Boiled Corn on the Cob
It's the perfect summertime side dish, with its juicy sweetness and golden color. Put some butter on top, season it with salt and pepper, then chow down.
I boil my corn in milk and butter. The result is a delectable side dish that goes well with almost anything.
2. Mashed Potatoes
The simplicity of mashed potatoes makes it a comfort food staple. A creamy, delicious mash goes great with buttery lobster meat!
Homemade mashed potatoes are rich and creamy, quick to prepare, and always a crowd favorite.
3. Steamed Clams
Steamed clams taste delicious served on their own, over pasta, or as a side dish. This clam dish is quite simple to prepare and always turns out to be absolutely wonderful!
Serve these wine steamed clams alongside some lobster, and you've got yourself a delicious seafood dinner!
4. Calamari
Deep-fried calamari is a great appetizer for any meal, but especially when paired with lobster or other seafood dishes! Marinara sauce is the perfect accompaniment to the crispy, light squid.
This calamari is soaked in buttermilk and fried to crispy perfection. It's the perfect accompaniment for some delicious lobster.
5. Drawn Butter
Drawn butter, which is simply melted butter, is commonly served with steamed shellfish. However, additional ingredients can be added to the butter to make it even more delicious!
This recipe for drawn butter enhances the flavor of crab and lobster tails!
6. Southern Baked Mac & Cheese
If you're looking for a rich, cheesy dish with lots of Southern flavor, then Southern baked mac and cheese is for you. You won't ever want to open a box of pre-packaged mac and cheese ever again!
This baked mac & cheese is incredibly smooth and creamy. It's the perfect indulgent side dish to pair with your indulgent lobster main course!
7. Coleslaw
Coleslaw is bursting with vibrant, fresh flavors that go well with just about anything. It is made of finely shredded raw cabbage and carrots mixed with some tangy dressing.
The fresh flavor really compliments lobster. Plus, it is quite easy and simple to make coleslaw at home.
8. Clam Chowder
Clam chowder is easier to make than you might imagine. It is amazingly creamy, rich, and packed with clams!
A bowl of clam chowder may be enjoyed in any weather, but it's particularly good on chilly winter evenings! It's perfect for serving up as an appetizer to a lobster dinner.
9. Garlic Bread
Garlic bread is a simple and tasty bonus to any meal. Making garlic bread takes only a few minutes from start to finish when made in the air fryer!
Buttery, toasted garlic bread is especially delicious when paired with some lobster.
10. Potato Salad
Potato salad is an old-school favorite for many people. It's flavorful, and you can whip up a large amount in no time.
What's fantastic about potato salad is that you can easily make enough for a crowd, and it makes great leftovers! It is a versatile side that goes with anything, including lobster!
11. Glazed Carrots
Glazed carrots are a simple dish to prepare. It only takes a few ingredients and very little effort to cook them perfectly.
Lobster is an excellent accompaniment to this sweet yet savory dish. Making them in advance and keeping them refrigerated until you're ready to serve them is a great way to save time!
12. Parmesan Risotto
Have you ever considered making risotto but decided against it because you think it's too difficult?
Risotto takes time but is actually very simple to make, it only requires a few ingredients.
If you wish to impress your loved ones or guests, serve some Parmesan risotto alongside your lobster. With this lavish meal, everyone will be thanking the chef!
13. Lemon Asparagus Orzo
Serve Lemon Orzo with Asparagus as an easy and delicious main course or side dish. It's flavorful, filling, and it cooks up quickly.
It's a simple and healthy dish that we simply adore because it's so fresh. From the lemon zest, this dish has an exuberant citrus flavor that pairs wonderfully with shellfish.
14. Cucumber Salad
Cucumber salad is a simple and versatile side dish that takes little time to prepare. Marinating the cucumber ensures that the tangy flavors are infused into every bite.
Cucumber salad can be made up to a day in advance and stored in the refrigerator! As the salad rests, it will only get tastier and more flavorful.
The tangy fresh flavor of cucumber salad goes with lobster perfectly!
15. Caesar Salad
Make your own Caesar salad and serve it with some homemade dressing! The tangy flavor of Caesar dressing compliments seafood perfectly.
A Classic Caesar Salad with crunchy homemade croutons and a mild Caesar dressing is perfect for impressing dinner guests, as is some succulent lobster.
🦞 More Great Lobster Sides!
---
Use these ideas the next time you're in the mood for lobster. As delicious as lobster alone is, pairing it with one of the sides mentioned above makes for a satisfying dinner.
We'd love to know what you think! Leave a comment below and let us know what you love to serve with lobster!
📋 Recipe