These baked potato toppings are the most delicious and creative ways to dress up your baked potato for lunch or dinner! This list features classic toppings that everyone knows and loves and some unique options if you like to switch things up. There are a million ways to enjoy a baked potato!
Best Baked Potato Toppings
I love, I mean love, baked potatoes. They are so versatile and comforting. You can make them a side dish or enjoy a loaded baked potato as a meal in itself!
Not to mention, there are so many different ways to load them. You could eat a different baked potato every day of the month (maybe every day of the year)!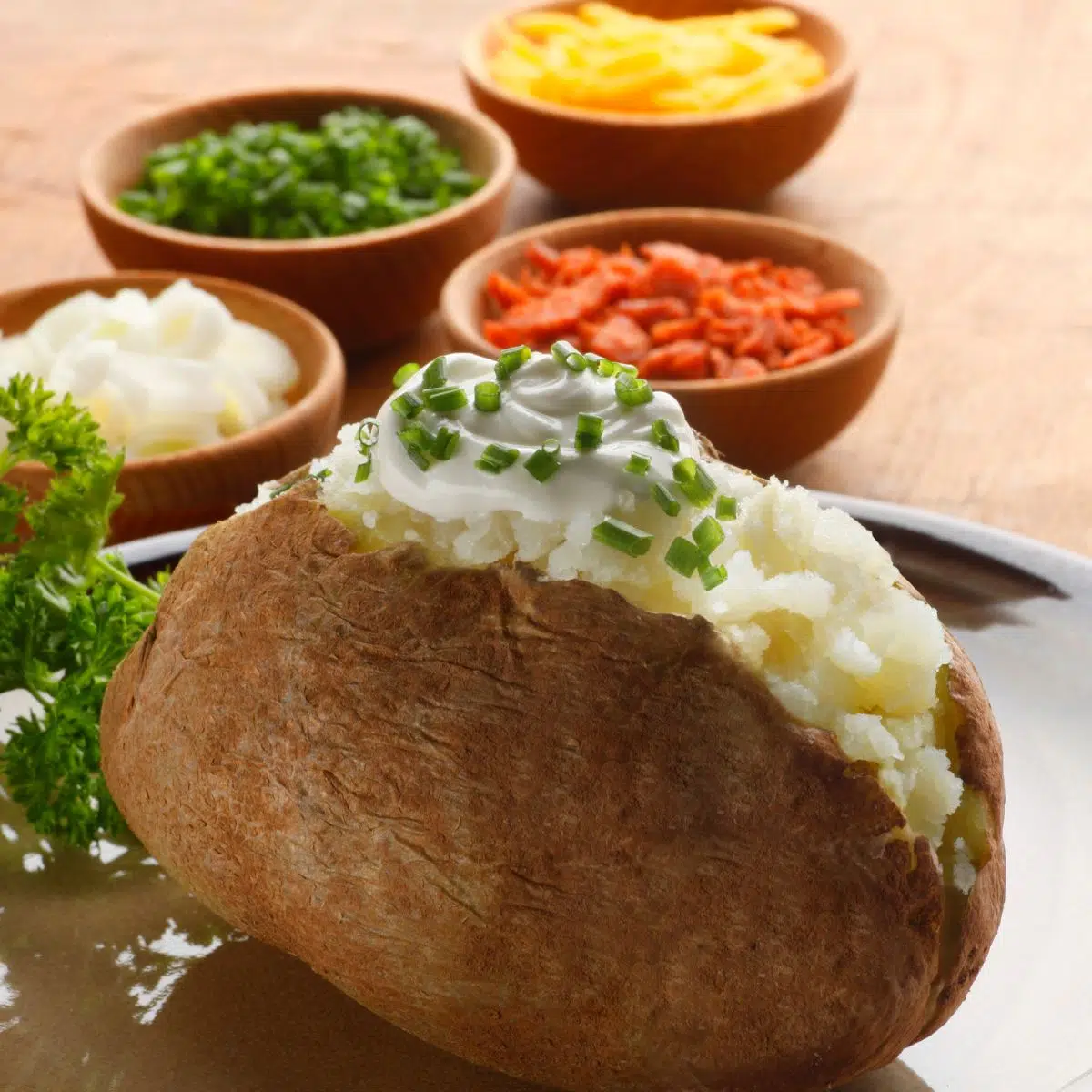 Jump to:
The Best Topping Combinations For Potatoes
Everything tastes better when it's on a potato! Below are some of the best topping combinations for when you're craving a satisfying spud for lunch or dinner.
If you plan on serving baked potatoes at your next get-together, take a look at my potato bar post! It has ideas for setting up your spread as well as what toppings you should offer.
1. Classic Toppings
Of course, we will start with the classics. After all, they are classics for a reason! There's something simple and satisfying about a buttery potato loaded with cheese, sour cream, bacon, and chives.
It's great with a steak, soup, salad, you name it! It even makes a tasty lunch by itself. Try making extra crispy bacon in your air fryer (it's so easy to chop or crumble)!
2. Pico De Gallo
If you are watching your calories or fat, pico de gallo is a nice choice for topping your potato. You can always combine it with other toppings (like salsa).
It's also delicious and refreshing on its own with a bit of salt & pepper!
3. Ranch
Ranch is particularly popular in the South (they call it Texas ketchup)! It may be a salad dressing, but it's used on everything from pizza to french fries and baked potatoes!
Think about it, it is not too far off from sour cream. It just has some extra herbs and spices!
4. Salsa
Salsa and potatoes go together wonderfully! I like mild to medium salsa but you can go as hot as you'd like!
Add some pico and sour cream or enjoy it as-is. Building the perfect potato is the best part!
5. Chicken Alfredo
Chicken alfredo turns a potato into the ultimate comfort food. Pile on the pasta, chicken, and alfredo sauce and you'll be in heaven!
You can also opt for alfredo sauce with veggies, or even by itself.
6. Pot Roast
Loading your baked potato with pot roast turns it into a main course pretty quickly! It's savory and satisfying.
You can add the tender carrots and onions if you'd like the true pot roast experience, or leave them out if you prefer.
7. Roasted Vegetables
A vegetarian potato is another great option! An assortment of roasted veggies on top of a starchy potato will fill me up any day.
Add cheese or your favorite sauces to top it off!
8. Chili
Chili isn't just for hot dogs, it's also for potatoes! You can even use turkey chili to make it healthier.
Add your favorite chili toppings like sour cream and green onions for the full experience. If you are an avid hunter, this venison chili would also be delicious!
9. Bell Peppers and Onions
It takes no time to quickly saute some bell peppers and onions. They make an incredible potato topping, and they are healthy, too!
10. Taco Meat
A Tex-Mex tater is full of flavor! Load your potato up like it's your favorite taco.
All you need is some taco seasoning and the accouterments: lettuce, sour cream, salsa, whatever you'd like!
11. Pulled Pork
Pulled pork makes for a hearty potato. It's even better drizzled in BBQ sauce!
I mean, you commonly see baked potatoes on the menu at any BBQ joint. Now you've just combined the two for convenience!
12. Tzatziki Sauce
Give your potato a Mediterranean twist by drizzling it with Tzatziki sauce! You can even add things like chicken, feta, and olives to really lean into the theme.
13. Broccoli and Cheese
A cheesy broccoli potato is another quality classic. It's simple, yet delicious, and so easy to make.
Steamed broccoli is full of vitamins and antioxidants, so it will make you feel better about indulging.
14. Cooked Ham
If you have leftover holiday ham, dice it up and add it to your spud! It's much better than eating ham sandwiches for a week.
15. Blue Cheese Dressing
You either love it or you hate it, but blue cheese is here to stay! It's especially delicious if you add some bacon.
You can even opt for grilled chicken and bacon if you are extra hungry!
🥔 Best Potato Recipes
‌These baked potato toppings are sure to satisfy your craving! Let me know which ones you tried by leaving me a comment below!
📋 Recipe