Holiday pie recipes are the perfect addition to any holiday spread and might even become a new family tradition! I have a list of amazing pies suitable for any occasion - from Easter to the 4th of July to Thanksgiving and Christmas! Nothing says happy holidays like a homemade dessert!
Best Holiday Pie Recipes
No holiday spread is complete without pie! In fact, we often have an array of pies on the table at my family get-togethers.
The pie recipes below are perfect for celebrating any holiday! Even if you aren't hosting the party, bringing a pie is always nice so you don't show up empty-handed.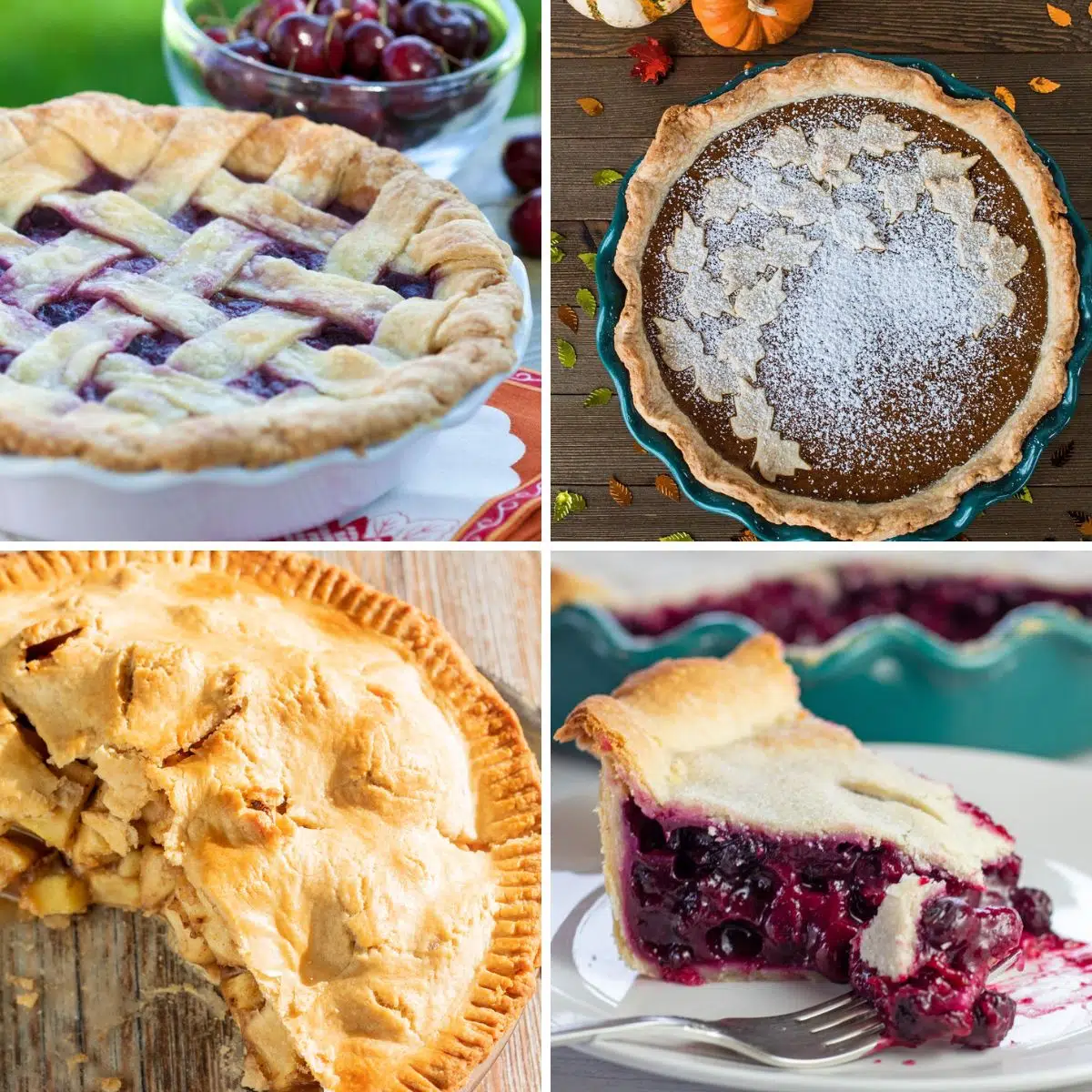 Jump to:
Holiday Pie Recipes For Easter, 4th of July, Thanksgiving, & Christmas
Below are the best pies for sharing with family and friends on special occasions. I have a variety to choose from, so pick which pies will suit your family best!
1. Pumpkin Pie
Perhaps the king of holiday pies, no Thanksgiving is complete without one of these on the table! My classic pumpkin pie recipe is always a hit.
I love cutting out cute autumn leaves from the pie crust dough and using them as decoration!
2. Pumpkin Pie (Without Evaporated Milk)
This second pumpkin pie recipe is made even easier because you don't need evaporated milk. It is still just as creamy and delicious without it!
3. Mummy Pie
Mummy pie is just as fun to look at as it is to eat! This cute and quirky Halloween pie is a great way to add some festivity to your next spooky party.
4. Apple Pie
Some people claim apple pie is a summer dessert (especially with ice cream), while others say spiced apples are meant for fall. Well, I say this sweet Granny Smith apple pie should be enjoyed year-round!
5. Blueberry Pie
You can use fresh or frozen blueberries to make this sweet, fruity pie. In fact, I often use a mix of both!
6. Blackberry Cream Pie
A no-bake blackberry cream pie is one of my go-to gifts for showing up at get-togethers that I'm not hosting. It's easy and flavorful, especially when you use fresh blackberries!
7. Blackberry Apple Pie
Apple pie is classic, but mixing in blackberries makes it extra special! I love serving this pie with a scoop of ice cream during the summer.
8. Blackberry Tart
Blackberries are in season through July and August in the U.S. That means this tart full of fresh blackberries, lime zest, and tested coconut would be perfect for the 4th of July!
9. Sweet Potato Tart
To me, sweet potatoes are a quintessential part of Thanksgiving. This sweet potato tart is a fun alternative to a pumpkin pie!
10. Tart Aux Fruits (French Fruit Tart)
This gorgeous French tart includes a rainbow of different fruit. It's not only beautiful, but it would be perfect for any spring or summer holiday.
11. Pecan Tartlets
Pecan tartlets are just mini pecan pies! They are fabulous any time of year and make incredible finger food for parties and get-togethers.
12. Blueberry Galette
This easy-to-make rustic French pastry is full of fresh blueberries! It's much more simple than a traditional pie, but it is delicious all the same.
13. No-Bake Pumpkin Pie
This easy-to-make no-bake pumpkin pie will blow you away with how wonderfully tasty it is! Stick with my gingersnap crust or swap it out for graham cracker or Oreo cookie crust to mix and match!
14. Mincemeat Pie 
Mincemeat pie is made with fruit and beef suet, so it's sweet and savory! It's a classic English pie that is traditionally served around Christmas time.
15. Caramel Apple Pie
Caramel apple pies are full of fall flavor! That means they make a fabulous addition to any Halloween, Thanksgiving, or even Christmas table.
16. French Silk Pie 
The name says it all, this pie is as smooth as silk. It is a rich chocolate pie that's light and fluffy with a whipped cream topping. It's downright heavenly!
17. German Chocolate Pie 
This indulgent German chocolate pie is suitable for any time of year! It has a rich and gooey chocolate filling that is pretty much to die for.
18. Eggnog Pie
This no-bake eggnog pie is a Christmas favorite. A graham cracker crust is loaded with a fluffy, sweet eggnog filling that is so creamy!
19. Coconut Cream Pie 
There is no right or wrong time to enjoy a coconut cream pie. It's the perfect dessert to bring to any holiday get-together (as long as no one is allergic to coconut).
20. Lemon Meringue Pie 
A bright and citrusy lemon meringue pie is perfect for summer get-togethers and the 4th of July! It's an easy dairy-free recipe that you are sure to make again and again.
21. Chess Pie 
Chess pie is a Southern tradition that you will often see at potlucks, cookouts, or as part of any holiday dessert spread! It tastes like a sweet custard but in pie form, of course.
22. Candy Cane Pie
Obviously, candy cane pie screams 'Christmas'! This easy no-bake pie has an Oreo cookie crust that holds all of the creamy peppermint filling.
It's sweet and indulgent, a true holiday dessert.
🍰 More Delicious Desserts
These holiday pie recipes are the perfect addition to any table! Let me know if you tried any of these pies this holiday season by leaving a comment below!
📖 Recipe Card