Best desserts to serve with lobster: A collection of decadent desserts that all perfectly complement lobster and other seafood! Citrus-flavored confections, creamy pies, gelatin delights, and fresh fruit tarts are just a few of the fabulous flavors that you'll find on this list. Whether it's for a special occasion or you're just craving a lobster dinner at home, you can't go wrong with any of these delectable desserts!
Best Desserts For A Lobster Dinner
When you think of a lobster dinner, the first thing that comes to mind is indulgence. But what's the perfect way to end such a luxurious meal?
From cakes and tarts to pies and more, there are plenty of options to choose from when it comes to picking the perfect dessert. Here are some ideas for desserts you can serve with lobster to make your next seafood dinner even more special!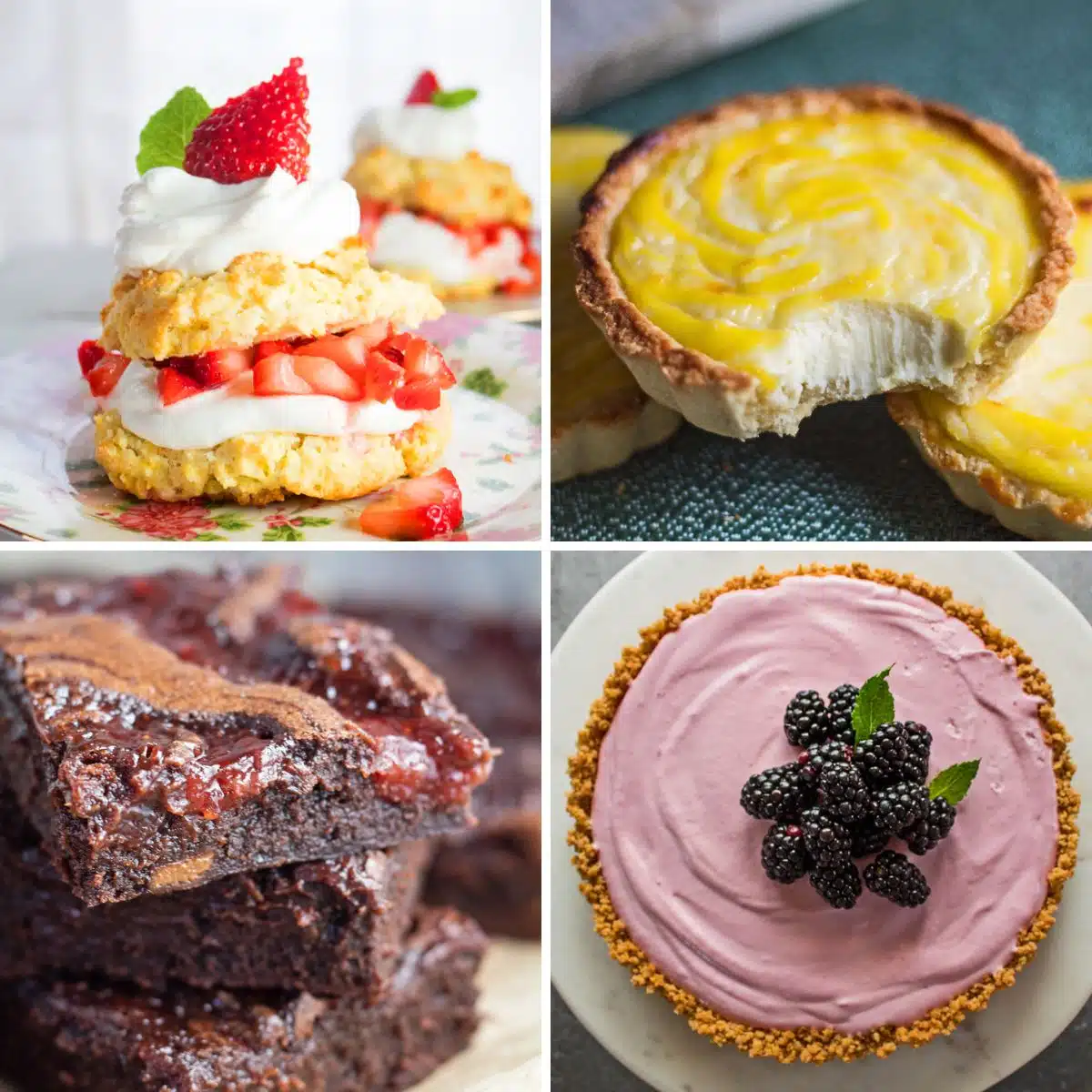 Jump to:
Want More Recipes? Enter your email below and we'll send them straight to your inbox!
For a restaurant-quality lobster dinner, try making a whole-boiled lobster with drawn butter (it's super easy)! Or, you can take a look at all of my favorite lobster recipes right here!
1. Strawberry Shortcake
The first record of strawberry shortcakes comes from a British cookbook written in 1588. This classic dessert is light and sweet, plus I add some lemon zest to the homemade shortcake biscuits to give it a pop of citrus that complements the flavor of lobster.
This recipe is my absolute favorite way to use fresh strawberries. I also include a quick made-from-scratch whipped cream, though you could always use storebought if you prefer!
2. Mandarin Orange Jello Salad
If you're looking for a delicious and easy dessert, look no further than mandarin orange jello salad. This bright citrus-flavored treat is sure to please any crowd with its mix of sweet and fruity flavors.
It features crushed pineapples, mini marshmallows, and mandarin oranges all combined in a whipped cream and orange jello base. It's light, sweet, and hard to resist!
3. Key Lime Pie
The bright, sweet, and tart flavor of key lime pie makes it a great dessert following any seafood dinner. It has a creamy key lime filling and fresh whipped cream in a crumbly graham cracker crust.
Key lime pie is a classic summer dessert, but you won't hear any complaints if you serve it any other time of year!
4. Blackberry Cream Pie
This lush blackberry cream pie is chilled, so it makes a lovely and refreshing after-dinner dessert. Fresh blackberries are first made into a puree that is then turned into a velvety smooth blackberry cream pie filling.
Top each slice with a few fresh blackberries and a few sprigs of mint for a gourmet dessert worthy of any lobster dinner.
5. Blueberry Galette
A blueberry galette is a rustic French pastry similar to a blueberry pie. The wonderful flavor of fresh blueberries is what sets this dessert apart from the rest.
That's not to say it isn't delicious with frozen blueberries (you can use either). The lemon juice and zest added to the blueberry filling really make it pop!
6. Blackberry Tart
A blackberry tart is a deliciously fruity dessert that is perfect for any occasion. It starts with a shortcrust pastry tart shell filled with fresh blackberries, then it's topped with toasted coconut and lime zest for an extra layer of flavor!
The combination of sweet and tart flavors makes this blackberry tart irresistible!
7. Strawberry Swirl Brownies
Wonderfully fudgy brownies with swirls of sweet strawberry jam all throughout. They're rich and decadent, the perfect conclusion to an incredible lobster dinner.
Serve the brownies warm with a scoop of vanilla cream for something truly indulgent! Make sure to add the optional grated chocolate bar if you want to make them extra chocolatey!
8. Hokkaido Cheese Tarts
The sweet, creamy filling of these Japanese cheese tarts consists of three different kinds of cheese - mascarpone cheese, cream cheese, and Parmesan! The cheese is mixed with sugar, lemon juice, vanilla extract, and a few other ingredients to make a rich, sweet filling for the small shortcrust pastry tart shells.
Each cheese tartlet is about 4 inches in diameter, so it's a great way to satisfy your sweet tooth without overdoing it.
>>>>See all of my recipes HERE<<<<
9. Lemon Bars
Lobster and lemon are a match made in heaven, so naturally, lemon desserts would be a fantastic choice! Lemon bars are about as lemony as dessert can be, so they earned their spot on this list.
Not to mention, my super simple lemon bar recipe only calls for 2 ingredients. It doesn't get any easier! Once dinner is over, slide a plate of lemon bars on the table and watch them disappear!
10. Pineapple Upside Down Bundt Cake
The signature sweet and tropical flavor of classic pineapple upside-down cake in a beautiful bundt form! It's a fun spin on the well-loved cake that's always a hit at parties and gatherings!
Plus, the cake comes out looking amazing - no decorating is required! It's a stunning and easy dessert to serve when you're treating yourself to a lobster dinner!
11. Red Velvet Cake
The classic red velvet cake has to be shared on this list of mouth-wateringly delicious desserts! It's another great dessert recipe that's easy to make, yet supremely tasty too!
The smooth texture of the cake and the slightly understated flavor is a great pairing with a seafood dinner. It's exceptionally suited to rounding out your lobster menu!
12. Blackberry Apple Pie
Blackberries add a sweet and tart flavor to this apple pie. It still features a lot of the same warm spices you would find in traditional pie, but the flavor is more complex.
Also, like apple pie, blackberry apple pie tastes fantastic warm with a dollop of whipped cream or a scoop of ice cream!
13. No Bake Strawberry Cream Pie
This cool and creamy strawberry cream pie is always a treat! The base is a cinnamon graham cracker crust that's topped with a layer of creamy strawberry jello with fresh strawberries followed by a layer of whipped cream and more strawberries!
The red and white layers make for beautiful slices, with fresh strawberries peeking through every piece!
14. Mandarin Orange Cake
Mandarin orange cake, also known as Southern pig pickin' cake, is a light and fluffy dessert that is filled with citrus flavor. It's made with a boxed cake mix and canned Mandarin oranges, so it's beginner-friendly.
Not to mention, the soft texture and bright orange flavor make this a great middle-of-the-day dessert because it's not too heavy. I highly recommend giving it a try after a delicious lobster brunch!
15. Cherry Clafoutis
Cherry clafoutis is an elegant dessert that is perfect for any occasion! It's made with fresh bing cherries (or your preferred sweet or sour cherries) and a light, eggy batter that is baked until golden and fluffy.
It's the perfect ending to a lobster dinner or any other special occasion. This classic French dessert will surprise and delight your guests with its unique flavor and texture!
16. Strawberry Angel Food Lush
If you're looking for a decadent, sweet dessert that's sure to impress, then look no further than my easy strawberry angel food lush! This delicious treat consists of fluffy layers of angel food cake and fresh strawberries, topped with a generous helping of whipped cream.
It's truly a heavenly combination that will satisfy any sweet tooth. So go ahead and indulge in this delightful dessert - you won't regret it!
17. Maraschino Cherry Chocolate Chip Cookies
Maraschino cherry chocolate chip cookies are a classic, comforting dessert that will take you back to childhood. With every bite, you'll get a burst of flavor from the Maraschino cherries, and the chocolate chips add an extra touch of rich chocolatey sweetness.
These cookies are perfect for serving after a lobster dinner or as an indulgent treat anytime. They are soft, chewy, and wonderfully delicious!
18. Pear and Pistachio Cream Tart
If you're looking for a unique and delicious dessert, look no further than this pear and pistachio cream tart. This tart is made with a flaky Linzer pastry crust, filled with a creamy pistachio filling, tender braised pears, and topped with crunchy candied pistachios.
Not to mention, it is elegant and looks beautiful on the dinner table. This pistachio pear tart will surely be a hit at your next dinner party, especially if lobster's on the menu!
19. Homemade White Cake
If you're looking for a delicious dessert to finish off your lobster dinner, look no further than homemade white cake! Making this cake from scratch allows you to customize the fillings and frosting to your liking.
I highly recommend adding a pop of flavor with a layer of lemon curd, pineapple curd, or strawberry coulis. A light, whipped frosting will keep this cake light and airy, or you could opt for a sweet and tart lemon cream cheese frosting.
These are my favorite desserts to serve with lobster right now, but I hope to add more to this list! Are there any desserts you'd like to see? Let me know in the comment section below!
🦞 Lobster Recipes To Try
📋 Recipe