For what to serve with lobster tails, you've come to the right place. I've gathered all the best side dishes to make your meal complete! With these recipes in hand, you can create a truly memorable lobster dinner. From vegetables to potatoes, salads, pasta, and more, plenty of options can take your lobster tails up a notch!
Best Side Dishes For Lobster Tails
Lobster tails are a delicacy that many seafood lovers enjoy. They're known for their sweet, succulent meat that can be prepared in various ways. While lobster tails can certainly hold their own as a main dish, pairing them with the right side dishes can enhance the overall dining experience.
Whether you're hosting a fancy dinner party or simply treating yourself to a luxurious meal, the following recipes are some of the best options to serve alongside lobster tails. From vegetables to pasta, soups, salads, and more, these dishes are sure to elevate your lobster dinner to new heights!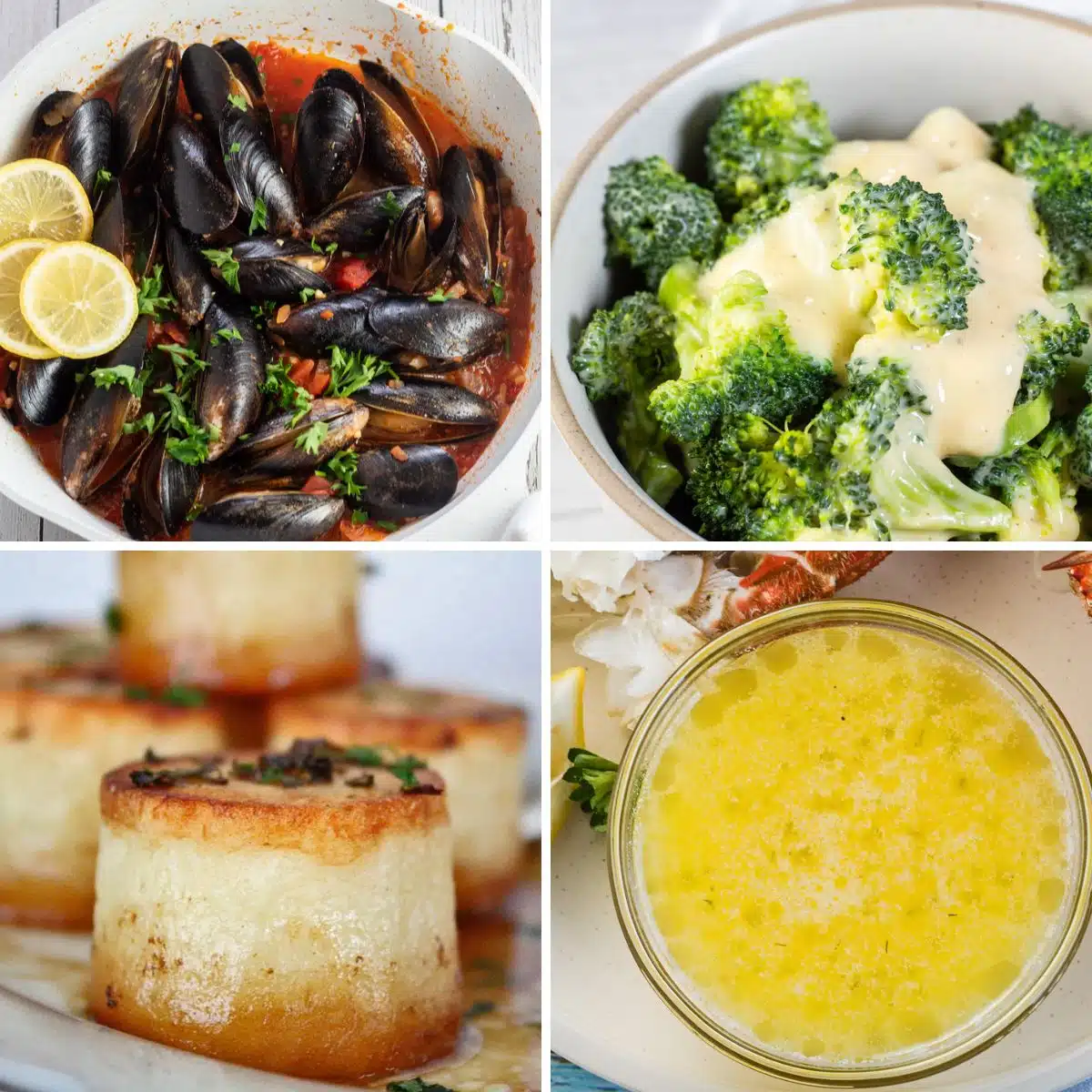 Jump to:
Pair any of these incredible recipes with some juicy smoked lobster tails or classic broiled lobster tails! In fact, these side dishes and sauces will pair well with any of my lobster recipes!
1. Drawn Butter
Drawn butter is a classic accompaniment to lobster tails and other seafood dishes. It is a simple but flavorful sauce made by melting butter and separating the milk solids from the liquid fat. This process, known as "clarifying," removes impurities and gives the butter a rich, nutty flavor and a smooth, silky texture.
When serving lobster tails with drawn butter, pour the sauce into a small dipping bowl and place it alongside the lobster on the plate. Guests can then dip their lobster meat into the butter to add an extra layer of flavor and richness to each bite.
2. Bloves Sauce
This 'Smackalicious Sauce' created by YouTube sensation Bloves became an overnight success. It is a flavor-packed sauce consisting of lots of spices, herbs, and seasonings that takes seafood, especially lobster, to the next level.
The recipe is easy enough to recreate at home in about 15 minutes. Give it a try, and everyone will be asking about the fantastic dipping sauce served with your lobster tails!
3. New England Clam Chowder
Serving New England clam chowder with lobster tails is a decadent and delicious way to enjoy two iconic New England dishes in one meal. The creamy, savory flavor of the chowder pairs perfectly with the sweet, succulent meat of the lobster!
Give this recipe a try the next time you want to impress your dinner guests with a flavorful and comforting seafood dish. Don't forget a side of soup crackers for dipping!
4. Oven Baked Potatoes
Oven-baked potatoes are a versatile and easy-to-make side dish that can be customized to suit everyone's tastes. Make sure to provide lots of tasty baked potato toppings like butter, cheese, sour cream, and bacon so everyone can load their potatoes how they like!
Baking the potatoes in the oven adds a crispy texture to their skin while keeping the inside fluffy and flavorful. They pair well with beef, chicken, lamb, duck, lobster, and just about anything else you can think of!
5. Broccoli and Cheese
Broccoli and cheese is a great way to incorporate some vegetables into your lobster dinner. The rich cheese sauce brings a creamy texture and a savory, salty flavor that complements the sweetness of the lobster.
Serve the broccoli and cheese alongside the buttery, succulent lobster tails, and you've got an elegant and comforting meal. It's a great way to impress your guests or to treat yourself to a special dinner at home.
6. Milk Butter Boiled Corn On The Cob
You could go with any old corn-on-the-cob recipe, but you would be missing out. Boiling the corn in milk and butter makes for the most tender, sweet, and juicy corn you'll ever have.
It's no secret that corn and shellfish go together perfectly (just look at any Cajun seafood boil), but this method far outshines your usual corn cobs. When lobster is on the menu, butter-boiled corn is the way to go!
7. Cheddar Bay Biscuits
Homemade cheddar bay biscuits are a delicious and easy-to-make appetizer or side dish that is absolutely perfect for your next lobster dinner. After all, these biscuits are a copycat recipe of the popular biscuits served at Red Lobster!
With their soft texture and cheesy flavor, cheddar bay biscuits are sure to become a favorite in your household. You can also experiment with different types of shredded cheese, such as smoked gouda or parmesan, to give the biscuits a different flavor profile!
8. Spanish Mussels
Spanish mussels are the perfect appetizer for any seafood dinner, lobster included! These mussels are cooked in a white whine and tomato-based broth, infused with garlic, onions, paprika, Spanish saffron, and other richly flavorful herbs and spices.
The mussels themselves are tender and juicy, plus they really take on all the incredible flavors of the broth as they cook. The combination of the garlicky tomato broth with the sweet and succulent lobster tails is a match made in heaven!
9. Instant Pot Long Grain White Rice
Instant Pot long-grain white rice is a convenient and easy way to prepare fluffy and tender rice in a fraction of the time it takes to cook it on the stove. Not to mention, the Instant Pot uses steam and pressure to ensure each grain of rice is cooked perfectly!
This results in rice that is fluffy, tender, and not too sticky. Add some fresh herbs, butter, or a little seasoning to dress up the rice and make it the perfect accompaniment to your lobster dinner.
>>>>See all of my recipes HERE<<<<
10. Parmesan Risotto
Parmesan risotto is creamy, rich, and decadent- perfect for serving an elegant and memorable lobster dinner. Once the risotto and lobster tails are both cooked, simply portion the risotto into a shallow bowl and place a cooked lobster tail on top.
Garnish with an extra sprinkle of Parmesan cheese for good measure (after all, you can never have too much cheese). The result is a stunning and delicious dish that is sure to impress your guests!
11. White Cheddar Mac and Cheese
Serving white cheddar mac and cheese with lobster tails is a great way to add a gourmet touch to a classic comfort food dish. The richness of the mac and cheese and the sweetness of the lobster tails complement each other perfectly, creating a meal that is both satisfying and elegant.
Whether you are looking to impress your guests at a dinner party or you want to enjoy a special meal at home, white cheddar mac and cheese is always a great choice.
12. Fondant Potatoes
Fondant potatoes, also known as "pommes fondant", are a classic French dish characterized by their golden-brown exterior and super creamy interior. They are made by searing peeled and trimmed potatoes in butter before slow-cooking them in chicken or vegetable broth until tender.
Although fondant potatoes may require a bit of patience and skill to prepare, they are well worth the effort! Whether you're a fan of French cuisine or just looking to elevate your cooking game, fondant potatoes are a must-try.
13. Wedge Salad
A wedge salad is a great option if you are looking for a last-minute addition to your lobster tails. The lettuce wedge requires very little preparation, and the toppings can be added quickly and easily.
Simply slice a wedge of iceberg lettuce, add the dressing, and sprinkle on the toppings! The combination of the crunchy lettuce, salty bacon, tangy blue cheese dressing, and fresh tomatoes makes for one delicious and satisfying salad!
14. Southern Coleslaw
Coleslaw is a perfect side dish to serve with lobster tails, especially for a Southern-style seafood feast. The tangy and slightly sweet flavors of the coleslaw pair perfectly with the lobster meat's rich buttery taste.
You could serve the coleslaw on the side as a refreshing and crunchy accompaniment to the lobster. Alternatively, you could use the coleslaw as a topping for lobster rolls, adding a new dimension of flavor and texture to the classic seafood sandwich!
15. Grilled filet Mignon (Surf & Turf)
Why not combine two luxurious ingredients to make the ultimate surf & turf? Grilled filet mignon is so tender it slices like butter, pair it with a juicy lobster tail, and you have a restaurant-quality gourmet dinner!
You could even grill the lobster tails so you that can cook everything in one place. Then, all you have to do is grab a few more sides from this list to complete the meal!
16. Garlic Parmesan Angel Hair Pasta
This rich and creamy garlic Parmesan angel hair pasta is super easy to prepare and tastes delicious underneath a succulent lobster tail. The dish consists of angel hair pasta that is tossed with a flavorful sauce made from garlic, butter, Parmesan cheese, and milk.
Pasta is a great choice for lobster because the meat is so light and buttery that it benefits from a carb-heavy side dish. It's the perfect way to turn lobster tails into a filling and satisfying meal.
17. Air Fryer Shrimp
Turn your lobster tails into a seafood feast by incorporating some air fryer shrimp! Shrimp is a great candidate for air frying because it cooks quickly and retains its natural sweetness and tenderness.
To make shrimp in your air fryer, all you need is some peeled and deveined shrimp, coconut oil, and a little salt. Add your perfectly cooked shrimp to salads, or pasta, or just enjoy them as they are!
18. Cheesy Baked Asparagus
Once you try this rich and cheesy baked asparagus, you won't want it prepared any other way. The asparagus is topped with cheese and baked until tender in a rich cream sauce, and trust me; it tastes as good as it sounds!
From start to finish, this asparagus only takes about 20 minutes to prepare. So, if you're looking for an easy vegetable side dish that tastes like it took a lot of effort, here it is!
Asparagus will taste great with lobster, no matter how it's prepared. Take a look at my full collection of asparagus recipes for more easy ways to prepare this tasty vegetable!
19. Steamed Clams
Steamed clams are a classic New England dish that is easy to prepare and always a crowd-pleaser. To make steamed clams, simply clean the clams in cold water, then place them in a pot with some water, onion, and white wine.
Then all you have to do is boil the clams until they open up! They make a great seafood appetizer because they are flavorful yet light enough that they won't fill you up before the main course.
20. Buttered Noodles
Buttered noodles are simple, delicious, and super easy to prepare! Add a little salt, pepper, and parsley, and the buttery egg noodles become a flavorful side dish worthy of any lobster dinner.
Once your buttered noodles are ready, portion them into shallow bowls and put the lobster tails right on top. Depending on how you prepare your lobster, with this recipe, you can have the whole meal ready in under 30 minutes!
21. Risotto Balls
If you want to incorporate risotto into your lobster dinner in a new and unique way, try these fabulous risotto balls! They are deep-fried until perfectly crispy, making an excellent side dish or appetizer for any seafood dinner.
Not to mention, this is a great recipe if you have leftover Parmesan risotto on hand. With these crispy and satisfying risotto balls and some juicy lobster tails on the table, your dinner is sure to be a success.
With any of these delicious recipes, your lobster dinner will go down as one for the books! I'd love to hear how everything turns out; just leave me a comment down below!
🦞 Lobster Recipes To Try
📋 Recipe