Look no further for the perfect breadcrumb substitute, we are sharing our very best breadcrumb alternatives- so you have plenty of options! Take a look at all of our wonderful breadcrumb replacements and find the one that will work best for you and your recipe!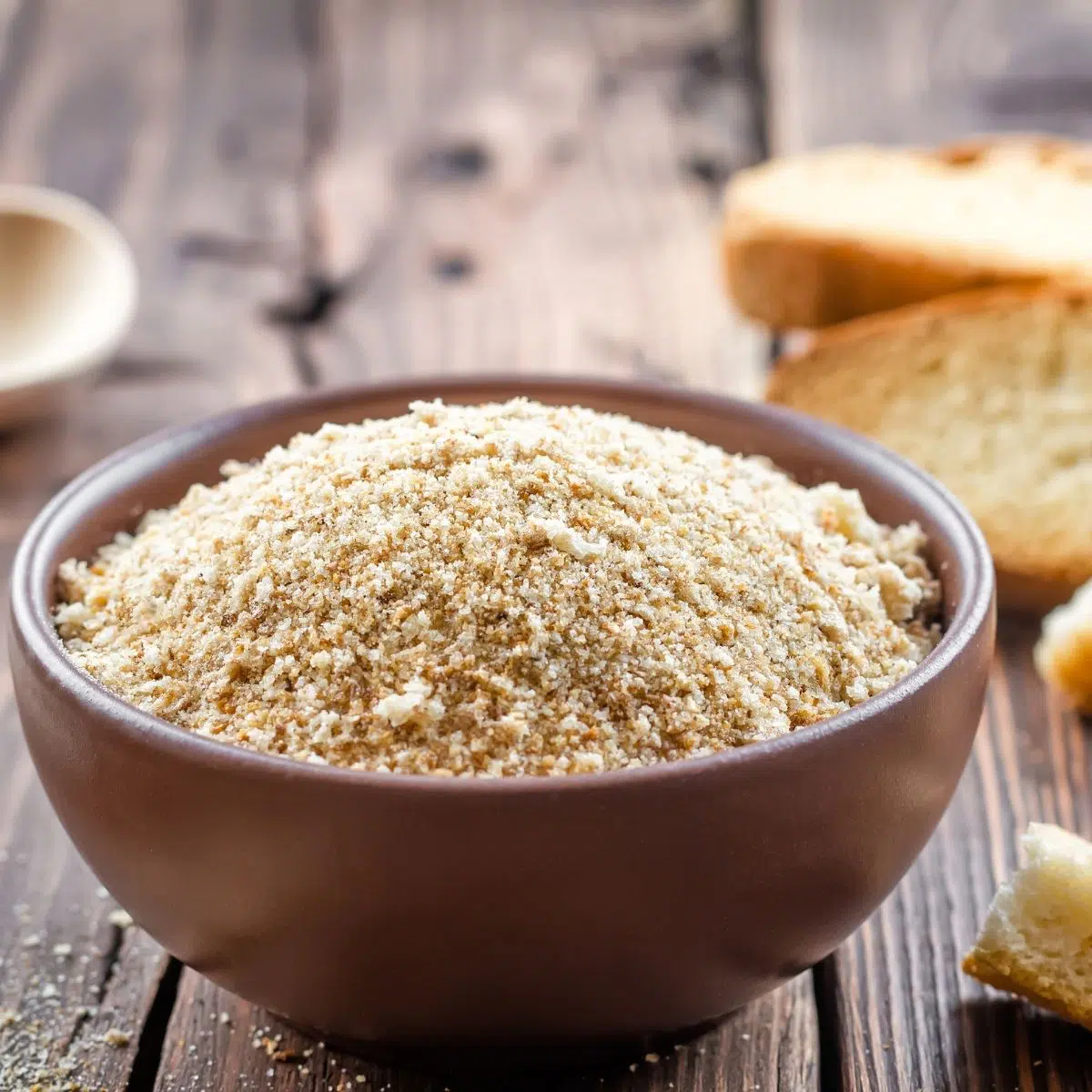 The very best breadcrumb alternatives are simple ingredients you already have on hand in the pantry!
If there are two ingredients you do NOT want to leave out of a recipe, it is cheese and bread - or in this case, breadcrumbs. These two foods are what give many recipes that extra bit of deliciousness.
While you don't want to skip either of these ingredients in a recipe, there are times when you may need a substitute for them.
Jump to:
From allergies to personal preference (you may not have the same serious love for cheese and bread that I do), or simply running out of an ingredient mid-recipe. There are several options for replacing these two important ingredients!
These two favorite foods both deserve their own list of perfect substitutes. Keep on reading to see the best breadcrumb substitutes for everyone at the table. Including several gluten-free options.
When you need a cheese substitute, jump on over to see a list of my favorite substitutes for gruyere cheese!
What Are Breadcrumbs?
Breadcrumbs are really what they sound like – dried bread that is crumbled into small pieces. Breadcrumbs are also referred to as Panko.
While breadcrumbs (or Panko) can be as simple as finely crumbled dried bread, they can also include seasoning. The seasoning usually depends on what the breadcrumbs are going to be used for. For example, breadcrumbs that are used to make meatballs may have an Italian seasoning mixed in.
What are Breadcrumbs Used For?
Breadcrumbs have several uses in the kitchen. They can be used as a binding agent, a crunchy coating, a topping, and a thickener.
While many substitutes can be used for all these purposes, some will be better than others. Therefore, make sure to choose a substitute that will best replicate the purpose of the breadcrumbs.
Homemade Panko Breadcrumbs
Sometimes the best substitute is to make it yourself! Especially when the homemade version is so easy!
Before exploring other substitutes for breadcrumbs, consider giving this recipe a try. With just a few simple ingredients and steps you will have better than store-bought homemade panko breadcrumbs for any recipe.
You can even make this gluten-free by using your favorite gluten-free bread.
Preheat your oven to 300°F (150°C) then remove the crust from a loaf of white bread and tear apart the slices.
Use a food processor with the shredding disk to finely tear apart the bread then arrange it in an even layer on a baking sheet.
Heat at 300°F (150°C) for 10-15 minutes, stirring every 5 minutes or so until the breadcrumbs are dried.
Allow the breadcrumbs to cool then crush or food process to Panko consistency.
Best Bread Substitutes
Homemade breadcrumbs may be easy, but they do take a little bit of time. For the days that you want a quick and tasty substitute, try one of these alternatives.
The best thing about these substitutes is that you most likely have at least one of them hiding in your cupboard. You can also use the majority of these in a simple 1:1 exchange for breadcrumbs (unless otherwise noted).
1. Hot Dog Buns, Hamburger Buns, Bagels
The thing about specialty bread items is that a lot of times they don't get eaten before they go bad. If you have any leftover buns, bagels, or other bread items, you can use them to make a quick batch of breadcrumbs.
Even better if they are already stale! Then you don't have to dry them out.
If they aren't quite dried out, just lay them on a baking sheet and put them in the oven at the lowest temperature for about 30 minutes to an hour. Then, toss them in a food processor or a plastic bag to crush up.
2. Crushed Pretzels
Pretzels are one of the best breadcrumb substitutes because they are basically already dried out. However, pretzels are quite a bit saltier than regular breadcrumbs.
The saltiness can be a welcomed treat when using pretzels as a crunchy coating or topping. However, when used to bind ingredients the salt may be overwhelming. Therefore, leave out any additional salt from the recipe (or even scrape off some of the salt from the pretzels before crushing them up).
3. Crushed Crackers
If you have a box of old Ritz Crackers or Saltines hiding in your cupboard, you have a great breadcrumb substitute! Bonus points if they have been in there for a while and are a bit stale.
Toss the crackers in a food processor, blender, or plastic Ziploc baggie to crush them up. Then use in any recipe that calls for breadcrumbs. As with pretzels, be mindful of any additional salt the crackers may add.
4. Crushed Potato Chips
Potato chips are one of those tasty substitutes that is fun to try even if you do have breadcrumbs on hand. Plain old potato chips are best for most recipes, but if you want to explore some fun flavor alternatives feel free to use whatever flavor you have on hand.
While potato chips are great for binding and coating, be mindful of using them as a coating in a deep-fried recipe. Since they are already fried, they can quickly burn if used as a coating for fried foods.
5. Raw Rolled Oats
While potato chips are a tasty and indulgent substitute for breadcrumbs, rolled oats are a healthier alternative. They are also a bit blander. Therefore, consider adding some extra salt or seasoning.
Rolled oats are one of the best things for binding ingredients because they absorb the moisture to help things hold together. While they can also be used as a coating, they will not offer the exact same crunch that comes from panko. If you want a really crunchy outside, consider pretzels, chips, or crackers.
6. Crushed Cereal
Cereal isn't just for breakfast. It is the perfect crunchy alternative for a breadcrumb coating. Even better, you can also use cereal for binding ingredients.
When choosing a cereal, look for neutral flavors. Corn Flakes, Rice Chex, Corn Chex, and even Rice Krispies are all great neutral flavors that will not shift the flavor of your recipe too much.
Gluten-Free Breadcrumb Substitutes
If you are allergic to gluten, then breadcrumbs are not an option for you. Therefore, you will want to look for the best gluten-free substitute.
Luckily, there are several tasty options that will make you forget you aren't eating bread.
7. Ground Almonds
Ground almonds are one of the best gluten-free substitutes for breadcrumbs. When mixed with other ingredients, the almonds quickly absorb the flavors around them. This makes them great for recipes like meatballs and meatloaf.
Almonds also get nice and toasty when they are baked or fried. Therefore, you can easily swap them in for a breadcrumb coating. Almonds are also a popular choice for thickening soups and sauces.
You can buy ground almonds at the store or make your own by using a food processor or blender. When going the store route, be cautious to not buy almond flour. Almond flour is too finely ground to offer the ideal outcome for your recipe.
8. Ground Nuts
In addition to almonds, you can use any other ground nut. However, most other nuts have a more distinct flavor than almonds. Therefore, it will most likely change the overall flavor of your dish.
Pecans, walnuts, and macadamia nuts are all really tasty options though if you want to explore some different nutty flavors! I've found Brazil nuts to be an amazing option too!
9. Chia Seeds
While nuts work well for most who are gluten-free, they won't work for those with a nut allergy. That's where the magic of chia seeds comes in!
Chia seeds are just one of the many seeds you can use as a substitute for breadcrumbs. These little seeds are super absorbent! Therefore, they are great as a binding agent.
They absorb a lot, so it is best to begin with half the amount the recipe calls for in breadcrumbs to make sure you don't dry out your dish. You can always add more if needed.
10. Sesame Seeds
Toasted sesame seeds are so good! They have the perfect mild nutty flavor that pairs well with different meats and vegetables.
If you don't like sesame seeds, you may want to avoid these as a coating or topping since the flavor is distinct when toasted. On the other hand, these seeds have a neutral flavor when mixed with other ingredients.
Therefore, you could use them as a binding agent.
11. Ground Flax Seeds
While chia and sesame seeds do not need to be ground before use, it is best to grind flax seeds or buy them ground. Ground flaxseeds are best used as a binding agent.
However, flax seeds do have a distinct nutty flavor that comes through in many dishes. While it will complement many dishes, it may not work for everything.
Start with half the amount and add more if needed (same as you would with chia seeds).
12. Ground sunflower seeds
Sunflower seeds are a fun choice for both mixing into a recipe and as a coating. When cooked, these seeds have a rich nutty flavor. So, make sure that will complement the other flavors in your recipe.
Sunflower seeds are not commonly sold already ground; therefore, you will need to toss them in a blender to grind them up (just make sure you get the shelled ones).
Creative Substitutes for Breadcrumbs
My personal favorite low-carb breadcrumb substitute is a combo of Parmesan cheese and ground pork rinds. Leave your pork rinds coarsely ground and mix with grated Parmesan cheese (plus a touch of almond flour if desired) for the perfect breadcrumb topping!
For keto or low-carb purposes, you might also like psyllium husk mixed into whatever you choose as your best breadcrumb substitute.
13. Parmesan cheese
If you want to go the savory route for your dish, give parmesan cheese a try. As a hard cheese, grated parmesan holds up well in many recipes.
When used to bind ingredients, it will melt when cooked and leave you with a delicious and cheesy center (think, cheesy meatballs). As a coating, parmesan provides a beautiful toasted and crunchy cheesy outside.
14. Crushed Pork Rinds
If your goal for a breadcrumb substitute is to avoid the carbs, then crushed pork rinds are a great choice. Parmesan cheese is also a good alternative.
Pork rinds can be used in any way breadcrumbs are used. They are like potato chips though since they are already fried. Therefore, be cautious to not burn them if you use them in a fried dish.
15. Dried Coconut
You may be surprised to learn that dried coconut has a similar consistency to breadcrumbs. Therefore, it can be used in the same way breadcrumbs are used in any recipe. The biggest difference is the taste.
Naturally sweet and with a distinct flavor, dried coconut will shift the overall flavor of your recipe. This natural coconut flavor is best used in chicken and white fish dishes.
If you're on a Keto or low-sugar and/or low-carb diet, use coconut that is unsweetened.
16. Nutritional Yeast
Nutritional yeast is deactivated yeast that you can use in many of the same ways you would use breadcrumbs. A popular food choice among vegans, it has a yellow color and a flavor that is described as slightly nutty and cheesy.
Try this creative alternative to bind ingredients or to add a toasty coating!
17. Corn Starch
Corn starch is extremely versatile and can be used for thickening soups and sauces, as well as for coating and binding ingredients.
While it works in all these similar ways to breadcrumbs, the outcomes will be slightly different. As a coating, you will miss the same crunch and texture of the breadcrumbs. Although, mixing cornstarch with flour (plus some seasoning) will make a tasty and toasty coating.
Cornstarch has a distinctly different texture than breadcrumbs, so how much you use will vary depending on the type of recipe. When using it as a substitute, play it safe and begin with a little less than the recipe calls for. Add more if needed.
18. Potato Flour
Potato flour is another highly starchy substitute that is similar to cornstarch. Many people who use potato flour use it as a cornstarch substitute when they don't want to use a corn-based product.
If you have potato flour on hand, follow the same directions above for using cornstarch as a breadcrumb substitute.
19. Cooked Rice
Cooked rice will not work for a crunchy coating or a topping, but it will work as a binding agent. In fact, it will work exceptionally well!
Cooked white rice (especially sticky rice) is great because it has a neutral flavor profile that will absorb the other flavors. You can use it to make meatballs or other similar dishes.
Since rice already has a lot of volume, you may not need as much rice as breadcrumbs. Start with about half of what the recipe calls for and add more if needed.
20. Cooked Quinoa
Cooked quinoa has similar binding properties to rice. Therefore, you can use it in the same way as you would use rice to substitute for breadcrumbs.
Quinoa has a more distinct flavor than rice though, so be aware that it will add a note of nuttiness to your dish.
(If you want to explore using quinoa as a coating, you can cook the quinoa, dry it out, and then use it as a coating in the same way you would use breadcrumbs).
More great substitute pages to help you out with all of your cooking and baking!
We hope this article helped you find the perfect substitution for breadcrumbs in your recipe! Let us know which substitution worked best for you by commenting below!
Do you love a recipe you tried? Please leave a 5-star 🌟rating in the recipe card below and/or a review in the comments section further down the page.
Stay in touch with me through social media @ Pinterest, Facebook, Instagram, or Twitter! Subscribe to the newsletter today (no spam, I promise)! Don't forget to tag me when you try one of my recipes!
📖 Recipe Card
Print Recipe
Leave A Comment
Love This Recipe?
Click On A Star To Rate It!
Breadcrumb Substitute: Homemade Panko Breadcrumbs (+More Great Alternatives!)
Look no further for the perfect breadcrumb substitute, we are sharing our very best breadcrumb alternatives- so you have plenty of options! Take a look at all of our wonderful breadcrumb replacements and find the one that will work best for you and your recipe!
Pin Recipe
Share on Facebook
Help Us Out!
If you love a recipe, be sure to come back and share your ratings. This helps future users, and allows me to continue sharing free recipes! Angela
Instructions
Preheat your oven to 300°F (150°C).

Slice your loaf if needed, then hand tear or cut to trim and remove the crusts from your white bread.

Shred the bread slices using the shredding disc attachment of your food processor or hand tear the bread into small pieces. Arrange the bread in a single layer on a baking sheet.

Heat in the oven for 10-15 minutes until dried, stirring every 5 minutes of the cooking time.

Remove from the oven and allow to cool before crushing or food processing the breadcrumbs into Panko breadcrumb consistency.

Mix with 1 teaspoon of Italian seasoning (to taste) and use or store.

1 teaspoon Italian seasoning
Equipment You May Need
Notes
Yields 3 cups of Panko breadcrumbs.
Each serving is 2 tablespoons of breadcrumbs.
Nutrition
Calories:
77
kcal
(4%)
|
Carbohydrates:
14
g
(5%)
|
Protein:
3
g
(6%)
|
Fat:
1
g
(2%)
|
Saturated Fat:
1
g
(6%)
|
Polyunsaturated Fat:
1
g
|
Monounsaturated Fat:
1
g
|
Trans Fat:
1
g
|
Sodium:
135
mg
(6%)
|
Potassium:
34
mg
(1%)
|
Fiber:
1
g
(4%)
|
Sugar:
2
g
(2%)
|
Vitamin A:
2
IU
|
Vitamin C:
1
mg
(1%)
|
Calcium:
61
mg
(6%)
|
Iron:
1
mg
(6%)
Breadcrumb Substitute, DIY Panko, Homemade Panko Breadcrumbs, how to make breadcrumbs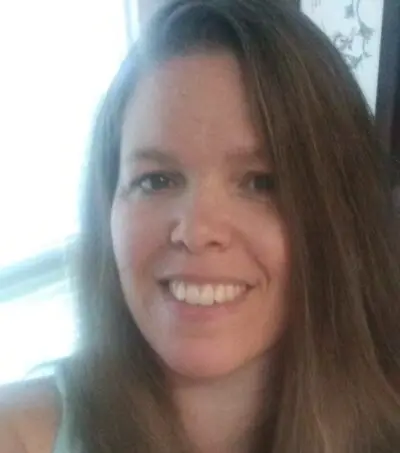 Angela is an at home chef that developed a passion for all things cooking and baking at a young age in her Grandma's kitchen. After many years in the food service industry, she now enjoys sharing all of her family favorite recipes and creating tasty dinner and amazing dessert recipes here at Bake It With Love!