Pork ribeye roast vs pork loin - are they different, which one do I want to use, and how do I prepare them? In this article, I am going to be breaking down all of the key differences. Plus, I'll help you choose which one is best for your dish!
Comparing Pork Ribeye Roast And Pork Loin
Pork roasts are tender and juicy cuts of meat that are great in many recipes. Pork roasts are great in stews, soups, pulled pork sandwiches, pernil, stir fry, or served whole with side dishes such as mashed potatoes and roasted vegetables.
They are multiple ways to cut a roast and each of them varies slightly from the others. Below, we will compare a pork ribeye roast to a pork loin roast.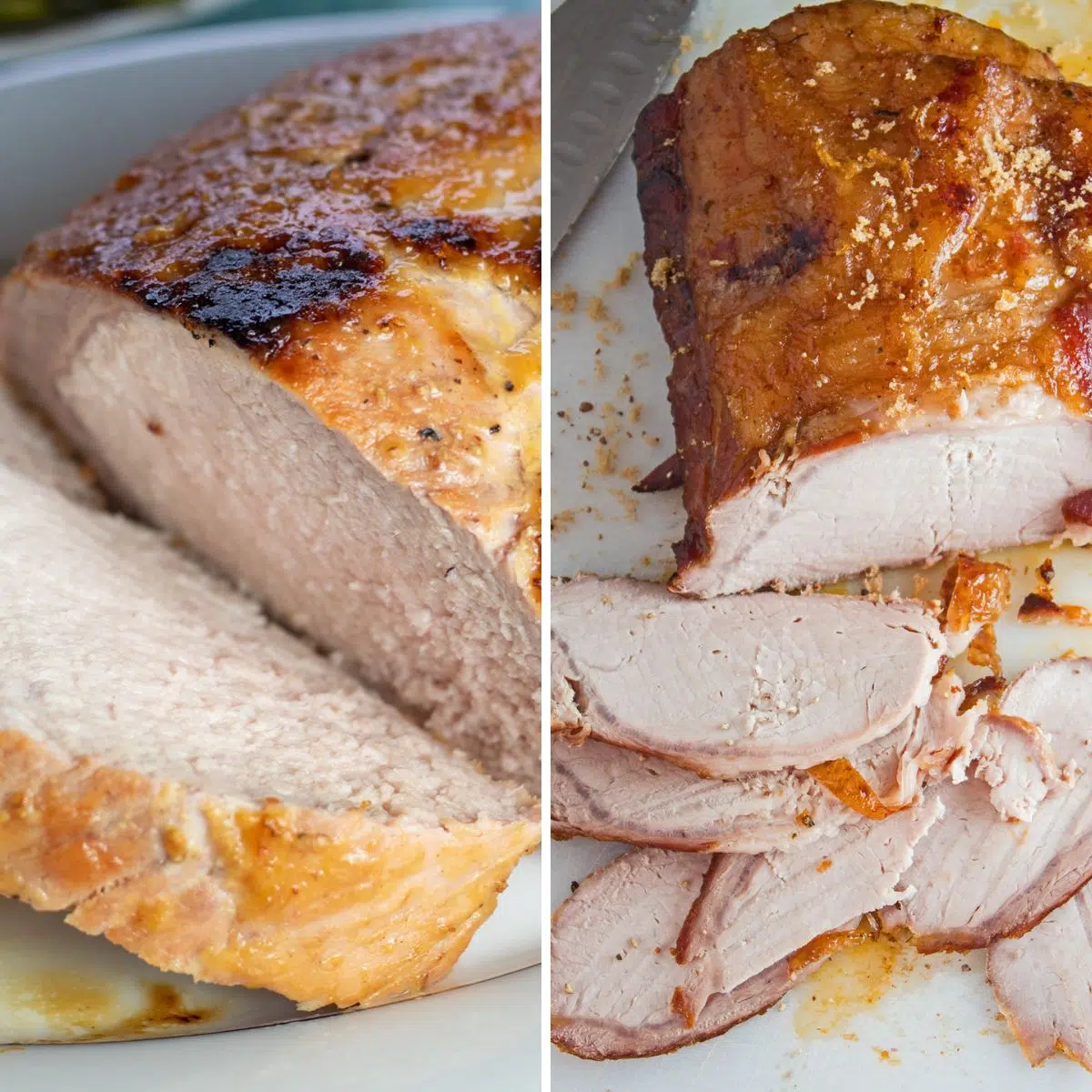 Jump to:
The Difference Between Pork Ribeye Roast And Pork Loin
The key difference between a pork ribeye roast and a pork loin roast is where the meat is cut from on the pig. A ribeye roast is cut from the center of the ribs whereas the pork loin is cut from loin that runs from the shoulders to the rump.
Pork ribeye roast and pork loin each have a mild flavor and a fatty strip that helps keep the meat juicy while cooking.
What Is Pork Ribeye Roast
Pork ribeye roast is a lean roast that is mild and can be compared to prime rib. The meat is tender and juicy, which makes it perfect as the main course.
This roast comes from one muscle and has both fat and rib bones attached. Of course, you can buy a boneless ribeye roast if you don't like the extra bones.
Expect to pay a little more for this rack of pork, the price is around $4 to $5 per pound. This center-cut pork roast tastes best when roasted or grilled.
What Is Pork Loin
Pork loin or pork blade roast is a fatty roast that has great flavor. This type of roast can dry out and should be cooked rapidly, and you should avoid extreme heat to keep to meat moist.
There are three cuts of pork loin, the blade end, the sirloin end, and the center. The blade end is closer to the shoulder and has more fat, the sirloin end is closer to the back and is bony, and the center is the leanest and juiciest portion.
This roast is cheaper than other roasts, the price for pork loin is about $2 to $3 per pound. The center is the premium cut which makes it the most expensive.
You can roast, grill, or broil your pork loin smothered in your favorite barbecue sauce, marinade, or dry rub.
What Does A Pork Ribeye Roast Taste Like
Pork ribeye roast tastes similar to lamb or veal. It is mild and can taste very bland if it is not seasoned properly. Dry rubs are a great way to add flavor to this cut of pork.
Some people describe the meat of a ribeye roast to be slightly sweet with a hint of gamely undertones. It should be firm and juicy, but not tough or stringy.
What Does Pork Loin Taste Like
Pork loin is mild and succulent, it tastes similar to goat or lamb with savory and sweet undertones. It takes on the flavor of what it is seasoned with and should be marinated before it is cooked for the best flavor.
Pork loin should be tender and easy to cut, it should never be rubbery or hard to shred.
Choosing Between Pork Rib-eye Roast Or Pork Loin
When you are choosing between a pork ribeye roast or a pork loin roast ask yourself one question, are you cooking on high heat?
If you are planning to use high temperatures to cook your pork you should opt for a pork ribeye roast as it can handle higher heat better than a pork loin roast. Pork loin roasts dry out more easily and should be cooked on a medium heat setting.
Which cut of pork do you prefer to cook with and why? We would love to hear your preference in the comments below!
🍴 More Food Comparisons
Do you love a recipe you tried? Please leave a 5-star 🌟rating in the recipe card below and/or a review in the comments section further down the page.
Stay in touch with me through social media @ Pinterest, Facebook, Instagram, or Twitter! Subscribe to the newsletter today (no spam, I promise)! Don't forget to tag me when you try one of my recipes!
📖 Recipe Card
Print Recipe
Leave A Comment
Love This Recipe?
Click On A Star To Rate It!
Pork Ribeye Roast vs Pork Loin
Pork ribeye roast vs pork loin - are they different, which one do I want to use, and how do I prepare them? In this article, I am going to be breaking down all of the key differences. Plus, I'll help you choose which one is best for your dish!
Pin Recipe
Share on Facebook
Ingredients
1 ½

tablespoon

olive oil

(extra virgin)

2

lb

pork ribeye roast

(pork ribeye roasts are usually between 2-3 pounds)

1

teaspoon

salt

(or use 1 ½ teaspoons Kosher salt)

½

teaspoon

freshly ground black pepper

2

tablespoon

Dijon mustard

2

tablespoon

honey

1

tablespoon

apple cider vinegar
Help Us Out!
If you love a recipe, be sure to come back and share your ratings. This helps future users, and allows me to continue sharing free recipes! Angela
Instructions
Preheat your oven to 425°F (218°C) and bring a large oven-safe skillet or frying pan to medium-high heat with the olive oil.

Generously season your pork ribeye roast with salt and pepper then sear all sides in your hot skillet or frying pan, Use tongs to flip and sear each side until lightly golden, about 5-6 minutes.

1 teaspoon salt,

½ teaspoon freshly ground black pepper,

2 lb pork ribeye roast

While your ribeye roast is searing, add the Dijon mustard, honey, and apple cider vinegar in a small bowl and stir to combine.

2 tablespoon Dijon mustard,

2 tablespoon honey,

1 tablespoon apple cider vinegar

Once the pork roast is seared, brush about half of the honey Dijon sauce onto all surfaces. Place the roast into your preheated oven and roast in the middle of your oven's center rack for about 20 minutes.

Remove the pork ribeye roast from your oven and brush with the remaining sauce, then return to the oven to finish cooking for an additional 15-20 minutes or until the internal temperature reaches 145°F (63°C).

Once done, transfer the roast to a cutting board or platter and cover loosely with a sheet of aluminum foil. Let the roast rest for 5-10 minutes before slicing and serving.
Equipment You May Need
Nutrition
Calories:
192
kcal
(10%)
|
Carbohydrates:
5
g
(2%)
|
Protein:
26
g
(52%)
|
Fat:
7
g
(11%)
|
Saturated Fat:
2
g
(13%)
|
Polyunsaturated Fat:
1
g
|
Monounsaturated Fat:
4
g
|
Cholesterol:
71
mg
(24%)
|
Sodium:
388
mg
(17%)
|
Potassium:
436
mg
(12%)
|
Fiber:
1
g
(4%)
|
Sugar:
4
g
(4%)
|
Vitamin A:
3
IU
|
Vitamin C:
1
mg
(1%)
|
Calcium:
9
mg
(1%)
|
Iron:
1
mg
(6%)
easy dinners, pork recipes, Pork Ribeye Roast, pork ribeye roast vs pork loin, pork roast, what's the difference between pork ribeye and pork loin cuts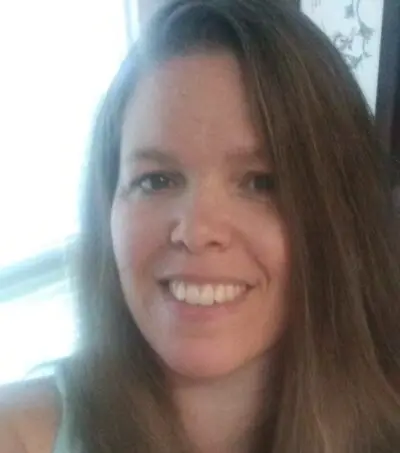 Angela is an at home chef that developed a passion for all things cooking and baking at a young age in her Grandma's kitchen. After many years in the food service industry, she now enjoys sharing all of her family favorite recipes and creating tasty dinner and amazing dessert recipes here at Bake It With Love!