Learn how to reheat lobster so that you can enjoy this decadent protein even after it has been refrigerated! There's no need to worry about rubbery meat when using one of these simple methods! All you need to do is choose the option that works best for you and then enjoy your lobster meal!
Guide To Reheating Lobster
Lobster is a well-loved delicacy all over the world! When it is served for dinner, it is definitely considered to be a real treat! However, you may have some lobster left over, and it would be a shame to have to let it go to waste!
These methods are the best way to reheat your lobster without having to sacrifice the texture or flavor of the meat. Whether you have a lobster tail, a whole lobster, meat by itself, or meat still in the shell, I have an option for you!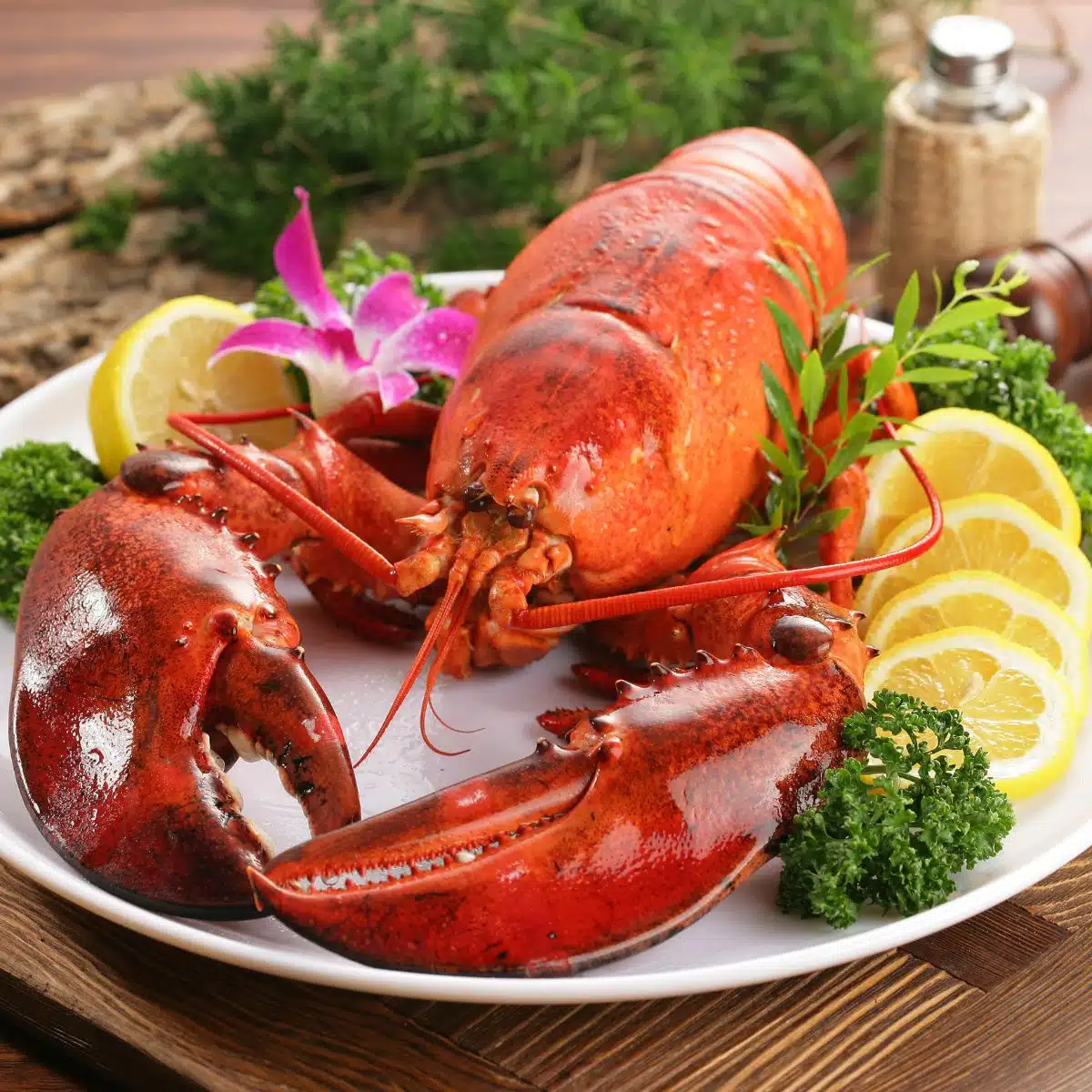 Jump to:
If you are a huge lobster fan, make sure you take a look at all of these delicious lobster recipes!
How To Reheat Lobster In The Oven
Using the oven to reheat your lobster is both quick and simple! This method can be used for a whole lobster, tails, and even just the meat. It also works with or without the shell!
Preheat. Preheat your oven to 350°F (175°C).
Prepare. Place your lobster (belly side up) into a baking dish. Add any sauce the lobster may have had into the dish as well. If there isn't any sauce, add some broth or place some pats of butter on top of the lobster.
Heat. Cover the dish tightly with foil and bake for 10-30 minutes (depending on how much lobster you are reheating).
Alternatively, you can wrap the lobster in the foil (making a large pouch) and then place it onto a baking sheet. Just place the butter on top of the meat inside the foil!
How To Reheat Lobster In The Microwave
This method is ideal if your lobster is still in the shell, as it helps to preserve both the texture and the flavor. Of course, it will still work in a pinch for de-shelled lobster as well.
Prepare. Wrap your lobster in damp paper towels and place it onto a microwave-safe plate.
Heat. Heat the lobster in one to two-minute increments in the shell, or 30-second increments without the shell.
Check. Your lobster is done when the internal temperature reaches 145°F (63°C).
How To Reheat Lobster On The Stovetop
For this quick and efficient method, you'll want to remove the lobster from the shell first. If you don't mind doing so, this is actually one of the best ways to reheat lobster!
De-shell. Remove the meat from the shell if needed.
Broth. Add a small amount of stock or broth to a skillet.
Simmer. Bring the liquid to a simmer, and then add the lobster meat.
Heat. Saute for about 10 minutes to warm the meat, and then add some butter for extra flavor.
Finish. Continue cooking until the meat is properly heated.
How To Reheat Lobster On The Grill
You can easily reheat a steamed lobster on the grill. Plus, it adds a touch of smokiness to the flavor!
Preheat. Preheat the grill to high heat.
Season. If the lobster is out of the shell, lightly coat it in olive oil and season with salt and pepper.
Grill. Place the meat onto the grill. If still in the shell, place it onto the grill with the shell side facing down, and do not flip it.
Finish. Grill until heated through.
Best Method For Reheating Lobster
I've found that the best method for reheating lobster is either in the oven or on the stovetop. When done properly, you will enjoy some juicy and flavorful lobster meat! Of course, any of these methods will work, so just choose the one that is best suited for you and your need!
>>>>See all of my recipes HERE<<<<
❓ FAQ
Do You Reheat Lobster In Or Out Of The Shell?
This is completely up to you and the method you are using! Check each method for instructions on how to reheat your lobster. The oven and grill can be used for lobster that is in or out of the shell, while the microwave is ideal for lobster in the shell, and the stovetop only works with de-shelled meat.
Is It Safe To Reheat Lobster?
Yes, as long as it is done properly! According to the FDA, lobster needs to reach an internal temperature of 145°F (63°C) to be considered safe to eat. Be careful with using a microwave, as it may heat the meat unevenly, leaving cold spots that could still harbor bacteria.
How Do I Reheat Lobster Tail Or Claw?
The methods listed above will work for any part of the lobster! Though, I do recommend adding some butter, wrapping in foil, and then baking in the oven at 350°F (175°C) until hot.
Now you know all of the best ways to reheat lobster! What are your favorite lobster dishes? Leave a comment down below and let me know!
🦞 Delicious Lobster Recipes
Do you love a recipe you tried? Please leave a 5-star 🌟rating in the recipe card below and/or a review in the comments section further down the page.
Stay in touch with me through social media @ Pinterest, Facebook, Instagram, or Twitter! Subscribe to the newsletter today (no spam, I promise)! Don't forget to tag me when you try one of my recipes!
📋 Recipe
Print Recipe
Leave A Comment
Love This Recipe?
Click On A Star To Rate It!
How To Reheat Lobster: Broiled Lobster Tail (+More Tasty Recipes!)
Learn how to reheat lobster so that you can enjoy this decadent protein even after it has been refrigerated! There's no need to worry about rubbery meat when using one of these simple methods! All you need to do is choose the option that works best for you and then enjoy your lobster meal!
Pin Recipe
Share on Facebook
Ingredients
4

lobster tails

(fresh or thawed)

¼

cup

butter

(½ stick, melted)

1

large

lemon

(juice of half, serve with wedges from remaining half)

½

teaspoon

sea salt

1

pinch

ground white pepper
Instructions
Place your oven rack in the upper ⅓ of the oven and turn the broiler on to high.

Prepare your lobster tails by using sharp kitchen shears to gently cut through the top half of the lobster shell, down to the base of the tail. Keep the tail attached at the end and be careful of the lobster meat while cutting!

Devein the tail and remove any dirt or grit if needed. Flip the lobster tail over and press on the ribs gently. Then flip back over and use your fingers to separate the lobster meat from the shell, leaving it attached to the tail.

Lift the meat above the shell then pinch the shell together under the meat to hold it in place. Lay the meat over the shell and set the lobster tail on your baking sheet. Repeat for each lobster tail.

Brush melted butter over prepared lobster tails then squeeze lemon juice onto each and season with sea salt and ground white pepper.

¼ cup butter,

½ teaspoon sea salt,

1 pinch ground white pepper,

1 large lemon

Place baking sheet with lobster tails under the broiler and broil for 1 minute per ounce (3 minutes for a 3-ounce tail, 5 minutes for a 5-ounce tail). The lobster meat will turn opaque when done. *Lobster should be 140°F (60°C) when done, do not go over 145°F (63°C) as your lobster meat will be over-cooked.

Remove from oven when done and serve immediately.
Notes
Unsure of the best lobster to use? You'll typically have options between cold water and warm water lobster. Cold water lobster is preferable because they have a more tender, white meat that has a cleaner flavor. Warm water lobster is softer and can sometimes have an off flavor.

You can ask the fishmonger at your grocery store if the lobster they provide is cold water or warm water – you can also tell a warm water lobster by the black spots that cover their shells!

Lobsters have their digestive tract running through the tail (also called the vein). While it's not harmful to eat, it doesn't taste the best, so you might want to remove it! You can also ask your fishmonger to prepare the lobster tails for you if using fresh.

Never used white pepper? White pepper is simply regular peppercorns with the black shells removed! It has a milder flavor and white color that is great for dishes where you want pepper flavor with no black specks!
Nutrition
Calories:
158
kcal
(8%)
|
Carbohydrates:
3
g
(1%)
|
Protein:
11
g
(22%)
|
Fat:
12
g
(18%)
|
Saturated Fat:
7
g
(44%)
|
Polyunsaturated Fat:
1
g
|
Monounsaturated Fat:
3
g
|
Trans Fat:
1
g
|
Cholesterol:
111
mg
(37%)
|
Sodium:
660
mg
(29%)
|
Potassium:
167
mg
(5%)
|
Fiber:
1
g
(4%)
|
Sugar:
1
g
(1%)
|
Vitamin A:
363
IU
(7%)
|
Vitamin C:
14
mg
(17%)
|
Calcium:
64
mg
(6%)
|
Iron:
1
mg
(6%)
Broiled Lobster Tail, how to reheat lobster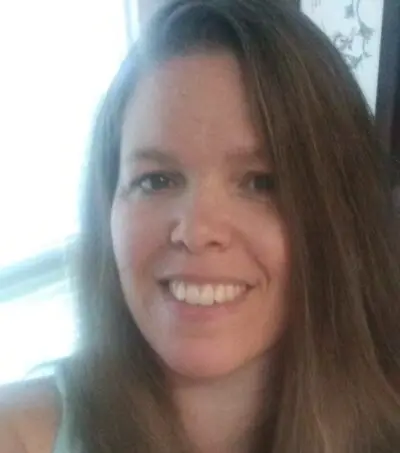 Angela is an at home chef that developed a passion for all things cooking and baking at a young age in her Grandma's kitchen. After many years in the food service industry, she now enjoys sharing all of her family favorite recipes and creating tasty dinner and amazing dessert recipes here at Bake It With Love!