Best Instant Pot recipes: a full collection of the most delicious recipes to make using a pressure cooker! This wonderful kitchen appliance can cut down on cooking time significantly, and it's so easy to use! You'll be surprised at just how many delicious and flavorful recipes can be made in an Instant Pot!
Easy Instant Pot Recipes To Make
With its ability to sauté, steam, slow cook, and pressure cook, the Instant Pot has become a must-have kitchen appliance! Not to mention, Instant Pot recipes can be made in a fraction of the time of traditional cooking methods.
From appetizers and entrees to side dishes and snacks, you'll be surprised just how many delicious things can be made in an Instant Pot. In fact, I've listed a few of my favorite pressure cooker recipes below so you can give them a try yourself!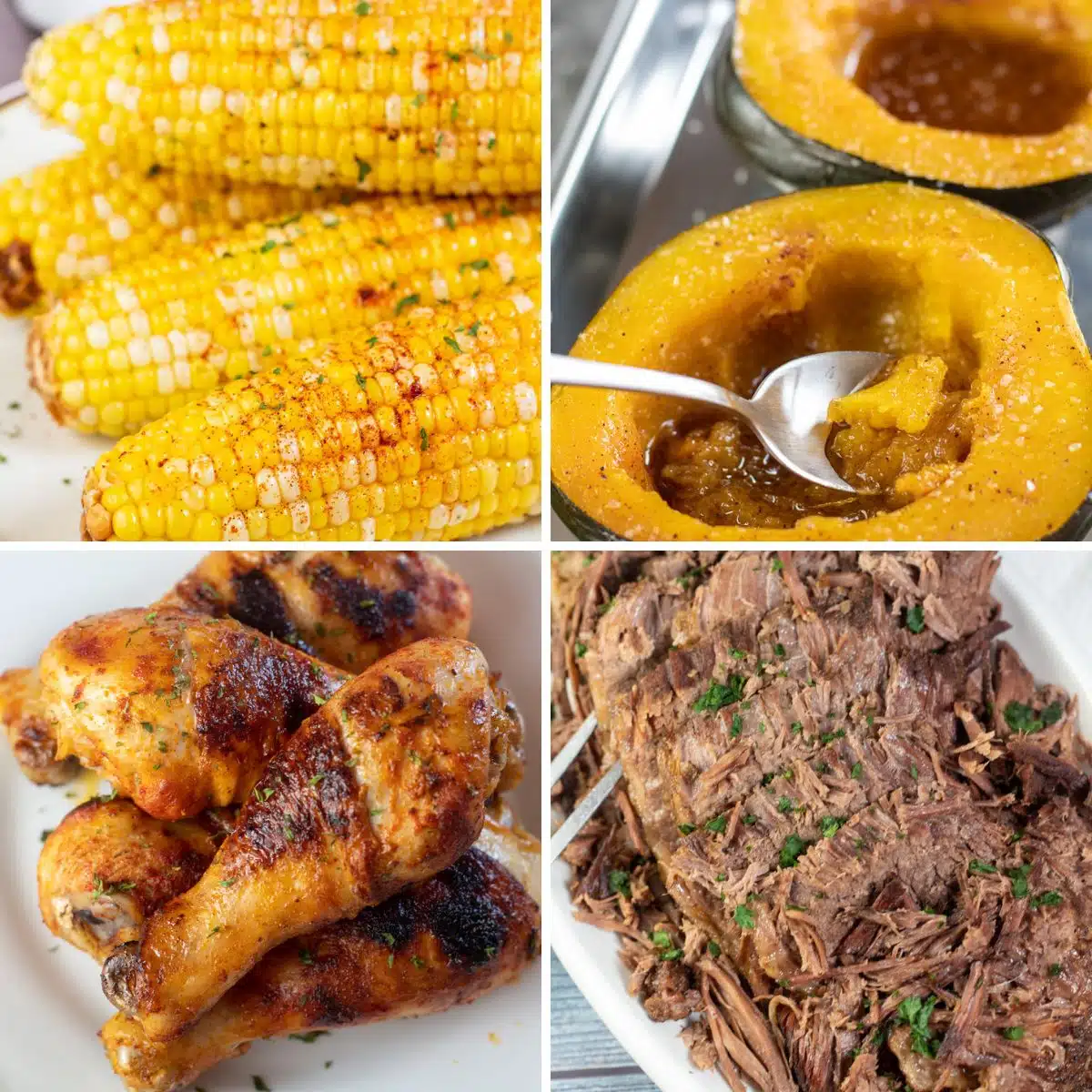 Jump to:
1. Corn On The Cob
Corn cooked in the Instant Pot comes out tender, sweet, and succulent! The recipe is practically hands-off and couldn't be easier. Plus, It's a great way to make elotes (Mexican street corn) too!
2. Pot Roast
With your pressure cooker, you can whip up a perfectly cooked pot roast with tender vegetables in half the time it would take to make it in the oven. It's an easy family dinner recipe that is perfect for busy weeknights!
3. Cauliflower
If you're looking for a quick and easy vegetable side dish, toss some cauliflower in your Instant Pot! It steams the cauliflower until it is perfectly tender, and you can add butter or your favorite seasonings for extra flavor.
4. Artichokes
Your Instant Pot is the easiest way to whip up some perfectly cooked artichokes. They make a great appetizer or snack, especially when you serve them with extra melted butter for dipping!
5. Chicken Soup
This Instant Pot chicken soup is warm and hearty, with plenty of tender vegetables and a savory herb-infused broth. It makes a wonderful cold-weather soup, but it's light enough to enjoy all year round!
6. Porketta Roast
This melt-in-your-mouth Italian pork roast is cooked to perfection in a fraction of the time! It's seasoned with my homemade porketta seasoning that can be made with a simple blend of herbs and spices.
7. Baked Potatoes
Baked potatoes made in the Instant Pot are just as soft and fluffy as oven-baked potatoes but with a far shorter cooking time. Load your potato up with your favorite baked potato toppings for a quick and easy lunch or side dish.
8. Rump Roast
The pressure cooking power of the Instant Pot is perfect for roasts because it locks in all of the succulent juices! A rump roast is one of my favorite cuts of meat to toss in the pressure cooker because it comes out tender and flavorful every time.
9. Minestrone
This vibrant Italian soup is loaded with an array of colorful vegetables, hearty beans, tender pasta, and flavorful herbs. It's ready in just 45 minutes, but it tastes like it has been simmering all day!
10. Long Grain White Rice
Sometimes cooking rice on the stovetop can be a finicky process, but not with your pressure cooker! The individual grains of rice stay nice and fluffy without clumping together whatsoever.
11. Corned Beef
Corned beef isn't only for St. Patrick's Day. It's a hearty and delicious meal suitable for any occasion!
12. Leg of Lamb
Juicy and succulent leg of lamb has never been easier to make! You can sear the lamb right in the Instant Pot to get that delicious outer crust.
13. Chuck Roast
You can pressure cook an entire chuck roast in just 1 hour! The juices from the roast can be used to make a delicious brown gravy you can ladle over the meat.
14. Mac and Cheese
You'll love this rich and creamy macaroni made with both Velveeta and cheddar cheese! It's a quick, hands-off recipe that is ready in just 10 minutes.
15. Au Gratin Potatoes
Tender, thinly sliced potatoes layered with cheese and a rich, creamy sauce. It's a warm and delicious side dish that never disappoints!
16. Acorn Squash
When cooked, acorn squash is nice and tender, with a flavor that is both savory and sweet. A little honey and cinnamon lean into the sweetness, so this squash tastes more like a fall treat than a vegetable!
17. Chicken Drumsticks
What's not to love about juicy and flavorful chicken drumsticks that are ready in 20 minutes?
>>>>See all of my recipes HERE<<<<
18. Pulled Pork
Your shredded pulled pork can be used to make some incredible sandwiches, sliders, burritos, and so much more!
19. Mashed Potatoes
These 5-ingredient mashed potatoes couldn't be easier, and they're ready in under 30 minutes!
20. Jambalaya
This an easy one-pot recipe for classic Cajun jambalaya that's loaded with rice, chicken, shrimp, andouille sausage, and tender vegetables!
21. Country Style Pork Ribs
Fall-off-the-bone tender and bursting with flavor, these Instant Pot Country Style Pork Ribs are always a family favorite.
22. Braised Red Cabbage
This tender braised cabbage with apples and onions is cooked in a sweet and vinegary sauce and tastes great with sausages or any other German recipe!
23. Buttered Cabbage
Buttered cabbage is a simple and satisfying side dish that comes together with just a few ingredients!
24. Shredded Chicken
Instant Pot shredded chicken is a must-try recipe because it's so versatile! You can use the tender chicken meat for salads, soups, sandwiches, wraps, tacos, and so much more!
25. Collard Greens
This classic Southern side dish is warm and satisfying even if it is made with leafy green vegetables!
26. Pork Loin
A juicy pork loin hot out of the Instant Pot makes a great family dinner any day of the week. I even have a page on what to serve with your pork loin so you can round out the meal!
27. Crack Chicken
This creamy crack chicken with bacon can be served as an appetizer dip with chips or as an addictive sandwich filling!
28. Chicken Thighs
Juicy and tender chicken thighs make a wonderful dinner on their own, or you can use the flavorful meat in other recipes!
29. Hard-Boiled Eggs
Once you see how easy it is to make deviled eggs that peel perfectly, you won't ever make them on the stovetop again!
30.Cilantro Lime Rice
Cilantro lime rice is the perfect side dish for all of your favorite Mexican recipes!
31. Basmati Rice
Basmati rice is a long-grain white rice that cooks up perfectly soft and fluffy in a pressure cooker. It works well in a wide variety of recipes!
32. Beef Stew
Tender beef and hearty vegetables cooked to perfection in a rich and flavorful broth in just 45 minutes!
33. Chipotle Barbacoa Beef Cheeks
These tender barbacoa beef cheeks can be shredded with a fork and make for some of the most delicious tacos!
34. Mongolian Chicken
This perfectly seasoned Mongolian chicken is ready in just 20 minutes and can be served over rice for a quick and easy Chinese dinner!
35. Jasmine Rice
This fragrant white rice is always delicious and so easy to make in the pressure cooker!
Tips For Cooking With An Instant Pot
The Instant Pot is incredibly user-friendly, but here are a few tips that can help make cooking with it even easier! Always refer to your user manual for specific settings and suggestions for your model of air fryer.
Don't Overfill: You never want to fill your Instant Pot more than 2⁄3 of the way full with either food or liquid. When it comes to food that expands like rice or beans, you should only fill it half full.
Brown Your Ingredients: Browning meat or vegetables before pressure cooking adds a lovely depth of flavor to your dishes. Usually, pressure cookers have a saute function, so you can do it right in your Instant Pot!
Use Enough Liquid: Pressure cookers need liquid to generate steam so they can cook your food! Always add at least 1 cup of liquid unless the recipe calls for more.
Release Pressure Safely: The steam from the steam vent will be very hot! Whether you let the pressure release naturally or you use the quick-release feature, make sure to keep your hands and face away from the vent.
Adjust Cooking Times for Altitude: If you live at a high altitude, you may need to adjust your cooking times because pressure cooking can be affected by altitude.
😋🍴 More Recipe Roundups
📋 Recipe