These Southern side dishes are a collection of easy and delicious recipes that will add the perfect amount of Southern flare to any meal! Whether you are preparing a filling lunch or a family dinner, each of these delectable side dishes will pair exceptionally well with any main course! From candied sweet potatoes and collard greens to creamy Southern coleslaw, you have plenty of good old-fashioned options to choose from!
The Best Southern Side Dishes
Southern cuisine is known for its hearty and flavorful side dishes, many of which are made with ingredients like corn, beans, and greens. I've gathered a list of some crowd-pleasing side dishes that have their own Southern twist!
From Southern favorites such as hush puppies and coleslaw to updated classics like bacon cheddar green bean casserole, I've got it all! Go ahead and pick a few to make your Southern-inspired meal complete!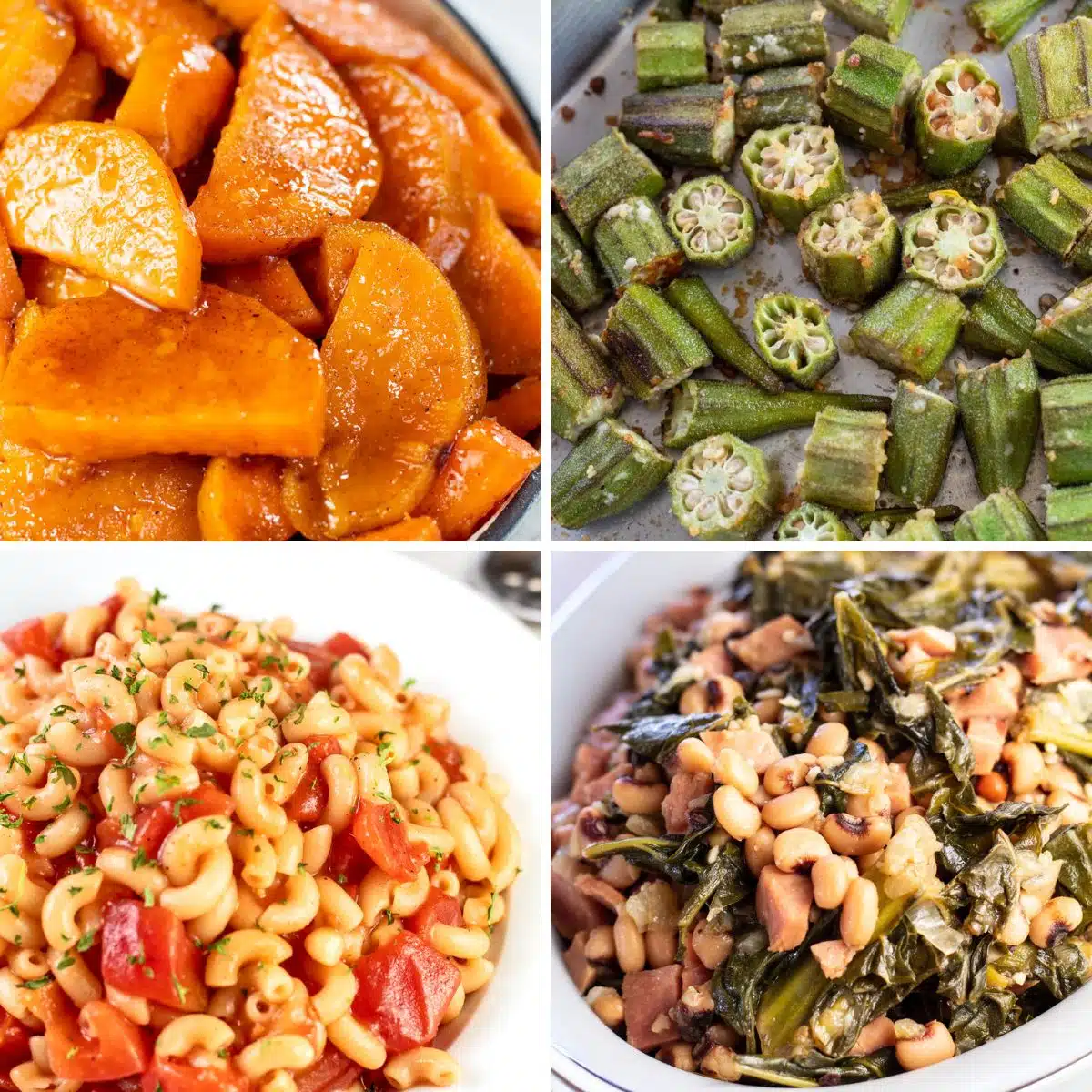 Jump to:
Want More Recipes? Enter your email below and we'll send them straight to your inbox!
1. Southern Candied Sweet Potatoes
Slowly cooked sweet potatoes are combined with a cinnamon sugar blend until a sticky syrup is formed. It's a Southern-inspired dish that brings wonderful flavors to your meal and will be enjoyed by kids and adults alike!
2. Hush Puppies
These hush puppies make an excellent addition to your Southern-fried dishes like fried shrimp or fried catfish! Plus, they're incredibly easy to make and ready to serve in only 20 minutes!
3. Black Eyed Peas With Collard Greens
Black-eyed peas with collard greens are an amazing Southern classic comfort dish that's full of rich flavor! In this recipe, I add lots of onion, garlic, and savory ham to help season the black-eyed peas and greens.
4. Air Fryer Frozen Breaded Okra
Frozen breaded okra crisps up wonderfully in the air fryer so there is no need to use a messy deep fryer! It's a beginner-friendly side that only requires 2 ingredients to make.
5. Baked Beans With Ground Beef And Bacon
These baked beans are loaded with smoky, hearty, beefy flavors, and a touch of sweetness from brown sugar! It's the perfect side dish to complement your favorite BBQ cookouts and dinners.
6. Macaroni And Tomatoes
This Southern classic dish features tender macaroni, diced tomatoes, and smoky bacon! It's extremely budget-friendly and incredibly easy to make!
7. Southern Coleslaw
Who doesn't love a crunchy and creamy coleslaw? It's the perfect light side dish to serve alongside fried fish or any other Southern-style entrees!
8. Bacon Cream Cheese Mashed Potatoes
There's something about adding cream cheese and bacon that brings an extra level of comfort to a dish! These mashed potatoes are so rich, creamy, and flavorful that it will be hard to make them any other way again.
You could also try some Parmesan roasted mashed potatoes, red skin mashed potatoes, or mashed sweet potatoes!
9. Creamed Corn
Creamed corn is a quick and easy vegetable side dish that is satisfying and loaded with sweet and savory flavors! You can use canned, fresh, or frozen corn depending on your personal preference and availability.
10. Red Beans And Rice
This classic Louisiana-inspired side dish is an easier version made with canned beans, Andouille sausage, and long-grain white rice! It will make a whopping 6 servings so there is plenty for everyone to enjoy!
11. Twice Baked Potatoes
These twice-baked potatoes are a favorite in my household because they're loaded with cheese and crispy bacon! Plus, you can easily make them ahead of time to save some time in the kitchen.
12. Succotash
This traditional Southern side dish features sweet corn, butter beans, red bell pepper, garlic, bacon, and aromatic onions. It's a great and delicious way to fill up on veggies!
13. Southern Fried Corn
Freshly cooked sweet corn is combined with garlic butter, sauteed onions, bacon pieces, and chopped chives to make a show-stopping side dish! All of the ingredients in this recipe will pair well with any Southern main course.
14. Bacon Cheddar Green Bean Casserole
Green bean casserole is a must-have on every Thanksgiving dinner table in the South! This recipe invites in the delicious flavors of cheddar cheese and bacon for an elevated touch on the classic side dish that everyone already loves.
If you love green bean casserole as much as I do, check out my fresh green bean casserole from scratch or Campbell's green bean casserole!
15. Potato Salad
Potato salad is always a delicious and easy choice to complement all of your favorite Southern dinners. Plus, you can customize it to your preferred tastes by adding your favorite mix-ins!
16. Cornbread Stuffing
This cornbread stuffing recipe brings a delicious Southern twist to the classic stuffing that we all know and love. Once you try it, you just might have a new favorite holiday side dish to make year after year!
17. Sweet Potato Casserole
This sweet potato casserole recipe is a Southern staple that tastes more like a dessert than a potato dish. Mashed sweet potatoes are combined with warm spices, brown sugar, mini marshmallows, and crunchy pecans to make the ultimate Thanksgiving side dish!
18. Southern Corn Fritters
These incredibly easy Southern corn fritters make an excellent appetizer, side dish, or snack! All you have to do is mix the ingredients together and let them fry to golden perfection.
19. Broccolini Salad
Broccolini salad is a wonderfully light and tasty side to make for practically any main dish or meaty meal! It's perfectly flavored with an Asian-inspired dressing and full of crunchy textures.
20. Instant Pot Au Gratin Potatoes
These au gratin potatoes are rich, creamy, and amazingly cheesy! You'll enjoy how easy and convenient it is to whip them up quickly in the Instant Pot. It's truly an unforgettable and comforting side dish that the whole family will love!
21. BBQ Bacon Wrapped Brussel Sprouts
Whether you are a fan of brussel sprouts or not, this recipe is bound to satisfy even the pickiest of eaters! A tasty honey butter mixture is used to coat the Brussels sprouts before they are wrapped in savory bacon.
22. Southern Baked Macaroni And Cheese
A Southern dinner would not be complete without a delicious and mouth-watering macaroni and cheese side dish! This one features three different types of cheese to make the most creamy and cheesy mac and cheese you've ever tasted!
23. Maple Candied Yams
These maple-candied yams have the perfect combination of sweet and savory flavors, plus it only takes 30 minutes to make! This recipe features canned yams (or sweet potatoes) tossed in a mixture of maple syrup, warm spices, bacon crumbles, and chopped pecans.
24. Deviled Eggs
Of course, when you think of a Southern meal, deviled eggs are a classic side dish that will always come to mind! These easy and delicious deviled eggs are made with mayonnaise, apple cider vinegar, Dijon mustard, salt, and pepper!
25. Creamed Corn Cornbread
A staple in Southern cooking, cornbread is a simple and delicious side dish that can be served with just about any meal. This recipe is full of wonderful flavors and texture from a can of sweet corn, sour cream, and honey!
26. Baked Bacon Wrapped Asparagus
These baked bacon-wrapped asparagus taste as impressive as they look! All you have to do is add a pinch of salt and pepper after you carefully wrap each asparagus stalk in bacon.
You can also pair my smoked asparagus or pan-seared asparagus with cherry tomatoes with your Southern dinner too!
27. Steakhouse Creamed Spinach
This creamed spinach recipe features fresh spinach mixed in a creamy cheese sauce made out of mozzarella, cream cheese, and Parmesan. The result is an amazingly thick, rich, and creamy vegetable dish that is restaurant worthy!
28. Zucchini Fritters
You must try these easy fritters when you have any extra zucchini in your kitchen or garden! Grated zucchini is combined with a handful of simple ingredients to make the most delicious, crispy, and shareable cakes!
29. Cheddar Bacon Chive Biscuits
My savory Southern buttermilk biscuits are full of cheese, crispy bacon, and fresh chives. Whether you are preparing breakfast or dinner, these biscuits will bring an extra flavorful touch to your meal!
30. Creamed Kale
Creamed kale is the ultimate cheesy Southern side dish that is perfect for adding some savory greens to your dinner! It's a fun spin on the classic creamed spinach that everyone already adores, but it is equally delicious!
31. Collard Greens With Ham Hocks
This traditional Southern dish features collard greens that have been simmered in a flavorful mixture of smoked ham hocks, onions, and garlic. The result is a delicious and hearty dish that pairs well with barbecued meats or other Southern staples!
Now that you have many Southern side dish options to choose from, which one are you the most excited to try? Leave me a comment down below to let me know!
>>>>See all of my recipes HERE<<<<
😋 Best Southern Main Dishes
📋 Recipe