Best potluck salads for serving a crowd: A full collection of my tried and true salad recipes that are easy to prepare and always delicious! From leafy green salads to creamy dessert salads, there's something here for everyone! Instead of showing up empty-handed, just grab a quick dish off this list of recipes!
Best Potluck Salad Recipes
When you think of 'salads,' you may be thinking of leafy greens, but a salad can be anything tossed with a dressing! From refreshing fruit salads to pasta salads, there are so many varieties to choose from.
Below are my tried and true potluck salad recipes that are perfect for feeding a large group. Each of these dishes is simple to prepare, easy to transport, and always comes with rave reviews!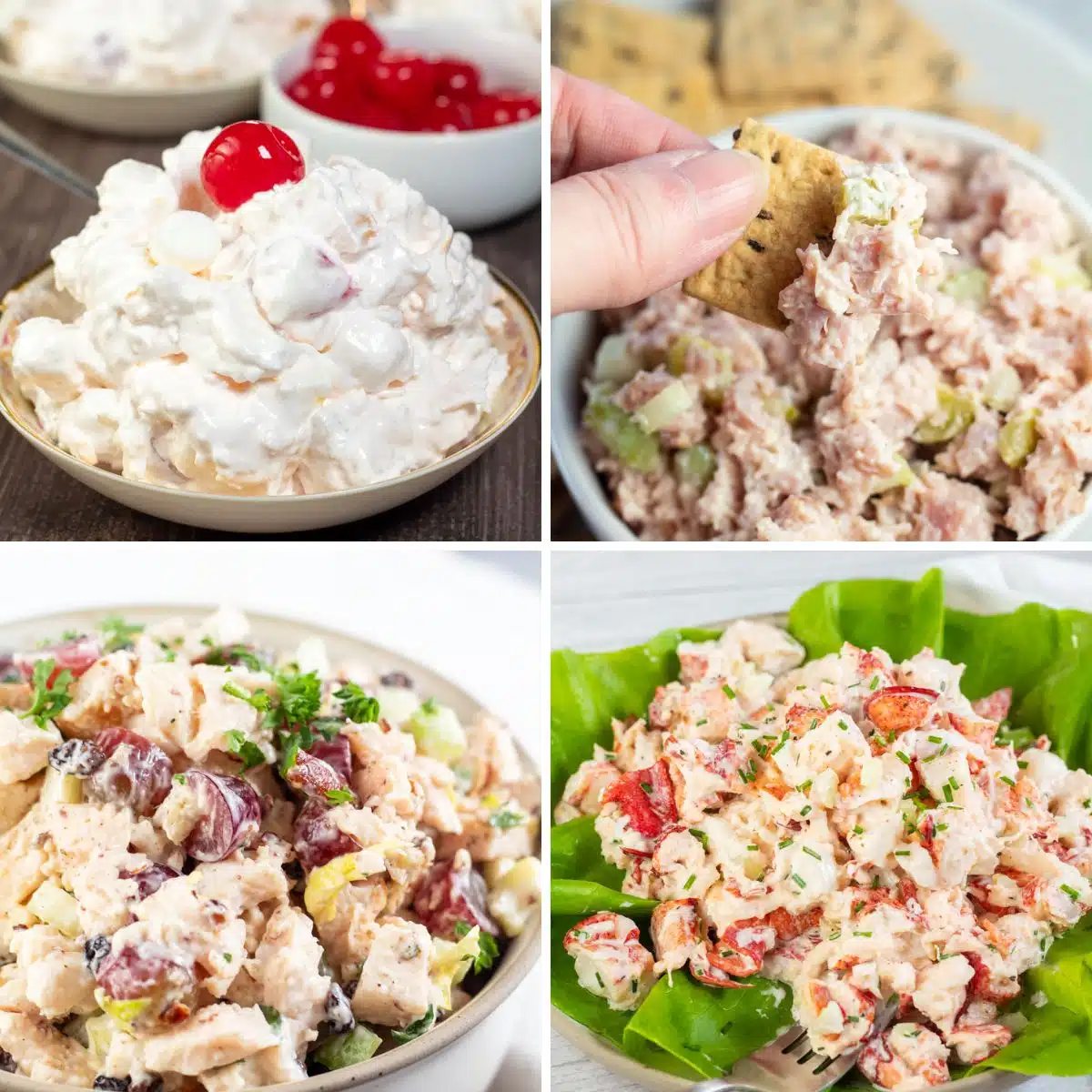 Jump to:
If you're planning a potluck or are invited to participate in a potluck, make sure to check out all of my favorite potluck recipes and potluck desserts!
1. Ambrosia Salad
This dessert salad features a heavenly blend of flavors! It's made with a delightful combination of juicy fruits, fluffy marshmallows, and creamy whipped topping. I like to add some walnuts or pecans for crunch, but they're totally optional!
2. Lobster Salad
This luxurious lobster salad is the perfect potluck recipe for any seafood lover. It's made with succulent chunks of lobster meat tossed in a simple creamy dressing. You can serve it as-is, over lettuce, or on a hotdog bun as a lobster roll!
3. Pasta Salad with Italian Dressing
This vibrant dish combines al dente pasta, crisp vegetables, and zesty Italian dressing! It's a classic summertime potluck recipe that makes a wonderful side dish or even a vegetarian main course. Best of all, you can make it in advance and let it chill in the fridge until needed!
4. Chicken Salad With Grapes
Tender, juicy chicken meets the refreshing sweetness of fresh grapes! Combined with a creamy dressing and crunchy pecans or walnuts, this easy salad is a delicious balance of textures and tastes!
5. Potato Salad
Nothing beats the creamy and comforting goodness of classic potato salad. My recipe is made with tender potatoes, crunchy vegetables, and a delectable blend of mayo, mustard, and tangy seasonings.
This timeless favorite is perfect for picnics, BBQs, or any occasion that calls for you to bring along a side dish!
6. Caesar Salad
You can never go wrong with a classic Caesar salad. For potlucks, I like to double or triple the recipe and serve it from a large, disposable aluminum takeout container. Add the croutons and dressing just before serving, or offer the dressing on the side!
7. Egg Salad
Served on a bed of fresh lettuce or as a tasty sandwich filling, this versatile recipe is a delicious choice for any occasion! Tender hard-boiled eggs are delicately blended with creamy mayo, mustard, and some simple seasoning to create this simple classic.
8. German Potato Salad
German potato salad has a unique flavor profile in comparison to its American counterpart. It is sweet and savory, with a punch of vinegar and crispy bacon all throughout. If you're looking for something outside the norm for your next potluck, this is it!
9. Mandarin Orange Jello Salad
This fresh and fruity dessert salad is always a hit with kids and adults alike! It's made with just 5 ingredients and has a citrusy, creamy flavor that is very similar to an orange creamsicle!
10. Fruit Cocktail Salad
This fruit cocktail salad features a sweet dressing made from pineapple juice and vanilla pudding! I use a blend of fresh pineapple, mandarin oranges, strawberries, red grapes, apples, and bananas, but you can customize it with your favorite fruit!
>>>>See all of my recipes HERE<<<<
11. Greek Pasta Salad
My Greek pasta salad is made with al dente bowtie noodles, feta cheese, juicy tomatoes, crisp cucumbers, briny olives, tender artichokes, and zesty Greek dressing. It's super easy to prepare the night before, which gives all of the fabulous flavors time to marry!
12. Fresh Fruit Salad
This fruit salad features a rainbow of fresh fruit tossed in a made-from-scratch honey citrus dressing! It's sweet enough to be served as dessert but also makes a wonderfully refreshing side dish!
13. Asian Cucumber Salad
Crispy cucumber slices tossed in a super simple sesame soy sauce vinaigrette! It's crisp and refreshing, making it the perfect chilled salad for summertime potlucks!
14. Caprese Salad
Add a burst of freshness and elegance to your potluck spread with a simple-yet-irresistible Caprese salad! Featuring juicy fresh tomatoes, creamy mozzarella cheese, and fragrant basil, all drizzled with a tangy balsamic glaze.
15. Greek Salad
This refreshing salad is similar to the Greek pasta salad but without the pasta! It's made with a medley of Mediterranean veggies, all tossed with a tangy and delicious Greek dressing.
16. Hawaiian Macaroni Salad
The tropical flavors of this Hawaiian macaroni salad are perfect for summertime potlucks! Pineapple juice and mayonnaise make up the creamy, fruity dressing, and chunks of fresh celery add a delightful crunch!
17. Tuna Salad with Pasta
Whether enjoyed as a main course or as a hearty side, this tuna salad with pasta is a surefire way to make your potluck a memorable one! Packed with protein and brimming with colorful ingredients, this crowd-pleasing recipe is a true potluck classic!
18. Loaded Baked Potato Salad
An upscale potato salad with all the baked potato fixings mixed right in! The crispy bacon, tangy cheddar cheese, zesty green onions, and sour cream dressing will have everyone reaching for seconds.
19. Rotisserie Chicken Salad
Grab a rotisserie chicken from the grocery store to make this delectably simple chicken salad! All it takes is a handful of ingredients and about 10 minutes of time, and then you can pop it into the fridge until you need it!
20. Cucumber Vinegar Salad
If you're looking for a low-calorie, low-carb salad that is cool, crisp, and refreshing, look no further! You can even add it to sandwiches for a refreshing crunch!
21. Ham Salad
Ham salad is a wonderful appetizer with crackers or chips, but it can also be served as a sandwich spread! This is a great recipe for using up leftover ham after the holidays, too!
Tips For Selecting The Best Salads For Potlucks
Variety: Choose salads that have a variety of colors, textures, and flavors. This will ensure your salad stands out and offers something for everyone's tastes.
Storage: Consider how the salad will hold up in transport and during the potluck. Chilled or room-temperature salads are often best, as they won't require reheating. Avoid salads with ingredients that can wilt or become soggy over time.
Dressing on the Side: If possible, serve the dressing on the side. This will allow guests to control the amount of dressing they prefer and prevent the salad from becoming soggy if it sits out for a while.
Keep It Fresh: Choose salads with fresh, seasonal ingredients for the best flavors.
Allergies and Dietary Restrictions: Be mindful of common food allergies and dietary restrictions. Offering a salad that is vegetarian, vegan, or gluten-free can ensure that everyone at the potluck can enjoy it.
Protein Addition: Consider adding a protein like grilled chicken, shrimp, tofu, or beans to make the salad more filling. This way, it can serve as a main dish for those who might not eat the other main dishes at the potluck.
Grain Salads: Grain salads, like quinoa salad or farro salad, hold up well over time and can be very filling and nutritious.
Nutty Crunch: Adding nuts or seeds can provide a satisfying crunch and additional nutrients. Just be sure to check if anyone has a nut allergy first.
Fruit Salads: Fruit salads can be a refreshing and healthy option. They can also double as a dessert!
Easy Assembly: Choose salads that are easy to assemble and don't require last-minute preparation.
Remember, the best potluck dishes are ones that can be made in advance, are easy to serve, and offer a delightful combination of flavors and textures! Let me know which recipes you plan to try in the comments below!
📋 Recipe