These potluck desserts are a list of my go-to sweets and treats that are perfect for serving a crowd at parties, events, or any occasion! From cookies and cakes to cupcakes and pies, there's something for everyone on this list. Don't show up empty-handed at your next potluck when you can impress your friends and family with one of these irresistible desserts!
Best Easy Desserts To Take To Potlucks
Potluck desserts are a delicious and fun way to enjoy a sweet treat while spending time with friends, family, or coworkers. Ideally, they are easy to make, easy to transport, and have plenty of servings for feeding a crowd.
From decadent dessert bars to cupcakes, cookies, and pies, these recipes fit the description and always come with rave reviews. You'll be the most popular person at the potluck if you show up with any of these sweet treats!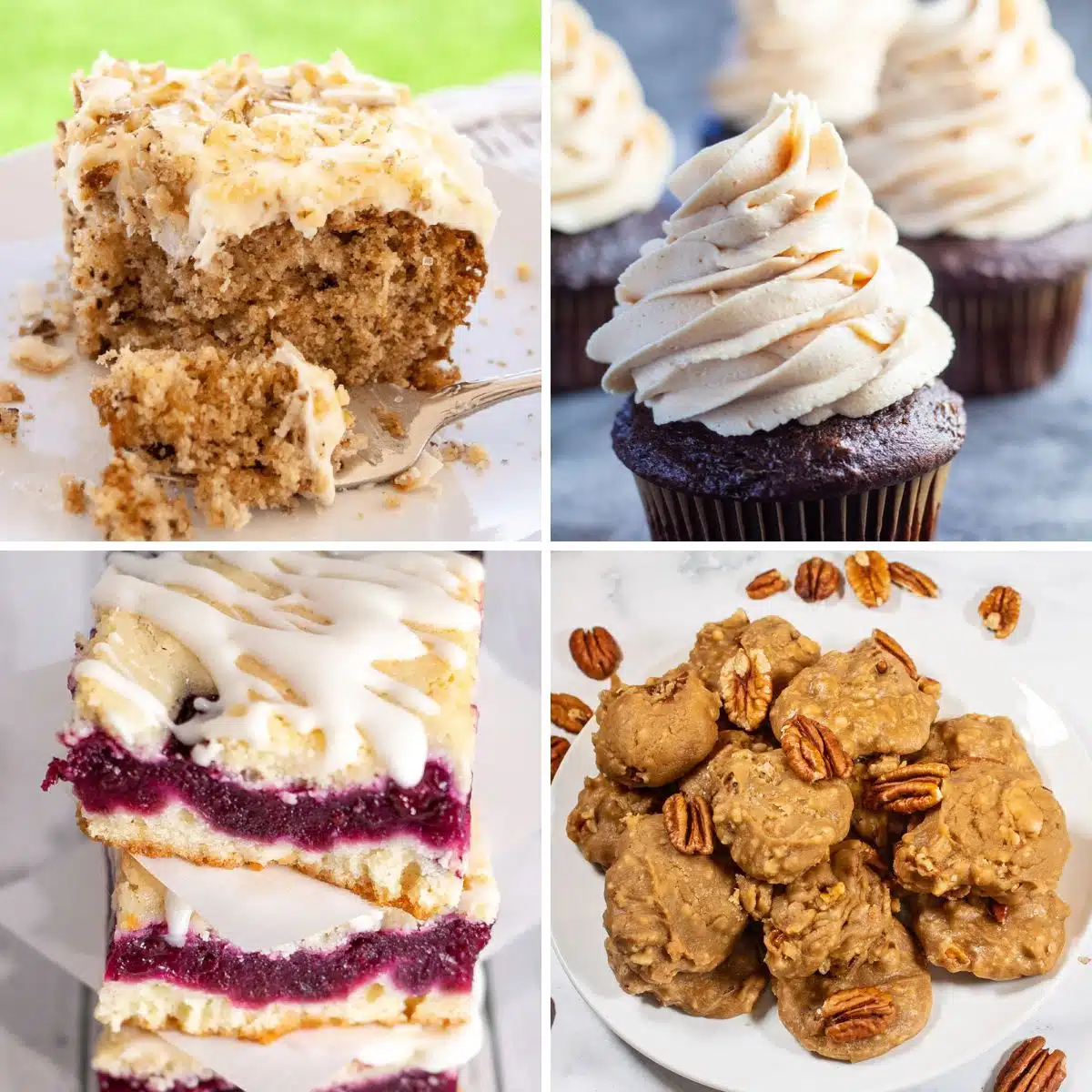 Jump to:
For appetizer and entree ideas to make for your next potluck, take a look at my full collections of best potluck recipes and winter potluck recipes!
Potluck Desserts
Whether you like cakes, cupcakes, brownies, pies, confections, or cookies, you'll find an easy recipe on this list to bring to your next potluck, party, or gathering! These desserts are tried and true and will come with rave reviews from anyone that tries them.
1. Fudge Brownies
Brownies are always an easy and delicious treat to share with a crowd making them a perfect choice for a potluck! These fudge brownies will satisfy any chocolate lover that you know with their dense fudge-like texture.
Plus, they're prepared in one bowl so the cleanup is extra quick! Trust me, everyone will be asking for the recipe because they are so much better than any boxed version.
2. Preachers Cake
This simple yet tasty cake is loaded with a lot of mix-ins like pineapple, walnuts, and sweetened coconut flakes. Then it's topped off with cream cheese frosting, more crushed walnuts, and toasted coconut!
With a whopping 12 servings, everyone can enjoy a slice (or two)! Don't worry if you are not an experienced baker because this cake is extremely straightforward to follow.
3. Oatmeal Raisin Cookies
Oatmeal raisin cookies are a classic treat that won't ever disappoint at a party or gathering! My version results in a soft, tender, and chewy texture that everyone will adore.
Even if you have people in your family that normally skip over oatmeal cookies, have them give mine a try and their minds will surely change! Get ready to share these 30 cookies the next time are invited to a potluck.
4. Sopapilla Cheesecake Bars
These sopapilla cheesecake bars are creamy, rich, and always highly requested at all of my family gatherings! For my recipe, I use two layers of canned crescent rolls and fill them with a tasty cream cheese filling. After that, I top the bars with a mixture of butter and cinnamon sugar!
Trust me when I say that these dessert bars are the first dessert to vanish at all of our potlucks. Everyone will be begging you for the recipe!
5. Mexican Pralines
Mexican pralines are sweet, creamy candies full of pecans, brown sugar, vanilla, and butter! They're a Southern classic confection that is perfect for serving large crowds, plus they only take 10 minutes to make.
These pralines are a great gift for any occasion as well! If you've never tried them before, this recipe is an absolute must that will satisfy anyone's sweet tooth!
6. Strawberry Dump Cake
If you've never heard of or made a dump cake before, then this recipe is about to change your potluck game! Dump cakes are incredibly effortless, yet flavorful desserts that will feed a crowd.
This recipe features 3 simple ingredients - strawberry pie filling, butter, and a box of yellow cake mix! All you have to do is pour the filling into the bottom of a 9X13 baking dish, combine the cake mix with melted butter, then sprinkle the mixture over the top and bake!
>>>>See all of my recipes HERE<<<<
7. Blueberry Pie Bars
These delicious pie bars are the perfect shareable dessert to bring to potlucks, parties, or any summer gathering! They're loaded with blueberry pie filling and topped with a sweet vanilla glaze.
Not only are they visually stunning, but the flavors will wow your guests leaving everyone wanting seconds (so make a few batches!). If you've never made pie bars before, this recipe is a great place to start because it requires minimal ingredients and basic kitchen equipment!
8. Buttermilk Pie
This buttermilk pie is a classic Southern dessert that is full of tangy, sweet deliciousness! The key ingredient in this recipe is buttermilk and it's used to make a creamy custard-like filling that will balance the sweetness of the pie.
The best part is that this pie is perfect for inexperienced bakers! You don't have any special baking tools to impress your guests at a potluck.
9. Whipped Shortbread Cookies
If you love soft, easy-to-make cookies, then my whipped shortbread cookies won't disappoint! All it takes is a few simple ingredients to make a dessert that will satisfy a crowd.
Plus, you can easily customize them with decorative sprinkles to match any holiday or special occasion! They are sure to be a hit with anyone that tries them and they're especially fun to make with the kids.
10. Peanut Butter Filled Cupcakes
For all of the peanut butter lovers in your life, this easy chocolate cupcake with peanut butter buttercream recipe is just the thing! They're a delightfully moist treat to bake up for your next potluck or just because.
One batch of cupcake batter will yield 20 servings! Plus, if you frequently bake, you'll most likely have all or most of the ingredients in your pantry already.
11. Chocolate Billionaires
This amazing candy recipe combines Kellogg's Rice Krispies cereal and chopped pecans that are coated in melted caramel and milk chocolate chips! With a whopping 36 servings, your friends and family can enjoy a few pieces each at your next party.
12. Cowboy Cookies
These filling cookies are loaded with a ton of delicious mix-ins to create a thick and chewy treat everyone will enjoy! If you are a fan of chocolate, coconut, pecans, and old-fashioned oats, this recipe is a must-try!
13. Pumpkin Fudge Poke Cake
My pumpkin fudge poke cake is a super simple 9X13 dessert that's full of fall flavors! The holes you 'poke' into the cake allow the rich chocolate fudge sauce to seep inside, giving you a decadent dessert that your whole family will enjoy.
14. Gumdrop Cookies
Gumdrop cookies are a delightful treat that combines the soft and chewy texture of a classic sugar cookie with the sweet and fruity flavor of gumdrops. They're chewy and delicious, plus you can customize the colors of candy to fit any theme!
15. Easy Chocolate Cake
Sometimes simple cakes are the best, and this easy chocolate cake is the perfect example! It's rich and moist with a heavenly chocolate ganache on top. It's the perfect cake for birthday parties or any other celebration!
16. Granny Smith Apple Pie
When in doubt, whip up a homemade apple pie with fresh Granny Smith apples. My easy recipe features freshly sliced apples, rich brown sugar, and a few other simple baking ingredients!
17. Sugar Cookie Cherry Cobbler
Two classic desserts come together in one epic dessert! This recipe only requires two ingredients: sugar cookie dough and cherry pie filling, yet it tastes like you've been slaving over it for hours!
18. Chocolate Frosting Fudge
If baking isn't your forte, this chocolate frosting fudge is almost impossible to mess up. It only requires 2 ingredients, plus you can customize your fudge with your favorite toppings and flavors!
19. Apple Crisp
My delicious apple crisp features fresh apples and a crumbly oatmeal streusel topping! It's an easy dessert to make during the fall or any time of the year.
I hope that you find a new favorite potluck dessert on this list! Let me know what you think by leaving me a message in the comment section below!
😋 More Tasty Desserts To Try
📋 Recipe