These potluck recipes are my go-to dishes for bringing to work events, church potlucks, or house parties and always impress! From appetizers to desserts, these crowd-pleasing recipes are made for sharing. If you're looking for something to bring to your next potluck, you've come to the right place!
Best Potluck Recipes
Whether it's an office party, church event, or family get-together, you never know when you might have to whip up an impromptu potluck dish! Below are my tried-and-true recipes for feeding a crowd on any occasion.
These recipes are easy to prepare and most can be served right out of the dish you made them in (which is perfect for traveling and cleanup)! From appetizers to desserts, you can find the best potluck recipes right here!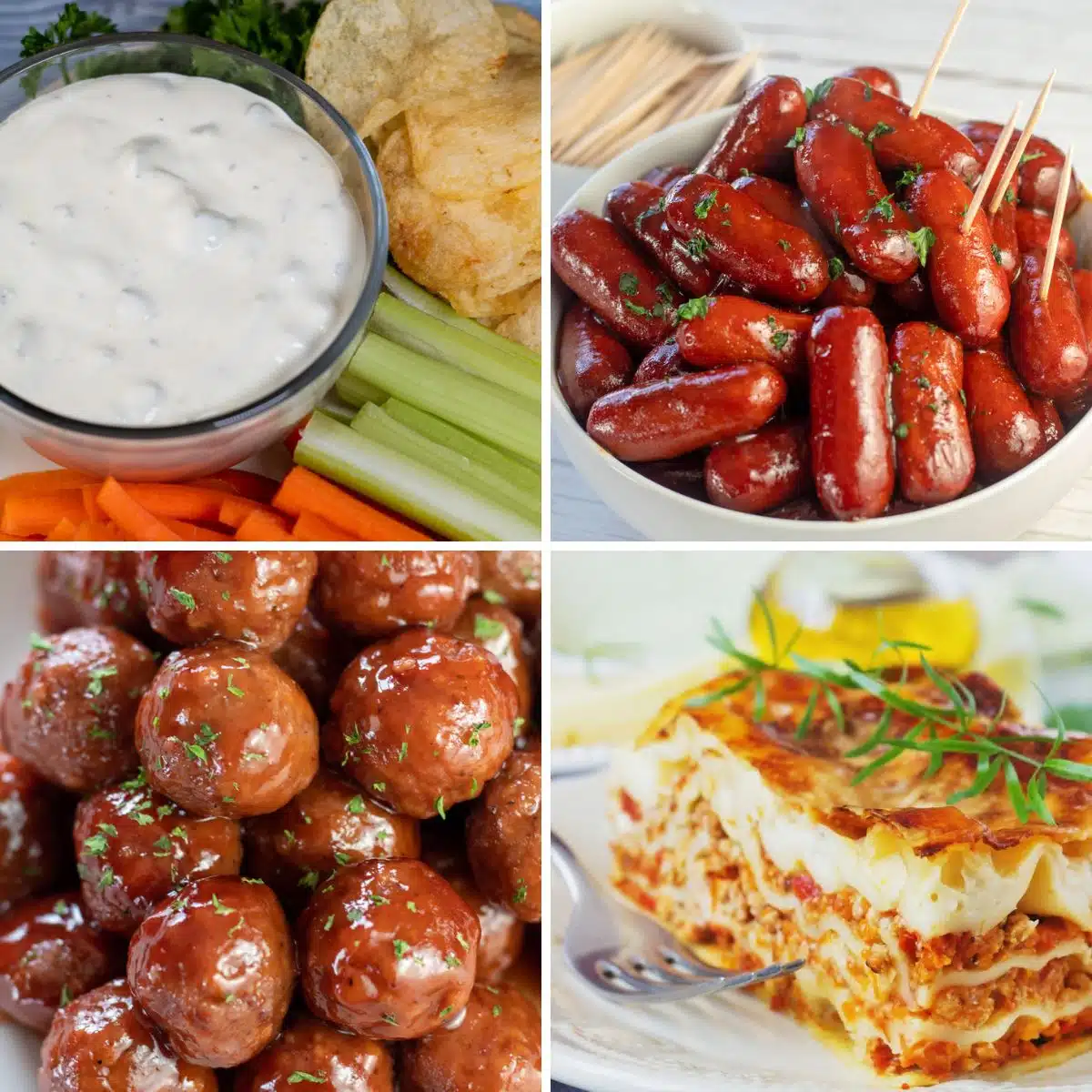 Jump to:
Want More Recipes? Enter your email below and we'll send them straight to your inbox!
🥪 Appetizers
1. Dill Pickle Dip
All the flavor of dill pickles in a creamy and easy-to-make dip! Serve it with potato chips, crackers, or veggie sticks for an easy potluck appetizer.
2. Crockpot Grape Jelly Meatballs
These sweet and savory grape jelly meatballs are made for snacking. For easy serving, I like to put them on toothpicks, though you can also serve them straight from the crockpot!
3. 2-Ingredient BBQ Little Smokies
Nothing beats a recipe with just 2 ingredients. You'll love how easy these BBQ Lil Smokies are to prepare almost as much as how great they taste!
4. Pinwheel Sandwiches
Pinwheel sandwiches are classic party food! They can easily be customized with your favorite fillings- I feature 3 different varieties to try right here!
5. Buffalo Chicken Dip
All the flavor of buffalo chicken wings in a creamy chip dip. The chicken is cooked already, so all you have to do is combine the ingredients and heat it up!
6. Slow Cooker Crack Chicken
They call it crack chicken because it's so addictive! It's made by combining tender shredded chicken with cream cheese, cheddar cheese, ranch seasoning, and bacon!
You can make crack chicken the main course by serving it as a sandwich, or set it up as a dip station with crackers and chips!
🍝 Main Course
7. Chili Con Carne
One batch of this hearty chili con carne makes 10 servings, so it's perfect for potlucks. Serve the chili straight from your crockpot with sour cream, cheese, and green onions on the side so everyone can add their favorite toppings!
8. Baked Spaghetti and Meatballs
Making spaghetti and meatballs for a crowd has never been easier! You can make the meatballs and sauce from scratch or use store bought sauce and frozen meatballs to cut down on prep time even more.
9. RoTel Chicken Spaghetti
Spaghetti noodles, chicken, and juicy Rotel canned tomatoes with green chiles in a super-creamy Velveeta cheese sauce! I like to pair it with some quick garlic bread for a filling and memorable main course.
10. Biscuit Chicken Pot Pie
This chicken pot pie casserole has all the classic flavor of a homemade pot pie but with half the effort! Instead of pie crust, the creamy and savory chicken pot pie filling is topped off with fluffy biscuits (you can make them from scratch or just grab a tube at the store)!
11. Lasagna
Lasagna is another classic potluck recipe because it's easy to slice and serve, plus it's so satisfying! My recipe includes 3 types of cheese and a saucy tomato-based meat sauce that will have everyone coming back for seconds.
12. Cheese Enchiladas
Cheese enchiladas are quick and easy to prepare, even when you make your own enchilada sauce from scratch! They are super flavorful from the taco-seasoned beef and tangy, rich tomato sauce.
You could try chicken enchiladas, shrimp enchiladas, or beef enchiladas if you'd like to add some protein!
13. Green Bean Potato Sausage Casserole
This tasty sausage and potato casserole can be served as a side dish, but it's also hearty enough to be a main course! It's loaded with tender potatoes, perfectly cooked green beans, salty bacon, and smokey sausage, plus a simple blend of herbs and seasonings for maximum flavor.
14. Mexican Cornbread Casserole
Everyone will want the recipe for this delicious Mexican casserole featuring seasoned ground beef, chiles, and melted cheddar between two layers of fluffy cornbread. You can even add your favorite Tex-Mex toppings like hot sauce, sour cream, or queso!
15. Chicken Broccoli Rice Casserole
Casseroles are the perfect potluck food because you can just cover them up in the baking dish and bring them on over! This easy chicken, broccoli, and rice casserole is super cheesy and doesn't need any sides to make it a meal.
16. Instant Pot Pulled Pork
Pulled pork can be used for so many delicious things! You can serve it with rolls to make sliders, bread to make sandwiches, tortillas for tacos, you can even put it on salads.
This recipe is my favorite because the Instant Pot does all the work, you just have to add the ingredients and let it go!
🥗 Side Dishes
17. Egg Salad
Not only does egg salad make a tasty side dish, but you can always make it a main course by serving it as a sandwich! This recipe makes about 4 servings, but you can easily double or triple it as needed.
18. Crockpot Macaroni and Cheese
This three-cheese macaroni is ultra-rich and creamy, and you don't have to boil the pasta! Just toss everything in the crockpot and let it cook. You can take your crockpot straight to the potluck and keep it warm until ready to serve!
19. Hawaiian Macaroni Salad
A big bowl of sweet and tangy macaroni salad is perfect for summer potlucks! It's cool and creamy with a pop of tropical flavor from pineapple juice and a crunch from the celery, carrots, and onion.
20. Southern Coleslaw
This classic Southern coleslaw recipe is tasty enough to stand on its own and it also makes a great addition to sandwiches or tacos. Coleslaw is basically a potluck tradition, so don't be surprised when you're asked to bring the coleslaw from here on out!
21. Chicken Salad with Grapes
The grapes in this creamy chicken salad add little burst of sweetness to every bite. It also features dried cranberries for tartness and walnuts for crunch, all in a creamy mayonnaise sauce.
You could also give my rotisserie chicken salad a try if you aren't a fan of grapes.
22. German Potato Salad
German potato salad is a nice alternative to traditional potato salad if you're looking to try something new. Unlike American potato salad, German potato salad is tossed in a combination of vinegar and sugar with onions and bacon for a sweet and tangy flavor that's hard to resist!
23. Sweet Potato Casserole with Marshmallows
Sweet potato casserole with marshmallows is perfect for holiday potlucks, but there's no reason you can't enjoy it year-round! The melted marshmallow topping with crunchy pecans is a treat on any occasion.
24. Mashed Potato Casserole
To save time, I like to make the mashed potatoes and refrigerate them until I'm ready to bake my casserole! It's like an elevated version of mashed potatoes with extra butter, sour cream, cream cheese, cheddar cheese, and breadcrumbs, yum!
25. Jiffy Corn Casserole
Corn casserole is essentially fluffy cornbread with sweet corn, creamed corn, and sour cream mixture. The texture is like super-moist cornbread (or corn pudding) and the flavor is a perfect balance between sweet and savory!
26. Onion Rolls
These soft no-knead yeast rolls are a great choice for any main course! They are subtly sweet while also having caramelized bits of yellow onion mixed into the dough and sprinkled on top.
🍰 Desserts
27. Cherry Pie Bars
These delicious cherry pie bars only take 45 minutes to make, and there are 18 servings which is plenty to share! You can use canned or homemade cherry pie filling, the results are incredible either way!
28. Hello Dolly Bars
These unforgettably delicious Hello Dolly bars are made by layering 7 simple ingredients: graham cracker crumbs, butter, chocolate chips, butterscotch chips, shredded coconut, pecans, and sweetened condensed milk. The combination of flavors is hard to resist, plus one pan makes 24 servings!
29. Mandarin Orange Jello Salad
Jello salad can be served as a sweet side dish or a simple dessert! This cool and creamy treat is so easy to make, anyone can do it. Just combine canned mandarin oranges, orange Jello, canned pineapples, Cool Whip, and mini marshmallows and pop it in the fridge to chill!
30. Strawberry Dump Cake
You don't have to be a baker to pull off a wonderfully tasty strawberry dump cake. It only requires 3 ingredients- boxed cake mix, strawberry pie filling, and butter! You don't even have to mix them, and there's no frosting necessary!
31. Peanut Butter Filled Cupcakes
Everyone loves homemade cupcakes, especially these rich chocolate cupcakes with peanut butter buttercream filling! With the irresistible flavor of chocolate and peanut butter in every bite, you may want to make an extra batch.
I hope you find some new favorite potluck recipes on this list! Let me know what your go-to potluck dishes are in the comment section below!
>>>>See all of my recipes HERE<<<<
😋 More Tasty Casseroles
📋 Recipe