Delicious, easy-to-make leftover ham recipes are a perfect way to use up any baked ham to make wonderfully satisfying meals! Start with a great oven-baked ham for your holiday meal and then be sure to save every bit of that delicious ham meat for some great after-holiday meals!
Easy Leftover Ham Recipes
Delicious sweet and savory ham dinners are a personal favorite, whether it's a Christmas glazed honey ham or a weeknight meal! Since I'm the biggest ham fan in the family, there tends to be plenty of leftovers!
To get everyone to help me eat up all of the ham, I've gotten pretty creative with some amazing ham recipes! No one will complain when they've got these amazingly tasty meals to enjoy!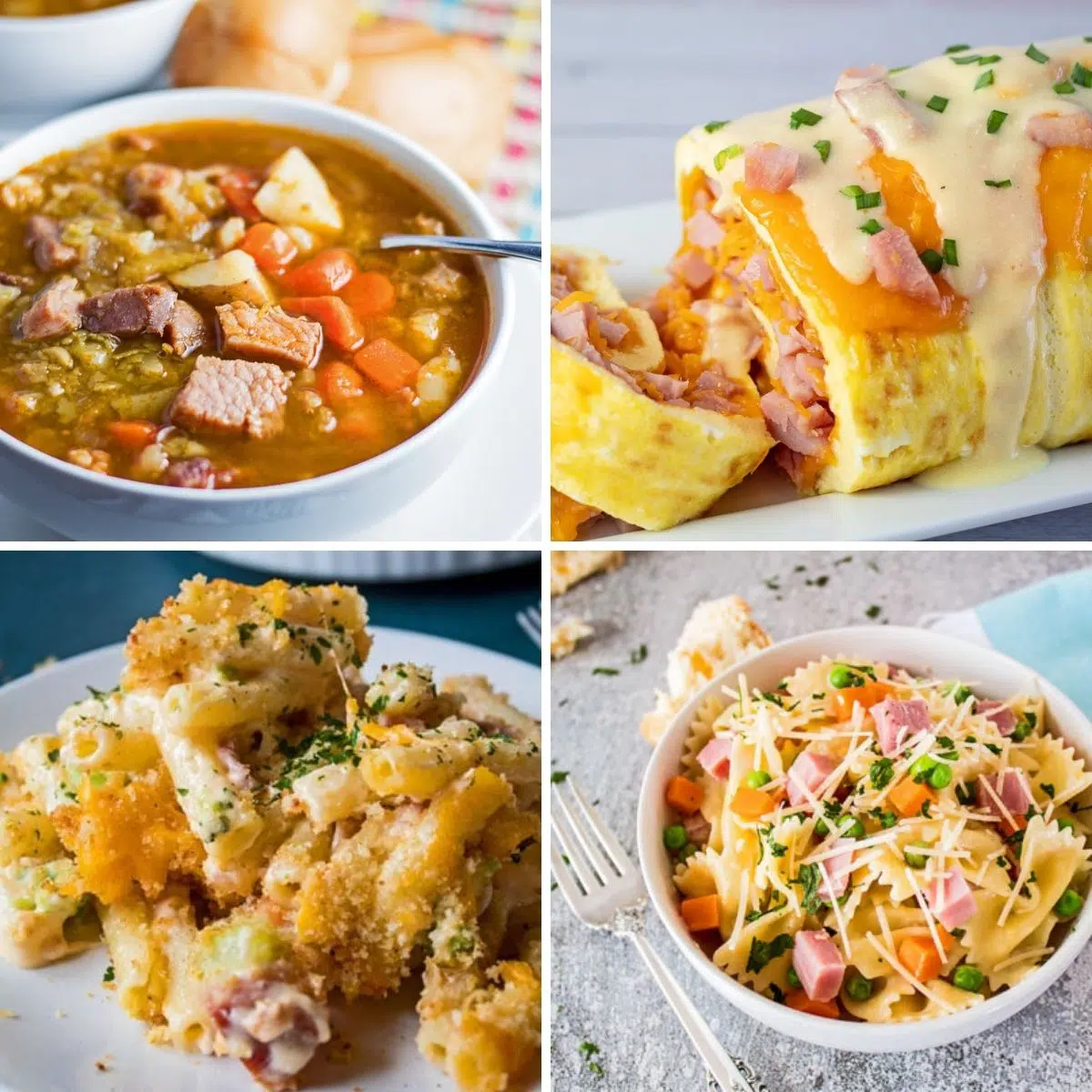 Jump to:
All of these easy-to-make recipes are a great way to use up ham leftovers and feed a family! Make a hearty breakfast, cheesy ham lunch, or serve up a crowd-pleasing dinner with all of these tasty meals!
1. Ham and Pea Pasta
Tender pieces of leftover ham with the classic complimenting peas served over pasta in a rich and delicious sauce! This filling family meal is a household favorite even with my less-than-crazy-about-ham eaters!
Tasty, easy skillet dinners like this are perfect for weeknight meals and feeding a hungry crowd!
2. Ham Casserole with Broccoli and Cheese
Another great use of leftover ham that's ridiculously tasty! The crunchy topping is the perfect addition to this deliciously creamy pasta casserole!
This hearty meal combines my favorites - ham, broccoli, cheddar, and pasta - for an easy dinner that everyone loves!
3. Cheesy Ham Pasta
This light pasta dinner is a quick meal that tastes amazing with its light sauce and tender pieces of cubed ham! The bowtie pasta is perfect for coating with sauce to make sure each bite is packed with flavor!
Make this dish super-quick with thawed peas and carrots! Or mix-and-match to use up whatever veggies you have in the fridge!
4. Cauliflower Ham Soup
A hearty soup that everyone will love! This incredibly smooth, rich, and tasty soup pairs fried chunks of leftover ham with a creamy cauliflower soup!
Top the soup off with a handful of cheese, chives, or even a touch of sour cream to make the meal even more filling!
5. Ham Chowder
Ham chowder is another amazing soup to add to your recipe tin for using ham! It's a great combination of potatoes, cheese, and ham that the whole family will love!
Use an immersion blender to make your chowder nice and creamy if desired, or enjoy this soup chunky and rustic!
6. Grilled Ham & Cheese
My favorite everyday sandwich - meaning I could eat this every day! Grilled ham and cheese is my bag, baby!!
Assemble this staple lunch sandwich and cook it up to crispy perfection in your air fryer! Make sure to toast both sides of the bread for the ultimate grilled ham & cheese!
7. Ham & Egg Breakfast Cups
Use sliced leftover ham or deli ham slices to make these tasty breakfast cups! They're incredibly easy to make and your kids will LOVE them!
8. Omelet Roll
Want to impress your family?? Make this exceptionally tasty ham and cheese omelet roll this weekend! It's easier than you may think and looks as amazing as it tastes!
9. Sopa de Chícharos
This incredibly tasty Cuban split pea soup takes the everyday classic recipe to wonderfully flavorful new heights! I have always LOVED split pea soup, but this Cuban soup takes the spot as best ever favorite!
10. Ham Loaf
11. Ham Salad
12. Baked Denver Omelet
13. Ramen Noodles With Ham
We hope that you enjoy a fabulous, rich, and tasty breakfast, lunch, or dinner with all of these ideas for the best recipes for leftover ham! Be sure to check back in to let us know what you liked best and see our latest additions! Enjoy!
📋 Recipe