Delicious, easy-to-make leftover ham recipes are a perfect way to use up any baked ham to make wonderfully satisfying meals! Start with a great oven-baked ham for your holiday meal and then be sure to save every bit of that delicious ham meat for some great after-holiday meals!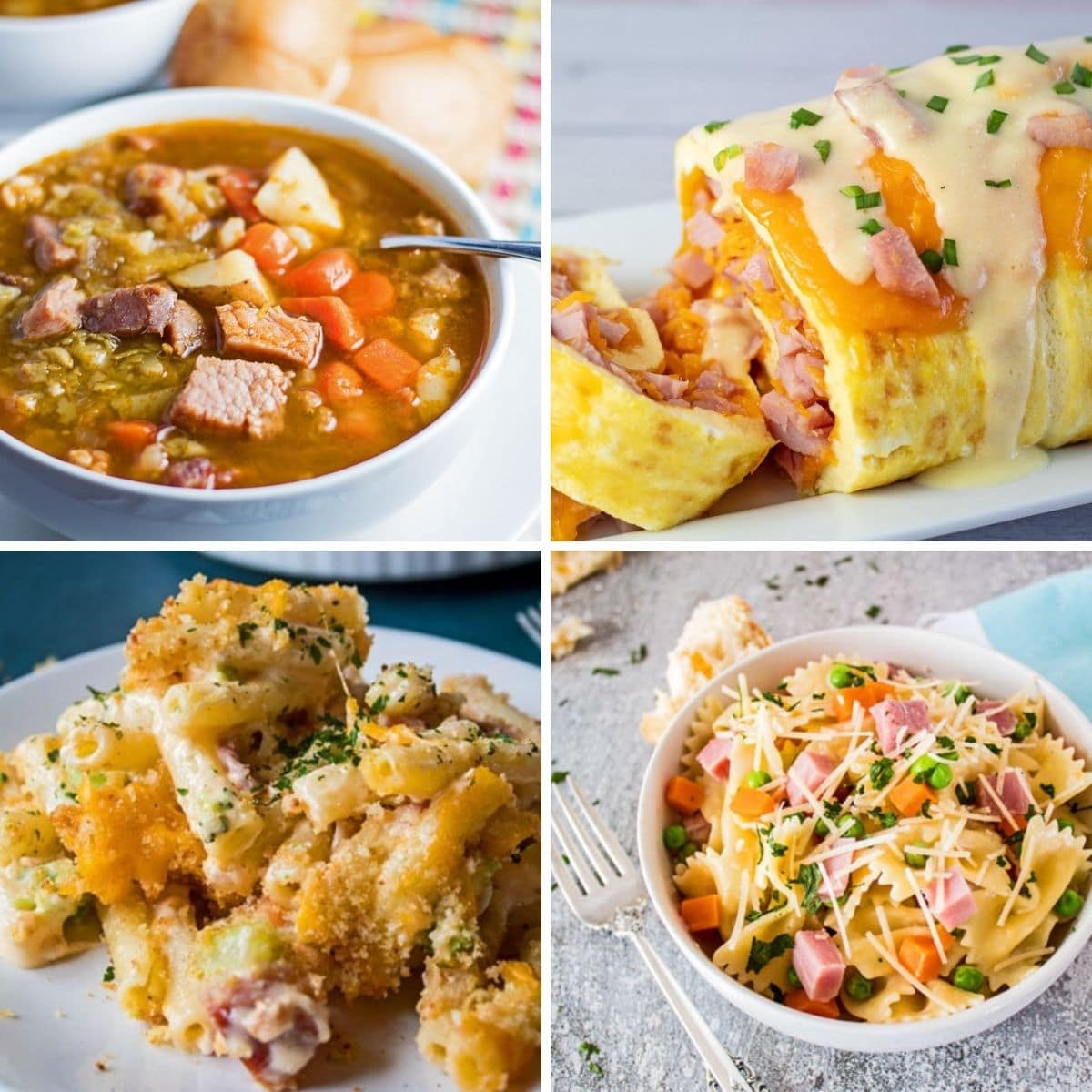 Ham has so many great flavor combinations that it's hard to think of a favorite!
Delicious sweet and savory ham dinners are a personal favorite, whether it's a Christmas glazed honey ham or a weeknight meal! Since I'm the biggest ham fan in the family, there tends to be plenty of leftovers!
To get everyone to help me eat up all of the ham, I've gotten pretty creative with some amazing ham recipes! No one will complain when they've got these amazingly tasty meals to enjoy!
Jump to:
Best Recipes for Leftover Ham
All of these easy-to-make recipes are a great way to use up ham leftovers and feed a family! Make a hearty breakfast, cheesy ham lunch, or serve up a crowd-pleasing dinner with all of these tasty meals!
1. Ham and Pea Pasta
Tender pieces of leftover ham with the classic complimenting peas served over pasta in a rich and delicious sauce! This filling family meal is a household favorite even with my less-than-crazy-about-ham eaters!
Tasty, easy skillet dinners like this are perfect for weeknight meals and feeding a hungry crowd!
Ham and Pea Pasta
Creamy Ham and Pea Pasta is the deliciously perfect use for leftover ham! This hearty family meal combines tender chunks of ham with fettuccine and peas in a cheesy white sauce that everyone loves! It's a quick and easy pasta dinner to make, either on the stove top or in your crock pot!
Check out this recipe
2. Ham Casserole with Broccoli and Cheese
Another great use of leftover ham that's ridiculously tasty! The crunchy topping is the perfect addition to this deliciously creamy pasta casserole!
This hearty meal combines my favorites - ham, broccoli, cheddar, and pasta - for an easy dinner that everyone loves!
Leftover Ham Casserole with Broccoli and Cheese
My tasty Leftover Ham Casserole with Broccoli and Cheese combines all of my favorite flavors in a creamy pasta with a crunchy breadcrumb topping! Tender pieces of ham are tossed with broccoli, pasta and an easy from scratch cheese sauce to make this perfect quick dinner!
Check out this recipe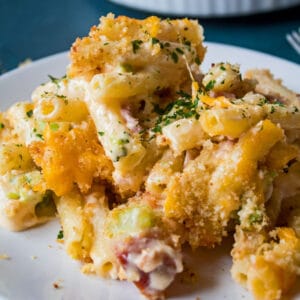 3. Cheesy Ham Pasta
This light pasta dinner is a quick meal that tastes amazing with its light sauce and tender pieces of cubed ham! The bowtie pasta is perfect for coating with sauce to make sure each bite is packed with flavor!
Make this dish super-quick with thawed peas and carrots! Or mix-and-match to use up whatever veggies you have in the fridge!
Cheesy Leftover Ham Pasta
Easy Cheesy Leftover Ham Pasta combines cubed ham, peas and carrots, and bowtie pasta in a creamy cheese sauce! This quick stove top dinner is a great family meal for busy schedules, or a relaxed weekend get together!
Check out this recipe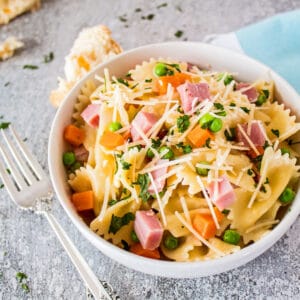 4. Cauliflower Ham Soup
A hearty soup that everyone will love! This incredibly smooth, rich, and tasty soup pairs fried chunks of leftover ham with a creamy cauliflower soup!
Top the soup off with a handful of cheese, chives, or even a touch of sour cream to make the meal even more filling!
Creamy Cauliflower Ham Soup
This Creamy Cauliflower Ham Soup is a delicious comfort food meal to enjoy on those chilly Fall and Winter nights! It's a quick meal to make for a family dinner, and a great way to use up leftover ham!
Check out this recipe
5. Ham Chowder
Ham chowder is another amazing soup to add to your recipe tin for using ham! It's a great combination of potatoes, cheese, and ham that the whole family will love!
Use an immersion blender to make your chowder nice and creamy if desired, or enjoy this soup chunky and rustic!
Ham Chowder
This easy to make Ham Chowder is a delicious way to use up any ham leftovers you may have! If you want to take this tasty soup to the next level, save that ham bone for starting this cheesy ham and potato soup! My creamy ham chowder is a soup that the whole family loves!
Check out this recipe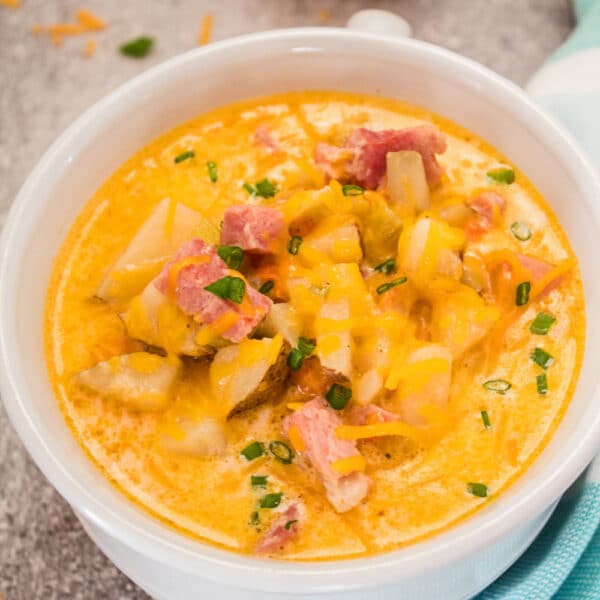 6. Grilled Ham & Cheese
My favorite everyday sandwich - meaning I could eat this every day! Grilled ham and cheese is my bag, baby!!
Assemble this staple lunch sandwich and cook it up to crispy perfection in your air fryer! Make sure to toast both sides of the bread for the ultimate grilled ham & cheese!
Air Fryer Grilled Ham and Cheese
These easy Air Fryer Grilled Ham and Cheese sandwiches are a perfectly crispy way to enjoy the classic combination of ham and cheese! Stack your sandwiches with slices of ham and your favorite cheese and get ready to enjoy melted cheesy goodness in just minutes!
Check out this recipe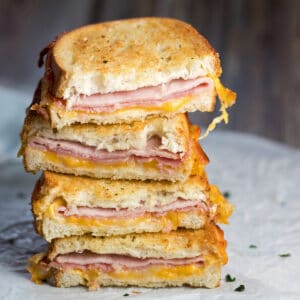 7. Ham & Egg Breakfast Cups
Use sliced leftover ham or deli ham slices to make these tasty breakfast cups! They're incredibly easy to make and your kids will LOVE them!
Ham Egg Cups
All of your breakfast favorites are in this fun cheesy Ham Egg Cups! These are so quick and easy to make and fun for kids too!! Just add everything in layers (ham, cheese, eggs) and let these breakfast cups bake in the oven.
Check out this recipe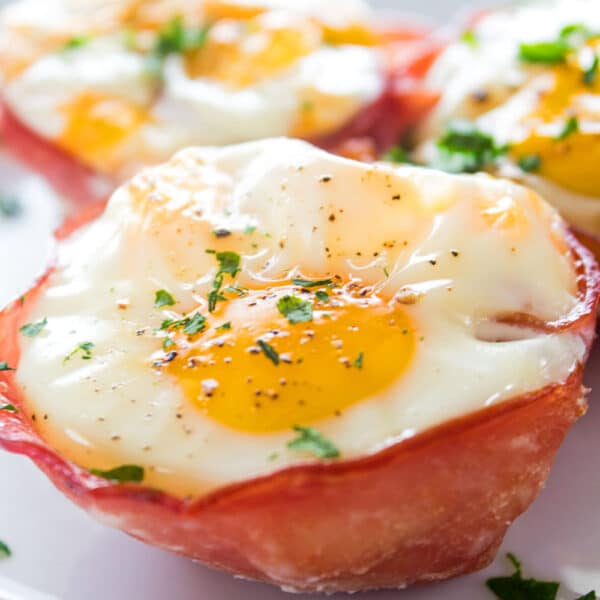 8. Omelet Roll
Want to impress your family?? Make this exceptionally tasty ham and cheese omelet roll this weekend! It's easier than you may think and looks as amazing as it tastes!
Omelet Roll (Ham & Cheese Roulade Breakfast or Brunch)
Fluffy, easy-to-make ham & cheese omelet roll is the perfect combination of tender, baked eggs rolled with delicious ham and cheese! It's perfect for a family breakfast, special occasion or Mother's Day brunch, or really any time of day!
Check out this recipe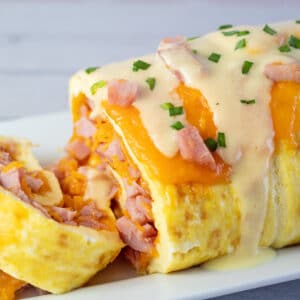 9. Sopa de Chícharos
This incredibly tasty Cuban split pea soup takes the everyday classic recipe to wonderfully flavorful new heights! I have always LOVED split pea soup, but this Cuban soup takes the spot as best ever favorite!
Sopa de Chícharos
This hearty Sopa de Chícharos recipe is the Cuban version of the classic split pea soup with the wonderful addition of potatoes, squash, cumin, and chipotle flavors! The whole family loves this easy to make comfort food soup and I love that it is equally suited to stove top, Instant Pot, or Crockpot preparation!
Check out this recipe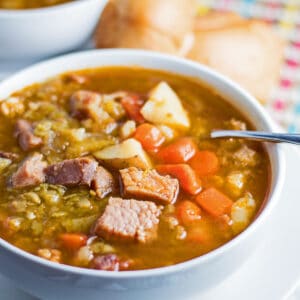 10. Ham Loaf
Ham Loaf (with Tasty Brown Sugar Dijon Glaze)
Ham loaf may not be the most appetizing name, but my ham loaf with tasty brown sugar Dijon glaze is totally delicious! The tangy-sweet Dijon glaze will get you hooked and you'll be putting ham loaf on your list of favorite weekly dinners!
Check out this recipe
11. Ham Salad
Ham Salad
My favorite super simple recipe for a traditional ham salad is perfect for making sandwiches or ham salad spread on crackers! With just a few tasty mix-ins and a little time in the food processor, you'll have an easy lunch in minutes!
Check out this recipe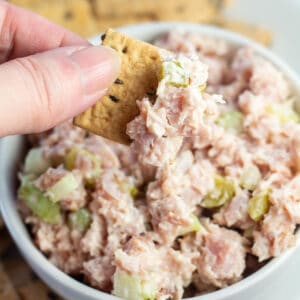 12. Baked Denver Omelet
Baked Denver Omelet
This simple, easy baked Denver omelet recipe makes breakfast amazing with this hearty and satisfying baked breakfast or brunch omelet! My twist on the classic omelet is filled with all the Denver omelet fixin's – crisp veggies, savory ham, and delicious cheddar cheese!
Check out this recipe
We hope that you enjoy a fabulous, rich, and tasty breakfast, lunch, or dinner with all of these ideas for the best recipes for leftover ham! Be sure to check back in to let us know what you liked best and see our latest additions! Enjoy!
Do you love a recipe you tried? Please leave a 5-star 🌟rating in the recipe card below and/or a review in the comments section further down the page.

Stay in touch with me through social media @ Pinterest, Facebook, Instagram, or Twitter! Don't forget to tag me when you try one of my recipes!
📋 Recipe
Print Recipe
Leave A Comment
Love This Recipe?
Click On A Star To Rate It!
Leftover Ham Recipes: Au Gratin Potatoes with Diced Ham (+More!)
Delicious, easy-to-make leftover ham recipes are a perfect way to use up any baked ham to make wonderfully satisfying meals! Start with a great oven-baked ham for your holiday meal and then be sure to save every bit of that delicious ham meat for some great after-holiday meals!
Cooking
1
hour
30
minutes
Total Time
1
hour
45
minutes
Pin Recipe
Share on Facebook
Ingredients
3

tablespoon

butter

½

c

onion

approx ½ small onion (minced)

½

teaspoon

turmeric

1

teaspoon

garlic powder

salt & pepper

(to taste)

2

c

heavy cream

1 ½

c

cheddar cheese

(shredded)

4

large

russet potatoes

(washed and sliced thin, ⅛ inch thickness at most for best results)

½

lb

cooked ham

(diced)
Instructions
Preheat oven to 400°F (200°C). Butter a 1 to 1 ½ quart casserole dish.

Melt butter in a saucepan over medium heat, add the minced onion and cook until translucent and soft. Add seasoning: (turmeric, garlic powder, salt & pepper) and stir.

Add the heavy cream - or use the same quantity (2 cups) of milk with 3 tablespoons all-purpose flour whisked in to the milk while it is still cold.

Whisk frequently until the heavy cream is heated through, usually about 3-4 minutes. Then add shredded cheese and stir until melted. Once the cheese is melted, remove your saucepan from the heat and set aside.

In a small frying pan or skillet, sear the diced ham until browning on the sides. Remove from heat and set aside for assembling your au gratin potatoes.

Layer your sliced russet potatoes in even layers covering the bottom of the casserole dish. Top with the seared diced ham, then pour your cheddar cheese sauce over the layered potatoes and diced ham.

Cover with aluminum foil. Bake at 400°F (200°C) for 1 ½ hours. Your au gratin potatoes are done once they are tender when forked. Allow your au gratin potatoes to cool for about 15 minutes before serving.
Notes
If you use a different size baking dish, if the potatoes are thick-sliced, or if the potatoes are stacked thicker or thinner than they would be in the suggested size dish, your au gratin potatoes with diced ham will have a different cooking time.
The aluminum foil can be removed during the last 15-30 minutes of cooking time to brown your au gratin potatoes if desired.
Nutrition
Calories:
280
kcal
(14%)
|
Carbohydrates:
24
g
(8%)
|
Protein:
16
g
(32%)
|
Fat:
13
g
(20%)
|
Saturated Fat:
8
g
(50%)
|
Cholesterol:
50
mg
(17%)
|
Sodium:
650
mg
(28%)
|
Potassium:
640
mg
(18%)
|
Fiber:
1
g
(4%)
|
Sugar:
5
g
(6%)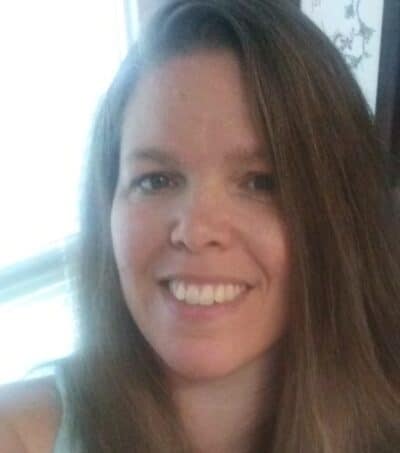 Angela is an at home chef that developed a passion for all things cooking and baking at a young age in her Grandma's kitchen. After many years in the food service industry, she now enjoys sharing all of her family favorite recipes and creating tasty dinner and amazing dessert recipes here at Bake It With Love!