The best brownie recipes have the perfect balance of chocolatey richness, moist texture, and just the right amount of sweetness. You can add tasty mix-ins like nuts and candy or play around with different flavor combinations to really make them your own. Here are a few of my family's all-time favorite brownie recipes for you to share with yours!
Best Recipes For Making Brownies
Brownies are undoubtedly one of the most beloved desserts in the world, and for good reason! They're chocolaty, rich, and have a perfectly fudgy texture that melts in your mouth. However, not all brownies are created equal, and the recipe you choose can make all the difference!
With so many variations out there, finding the best brownies recipe can be a challenge. In this article, I'll explore some of the top brownie recipes to help you satisfy your sweet tooth and discover the perfect brownie!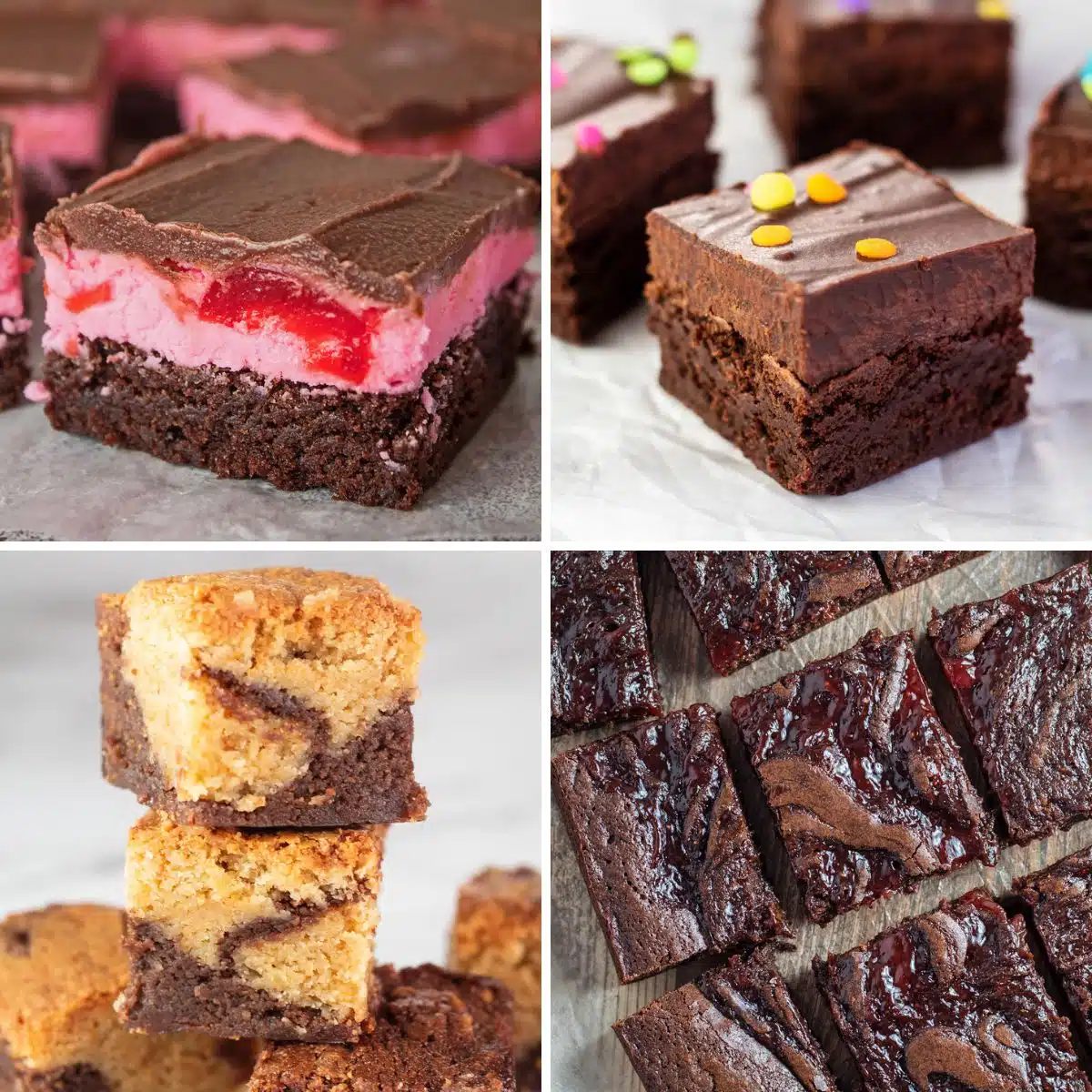 Jump to:
Brownie Recipes
Whether you like them fudgy or cakey, with nuts or without, there are endless variations of brownie recipes to try. Below are a few of my favorites that always come with rave reviews from anyone who tries them!
If you prefer working with boxed brownie mix, check out my post on how to make boxed brownie mix better. You can even use boxed brownie mix as the base for many of the frosted or layered brownie recipes on this list. Here is my list of the best store-bought brownie mixes for recommendations on which brands to try!
1. Fudge Brownies
Chocolate lovers rejoice because these ultra-fudgy brownies are everything you could ask for in a dessert. They are dense and moist with a heavenly rich chocolate flavor.
I decided to take it one step further and grate a chocolate bar right into the batter. The room was silent when we all took a bite, they are just that good!
2. Blondie Brownies
Two delectable desserts swirled into one epic brownie! The rich chocolate brownie batter is baked, then topped with sweet and salty brown sugar blondie batter and baked again.
The results are downright delicious, with the perfect balance of both flavors. They're moist, chewy, and will definitely satisfy your sweet tooth!
3. Cosmic Brownies Copycat
Yes, THE cosmic brownies. This is the perfect copycat recipe to recreate everyone's favorite childhood chocolate treat at home!
The base is a rich and chewy brownie, and the top is a quick homemade chocolate frosting. Oh, and don't forget the rainbow candy-coated chocolate chips for the true cosmic brownie experience!
4. Strawberry Swirl Brownies
These brownies are fabulously fudgy, with sweet strawberry jam swirled all throughout. The combination of chocolate and strawberry creates a perfect balance of flavors that is sure to satisfy your sweet tooth.
You can use jam, strawberry preserves, or even strawberry jelly. I've tried them all, and the results are incredibly delicious every time!
5. Peanut Butter Banana Brownies
If you're looking for a fun and flavorful twist on the classic brownie, this recipe is for you! Mashed bananas are mixed right into the batter, which keeps it moist and gives it plenty of banana flavor.
Then, the brownie batter is topped off with swirls of peanut butter that crisp up in the oven to add a delightful texture to the fudgy banana brownie below. If you have a few over-ripe bananas on hand, this is a great alternative to banana bread!
6. Chocolate Maraschino Cherry Brownies
Layers of moist chocolate brownie, Maraschino cherry frosting, and chocolate ganache come together to make this decadent chocolate dessert. The vibrant pink frosting makes these cupcakes a visual treat, too!
The cherry buttercream frosting is a homemade recipe that is super simple to whip up and totally transforms these brownies. They're like a chocolate-covered cherry in fudgy brownie form!
>>>>See all of my recipes HERE<<<<
7. Grasshopper Brownies
If you're a fan of mint chocolate chip ice cream, these brownies are sure to become a new favorite. The base is a chewy chocolate brownie topped with a thick layer of creme de menthe buttercream frosting and a thin layer of mint chocolate ganache.
If you don't have creme de menthe on hand, you could try a creme de menthe substitute, though it may not have the same lovely green color.
8. Cheesecake Swirled Brownies
Cheesecake Swirl Brownies are a heavenly combination of two classic desserts. These brownies are made with a rich chocolate batter that is swirled with a creamy cheesecake filling.
The combination of the two creates a perfect balance of sweetness and tanginess that will make your mouth water.
9. Brownie Thins
These brownies are baked in a sheet pan, creating a thin and crispy texture that is perfect for snacking. You can mix in your favorite nuts for even more crunch in every bite!
These brownie thins are beginner-friendly. All you need is an 18x13 rimmed baking sheet, a silicone spatula, and a mixing bowl!
10. Cookie Dough Brownies
If you can't resist unbaked cookie dough, you'll be absolutely nuts about these cookie dough brownies. The bottom half is a traditional chocolate brownie, and the top half is a layer of edible (eggless) cookie dough!
These brownies are freezer-friendly, too! Whip up a batch, freeze them, and you'll have a rich chocolatey treat ready for the next time your cookie dough craving strikes.
11. Peanut Butter Cup Brownies
These rich, chocolatey brownies have full-sized peanut butter cups pressed down into the batter and baked. The milk chocolate and peanut butter candies add a special surprise to every bite!
It's hard to resist eating the full pan of warm brownies right out of the oven. The peanut butter cups melt into the brownie batter and make them even more indulgent!
12. Salted Caramel Turtle Brownies
Homemade pecan brownies topped with salted caramel and a sprinkle of sea salt. They taste almost identical to the classic nut cluster chocolate turtles.
The combination of flavors is perfectly balanced with rich chocolate, sticky caramel, and just a hint of salt at the end of every bite. If you're a more is more type of person, these brownies have it all!
13. Cookie Dough Oreo Brownies
If you can't decide between cookies or brownies, this recipe is the best of both worlds! There is a thick chocolate chip cookie layer at the bottom, followed by a layer of Oreo cookies and another thick layer of fudgy chocolate brownie.
Because the cookie dough is baked for this recipe, I use my favorite small-batch chocolate chip cookies for the base. Then, I top it with Oreos and finish up with my fudge brownie batter and bake!
14. Microwave Mug Brownie
If you're looking for a single-serving dessert to curb your brownie craving, a mug brownie is the way to go. This easy microwave recipe is perfect for getting your chocolate fix without making a full batch of brownies.
All it takes is a handful of ingredients, a microwave-safe mug, and about 1 minute in the microwave. Add a scoop of vanilla ice cream for good measure, and enjoy!
15. Brown Butter Brownies
Brown butter adds a depth of flavor to these chocolate brownies that you just can't compare. Not to mention, browning butter is super simple!
This is still a one-bowl brownie batter, you just cook the butter a little bit first. The brown butter adds a richness to the chocolate that will have you wondering why you didn't always brown the butter beforehand!
My family did the grueling job of trying all of these brownie recipes and each one is as delicious as the next! You can't go wrong with any of the delectable brownies on this list!
🍰 More Decadent Desserts
📋 Recipe