These are the best store bought brownie mixes to buy so that you can make the easiest and tastiest brownies possible! Believe it or not, the mix you choose really does make a difference! From Ghirardelli to Pillsbury, these mixes are the best of the best!
Best Boxed Brownie Mix Brands
There are plenty of times when we just need to convenience and ease of using a box of brownie mix instead of making them from scratch. However, don't run to the store and grab any random box of mix off of the shelf!
Each prepackaged box of brownie mix yields different results, and I'm here to tell you which ones are worth it! Here's a list of the top 10 store-bought brownie mixes.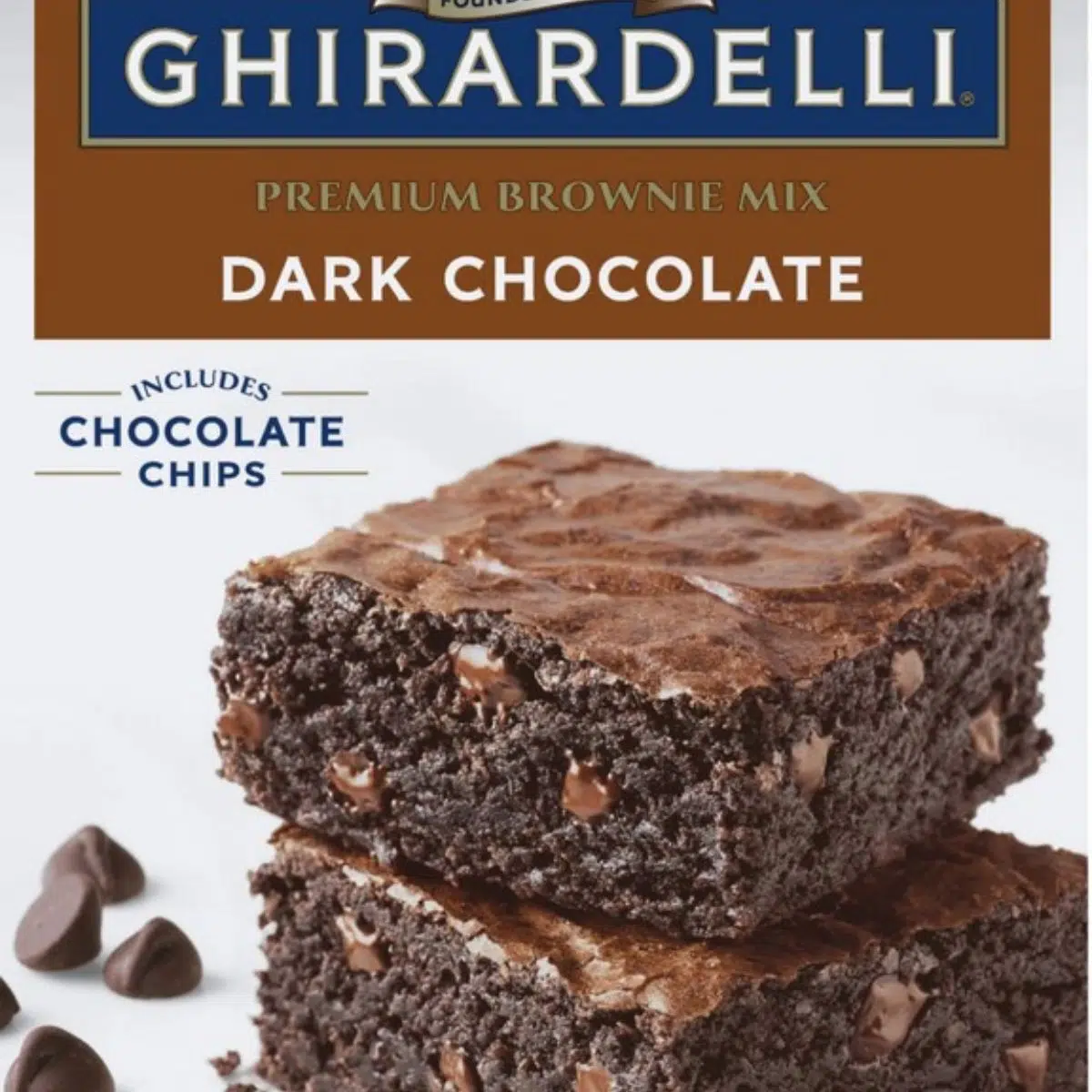 Jump to:
Want More Recipes? Enter your email below and we'll send them straight to your inbox!
If you want to find out how to make these boxed mixes the best they can possibly be, check out my guide to making boxed brownie mix better!
You can't go wrong with any of these boxes of mix. You will have your own preference as to which ones you like the best, as they all have different levels of sweetness and the textures vary.
1. Ghirardelli Dark Chocolate Premium
Overall Best Store Bought Brownie Mix
This brownie mix is the best of the best. It has a flavor that is reminiscent of actual chocolate rather than just cocoa powder. Plus, it even includes chocolate chips in the mix (no surprise, considering it is a chocolate company).
These brownies are incredibly rich and chocolatey in flavor and have a fantastic fudgy consistency. From what I've found, these are as close as you are going to get to that homemade brownie taste, without actually making your brownies from scratch!
2. Ghirardelli Chocolate Supreme
Runner Up Best Overall Brownie Mix
It is hard to beat the awesome Ghirardelli boxed mixes! This chocolate supreme one has a chewy consistency and isn't too sweet. The flavor is more reminiscent of some fine-quality dark chocolate.
3. Pillsbury Chocolate Fudge
Best Budget Brownie Mix
Now, this Pillsbury chocolate fudge brownie mix is a really close contender behind the two previously mentioned Ghirardelli mixes for a variety of reasons.
First of all, it is incredibly cheap without tasting like it! The edges are chewy and the middle is slightly fudgy. Additionally, the brownies are chocolatey without being too rich or overbearing.
This mix is great for any occasion in which you might be needing to make a large number of brownies, such as a bake sale or a party!
4. Ghirardelli Double Chocolate
This store-bought brownie mix really brings the chocolate flavor! Like many other varieties, they feature chocolate chips in the mix itself to add in extra hits of chocolate.
The edges and corners have the perfect chewy consistency, making them perfect for anyone who prefers the edge pieces!
5. Betty Crocker Fudge
These brownies have a very cake-like consistency. Actually, they would be perfect for an ice cream sundae!
The flavor of these brownies lends itself to the sweeter side and has a nice chewy texture. However, you can really taste the flavor of a standard boxed mix, as opposed to some truly homemade brownies (or high-quality mixes).
6. Betty Crocker Dark Chocolate
This brownie mix features the flavors of dark chocolate, but on a less intense scale than the Ghirardelli version. It is also a hint sweeter as well.
They have a good overall flavor and you may prefer these over the Ghirardelli if you like things to be on the lighter side.
7. Trader Joe's Brownie Truffle
If you enjoy shopping at Trader Joe's, you need to check out this brownie mix! It is loaded with chocolate flavor and has a wonderfully gooey center.
These brownies showcase additional chocolate chips and have a great (almost) homemade feel to them.
>>>>See all of my recipes HERE<<<<
8. Ghirardelli Triple Fudge
Are you seeing a theme with all of these Ghirardelli options? This triple fudge variety really brings in all the stops for rich and decadent flavor.
In fact, it features two separate bags to mix together (one of which is fudge) for a really bold flavor.
9. Annie's Double Chocolate
Best Organic Brownie Mix
Now you can enjoy some tasty brownies while still using organic ingredients! Don't worry, you aren't losing out on quality here either.
These brownies are packed with mini chocolate chips and have an incredibly rich flavor with a dense consistency. However, they are not very chewy.
10. King Arthur Gluten-Free Ultimate Fudge
Best Gluten-Free Brownie Mix
This brownie mix is completely gluten-free, making it a fantastic option for individuals with special dietary needs.
It actually tastes very similar to standard brownie mixes so you won't even be able to tell a difference!
Best Overall Brand
If you are in a pinch at the store and need to grab a box of brownie mix, you can't go wrong with Ghirardelli! Of course, I recommend the ones listed above the most. However, all of their premade mixes are high quality.
Now you know all of the best store-bought brownie mixes to buy! Leave a comment down below and let me know which one is your favorite!
🍰 More Baking Guides
📋 Recipe
Print Recipe
Leave A Comment
Love This Recipe?
Click On A Star To Rate It!
Best Boxed Brownie Mix + How To Make It Taste Amazing!
These are the best store bought brownie mixes to buy so that you can make the easiest and tastiest brownies possible! Believe it or not, the mix you choose really does make a difference! From Ghirardelli to Pillsbury, these mixes are the best of the best!
Share on Facebook
Ingredients
3

boxes

Ghirardelli brownie mix

(19-20 ounces)

3

teaspoon

espresso powder

(optional, for an extra-rich chocolate flavor)

3

large

eggs

¾

cup

water

1 ½

cups

butter

(melted)

3

teaspoon

vanilla extract
Optional Mix-Ins
¼

cup

chocolate chips

(or chocolate chunks, or chopped baking chocolate)

¼

cup

nuts

(chopped walnuts, macadamia nuts, almonds, pistachios, peanuts)

¼

cup

M&Ms candies

(or your favorite chocolate candies)

¼

cup

mini marshmallows
Instructions
Preheat your oven to 325ºF (160°C) and spray a 9x13 baking pan or dish with non-stick cooking spray.

In a large mixing bowl, whisk together the brownie mix and espresso powder (if using).

3 boxes Ghirardelli brownie mix,

3 teaspoon espresso powder

Next, add the eggs, water, melted butter, and vanilla extract. Stir just until everything is combined.

3 large eggs,

¾ cup water,

1 ½ cups butter,

3 teaspoon vanilla extract

(Optional) Fold in any of your desired mix-ins.

¼ cup chocolate chips,

¼ cup nuts,

¼ cup M&Ms candies,

¼ cup mini marshmallows

Pour the brownie batter into your prepared 9x13 baking pan and use a spatula to spread it out evenly.

Bake at 325ºF (160°C) for 50 minutes. Test your brownies by inserting a toothpick in the center, it should come out clean.

Remove your brownies from the oven and let them cool for 15-20 minutes before slicing.
Equipment You May Need
Notes
*The nutritional information does not include any of the optional mix-ins.
I like swapping butter for oil when making boxed brownie mix because it gives the brownies the most decadent melt-in-your-mouth texture and rich flavor.
Be careful not to overmix your brownie batter or the brownies can become dense.
Take a look at my post on how to make boxed brownie mix better for more tips and tricks for improving your brownies!
To store: Keep your brownies at room temperature in an airtight container for up to 5 days. You can also wrap them tightly in plastic wrap then place them in a heavy-duty freezer bag and freeze them for up to 6 weeks!
To reheat: You can let frozen brownies thaw out on the counter at room temperature, or pop them in the microwave in 15-second increments until warm.
Nutrition
Calories:
270
kcal
(14%)
|
Carbohydrates:
34
g
(11%)
|
Protein:
3
g
(6%)
|
Fat:
14
g
(22%)
|
Saturated Fat:
6
g
(38%)
|
Polyunsaturated Fat:
1
g
|
Monounsaturated Fat:
5
g
|
Trans Fat:
0.3
g
|
Cholesterol:
37
mg
(12%)
|
Sodium:
197
mg
(9%)
|
Potassium:
9
mg
|
Sugar:
22
g
(24%)
|
Vitamin A:
266
IU
(5%)
|
Calcium:
5
mg
(1%)
|
Iron:
1
mg
(6%)
best boxed brownie mix, boxed brownie mix, how to make boxed brownie mix, make boxed brownie mix taste better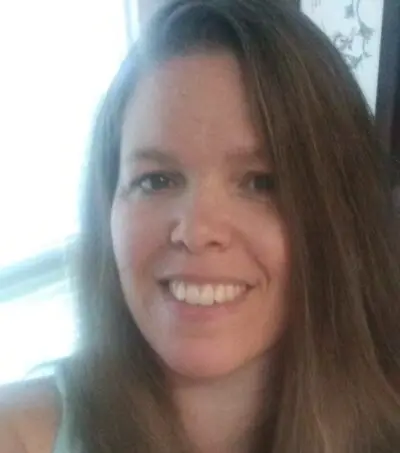 Angela is an at home chef that developed a passion for all things cooking and baking at a young age in her Grandma's kitchen. After many years in the food service industry, she now enjoys sharing all of her family favorite recipes and creating tasty dinner and amazing dessert recipes here at Bake It With Love!