These Saturday breakfast ideas include my favorite weekend recipes that are perfect for enjoying with friends and family Saturday morning! From easy breakfast casseroles to Danish stuffed pancakes, there's something here for every skill level. Make this weekend extra special with any of these delicious recipes!
Best Saturday Breakfast Recipes
Saturday mornings are the perfect time to slow down, relax, and indulge in a delicious and satisfying meal. Whether you prefer sweet or savory, light or hearty, there's nothing like starting your weekend with an incredible breakfast!
In theory, you have a little more time on your hands than you do during the week, so what better time to try a few new recipes? From classic homemade waffles to fun and tasty casseroles, step outside your comfort zone with any of these fabulous breakfast ideas!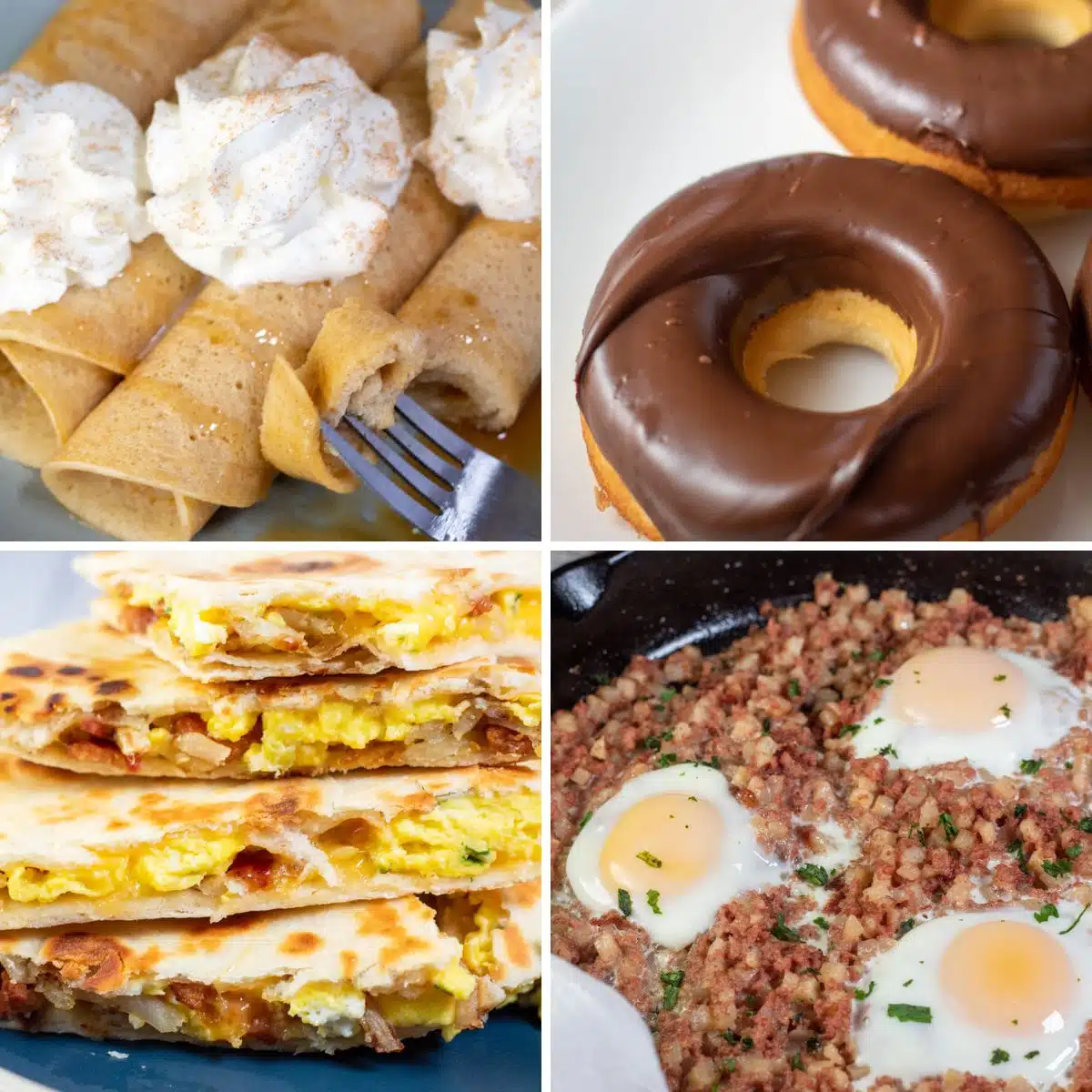 Jump to:
If it's not the weekend yet, don't worry. I have an entire page dedicated to quick weekday breakfasts that will get you through the rest of the week!
1. Dutch Pancakes (Pannenkoek)
Pannenkoek, as they're known in the Netherlands, as a thin and tasty treat that is somewhere between an American pancake and a crepe. With a variety of sweet and savory toppings to choose from, these pancakes are always a hit with kids and adults alike!
2. Ableskiver (Danish Stuffed Pancakes)
Looking for a unique and flavorful breakfast option? Try some mouth-watering Aebleskiver! These Danish stuffed pancakes are made with a special pan and stuffed with sweet fillings like jam or peanut butter!
3. Corned Beef Hash
Corned beef hash is a hearty mix of crispy potatoes, onions, and perfectly seasoned corned beef. If you're looking for a filling breakfast or brunch that is packed full of flavor, my corned beef hash is a must-try!
4. Bacon Breakfast Casserole
This easy-to-make casserole is a delicious combination of eggs, cheese, and crispy bacon. Just combine everything in one dish, bake, and breakfast is served!
5. Breakfast Quesadillas
Crispy tortillas filled with all the breakfast classics: eggs, cheese, bacon, and hashbrowns! Breakfast quesadillas can be customized for picky eaters, and they're delicious dunked in some fresh homemade salsa!
6. Ham & Cheese Quiche
This ham and cheese quiche is an elegant and satisfying breakfast recipe. This quiche is the ultimate breakfast comfort food with a flaky butter pastry crust, creamy egg filling, and lots of savory ham and cheese!
7. Cinnamon Roll Casserole
This sweet breakfast casserole is made with chunks of cinnamon rolls and a creamy egg filling that is baked to perfection. Top it off with some vanilla icing, and you have a delectable and filling breakfast the whole family will enjoy!
8. Huevos Rancheros
Spice up your morning with the bold flavors of huevos rancheros! This traditional Mexican breakfast recipe is made with eggs and a zesty tomato-based sauce that can be served over tortillas.
>>>>See all of my recipes HERE<<<<
9. French Toast Sticks
You'll want to dip, dunk, and devour these deliciously fluffy homemade French toast sticks! They only take about 30 minutes to make from start to finish, and the fun and tasty results are more than worth the wait!
10. Tater Tot Breakfast Casserole
A bag of frozen tater tots can be used to make this easy and super-satisfying breakfast casserole! It's loaded with savory breakfast sausage, crispy bacon, eggs, and plenty of melted cheese.
11. Mini Silver Dollar Pancakes
Looking for a fun and cute breakfast idea? Mini silver dollar pancakes are sure to put a smile on your face! These tiny pancakes are just as fluffy and delicious as regular pancakes but in a bite-sized package!
12. Overnight French Toast Bake
If you'd rather sleep in on Saturday morning, this overnight French toast bake is the perfect breakfast! The bread soaks up all of the rich egg mixture overnight, so all you have to do is bake it in the morning!
13. Chocolate Frosted Baked Donuts
Satisfy your sweet tooth this Saturday by whipping up a batch of homemade cake donuts! These chocolate-frosted donuts are always delicious, but there are also many more baked donut flavors you can try!
14. Homemade Waffles
The weekend is the perfect time to show off your skills in the kitchen, and nothing hits the spot like homemade waffles for breakfast! Set out your favorite waffle toppings and let everyone build their perfect waffles!
15. Apple Pie French Toast Casserole
Go all out for breakfast this Saturday with an indulgent apple pie French toast casserole! Two tasty treats come together in this easy-to-make breakfast dish that features French toast, apple pie filling, and a crumbly streusel topping.
16. Southern Shrimp & Grits
Made with creamy, cheesy grits and tender, juicy shrimp, this recipe is the perfect combination of savory and satisfying flavors! Pair it with some crusty French bread to soak up every last bite!
17. Maraschino Cherry Coffee Cake
Enjoy a cup of joe with a slice of this cinnamon coffee cake studded with juicy Maraschino cherries! If you're craving something sweet, there's also an optional vanilla icing that really takes this coffee cake over the top!
18. Chicken Fried Cube Steak
Chicken fried steak is a Southern breakfast favorite that will keep you feeling full right on through lunch. Pair this hearty main with fluffy biscuits, white gravy, and scrambled eggs for the full country experience!
19. Kielbasa Swiss Omelet
This breakfast classic brings together savory kielbasa sausage and creamy Swiss cheese, all folded into a fluffy omelet. The rich and smoky kielbasa pairs perfectly with the mild taste of Swiss cheese, making every bite a delightful combination of flavors and textures!
20. Baked Denver Omelet
If you're feeding a crowd, this baked Denver omelet is way easier than making everyone their own individual omelets. It has all the same tasty fillings but in an easy-to-slice casserole!
21. Fried Bologna and Egg Sandwich
Take a trip down memory lane with a classic, comforting fried bologna and egg sandwich! It's simple yet delicious, with crispy fried bologna, a perfectly cooked egg, and American cheese sandwiched between two slices of bread.
22. California Omelet
This California omelet is bursting with color and flavor! It features ripe avocado, juicy tomatoes, black olives, bacon, and Monterey Jack cheese, all folded into fluffy eggs.
23. Coffee Buns
These subtly sweet yeast buns are covered with a coffee-flavored cookie topping with a delightful crunch! This recipe makes eight jumbo coffee buns, so there's plenty to share!
24. Raspberry Crepes
These delicately thin crepes are filled with a sweet and tart raspberry cream that will have you savoring every bite! Top them with a few fresh raspberries; they almost look too good to eat!
25. Blueberry Muffin Bread
This mouthwatering treat combines the delicious flavors of blueberry muffins with the comforting texture of a warm, freshly baked loaf of bread. Slathered with melted butter, this blueberry bread will steal the show!
Tips For Making Saturday Morning Breakfast Easy
Make your Saturday morning even easier by following a few key tips to help your breakfast go smoothly. Going in with a plan will give you more time to relax in the long run!
Plan your weekend breakfast menu in advance so you have all the necessary ingredients on hand. Make a shopping list and purchase everything you need before the weekend begins.
Save time by prepping ingredients the night before or earlier in the week. Chop fruits and vegetables, cook and crumble bacon, and whisk together egg mixtures for omelets or frittatas.
Cook larger quantities of breakfast items like pancakes, waffles, or muffins, and freeze the extras for future weekend breakfasts. Reheat them in the oven or toaster when you're ready to serve.
Weekend breakfasts don't have to be elaborate or formal. Serve buffet-style or family-style, allowing everyone to help themselves to their favorite dishes.
Get the whole family involved in the breakfast preparation process! Assign tasks to different family members, making it a fun and collaborative experience.
Clean as you go! To make cleanup easier, wash and put away dishes and utensils as you use them. This will help prevent a pile-up in the sink and make post-breakfast cleanup a breeze.
These Saturday breakfast ideas are just the thing to make this weekend a memorable one! Let me know which recipes your family enjoyed in the comments below!
😋 More Weekday Meal Ideas
📋 Recipe