These quick weekday breakfasts are just what you need to whip up an easy meal before a busy day at school or work! From microwavable eggs to air fryer pancakes, these recipes will have breakfast on the table in no time, so you can get out the door! There are even a few options you can prepare the night before!
Easy Weekday Breakfast Ideas
When it comes to busy weekday mornings, finding time to prepare and enjoy a healthy breakfast can be a challenge. However, a nutritious morning meal is important for providing the energy and focus needed to start the day off right!
Don't skip breakfast. Instead, give some of these super quick weekday breakfast recipes a try! They are easy to make, only require a few ingredients, and of course, they taste delicious!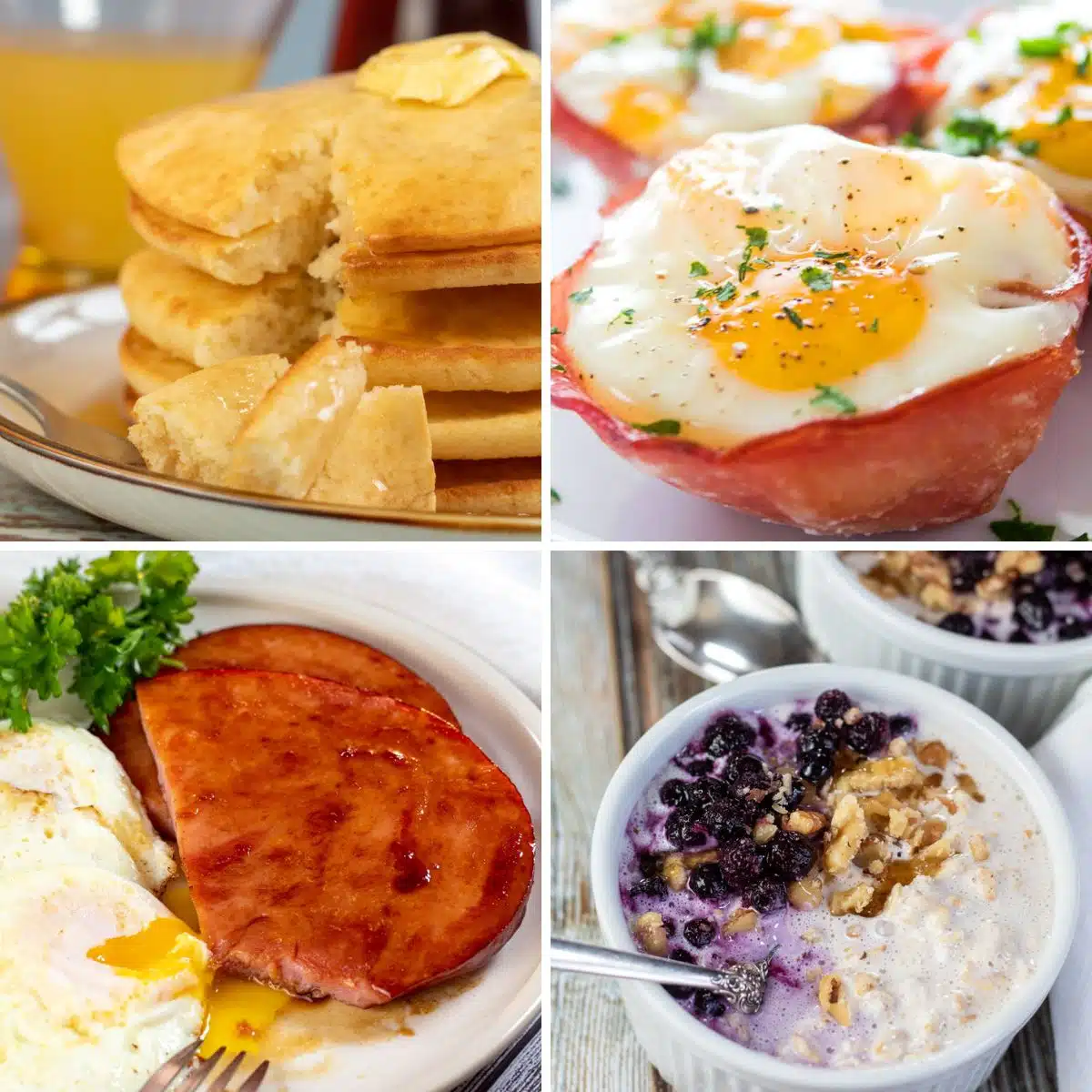 Jump to:
1. Air Fryer Pancakes
Air fryer pancakes are a quick and easy breakfast option that can be made in just a few minutes! Just add the batter to your air fryer and let it do all the work!
The pancakes come out perfectly golden and fluffy on the inside. They're just as good as stovetop pancakes, but in half the time!
2. Microwave Bacon
You can make perfectly crisp bacon in minutes with your microwave. There's no popping grease, no need to flip them, and there's just one plate to wash when you're done!
Air fryer bacon is also a great option if you prefer your air fryer to the microwave.
3. Breakfast Quesadilla
You can whip up a satisfying breakfast quesadilla in almost no time at all. These are fully loaded with eggs, cheese, bacon, and hashbrowns in every bite!
Serve them with a side of salsa for dipping, and enjoy!
4. Overnight Oats with Yogurt
Overnight oats are a quick grab-and-go breakfast you can completely customize. You can even take it to work with you in the jar when you're running late!
Add oatmeal, yogurt, milk, and your favorite oatmeal toppings to a jar with a lid the night before and pop it in the fridge. By the time you wake up, breakfast is ready!
5. Overnight French Toast Bake
If you're craving French toast but don't have time in the morning, you can prep everything the night before! The bread soaks up the egg mixture overnight, so all you have to do is pop it in the oven in the morning.
This makes plenty of French toast for the whole family. All you have to do is add your favorite toppings!
6. Microwave Omelet
A protein-packed 3-egg omelet is a delicious and nutritious way to get the day started. Simply beat eggs with milk, add cheese, ham, or your favorite omelet ingredients, and pop it in the microwave.
The omelet will come out perfectly cooked with lots of gooey melted cheese to enjoy.
7. Microwave Scrambled Eggs
If you aren't feeling a whole omelet, you can still whip up fluffy scrambled eggs in the microwave. It takes only 5 minutes from start to finish!
This is also a great shortcut for making breakfast quesadillas or any other breakfast food that could use some eggs.
>>>>See all of my recipes HERE<<<<
8. Huevos Rancheros
Just because you don't have a lot of time, it doesn't mean you can't have a lot of flavor! Huevos rancheros is a quick and easy Mexican breakfast favorite consisting of warm salsa and eggs served with flour tortillas.
Plus, you have complete control over how spicy or not spicy your huevos rancheros are.
9. Air Fryer Frozen French Toast Sticks
If you have a favorite brand of frozen French toast sticks, they will have never tasted better than when you cook them in your air fryer! They come out slightly crispy on the outside, soft on the inside and are ready to eat in minutes.
10. Bisquick Waffles
Utilize this classic baking mix to make homemade waffles even faster! Simply combine Bisquick mix with milk and eggs, and cook in a waffle iron for fluffy and delicious waffles.
Don't forget to add your favorite waffle toppings and some maple syrup!
11. Ham Steaks
Ham steaks are a super quick and easy way to add some meat to your breakfast, and the leftovers can be diced up and used the next day! All you need is some ham steaks, butter, light brown sugar, and about 15 minutes of time.
12. Sour Cream Scrambled Eggs
Adding sour cream to your scrambled eggs is a great way to make regular scrambled eggs taste gourmet! You can even mix in some grated cheddar cheese and chopped fresh chives for extra flavor.
13. Air Fryer Cinnamon Rolls
The store-bought tubes of cinnamon rolls taste lightyears better when cooked in the air fryer. Just pop them in for a few minutes, and cover them with icing when they come out! Voila, perfectly cooked cinnamon rolls in no time.
You could also give my kid-approved air fryer cinnamon roll bites a try!
14. Sheet Pan Pancakes
Whether you need to feed a lot of people or you want to make extra pancakes for later, sheet pan pancakes are the way to go. It's essentially one giant pancake baked in a sheet pan, so there's no flipping or fussing required.
Slice your pancake into squares and refrigerate or freeze the extras for later!
15. Ham Egg Cups
You can whip up half a dozen or more of these cheesy ham egg cups in about 30 minutes. Just line the divots in a muffin tin with pieces of deli ham, fill them with cheese, crack an egg in each one, and bake!
With these recipes, cooking breakfast on busy weekdays is a breeze! Come back and let me know how everything turns out in the comment section below!
😋 More Weekday Meal Ideas
📋 Recipe