These Thursday night dinner ideas include family favorite recipes that are a breeze to throw together on busy weeknights! With tasty casseroles, easy crockpot recipes, hearty stews, and quick protein options, this list has a little bit of everything! For great ideas on what to serve for dinner tonight, you've come to the right place!
Easy Thursday Night Dinner Recipes
It's been said that one of the hardest things about 'adulting' is coming up with family dinner recipes every night of the week. Luckily, I've had time to taste test all of these recipes with my family and it's safe to say we have more than a few favorites to share!
From classic crockpot recipes to quick and easy entrees, this list has something for everyone (and everything is easy to prepare)! If you're having a hard time coming up with Thursday night dinner ideas, just bookmark this page and you'll have a great place to start!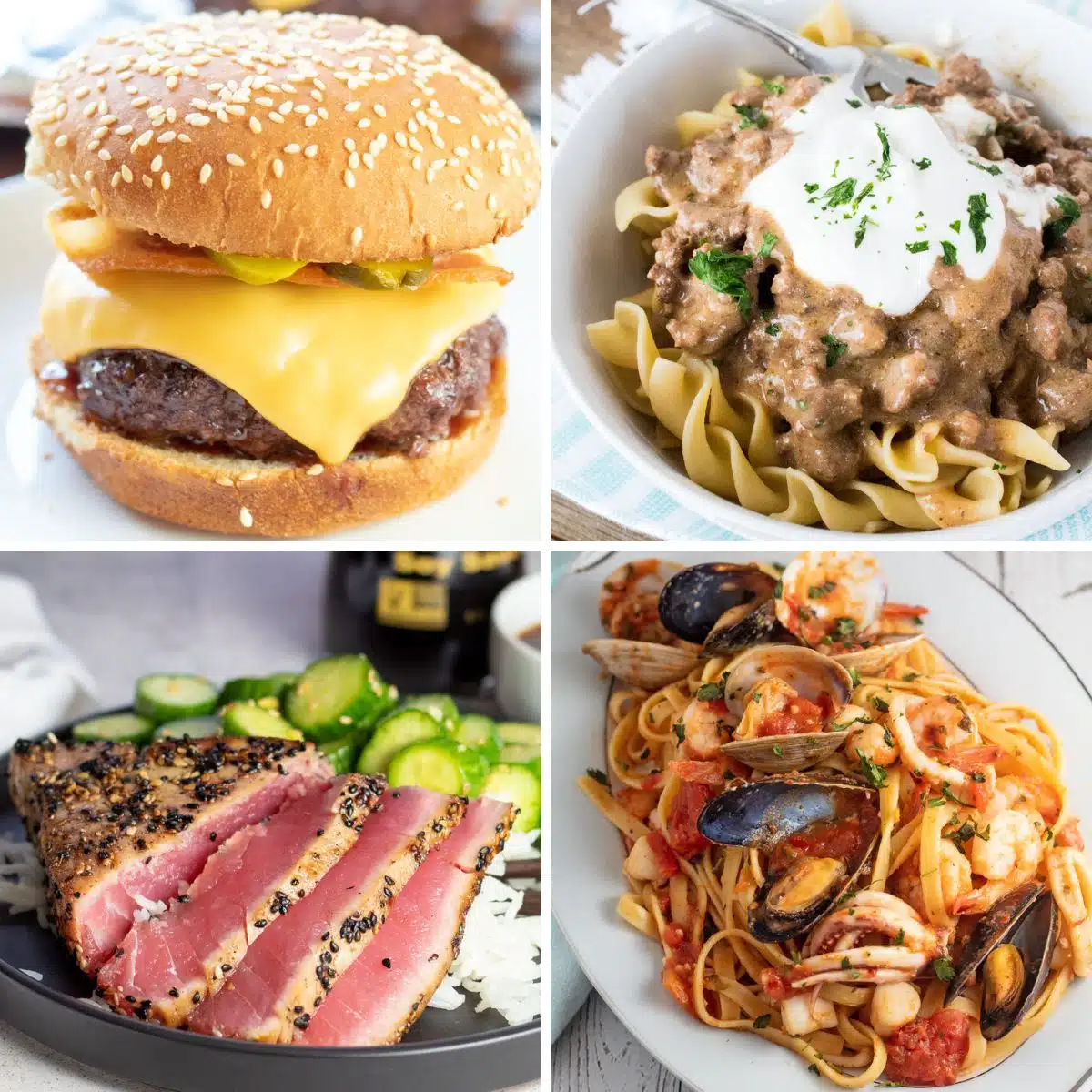 Jump to:
Want More Recipes? Enter your email below and we'll send them straight to your inbox!
1. Slow Cooker Salisbury Steak
Salisbury steak is a classic comfort food that can be easily made in your crockpot. This dish is perfect for busy weeknights, as it takes minimal effort and time to prepare.
The tender and juicy steak is cooked in a flavorful gravy that will keep your family coming back for more! Enjoy the savory taste of this classic Salisbury steak recipe with your loved ones tonight!
2. Baked Cheeseburgers
Baked cheeseburgers are the perfect weeknight dinner for busy families. Not only are they delicious and satisfying, but they're also incredibly easy to make. With just a few ingredients and minimal prep time, you can have a delicious meal on the table in no time!
Add your favorite burger toppings and these baked cheeseburgers are sure to please everyone at the dinner table!
3. Ground Beef Stroganoff
Ground beef stroganoff is a classic weeknight meal that is easy to make and great for the whole family! This version of stroganoff is made with ground beef, mushrooms, and buttery egg noodles all smothered in a creamy stroganoff sauce. It's a simple dish that will be sure to please even the pickiest eaters!
4. Doritos Casserole
This cheesy and flavorful casserole is made with layers of nacho cheese Doritos, taco-seasoned ground beef, tomatoes, black beans, corn, and cheese for a hearty meal the whole family can enjoy. Plus, it's easy to make and requires minimal ingredients. So if you're looking for a delicious way to please the entire family in one dish, try this Doritos casserole!
5. Baked Mahi Mahi
Looking for a quick and easy dinner that's full of flavor? Baked mahi mahi with lemon butter is the perfect answer! This white fish is packed with protein and is incredibly versatile.
With just a few simple ingredients and some of your favorite mahi mahi side dishes, you can whip up a delicious meal in no time!
6. Baked Rigatoni
Baked rigatoni is an easy and delicious Italian dish that can be made with just a few simple ingredients. It combines Italian sausage, melted cheese, and pasta sauce with rigatoni for a hearty and flavorful meal.
This dish is perfect for weeknight dinners or family gatherings as it's sure to please everyone! With its classic Italian flavor, baked rigatoni will quickly become a favorite in your home.
7. Air Fryer Thick Cut Pork Chops
If you're looking for an easy and delicious dinner that requires minimal effort, air fryer thick cut pork chops are the perfect choice. With only 3 ingredients, you can have a delicious pork dinner ready in no time!
Check out my page on what to serve with pork chops for side dish suggestions to complete your meal!
8. Fried Chicken
You can't go wrong with crispy Southern fried chicken. This recipe calls for a whole chicken, so your family will have their pick of wings, breast, drumsticks, and thighs!
The secret to the most tender chicken meat, is to dredge it in buttermilk before adding the coating (it's a simple thing that makes the most delicious fried chicken)! Whip up a few of your family's favorite side dishes and dinner is served!
9. Seared Ahi Tuna Steaks
If you're looking for a quick and easy seafood dinner, look no further than these seared ahi tuna steaks. This dish is packed with flavor, and it only takes 10 minutes to prepare.
Plus, the sesame seed crust adds an extra crunchy texture that's sure to please everyone at the table. So, get ready to impress your family and friends with this amazing ahi tuna recipe!
10. Ground Beef Stew
Nothing says comfort food like a rich and hearty ground beef stew! This easy recipe is perfect for those cold winter days when you want something warm and comforting to fill you up.
It's packed with vegetables, making it both delicious and nutritious! Enjoy a bowl of this stew on its own or serve it over rice or mashed potatoes for an even heartier meal.
11. Baked Spaghetti and Meatballs
If you're looking for an easy and delicious way to use up leftover spaghetti, then a baked spaghetti and meatballs casserole is the perfect solution! This tasty casserole combines cooked spaghetti, homemade (or frozen) meatballs, a flavorful tomato sauce, and melted mozzarella cheese.
Serve your baked spaghetti with some quick air fryer garlic bread for an irresistible dish that will be sure to please.
>>>>See all of my recipes HERE<<<<
12. Panda Express Orange Chicken
If you love Panda Express orange chicken but don't live near a restaurant, don't worry! This copycat recipe is just as delicious as the original and can be on the dinner table in just 30 minutes flat.
It has the same tender bites of chicken and sweet, tangy orange sauce that you know and love. So the next time you're craving some Panda Express, give this easy homemade version a try!
13. Bacon Wrapped Meatloaf
Bacon wrapped meatloaf is a delicious and easy recipe that is perfect for a weeknight family dinner! The bacon adds a delicious smoky flavor to the meatloaf, and the tangy ketchup sauce is the perfect finishing touch. This recipe is sure to become a new family favorite.
14. Pan Seared New York Strip
Steak is one of those classic, elegant dishes that is easy to prepare but always impresses. This pan seared New York strip steak is a perfect weeknight dinner, because it only takes 15 minutes to cook!
The key to a great steak is to get a good sear on the outside while keeping the inside nice and juicy. This recipe achieves that perfectly, resulting in a delicious, flavorful steak that will have your famil savoring every bite!
For recipes to pair with your delicious steak dinner, take a look at all of my favorite side dishes to serve with steak!
15. Frutti Di Mare
This fully-loaded seafood pasta looks like it would take a lot of time slaving over the stovetop, when in reality it only takes 30 minutes to prepare! It combines tender fettucini pasta with flavorful arrabiata sauce, shrimp, scallops, clams, mussels, and squid.
16. Baked Chuck Steak
This easy baked chuck steak is a delicious and simple dinner option that can be scaled up to feed the whole family. Seasoned with my easy homemade steak seasoning, this steak is packed full of flavor and the meat becomes buttery tender when baked in the oven.
17. Fried Shrimp
This recipe for fried shrimp is quick, easy, and the shrimp come out crispy and golden every time! The panko breadcrumb coating gives them a nice crunch, and they're perfect for dipping in cocktail, tartar sauce, or ketchup.
Enjoy this delicious dinner with some fried hush puppies and french fries for a homemade shrimp basket!
18. Sous Vide Lamb Chops
Sous vide lamb chops are make an easy and delicious weeknight meal. These chops are cooked sous vide until they are super tender, then finished with a reverse sear for a crispy crust.
Add a few of my favorite side dishes to pair with lamb chops for an elegant and delicious lamb dinner!
19. Pan Seared Wahoo Saku Block
Wahoo saku is a tender white fish that tastes incredible with a simple seasoning blend of salt, pepper, and lemon (and maybe a little drawn butter on the side). The meat is mild and tender, with no fishy taste at all!
20. Steak au Poivre
Steak au poivre is a classic French recipe that is perfect for a quick and easy steak dinner! The steak is pan-seared and then smothered in a rich and flavorful cream sauce. This dish is perfect for a family dinner or a weeknight meal and can be on the table in just 30 minutes.
21. Pad Thai
Are you in the mood for some delicious Thai food but don't want to spend hours in the kitchen? This easy pad thai recipe is perfect for a quick and tasty family dinner. Made with beansprouts, roasted peanuts, scrambled eggs, and rice noodles, this dish is just as delicious as your favorite takeout restaurant. Plus, it only takes 30 minutes to make!
22. Instant Pot Minestrone
Looking for a warm and hearty soup to make for dinner tonight? Try this delicious Instant Pot minestrone soup! This easy-to-make soup is packed with pasta, veggies, and a delicious tomato broth. It's the perfect meal to make for your family on a cold winter night.
23. Mississippi Pot Roast
This fall-apart-tender Mississippi pot roast only requires 5 ingredients and is packed with flavor! The ranch dressing seasoning and au jus gravy mix give it a rich and zesty flavor, while the pepperoncini add a delightfully tangy element. Put it in the crockpot before work, and you'll have dinner ready by the time you get home!
24. Air Fryer Chicken Tenders
This recipe for air fryer chicken tenders is quick, easy, and produces golden and crispy chicken that the whole family will love. It's a great recipe to have on hand for busy weeknights or any time you need a last-minute meal.
We love dipping our tenders in Cajun dipping sauce, homemade ranch dressing, or white country gravy!
I hope these Thursday night dinner ideas help make your busy weeknights a little bit easier. Let me know which recipes you try in the comments down below!
😋 More Tasty Family Dinners
📋 Recipe