Here's what to serve with lamb chops to turn them into an incredibly flavorful and well-balanced dinner any day of the week! From easy vegetable side dishes to creamy potatoes and rich lamb gravy, this list has it all! Keep reading to discover the very best recipes to pair with lamb chops for any occasion!
Best Side Dishes To Serve With Lamb Chops
Lamb chops are such a versatile protein that is just as suitable for elegant gourmet dinners as they are for a weeknight family dinner at home! Making the perfect plate is all about finding the best dishes to complement the rich flavor of lamb.
I typically like to pair my chops with something carb-heavy and a vegetable, though the options are limitless! Below are the best sides to serve with lamb chops, try one or try them all!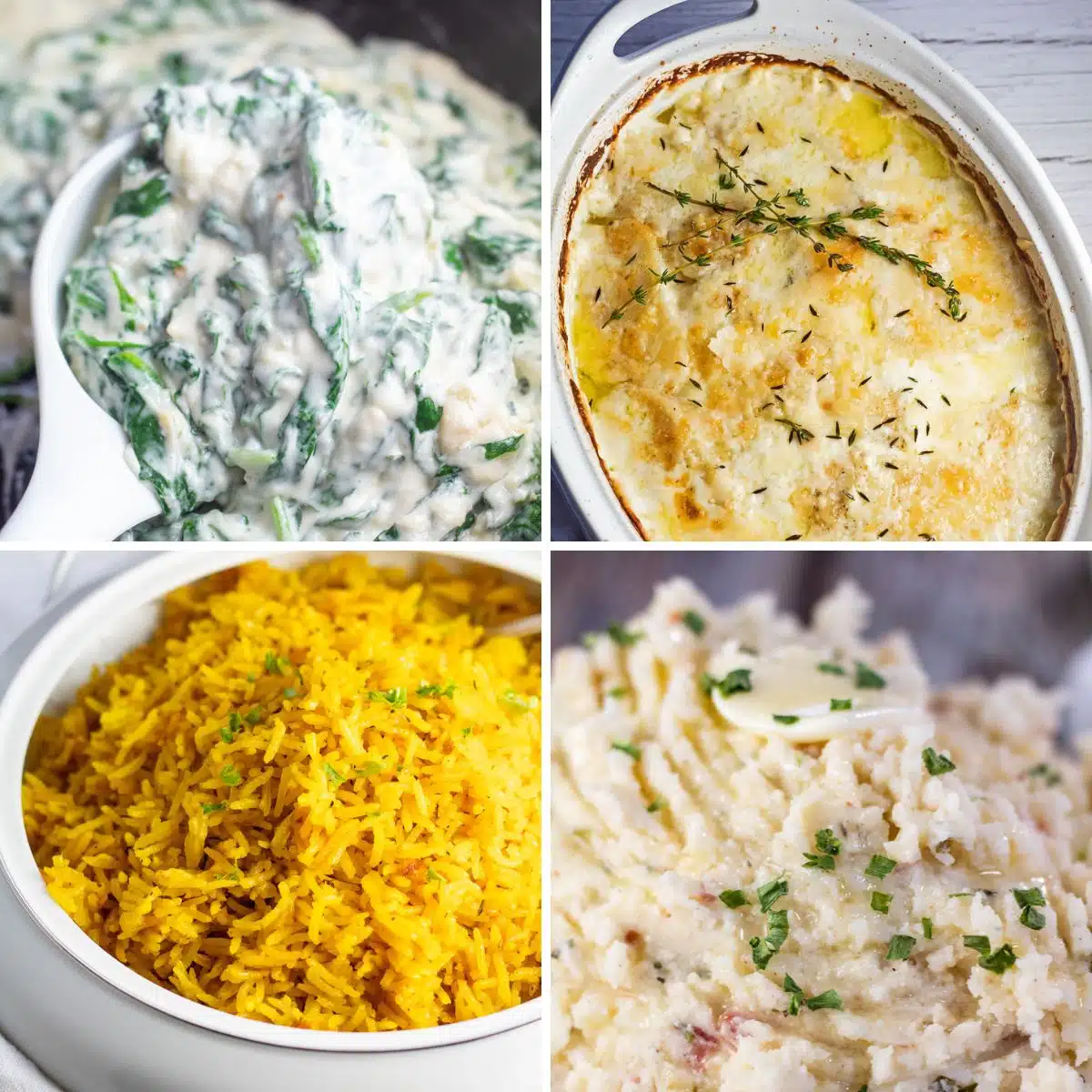 Jump to:
Want More Recipes? Enter your email below and we'll send them straight to your inbox!
Looking for a great lamb chop recipe to try? These sides would pair perfectly with these pan-seared lamb chops, my easy air fryer lamb chops, grilled lamb chops, and even lamb shoulder chops!
1. Creamed Spinach
Creamed spinach is a classic steakhouse side dish that pairs wonderfully with lamb chops! This version is ultra-cheesy with mozzarella, cream cheese, and Parmesan!
My secret ingredient is a pinch of nutmeg which adds a lovely depth of flavor to the dish!
2. Dauphinoise Potatoes
These simple yet indulgent potatoes taste as good as they look! The potatoes are sliced very thin and baked in a creamy combination of Gruyere cheese, butter, heavy cream, and garlic.
It's an elegant side dish worthy of even the most gourmet meals!
3. Honey Glazed Carrots
Everyone will love these sweet, fragrant carrots- especially with lamb chops! The sweetness of the carrots balances the rich, earthy flavor of lamb meat perfectly.
The recipe itself could not be easier. Just toss the carrots with honey, a bit of brown sugar, and fresh herbs, and pop them in the oven!
4. Turmeric Rice
If you enjoy lamb with a Middle Eastern flare, turmeric rice is the way to go. This vibrant yellow rice not only looks beautiful on the plate but it's a hearty accompaniment to lamb chops that will keep you full for longer.
If you don't enjoy the earthy and slightly bitter taste of turmeric, try my vermicelli rice instead!
5. Buttered Peas and Carrots
If you're looking for a quick and easy vegetable side dish, why not whip up some classic peas and carrots? It's a crowd favorite for kids and adults alike!
There are two simple methods for making buttered peas and carrots on the stove top or in the microwave! Either way yields perfectly fork-tender carrots and sweet buttery peas.
>>>>See all of my recipes HERE<<<<
6. Balsamic Roasted Brussel Sprouts
These tasty brussel sprouts are tossed with a simple combination of balsamic vinegar, olive oil, and honey for a sweet and tangy punch of flavor! The brussel sprouts are perfectly fork tender but caramelized on the edges until slightly crisp.
You can have these sprouts on the table in just 30 minutes, so they make a great last-minute addition to a plate of lamb chops!
7. Air Fryer Asparagus
Another great last-minute vegetable to pair with lamb chops is asparagus! I particularly like making it in my air fryer because it's quick and easy, plus cleanup is a breeze.
You can cook your asparagus as crispy as you like in the air fryer, and the dry heat caramelizes the natural sugars which gives them a nice toasty sweetness.
8. Pan Fried Sweet Potatoes
Sweet and savory pan-fried sweet potatoes are a great alternative to classic mashed potatoes or baked potatoes. (Though baked sweet potatoes would be great, too!)
When you pan-fry sweet potatoes, the outside gets crisp and caramelized while the inside stays fluffy and soft. All you need is a little seasoning and some olive oil!
9. Fresh Green Bean Casserole
Green bean casserole is not just for the holidays! I love this made-from-scratch version using fresh green beans, though you could certainly serve classic Campbell's green bean casserole, too.
This version bakes the green beans in a cheesy, creamy sauce with a crispy topping made with Panko breadcrumbs, fried onions, and savory bits of salty bacon (the bacon is optional, but one of my favorite additions)!
10. Lemon Asparagus Orzo
If you're looking for a single side dish, this lemon and asparagus orzo has everything you could want. Tender orzo pasta and perfectly cooked asparagus spears all together in a refreshing lemon and garlic sauce.
11. Oven Garlic Bread
When in doubt, whip up some garlic bread! You can make this oven-baked garlic bread as soft or as crispy as you like.
All it takes is some French bread, garlic powder, and butter, though I like to add a little Parmesan cheese sometimes, too. Pop your bread in the oven for just 10 minutes and it's ready to enjoy!
12. Sauteed Yellow Squash
It doesn't get easier than this quick sauteed yellow squash recipe. All you need is a little cooking oil, some fresh herbs, salt, and pepper!
Yellow squash cooks up quickly and can be on the table in less than 5 minutes!
13. Roasted Beets
To make roasted beets you only need 3 basic ingredients: salt, olive oil, and beets! I sometimes toss them in a bit of butter before serving, but that's totally optional.
You don't even have to peel them! Just dice, combine with oil and salt, then pop them in the oven for an easy vegetable side dish with plenty of flavor.
14. Bacon Cream Cheese Mashed Potatoes
Wave goodbye to boring mashed potatoes and hello to ultra-creamy bacon and cream cheese mashed potatoes! These tasty add-ins make these mashed potatoes extra rich and satisfying, so they don't need gravy (though they are still delicious with it)!
15. Lamb Gravy
You can put this rich and savory lamb gravy directly on your chops, potatoes, or both! I like to incorporate any pan drippings from the lamb chops, though you can make it with butter, too.
This gravy takes just minutes to make from scratch and will transform your lamb chops into an extraordinary meal!
Your lamb chops will taste even better with any of these tasty side dishes on the plate! Let me know what you chose to serve with lamb chops in the comments below!
😋 More Easy Side Dishes
📋 Recipe