Nothing says gourmet like some juicy, perfectly pan-seared lamb chops, and now you can make restaurant-quality lamb chops at home! With minimal ingredients and minimal prep time, you'll be amazed at how delicious homemade lamb chops can be!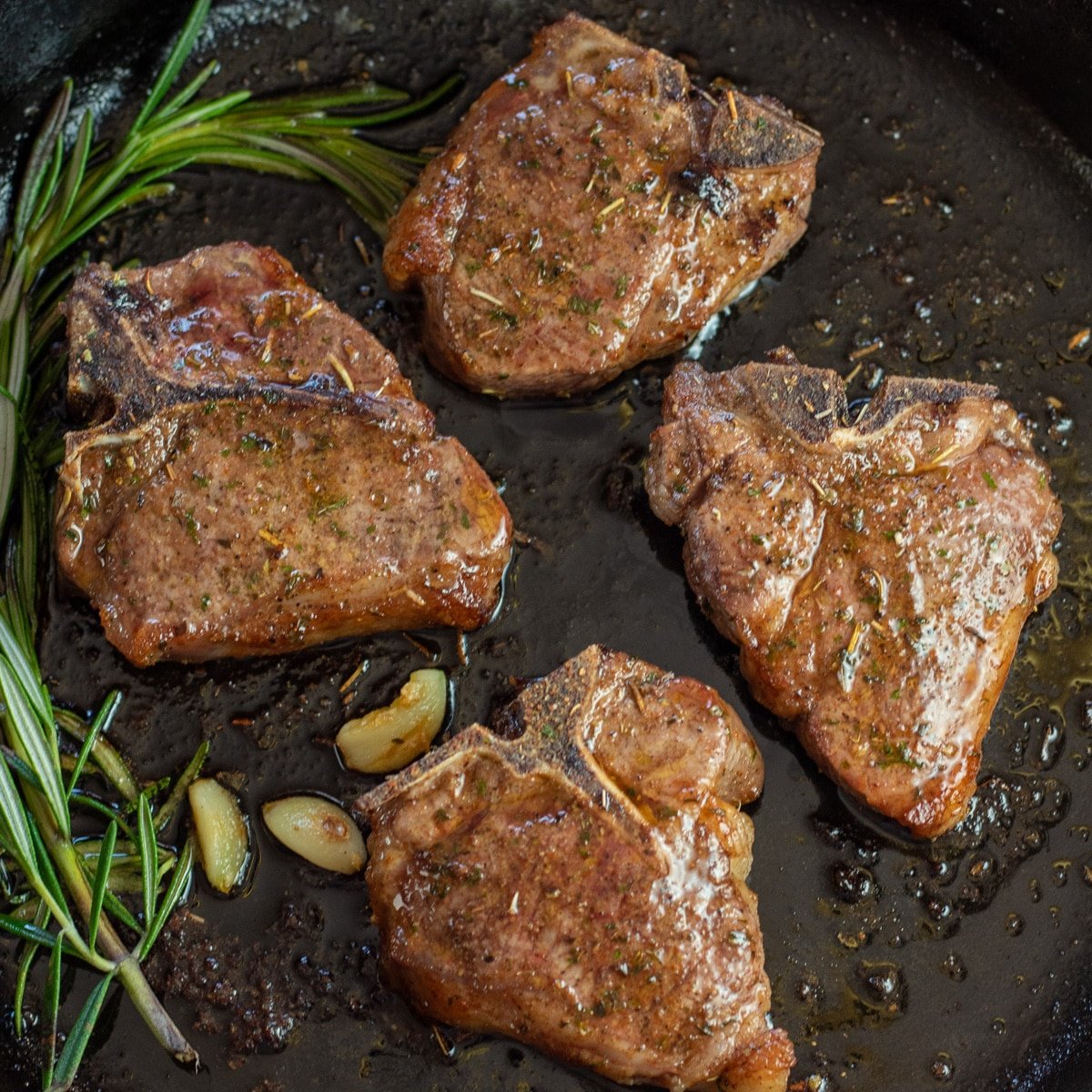 Masterfully spiced lamb chops that are deceptively quick and easy to make!
I've always considered lamb chops a classy dish you might find in a restaurant. Maybe it's because it wasn't something my family ate a lot of as a kid–or for that matter, as an adult.
Or, maybe because they are closely tied to my images of a Michelin chef's creations being walked out of the kitchen. At the very least, they are frequently being presented to a line-up of chefs to be judged!
Jump to:
Regardless of how or when you eat this dish, it will undoubtedly be an occasion to remember. This recipe combines all the flavors of a great lamb rub with butter, fresh garlic, and aromatic rosemary.
With just a basic sear and a good spice blend, you can create a 5-star dinner for two any night of the week. Be sure to follow it up with a flourless chocolate raspberry cake for a big finale!
❤️ Why You'll Love This Recipe!
Date Night Winner! This is an elegant, tasty dish perfect for you and that special someone!
Amazing Smells! The garlic and rosemary will make your whole house smell good!
It's Quick! In under 15 minutes, you can have this dish on the table!
🥘 Ingredients
The main choice you'll need to make is the type of lamb rub spice blend to use. Whether you make your own or buy it, the spices in this will be the standout flavors in the dish, so make sure you like everything in it!
1 tablespoon Extra Virgin Olive Oil - You can use other oils here, but keep it neutral.
4 Lamb Loin Chops - Alternatively, use lamb leg chops.
1 tablespoon Lamb Rub - Try my lamb rub recipe or buy your own.
1 tablespoon Butter - A high-fat European butter is best for this recipe.
2 Garlic Cloves - This comes out to be about 2 teaspoons minced if you're using jarred garlic.
1 sprig Rosemary - While rosemary is preferred, there are several rosemary substitutes available if you need them.
*Be sure to see the recipe card below for ingredients, amounts & instructions!*
🔪 Step-by-Step Instructions
Get out a skillet, silicone kitchen tongs, and a meat thermometer. The main techniques you'll use are searing and basting.
Heat the pan and prepare the meat. Start by heating 1 tablespoon of olive oil in a large skillet or nonstick frying pan over medium-high heat. Meanwhile, dry 4 lamb loin chops by patting them with paper towels. Then, season them with 1 tablespoon lamb rub.
Sear the lamb. Next, when the oil is shimmering hot and almost to the point of smoking, carefully place the lamb chops in the pan. Make sure not to crowd them. Work in batches, if needed. Sear the lamb by cooking 4 minutes on one side and 3 to 4 minutes on the other side.
Add remaining ingredients. When the lamb is seared, add 1 tablespoon butter, 2 cloves garlic, and 1 sprig of rosemary. Use a spoon to continuously pour melted butter over the lamb, also known as basting (or arroser), until it reaches desired doneness (*see note). The internal temperature should reach 125℉ (52℃) in the thickest part of the chop for medium-rare.
Rest and serve. After the lamb is done, remove them from the heat and use a piece of foil to make a loose tent over the top. Let it rest for 5 minutes before serving to reabsorb juices.
These are fantastic for a fancy lunch or a special dinner. They're delicious served with things like Parmesan roasted mashed potatoes or air fryer zucchini. Enjoy!
💭 Angela's Tips & Recipe Notes
Warm lamb before cooking. Pull the lamb chops out of the fridge 20 minutes before cooking to bring them to room temperature. Warming them up promotes even cooking.
Add sesame oil. Lamb can be a bit gamey. Loin chops are less so than leg chops, but to really reduce the gaminess, drip a drop of sesame oil into your olive oil when you make this recipe. 
There's something wonderful about cast iron skillets for searing meat beautifully! That said, any skillet or frying pan can do the job. If you don't have a cast iron skillet handy, the next best frying pan would be one with a heavy bottom (they distribute the heat almost as well as cast iron).
Follow USDA guidelines. They say lamb should be 145℉ (63℃) for it to be safe to consume. We all have different preferences, though, so check out the degrees of doneness below. Also, note that lamb will continue to heat up (aka 'carryover cooking') another 5℉ after being removed from the heat.

Rare: 120℉ to 125℉ (49℃ to 52℃)
Medium-rare: 125℉ to 130℉ (52℃ to 54℃)
Medium: 130℉ to 135℉ (54℃ to 57℃)
Medium-well: 135℉ to 140℉ (57℃ to 60℃)
Well-done: 140+℉ (60℃)
🥡 Storing & Reheating
With only 2 servings from this recipe, you're unlikely to have leftovers. If you do, wrap them in foil or put them in an airtight container.
They'll be good in the fridge for 3 to 4 days.
Lamb chops can also be frozen for 2 to 3 months. If you wrap them in heavy-duty aluminum foil, be sure to put them in a plastic freezer bag before freezing to keep them fresh.
Thaw any frozen leftovers in the fridge overnight.
Reheating Pan Seared Lamb Chops
To reheat, put lamb chops in a covered baking dish in a 350℉ (175℃) oven for about 10 minutes on the middle rack. Pull them out and flip them over.
Then, cook for another 5 minutes or until the lamb chops reach your desired temperature. They should be just as tender and juicy as the day you made them!
🍖 More Meaty Main Courses!
Do you love a recipe you tried? Please leave a 5-star 🌟rating in the recipe card below and/or a review in the comments section further down the page.

Stay in touch with me through social media @ Pinterest, Facebook, Instagram, or Twitter! Don't forget to tag me when you try one of my recipes!
📋 Recipe
Print Recipe
Leave A Comment
Love This Recipe?
Click On A Star To Rate It!
Pan Seared Lamb Shoulder Chops
Tasty pan seared lamb shoulder chops are a delicious and wonderfully versatile main that pairs amazingly with any cuisine or side dish! Show off your culinary skills with this simple, but absolutely delicious main dish!
Pin Recipe
Share on Facebook
Ingredients
Instructions
To start, place a large skillet or non-stick sauté pan on medium-high heat and add olive oil. While waiting for the olive oil to come to a shimmer, pat your lamb chops dry with paper towels and season them well with the lamb rub.

1 lb lamb shoulder chops,

2 teaspoon lamb rub,

1 tablespoon olive oil

Once the oil is hot, almost to the point of smoking, carefully place your seasoned lamb chops in the pan. In order to avoid crowding the pan, you can cook the chops in batches. Sear the first side of the lamb for 5 minutes, then flip and sear the other side for an additional 4-5 minutes.

Once you have a nice golden brown crust on both sides of the lamb, add the butter and garlic to the pan. If using the optional fresh herbs, add those to the pan as well.

1 tablespoon butter,

2 garlic cloves,

fresh herbs

Using a large spoon, ladle the melted butter over the lamb chops (also known as 'basting' or 'arosser') until they reach 125°F (52°C) for medium-rare or your desired temperature. (*see note).

Once the chops have reached the doneness you prefer, place them on a cutting board or large plate and loosely drape aluminum foil over the top. Allow them to rest for 5-7 minutes before serving.
Equipment You May Need
Notes
Let lamb shoulder chops come to room temperature before cooking by setting them on the counter 30 minutes beforehand. This helps them to cook evenly.
To minimize the gamey flavor, add a drop of sesame oil to your olive oil.
The USDA states that lamb should be 145°F (63°C) before eating, which is considered well-done. If you like your lamb to be cooked to a different doneness consult the chart below:

Rare: 120°F-125°F
Medium-rare: 125°F-130°F
Medium: 130°F-135°F
Medium-well: 135°F-140°F
Well-done: 140+°F
Nutrition
Calories:
305
kcal
(15%)
|
Carbohydrates:
1
g
|
Protein:
29
g
(58%)
|
Fat:
20
g
(31%)
|
Saturated Fat:
7
g
(44%)
|
Polyunsaturated Fat:
2
g
|
Monounsaturated Fat:
10
g
|
Trans Fat:
1
g
|
Cholesterol:
106
mg
(35%)
|
Sodium:
144
mg
(6%)
|
Potassium:
424
mg
(12%)
|
Fiber:
1
g
(4%)
|
Sugar:
1
g
(1%)
|
Vitamin A:
175
IU
(4%)
|
Vitamin C:
1
mg
(1%)
|
Calcium:
24
mg
(2%)
|
Iron:
3
mg
(17%)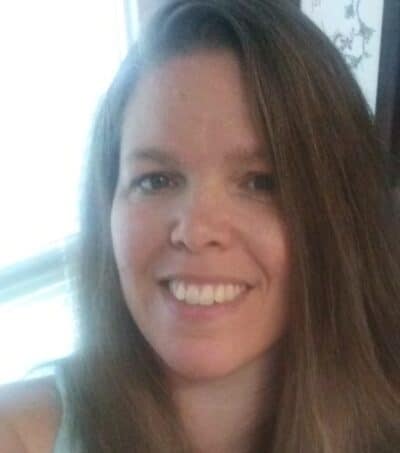 Angela is an at home chef that developed a passion for all things cooking and baking at a young age in her Grandma's kitchen. After many years in the food service industry, she now enjoys sharing all of her family favorite recipes and creating tasty dinner and amazing dessert recipes here at Bake It With Love!