Here's what to serve with lamb ribs so that you can enjoy a well-rounded and complete meal with your tasty ribs! From roasted veggies to creamy mashed potatoes, there is something on this list that you are bound to love! In fact, some of these recipes might become your new go-to side dishes!
Side Dishes For Lamb Ribs
Are you cooking up some tender lamb ribs for the first time or are they a staple dish in your house? Either way, you need to have some yummy sides to pair alongside the ribs in order to complete and round out your meal!
All of these dishes are perfect for enjoying with some delicious lamb ribs. Whether you are eating by yourself or with the whole family, you are definitely going to impress anyone who gets to taste these sides!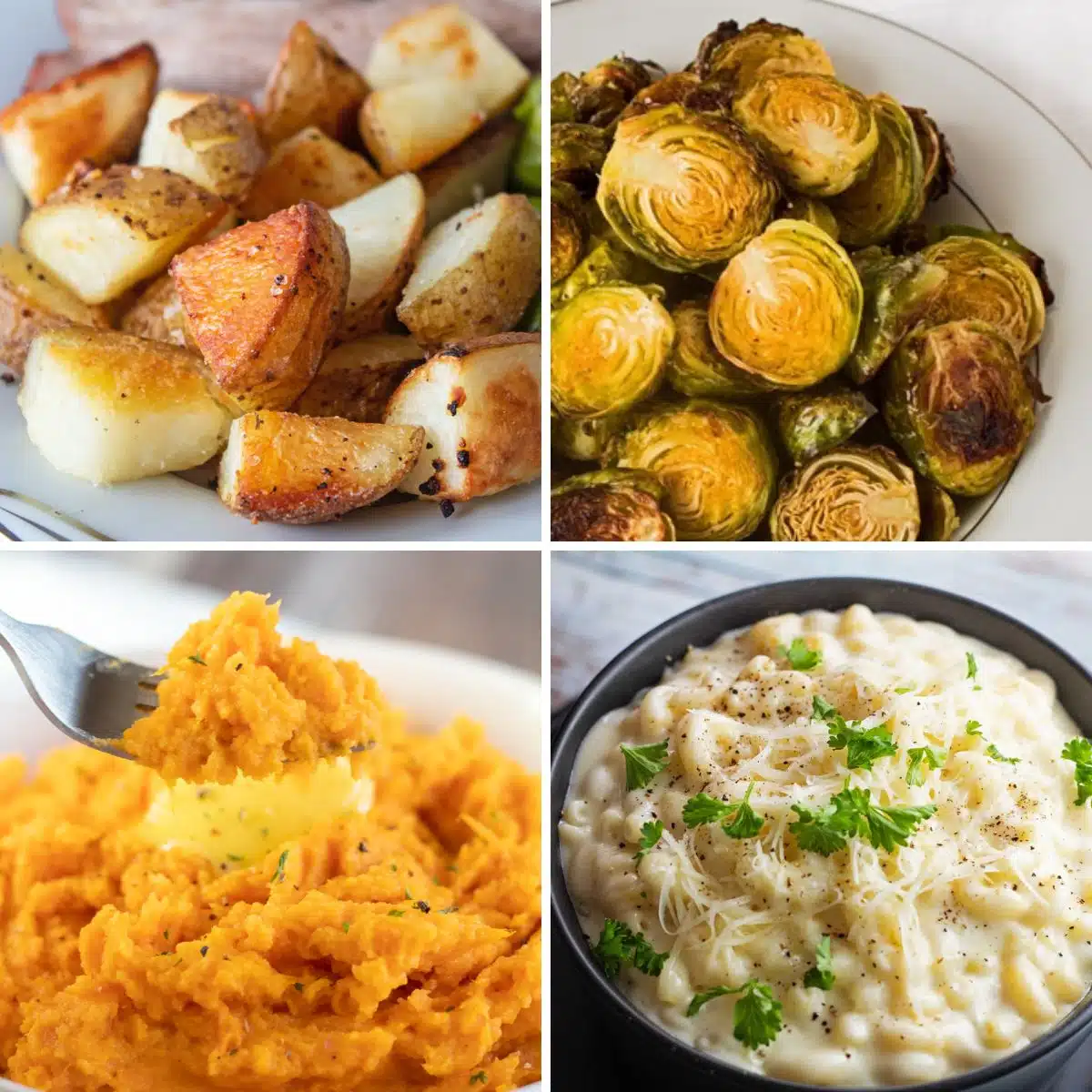 Jump to:
Want More Recipes? Enter your email below and we'll send them straight to your inbox!
1. Roasted Vegetable Medley
This assortment of delicious vegetables pairs fantastically with your lamb ribs. You can swap out any veggies for a different variety if you like, or simply enjoy them as written! Roast them in the oven and then they are ready to go!
2. Honey and Herb Oven Roasted Carrots
Carrots are one of my favorite vegetables to use in side dishes because they are super kid-friendly! The honey brings out the natural sweetness in the carrots and the herbs add some depth to the flavor! Roast them until they are nice and tender and then watch them disappear!
3. Lemon Asparagus Orzo
While orzo may look like rice, it is actually a very small variety of pasta! The lemon makes this dish super light and refreshing and the asparagus adds a beautiful green color and earthy flavor!
4. Oven Roasted Potatoes
This simple and classic potato recipe pairs great with practically everything, and lamb ribs are no exception! These potatoes are nice and crisp on the outside while also being fluffy and tender on the inside!
5. White Cheddar Mac & Cheese
Is there any comfort food out there that is more warm and cozy than some homemade macaroni and cheese? This recipe uses sharp white cheddar and is ultra-rich and creamy!
You can also check out my Instant Pot mac & cheese or crockpot mac & cheese!
6. Dauphinoise Potatoes
This dish may be simple and easy to make, but it takes like it just came from a 5-star restaurant! If you want something extra quick and effortless, check out my Instant Pot au gratin potatoes!
>>>>See all of my recipes HERE<<<<
7. Roasted Asparagus And Cherry Tomatoes
Asparagus is one of my favorite vegetables to pair with lamb! This recipe is roasted, but you can also enjoy asparagus in the air fryer or smoked! For some great tips and tricks, I have an entire guide dedicated to how to cook asparagus!
8. Oven Garlic Bread
Do you prefer your garlic bread to be chewy or crispy? Either way, this recipe is perfect for you! You can snack on it while the lamb finishes cooking or serve it right alongside it!
9. Pan Fried Sweet Potatoes
The natural sweetness in sweet potatoes complements the savory meat flavor in lamb ribs. This specific recipe is quick and uses only a handful of ingredients for an effortless and tasty side!
10. Roasted Brussel Sprouts
These roasted brussel sprouts are baked in the oven until perfectly crisp! I love them exactly as they are, or you can try them with a hint of sweet and tangy balsamic flavor!
11. Red Skin Mashed Potatoes
Mashed potatoes are a classic side dish that seem to pair well with virtually everything! I love this recipe because it has the perfect balance of creaminess and texture. You can also try out some yellow mashed potatoes, bacon cream cheese mashed potatoes, or Instant Pot mashed potatoes!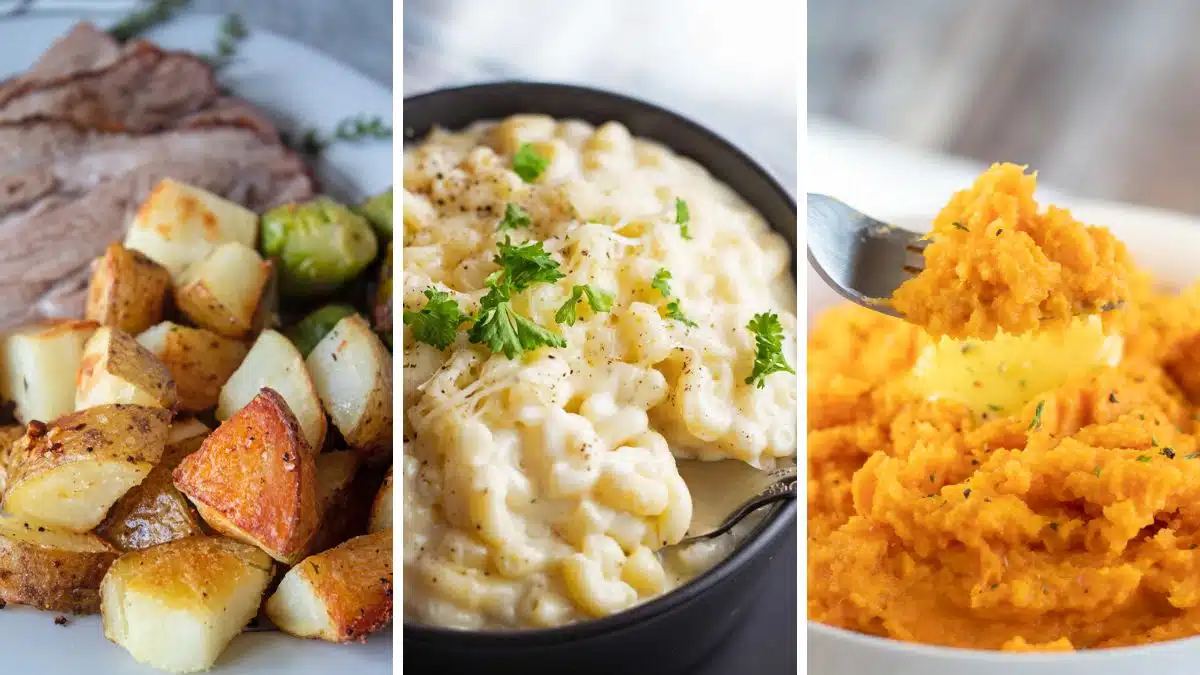 12. Campbell's Green Bean Casserole
When you think of green bean casserole, you probably think of the holidays. However, this recipe is so effortless that there is no reason you can't enjoy it the rest of the year!
13. Roasted Broccoli with Garlic and Parmesan
Broccoli is a versatile vegetable that always goes great with meaty dishes! It is roasted with some savory garlic and then topped off with Parmesan for a crowd pleasing side dish!
14. Air Fryer Frozen Sweet Potato Fries
When you're in a pinch, these air fryer frozen sweet potatoes are the perfect solution! They'll be ready to go in just a few minutes, are a hit with both kids and adults, and taste fantastic!
15. Butter Herb Rhodes Rolls
I don't know what it is, but I feel like dinner rolls always take the entire meal to the next level! They are light, fluffy, and super buttery (plus, they are incredibly easy to make!)
16. Grilled Corn On The Cob
This recipe is especially easy if you are already preparing your lamb ribs on the grill! Just leave a spot to toss on some ears of corn and you are all set!
17. Mashed Sweet Potatoes
Like I mentioned earlier, sweet potatoes taste great with lamb! These mashed sweet potatoes are super easy to make and loaded with nutrients!
I hope this list of what to serve with lamb ribs has given you some great ideas! Leave a comment down below and let me know which recipe you want to try out first!
🥩 Best Lamb Recipes
📋 Recipe