Everything you need for what to serve with steak for the ultimate steak night dinner menu that is sure to impress your family or guests! Whether you have something to celebrate or a nice steak is just calling your name, these sides won't disappoint and can hold their own next to a juicy steak!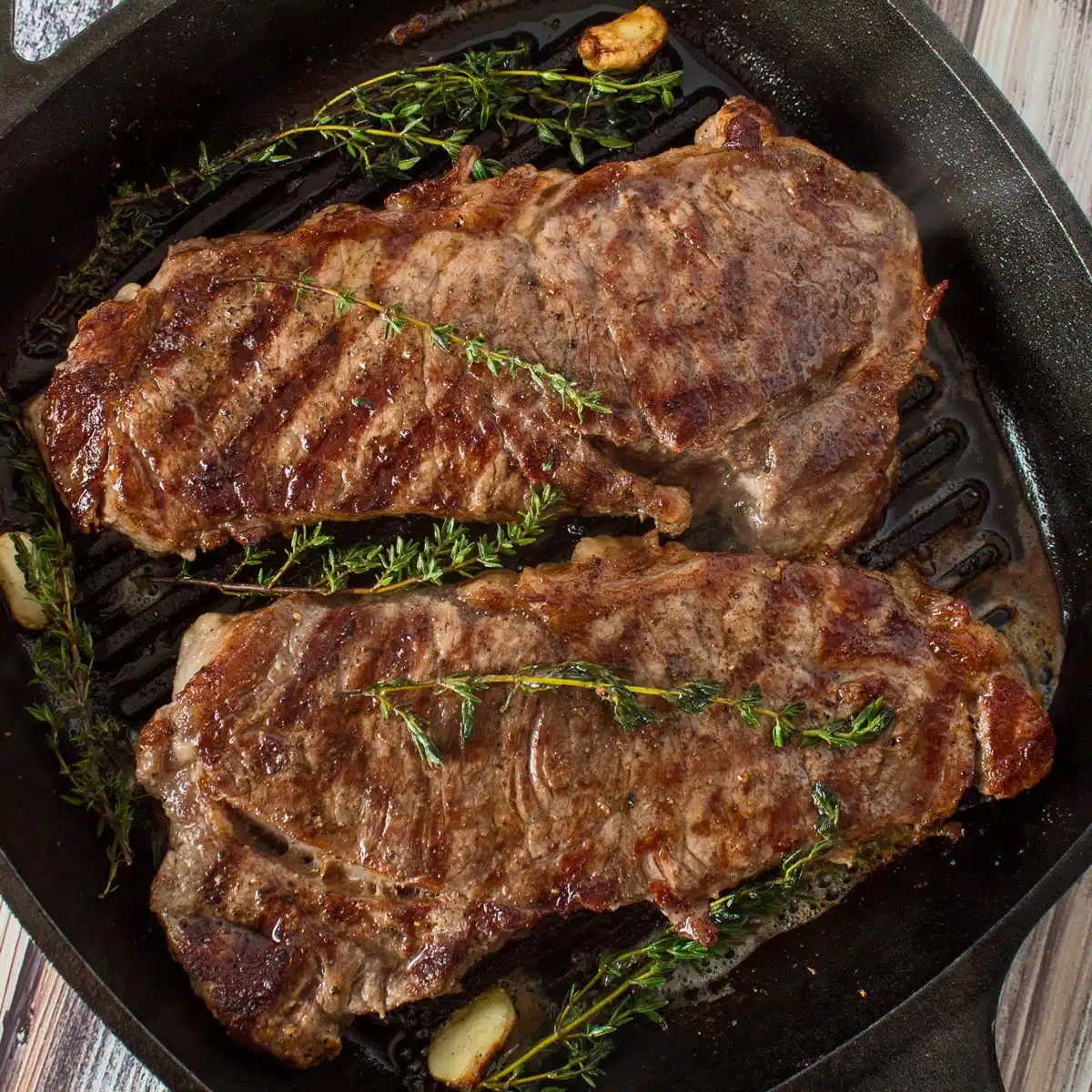 A list of sides for steak night that the whole family will love!
Cooking is more about practice and technique than recipes, and frequently the simplest dishes are the most delicious.
A perfectly cooked steak is a prime example. However, you can prepare a steak that tastes as good as one from a high-end steakhouse with just a few delicious ingredients and a good skillet.
Jump to:
Steak has a way of making even the most mundane of days feel like a celebration There's nothing better than a juicy, flavorful steak when cooked to perfection. It goes with everything, is highly versatile, and can be enjoyed anytime and in any place.
However, you're more likely to enjoy a meal with a beautiful selection of roast vegetables and fresh salads. You can't serve steak by itself if you want to wow your guests, special occasion or not. Unfortunately, steak's side dishes are often forgotten or thrown together as a last-minute preparation.
So as soon as you're ready to start cooking, don't forget to whip up a side dish to go with your delicious steak. I've comprised a list of various tasty sides to choose from that will go along with your flawlessly seared ribeye, reverse seared tomahawk steak, New York strip, or filet mignon.
Here are 21 delectable side dishes that are the perfect accompaniment to your steak dinner and feature something for everyone.
1. Twice Baked Potatoes
Everyone loves a steak with a classic baked potato that is wonderfully crispy and tasty on the outside, soft, creamy, and fluffy on the inside and loaded with your favorite potato toppings. Now bake it twice! It's guaranteed to make a delicious meal that everyone will love and enjoy.
2. Roasted Broccoli
This simple yet tasty vegetable side dish goes great with practically any meal, particularly steak. Fresh broccoli roasted with garlic, lemon, and Parmesan cheese is guaranteed to be the most incredible broccoli you've ever had.
3. Risotto
Rich and luxuriously creamy risotto is a rice side dish that's perfect for serving with steak! Enjoy this delightful pairing whether it's dinner for two or just a great weekend meal with the whole family.
4. Roasted Asparagus
This side dish is incredibly easy to make in your air fryer, and very flavorful. Garlic roasted asparagus is a classic steak side dish that also works well with other meats such as roasted chicken or grilled salmon. Some sprinkled parmesan really rounds out the flavors. It is absolutely delicious!
5. Garlic Bread
Tasty garlic bread is a simple side that can be oh-so perfect sometimes, even with a hearty steak meal! Delightfully crispy, crusty bread is a great way to soak up any leftover steak juices and finish your dinner!
6. Roasted Green Beans
Green beans are totally delicious when roasted in the oven. They will surely impress everyone with just a squeeze of lemon juice and a little seasoning. Practically any meal goes well with it, and it's so simple to create. Garlic and chili pepper flakes can be used to enhance the flavor of the dish.
7. Broccolini Salad
This flavorful salad is great as a side or starter with any steak meal! A touch of Asian flavors will contrast but also balance with your meaty main dish quite well!
8. Roasted Brussel Sprouts
Roasted Brussel sprouts are an excellent side to steak, and they're made even better when dressed up with a little balsamic. They are pretty simple to prepare and will compliment your dinner for everyone to enjoy.
9. French Fries
Everyone loves French fries, and they're a great kid-friendly side dish. I like to make them in my air fryer for added ease. For a fun side dish, top your French fries with cheese or an herb and seasoning mixture for a more elegant meal. In any case, it will be devoured very quickly.
10. Mashed Potatoes
This popular steak side dish can have the skins left in or removed, depending on your preference. With a little garlic and butter you can't go wrong. You can also make mashed potatoes way ahead of time and reheat them in the oven when you're ready to serve!
11. Baked Sweet Potato
They are fluffy, easy to make, and oh-so-good! They are also very filling and packed with nutrition. Smother them in butter and they will for sure be gone in a flash.
12. Mac and Cheese
There are so many recipes for mac and cheese out there, and this white cheddar mac is totally my favorite. Cooking steak and serving it with this side dish is a fantastic way to bring a family supper together. You can look forward to a delicious dinner that everyone will love.
13. Onion Rings
I cant' say enough good things about my air fryer and it truly is the easiest way to make perfectly crisp onion rings. It's no secret that onion rings are a popular snack. You can serve it as a side dish with steak because it has a crispy skin and a delicious flavor that will keep everyone coming back for more.
14. Sauteed Mushrooms
When sautéed, mushrooms take on a meaty texture while the balsamic maintains a vibrant flavor. A little minced garlic and parmesan really enhances it's flavor even more. This dish pairs well with steak for a special occasion because it is both simple to prepare and aesthetically pleasing.
15. Side Salad
If you're in a hurry, try a tossed arugula salad by drizzling the arugula with the oil, some lemon juice, and sprinkling with salt and pepper. If you prefer a garden salad, try it with this creamy ginger salad dressing for a light and refreshing side dish. You can't go wrong salad because it's both flavorful and refreshing.
16. Corn on the Cob
Corn can be roasted, boiled, steamed, even air-fried, but my personal favorite is boiling it in milk and butter. Corn on the cob, in any form, is a beloved side dish. It's both hearty and delicious, making it an excellent choice as a side dish. As a bonus, it offers you a taste of summer anytime you eat one.
17. Vermicelli Rice
Easy to make and super versatile, vermicelli rice is is incredibly flavorful despite only requiring a few simple ingredients. This dish is a great side dish with steak and is surprisingly satisfying. This light, fluffy, and savory dish is perfect and can be enjoyed any time of year.
18. Au Gratin Potatoes
Au Gratin Potatoes are a simple, cheesy classic potato dish. My au gratin potatoes have some added ham for good measure, but you can leave it out if you wish. It's a family favorite that can be prepared ahead of time. We see this dish on special events and holidays, but you can serve au gratin potatoes as a side dish at any time. It complements various foods, particularly steak!
19. Baked Potato
20. Steakhouse Creamed Spinach
22. Bacon Ranch Potatoes
We hope these sides make your steak dinner out-of-this-world! Comment below what your go-to steak sides are and be sure to come back and let us know which of these recipes are your favorite! Enjoy!
🥩 Awesome Steak Recipes
📖 Recipe Card