If it's your turn to host the next family get together and you need to know what to serve with BBQ ribs - I've got a the perfect list of sides for you! This list is full of classic cookout dishes and some surprising sides that will have everyone wanting to eat over at your place!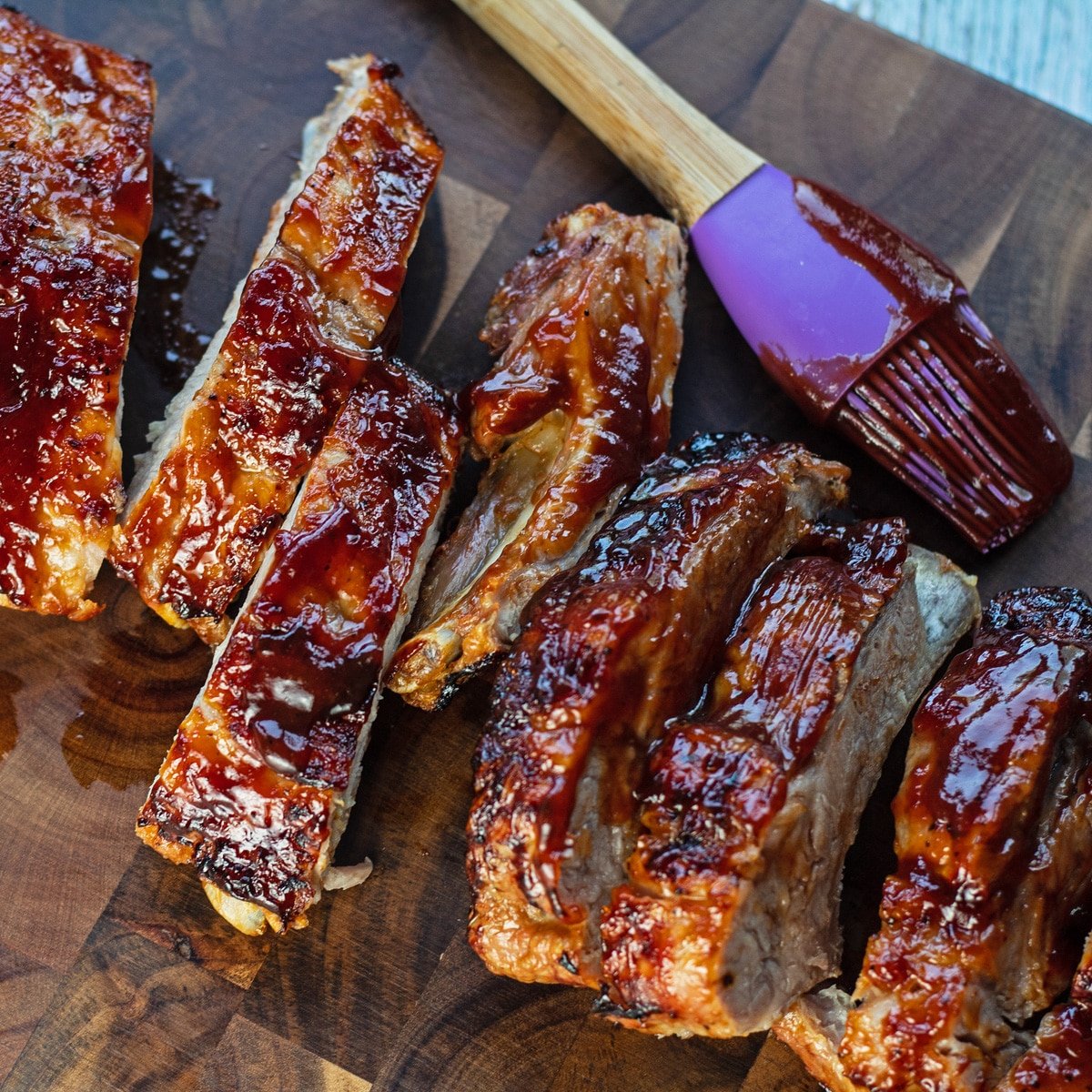 A compilation of impressive sides to serve with ribs at your next BBQ!
Nothing like a BBQ to lure in your friends and family to your place for a day of fun. There's something so satisfying about sharing a plate of fall-off-the-bone tender ribs in a tangy, caramelized barbecue sauce.
There is no right or wrong answer when choosing side dishes to go with your ribs, but the classics always tend to hit the spot! Below I've gathered a few of those classic sides, and a few not-so-classic, that are sure to dazzle the tastebuds of your guests at your next BBQ!
Jump to:
1. Mac and Cheese
Mac and cheese is an all-time favorite dish, for adults and children alike! This cheesy, creamy goodness is sure to attract the attention of all who are present and it will complement your BBQ ribs perfectly. The only way to make it better? Bake it in the oven!
2. Potato Wedges
Potatoes are a must at any BBQ gathering and these delectable potato wedges will be devoured in no time! Crispy on the outside, tender on the inside with just a little salt. These air fryer potato wedges are a crowd pleaser and are perfect to dip into BBQ sauces!
3. Corn Fritters
If you love having something a little spicy with your ribs, these Mexican corn fritters are perfect for the job. Make them as spicy as you like, or not! Corn fritters are brown and crispy on the outside, while flavorful and tender on the inside! They are basically savory little corn pancakes!
4. Caesar Salad
A classic Caesar salad is a fresh, light side you can dish up that will leave everyone plenty of room for meat. For added flavor, throw your Romain lettuce on the grill before chopping it up! Plus, this Caesar dressing is extremely simple to prepare so you can make it yourself at home!
5. Chef Salad
If you have guests coming over who you know are watching their calories, a chef salad would be great for them. Since it is loaded with veggies and protein, it will allow your calorie-conscious guests to fill up while still enjoying a party of yummy flavor in their mouths.
Here is an easy recipe where you can sub out the turkey for chicken or ham if you need to!
6. Corn On The Cob
Corn on the cob is a cult classic when served alongside barbecued meat. There's a million ways to make it, but you don't want to crowd your grill with corn on BBQ day!
My absolute favorite way to make corn on the cob is by boiling it in a delicious combination of butter and milk! Trust me, you have to try it.
7. Coleslaw
If you are hosting a BBQ on a summer day, chances are that it will be hot. A refreshing, cool coleslaw will be a great way to lighten the meal!
8. Green Beans
Nothing screams summer like a fresh green beans. These crisp-tender green beans are sauteed in garlic butter and will contrast your tender, juicy BBQ ribs with their addicting crunch.
As an additional bonus, they add great nutrition to the table. Get your ribs, potatoes, and beans and dig in!
9. Cabbage
When you have an entire day of grilling ahead of you, take a load off by making some "fried" cabbage in the crockpot! All the flavors of the fried cabbage your grandma used to make with significantly less effort.
Just toss it in your slow cooker and you can go man the grill care-free!
10. Baked Zucchini Rounds
Zucchini goes with any meat and it's light flavor brings your rib dinner to the next level. Plus, it offers some low carb options for your guests.
Coated in cheesy bread crumb mixture and then baked to a crispy-tender perfection, these irresistible zucchini medallions will be perfect for dunking into your BBQ sauces.
11. Baked Potatoes
Loaded baked potatoes are the definition of comfort food and are a staple that makes and BBQ all the better. While you're watching your ribs on the grill, throw a few in your smoker!
With the creamy, fluffy center and salty, crusty skin, baked potatoes make for a well-rounded BBQ meal.
12. Brussel Sprouts
They say you either love them or you hate them, but with this recipe you will change some minds. Toss them in your smoker until they are fork-tender and they will get irresistibly crispy and delicious.
This simple dish will enhance not just your BBQ ribs, but also all the other dishes on your table.
13. Cornbread
What is BBQ without the sweet, soft taste of corn bread? Its golden hues complement the glazed barbeque, and its sweet aroma invites and tantalizes the taste buds off all present.
This jalapeno cornbread recipe will deliver on all these points and save you time because they are super easy to whip up.
14. Roasted Vegetables
While your ribs are cooking, throwing on some veggies on the in the oven will save time and add a healthy variety of veggies to your table. These colorful roasted veggies are seasoned just right.
The light flavors enhance the taste of your BBQ ribs and add that needed balance in every meal.
15. Strawberry Shortcake
There is nothing like serving in-season produce and strawberry shortcake is no exception. Every BBQ needs a little dessert. Sweet, fresh, strawberries and creamy whipped cream atop a citrusy shortcake– it has all the flavor combinations you need. Best of all, it just screams summertime!
We hope this list of sides helps you to have the most delicious BBQ rib meal with your family and friends! Drop a comment below telling us what your favorite BBQ rib sides are, then come back later and tell us which of these sides you enjoyed most!
🍖 My Favorite Rib Recipes
---
📋 Recipe