Air fryer pork baby back ribs are incredibly easy-to-make and so good that your family will be asking for them all of the time! They're ready to enjoy in just 40 minutes, so they're wonderfully quick for ribs! Grab a bottle of your favorite BBQ sauce to customize the flavor!
Air Fryer BBQ Baby Back Rib Recipe
Do you LOVE baby back ribs but don't feel like grilling today? The air fryer is coming to the rescue with delicious, tender pork ribs that can be on the dinner table in under 40 minutes!
Your BBQ-loving family will beg for these moist, melt-in-your-mouth ribs over and over again – and you can say YES because they are so quick and simple to make! They come out super juicy on the inside and slightly crispy on the outside – absolutely finger-licking good!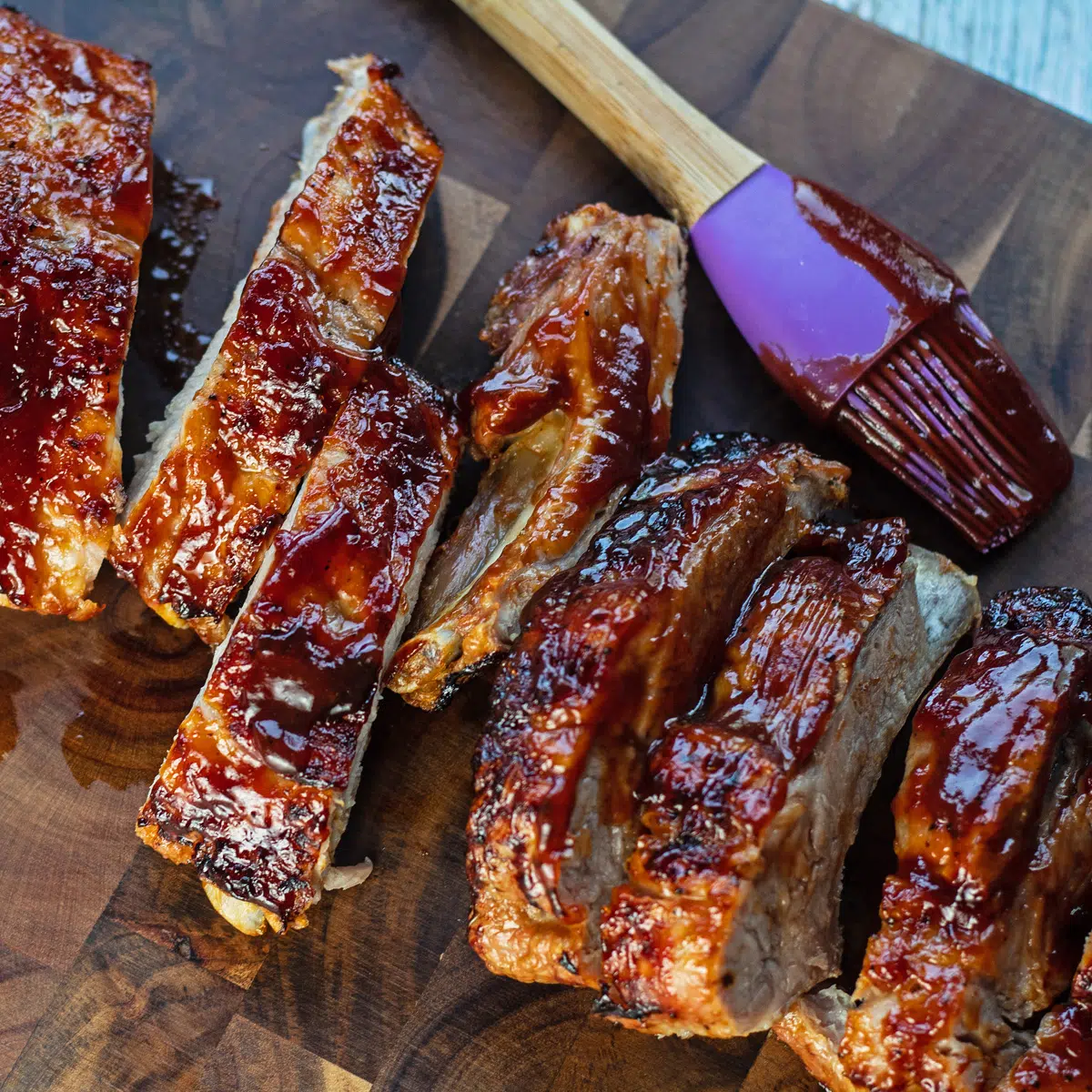 These perfectly tender and tasty air fryer ribs are your new go-to dinner!!
Jump to:
🥘 Air Fryer Baby Back Pork Ribs Ingredients
These tender baby back ribs only require 3 ingredients. The BBQ sauce and the dry rub combined are incredibly tasty!
How many racks of ribs are needed to feed your family? Generally, count on half a rack per person – so you would need two racks for a family of four.
Baby Back Ribs – Grab 1 vacuum-packed rack of ribs from the local meat market or grocery store.
Barbeque Sauce – Use 1 cup of your favorite BBQ sauce! Sweet or spicy - both are delicious in this recipe. Try my honey BBQ sauce or for a twist, try my Hawaiian BBQ sauce!
Pork Dry Rub – ¼ cup of pork dry rub. My pork dry rub recipe is full of savory and sweet flavors and is a great complement to ribs, but you can use any dry rub or seasoning that suits your taste.
*Be sure to see the free printable recipe card below for ingredients, exact amounts & instructions with tips!*
🔪 How To Make Air Fryer Baby Back Pork Ribs
Prepping the ribs shouldn't take more than 5-10 minutes, and then it's time to place the ribs in the air fryer, flip a few times, add BBQ sauce, and FEAST! You'll need a sharp knife and cutting board, your measuring utensils, some kitchen tongs, an air fryer, and a meat thermometer to get started.
1 rack of ribs makes about 2 servings. You can always make more, just work in batches!
Air Fryer BBQ Pork Ribs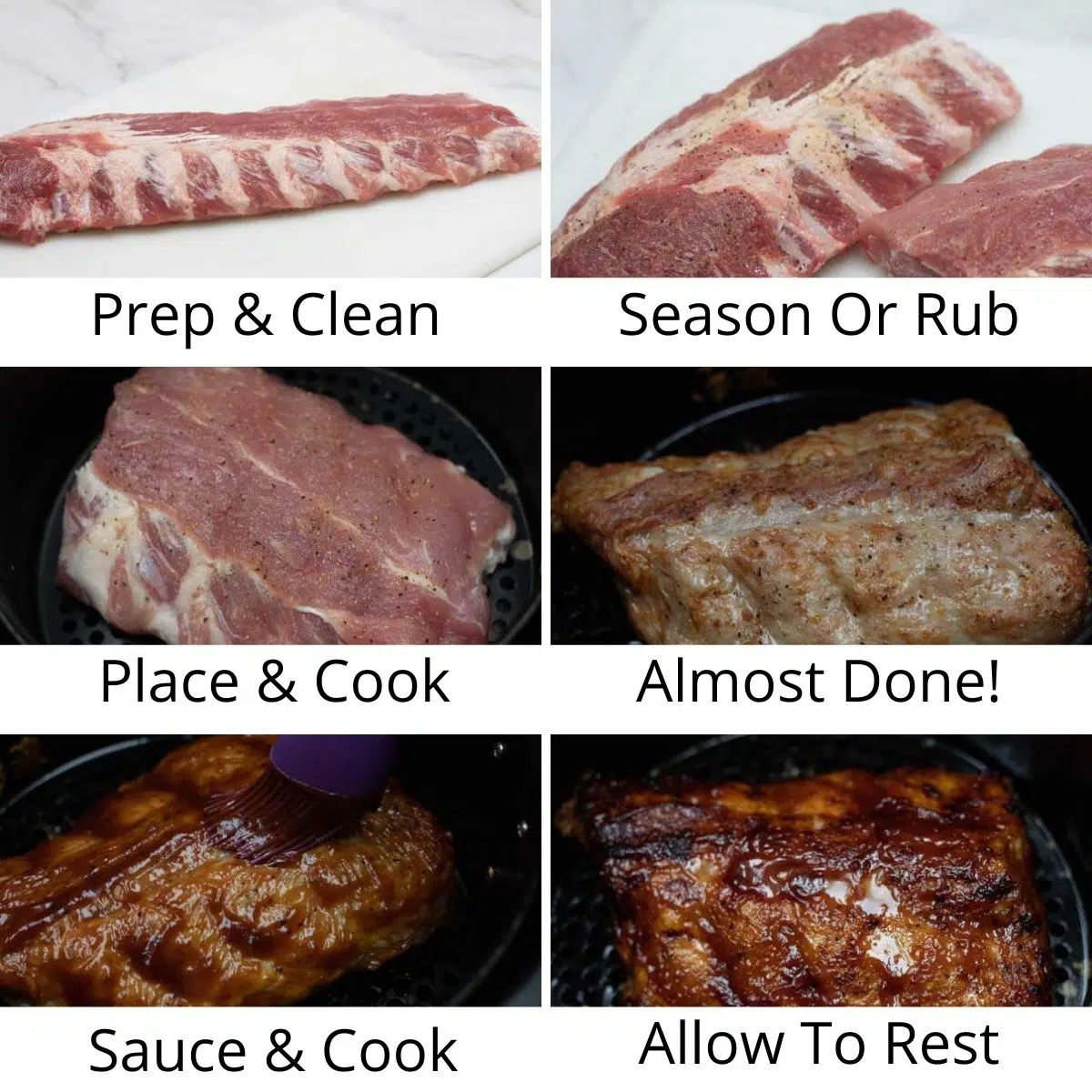 Preheat. Start by preheating your air fryer to 375°F (190°C) and lightly coating your air fryer basket or trays with cooking oil or spray.
Rinse and dry. Rinse 1 rack of ribs well with cold water and pat dry with a paper towel.
Season. Use about ¼ cup (57 grams) of dry rub and massage it into the meat. Don't be afraid to be generous with the rub and add more if needed.
Cut to fit. Next, you'll need to cut the ribs into pieces in order to fit them into the air fryer basket.
Cook the ribs. Set the rib pieces into your air fryer basket or tray with the meat side down, then cook at 375°F (190°C) for 15 minutes.
Turn and continue cooking. Open the fryer and, using tongs, turn the ribs over and cook for an additional 10 minutes at the same temperature.
Temp and sauce. Now it's time to check the temperature of the ribs. Use a meat thermometer at a thick point of the meat and make sure that the ribs are at 145°F (63°C). Brush the BBQ sauce all over the ribs generously, using between ½-1 cup (143-286 grams) of sauce.
*Cook your ribs for a few minutes more if the internal temperature has not yet reached 145°F (63°C).
Finish cooking. Return the ribs to the basket, turn the temperature up to 400°F (205°C), and cook for an additional 5 minutes.
Rest and serve. Remove the ribs from your air fryer, brush with extra BBQ sauce, and rest for 5 minutes, covered with a sheet of aluminum foil (loosely). Cut the ribs and serve!
🥗 Sides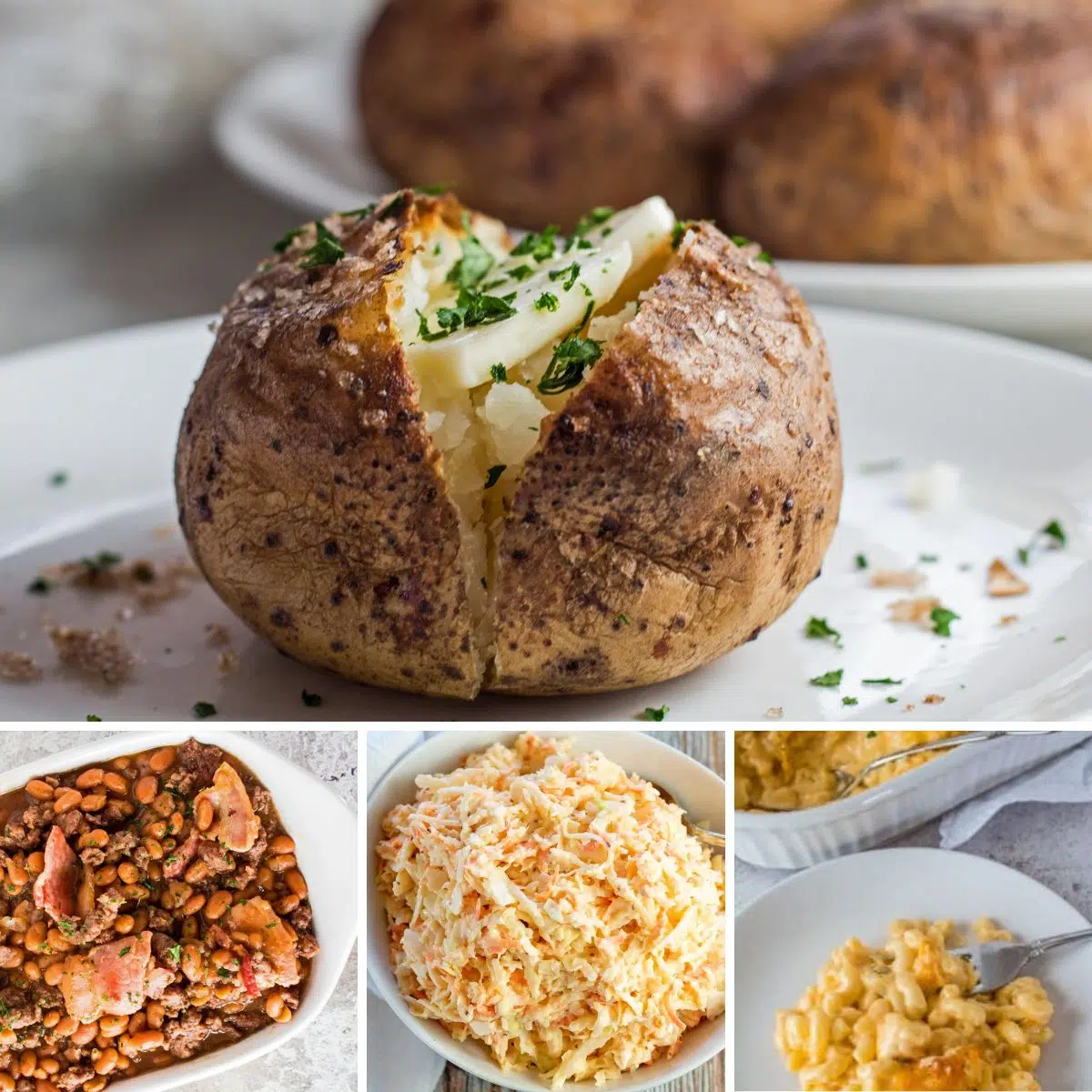 Serve your tasty ribs with some of my favorite bbq pork rib sides! Try my ground beef and bacon bbq beans, white cheddar mac & cheese, or milk-boiled corn on the cob! Enjoy!
💭 Angela's Tips & Recipe Notes
Here are a few of my tips for amazing air fryer pork ribs!
Don't hold back on the spice rub and BBQ sauce when cooking – it is almost impossible to use too much when air frying!
Removing the membrane from your baby back ribs is recommended for the best flavor. However, it is optional. I have made my baby back ribs in the air fryer with the membrane removed or left intact. Either way, the ribs are exceptionally tasty! To remove the membrane from the underside of your pork ribs, use a blunt butter knife. Slide the butter knife under the membrane and gently pull it up to separate the membrane from the fatty layer beneath.
Rinsing your pork ribs is also optional. I like to rinse all of my meats before cooking, but it is not a 'recommended practice' according to the USDA. I don't rinse my pork ribs to rid them of bacteria. I rinse them to remove any debris that may be remaining from the butchering process. No one wants to get that little chunk of broken bone that was tucked away under a fold of meat!
Preheating and coating your air fryer basket or trays are not absolutely necessary. But...Preheating your air fryer, as suggested in the recipe card below, will make sure that your cooking time is more accurate. Without preheating, you should expect a few minutes of additional cooking time.
Use a light coating of cooking oil applied with a pastry brush or spritz bottle to keep the ribs from sticking. This is more important if your air fryer is well-used (like mine!). *Do not use aerosolized non-stick cooking spray. It damages the coating of your air fryer basket and trays.
🥡 Storing & Reheating
You can store any leftover pork ribs in a shallow air-tight container in the refrigerator for up to 3-4 days. Alternatively, the ribs can also be tightly wrapped in plastic cling film or heavy-duty aluminum foil for refrigerating.
Freezing Air Fryer Baby Back Pork Ribs
Store cooled, cooked pork ribs in an airtight freezer storage container, vacuum sealed, or double wrapped in heavy-duty aluminum foil. Your cooked pork ribs can be kept in the freezer for up to 3 months but are best enjoyed within the first two months.
Reheating Air Fryer Pork Ribs
When it's time to reheat for a quick snack or lunch, there are several methods. You can heat it in the air fryer at about 350°F (175°C) for 3-5 minutes.
Be sure to space the ribs out in the basket so that the hot air can circulate well. Also, spray the basket with oil to keep them from sticking or drying out and to add a bit of crispiness.
If you have some extra time, it's very easy to re-heat the ribs in the oven also, and this method really helps retain moisture because it heats them more slowly. Make sure the ribs are at room temp before re-heating, and brush them with extra BBQ sauce.
Wrap them in foil (to prevent drying) and place them in the oven at 250°F (121°C) for 20-30 minutes. The ribs should be between 130-140°F (54-60°C) when ready to serve.
>>>>See all of my recipes HERE<<<<
❓ FAQ
How Do I Know My Air Fryer Baby Back Pork Ribs Are Ready?
A meat thermometer is your best friend! The internal temperature of the ribs should reach 145°F (63°C) for safe consumption. However, for truly tender ribs that will fall off the bone, you should aim somewhere between 180ºF (82ºC) and 200ºF (93ºC).
Do I Need To Preheat My Air Fryer Before Cooking Ribs?
I recommend preheating your air fryer for the best results. It only takes 3-5 minutes to preheat an air fryer to 375°F (190°C), and it will help to ensure that the ribs are cooked evenly.
Should I Wrap Pork Ribs In Foil Before Air Frying Them?
This is unnecessary and will keep the BBQ sauce from caramelizing. The air in the air fryer will circulate around the meat, cooking it evenly without drying it out. Just make sure not to overcrowd your air fryer basket.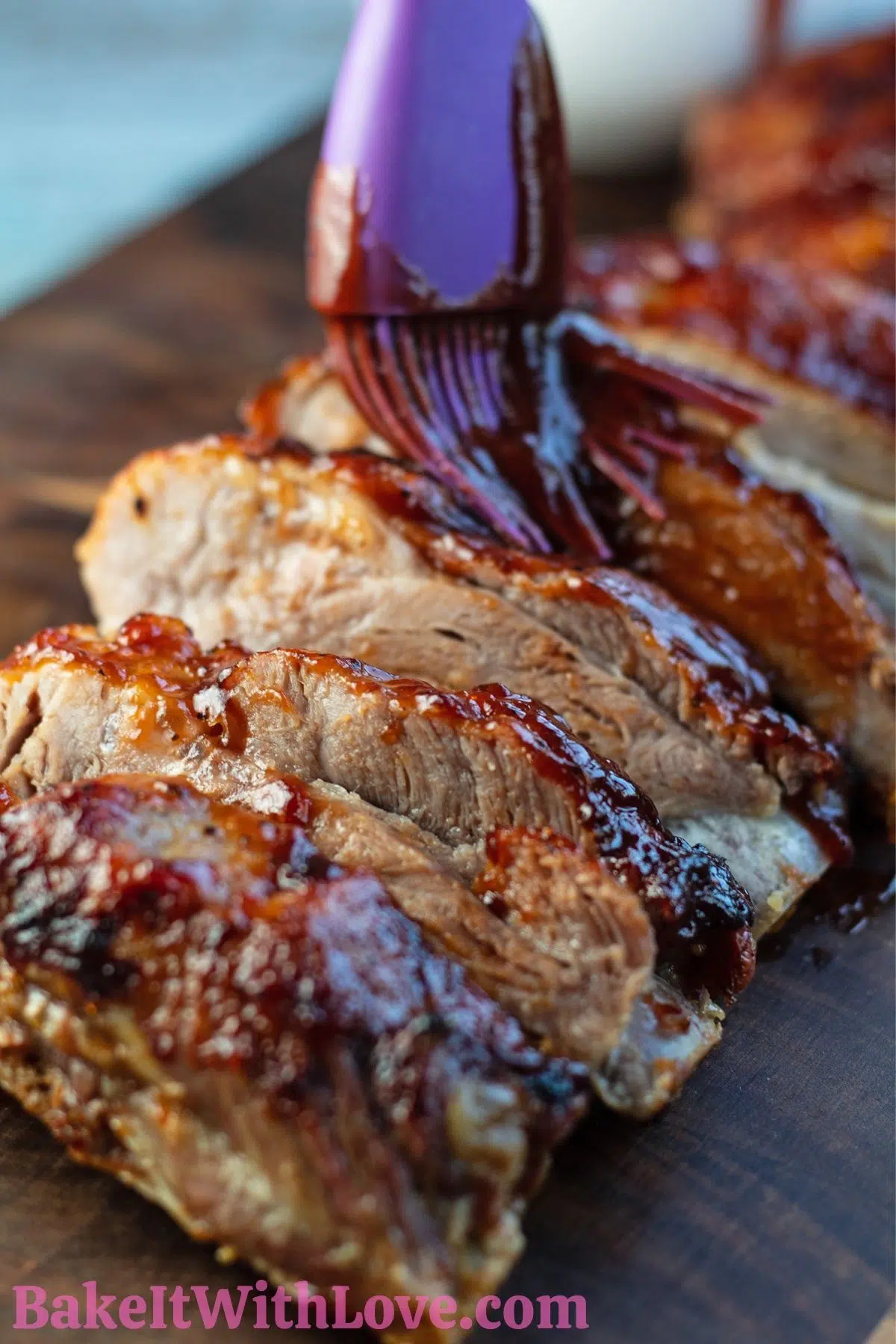 😋 More BBQ Favorites
Do you love a recipe you tried? Please leave a 5-star 🌟rating in the recipe card below and/or a review in the comments section further down the page.
Stay in touch with me through social media @ Pinterest, Facebook, Instagram, or Twitter! Subscribe to the newsletter today (no spam, I promise)! Don't forget to tag me when you try one of my recipes!
📋 Recipe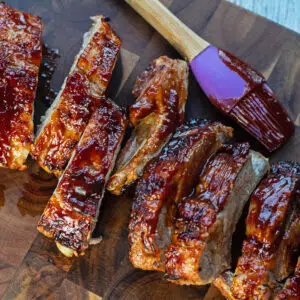 Print Recipe
Leave A Comment
Love This Recipe?
Click On A Star To Rate It!
Air Fryer Baby Back Pork Ribs
Air Fryer Pork Ribs are incredibly easy-to-make and so good that your family will be asking for them all of the time! And why not? They're ready to enjoy in just 40 minutes so they're a wonderfully quick meal that everyone loves!
Pin Recipe
Share on Facebook
Instructions
Preheat your air fryer to 375°F (190°C). Lightly coat your air fryer basket or trays with cooking oil.

Rinse the pork ribs under cold water and pat dry with paper towels.

1 rack baby back pork ribs

Apply a generous amount of pork rub all over the ribs.

If needed cut your ribs into segments that will fit your air fryer.

Place your ribs in the basket or tray meat side facing downward. Cook for 15 minutes at 375°F (190°C).

Open fryer and flip the ribs. Cook for another 10 minutes at 375°F (190°C).

Open your air fryer and check temperature be sure ribs are at 145°F (63°C) then apply BBQ sauce liberally over the ribs. Bring the temperature up to 400°F (205°C).

Return to your air fryer and cook for another 5 minutes at 400°F (205°C).

When finished carefully remove your ribs and add extra BBQ sauce if desired. Rest the cooked ribs for about 5 minutes (covered loosely with a square of aluminum foil), the serve, and enjoy!
Equipment You May Need
Nutrition
Calories:
441
kcal
(22%)
|
Carbohydrates:
29
g
(10%)
|
Protein:
28
g
(56%)
|
Fat:
24
g
(37%)
|
Saturated Fat:
8
g
(50%)
|
Polyunsaturated Fat:
4
g
|
Monounsaturated Fat:
10
g
|
Trans Fat:
1
g
|
Cholesterol:
98
mg
(33%)
|
Sodium:
858
mg
(37%)
|
Potassium:
516
mg
(15%)
|
Fiber:
1
g
(4%)
|
Sugar:
24
g
(27%)
|
Vitamin A:
191
IU
(4%)
|
Vitamin C:
1
mg
(1%)
|
Calcium:
68
mg
(7%)
|
Iron:
2
mg
(11%)
Air Fryer Pork Ribs, air fryer recipes, baby back ribs, pork ribs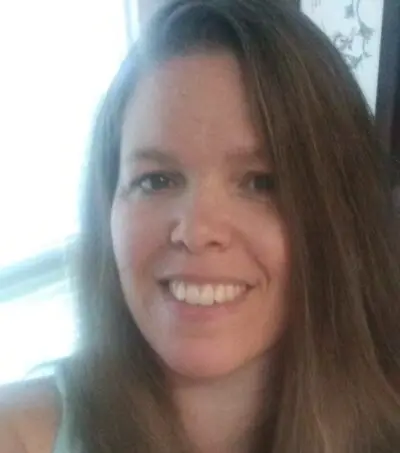 Angela is an at home chef that developed a passion for all things cooking and baking at a young age in her Grandma's kitchen. After many years in the food service industry, she now enjoys sharing all of her family favorite recipes and creating tasty dinner and amazing dessert recipes here at Bake It With Love!