If you need to know what to serve with fried chicken, look no further than these easy and delicious side dishes (and dessert)! Any of these recipes would make a wonderful choice, so read on to find your "winner, winner, chicken dinner"!
Wondering What to Serve with Fried Chicken?
Making fried chicken but not sure what to serve with it? Fear not as we've rounded up the best side dishes to complement this poultry favorite.
We've featured some traditional sides to unique pairings, even dessert! So, roll up those culinary sleeves and find your new favorite in one of our below recommendations.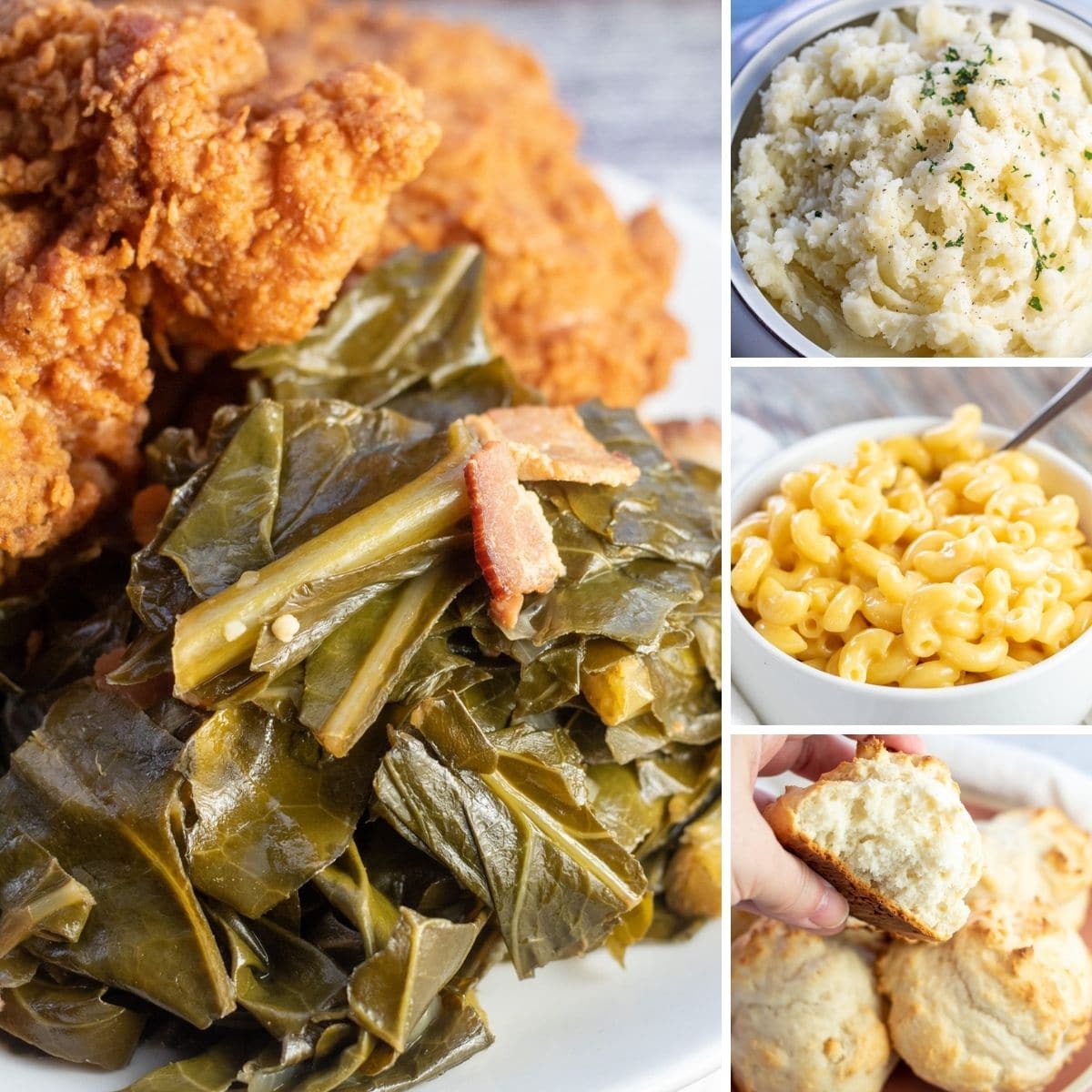 Jump to:
1. Mashed Potatoes
Mashed potatoes are a quintessential delicious side dish that pairs perfectly with fried chicken. They're soft and provide a great texture contrast to the crunchy chicken.
2. Bisquick Biscuits
These biscuits are soft, easy to make, and oh so good! Fried Chicken and biscuits are as southern as you can get and go hand in hand.
Slather some butter on and enjoy.
3. Southern Baked Mac and Cheese
This mac and cheese recipe is a cheesy, creamy dream. Full of flavor and is comfort food at its best.
It's a wonderful side dish to fried chicken and a family favorite.
4. Jiffy Jalapeno Cornbread
Cornbread in general is a great side dish to fried chicken and is also a southern favorite. This cornbread recipe elevates traditional cornbread by adding jalapenos, cheddar cheese, and red bell peppers, giving it a nice kick.
It's got great flavor and is a palate-pleasing treat complementing your fried chicken.
5. Country Gravy
Country gravy is a favorite white gravy and is the perfect topping or dip for fried chicken! Better yet, make some mashed potatoes and pour gravy over the whole plate!
6. Southern Coleslaw
Coleslaw is a classic recipe perfect for picnics, BBQs, cookouts, and fried chicken! The cool, creamy dressing and the crispy crunch of the cabbage are a tasty and flavorful side to enjoy with your chicken.
7. Roasted Okra
Roasted Okra is a delicious and simple recipe to make. Roasting it with simple seasonings and garlic gives it a great flavor and goes great with your fried chicken.
This classic southern vegetable always hits the mark.
8. Collard Greens with Bacon
These collard greens with bacon are a simple, flavorful, and all-around wonderful recipe that goes perfectly with fried chicken. It's a classic mouthwatering southern side dish slow-cooked to perfection.
A bite of chicken, a bite of collard greens with bacon and you're in heaven.
9. Loaded Baked Potato Salad
We all love a loaded baked potato but this version takes it up a few notches and turns it into a creamy, beautiful salad. Loaded with your favorite toppings of cheddar cheese, crispy bacon, fresh green onions, and creamy sour cream, this salad drives home the taste and flavors of your favorite potato side dish.
The salad is chilled creating a wonderful contrast to your hot fried chicken.
10. Crockpot Green Beans and Potatoes
With a simple hands-off process you've got a well-rounded delicious side dish to enjoy with your fried chicken. The potatoes and green beans are a veggie-packed addition to a fried chicken meal that even the kids won't get enough of.
11. Cajun Fries
Cajun fries are such a palate-pleasing alternative to regular fries. They are packed full of spice and flavor perfect on their own or to dip in your favorite sauce.
They go great with fried chicken as a side as they are flawlessly crunchy on the outside and soft on the inside. I bet you can't eat just one!
12. Southern Fried Corn
A wonderfully simple recipe you can whip up in a mere 15 minutes and have an elevated corn side dish to go with your fried chicken. Sweet corn, bacon, butter, onion, garlic, and seasonings take a regular corn dish and make it a superstar side dish worthy of any restaurant.
13. Baked Beans with Ground Beef and Bacon
A hearty side dish worthy of any cooking contest, you'll have this recipe on repeat. The baked beans are sweetened with a touch of brown sugar and have a slightly smokey flavor due to the hickory- smoked bacon and liquid smoke.
It's the kind of side dish that goes hand in hand with fried chicken and is a favorite you can't get enough of.
14. Baked Potatoes
Baked potatoes are a quintessential side dish to many main courses, including fried chicken. They are a blank canvas waiting for all your favorite toppings.
Whether you're a plain butter or loaded baked potato lover, it's a soft and tasty addition to your fried chicken plate.
15. Bisquick Peach Cobbler
Who says dessert isn't a meal? This peach cobbler is a fabulous companion to fried chicken. It's buttery, sweet, and goes great with the juicy flavors of fried chicken.
This classic favorite summer dessert won't disappoint when you pair it with your meal.
You can't go wrong with any of these fabulous dishes! Let us know if you've tried any of these recipes by messaging us down below!
📋 Recipe