These Friday night dinner ideas include simple and delicious recipes that are worth sharing with the whole family! Each of these dishes will make it feel like a treat that you reached the end of the workweek. From juicy chicken dinners to pasta and so much more, this list has something for everyone!
Best Dinner Recipes To Make On Friday Nights
If you're tired of rotating through the same old weeknight dinner recipes, you've come to the right place. With any of these recipes on the menu, your family will be saying TGIF because dinner will be great tonight!
These are a few of my family's favorite recipes that are guaranteed to make Friday night dinner just a little more special than other weeknights. There is fish, chicken, pork, and so much more to choose from!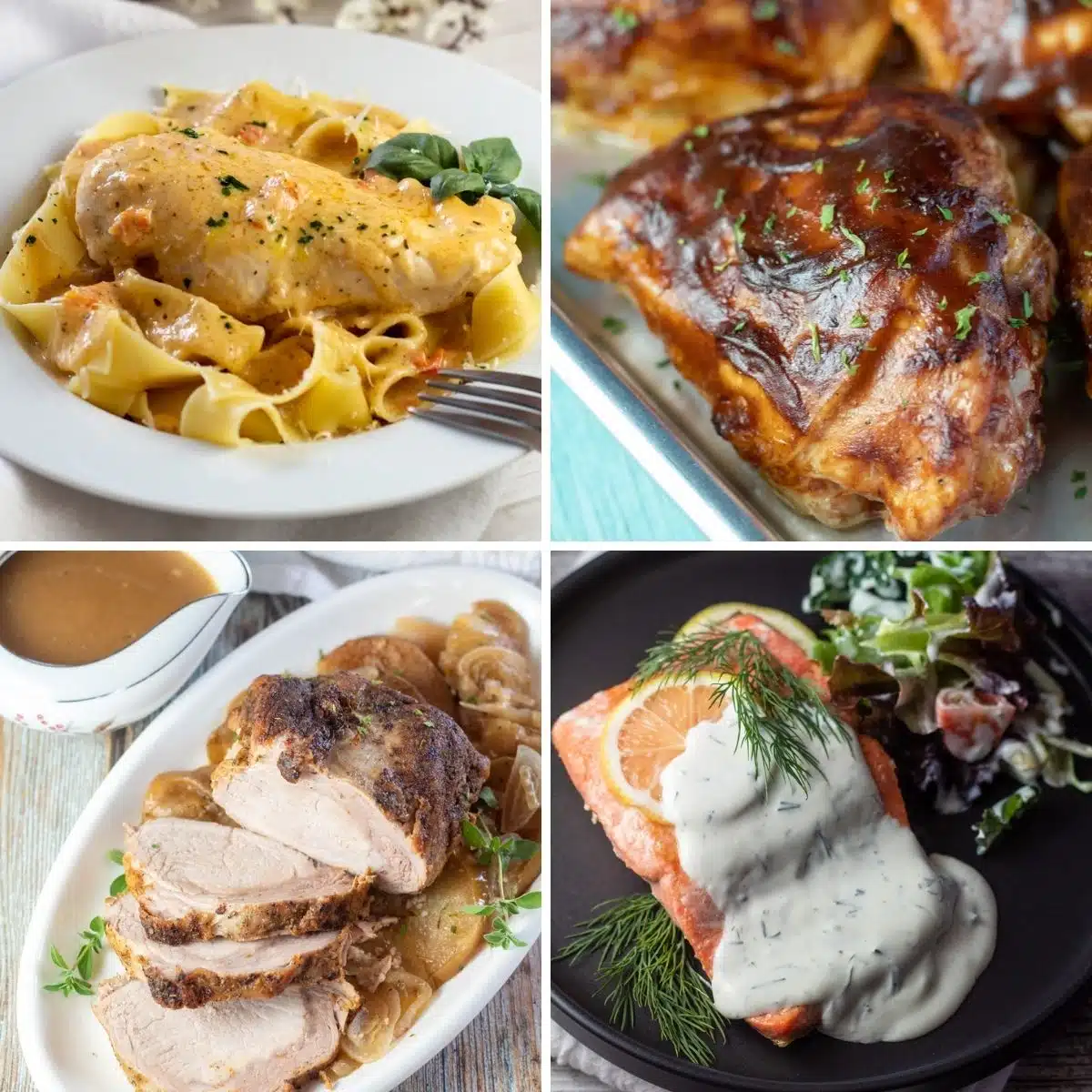 Jump to:
1. Baked BBQ Chicken Thighs
You can't go wrong with juicy baked BBQ chicken thighs any day of the week! The meat falls right off the bone and the BBQ sauce becomes delectably sticky and caramelized.
For recommendations on side dishes, be sure to check out what to serve with BBQ chicken!
2. Pork Ribeye Roast
A tender pork ribeye roast is an incredible home-cooked meal made for sharing! Pair it with your favorite sides or take a look at my page on what to serve with pork for ideas on turning it into a well-rounded meal.
3. Salmon with Dill Sauce
Dill adds a complex flavor to this easy-to-make salmon dinner. The creamy dill sauce has a splash of lemon that pairs wonderfully with salmon and really helps to elevate the flavor of this dish.
If you need help deciding on your side dishes, I recommend taking a peek at my page on what to serve with salmon.
4. Deep Fried Catfish
If you're craving soul food, you can't go wrong with crispy deep-fried catfish. I use a made-from-scratch beer batter that turns out wonderfully golden and crisp every time!
If you'd rather not fry your fish, you can still get perfectly crispy catfish in the oven.
5. London Broil
A juicy London broil will have your family scrambling to the dinner table! It is marinated in a combination of Dijon mustard, balsamic vinegar, Worcestershire sauce, soy sauce, and seasonings which gives it loads of flavor.
6. Marry Me Chicken
Perfectly cooked chicken breasts covered in creamy Parmesan and sun-dried tomato sauce. Serve it over warm pasta for a meal so good, everyone will want to kiss the cook!
7. Air Fryer Duck Legs
You'll be feeling like a professional chef when everyone takes a bite of their crispy, perfectly cooked duck leg. You don't have to tell them how easy it was to make in your air fryer.
8. Baked Eggplant Parmesan
This classic Italian main course is a shockingly filling meal that is full of flavor despite not including any meat. You can serve it over pasta or pair it with veggies to keep your dinner low-carb!
9. Pizza Pasta Casserole
All the flavor of a pepperoni pizza in one delicious casserole! It's saucy, cheesy, and always a hit with kids and adults alike. Did I mention there are 3 types of cheese?
10. Huli Huli Chicken
Perfectly cooked chicken thighs in a sweet and sticky Hawaiian BBQ sauce made from scratch. The recipe only takes about 35 minutes from start to finish, so it's perfect for throwing together after work!
11. Panda Express Beijing Beef
This copycat Panda Express recipe yields a savory and satisfying Beijing beef that may be even better than the real thing. The sauce is sweet and tangy and the thin strips of flank steak are wok fried until delightfully crispy!
12. Rabbit Stew
If you are looking to integrate a wider variety of proteins into your weekly dinner routine, this hearty rabbit stew is a great place to start. The rich and buttery rabbit meat adds a cozy element to this stew that is hard to match.
13. Chicken Tortilla Soup
Speaking of hearty soup, this homemade chicken tortilla soup is always a hit, particularly when the weather is rainy or cold. Top it off with a squirt of lime juice, a dollop of sour cream, and a sprinkle of tortilla strips for the ultimate comfort food!
14. Crab Risotto
I feel like crab is always a treat, but even more so when it is enveloped in creamy, buttery risotto. For a truly impressive dish, you can make your own seafood stock with crab shells, otherwise you can save on prep time by using Better Than Bouillon fish or lobster base.
15. Chicken Parmesan Pizza
Take pizza night up a notch by trying gourmet flavors like chicken Parmesan pizza! Not that there's anything wrong with pepperoni, but nothing compares to topping your pizza with thin slices of crispy Parmesan-breaded chicken.
16. Chicken Pot Pie
With this recipe, you can make one classic 9-inch chicken pot pie for everyone to share or make individual pot pies for each person! Each pot pie is loaded with veggies, tender chicken, and a savory chicken gravy.
If you prefer not to use pie crust, be sure to check out my biscuit chicken pot pie for an even easier version with all the same flavor!
17. Cajun Seafood Boil
Get the weekend started off right with a Cajun seafood boil! It is loaded with crawfish (crayfish), gulf shrimp, potatoes, corn on the cob, and smoked sausage.
But wait, it doesn't stop there. Take all of that and toss it in Cajun seasoning and garlic butter sauce, yum!
18. Stuffed Green Peppers
Not only are these jumbo stuffed bell peppers tasty, but they are so easy to make! They take about an hour, but trust me it's worth it.
The filling is a combination of rice, ground beef, tomatoes, and a hefty helping of cheddar cheese. All inside a tender baked bell pepper!
19. Blackened Cod
Blackened cod is a delicious and nutritious protein you can whip up in no time! The blackened seasoning consists of simple ingredients you likely already have in your pantry.
Serve it with some vegetables, rice, or any of my favorite sides to serve with cod to make it a meal.
Do you want to try any of these Friday night dinner ideas? Be sure to come back and let me know how it turned out in the comment section below!
>>>>See all of my recipes HERE<<<<
😋 More Dinner Recipes
📋 Recipe