These Saturday night dinner ideas include delicious casseroles, takeout favorites, flavorful pasta dishes, easy proteins, and more. There's something for everyone! Whether you're looking for a new tasty meal to enjoy with your family or hosting dinner guests, these recipes will make your weekend feel extra special!
Best Dinners To Make On Saturdays
When Saturday night rolls around, don't worry about having the 'what should we have for dinner' discussion; just give one of these recipes a try! The weekends are the best time to gather with family and friends; no matter the occasion, these meals are always a hit.
If you want to see everyone scrambling to the dinner table, you can't go wrong with these delicious recipes. Work your way down the list, and you'll have your weekend dinners planned out for a while!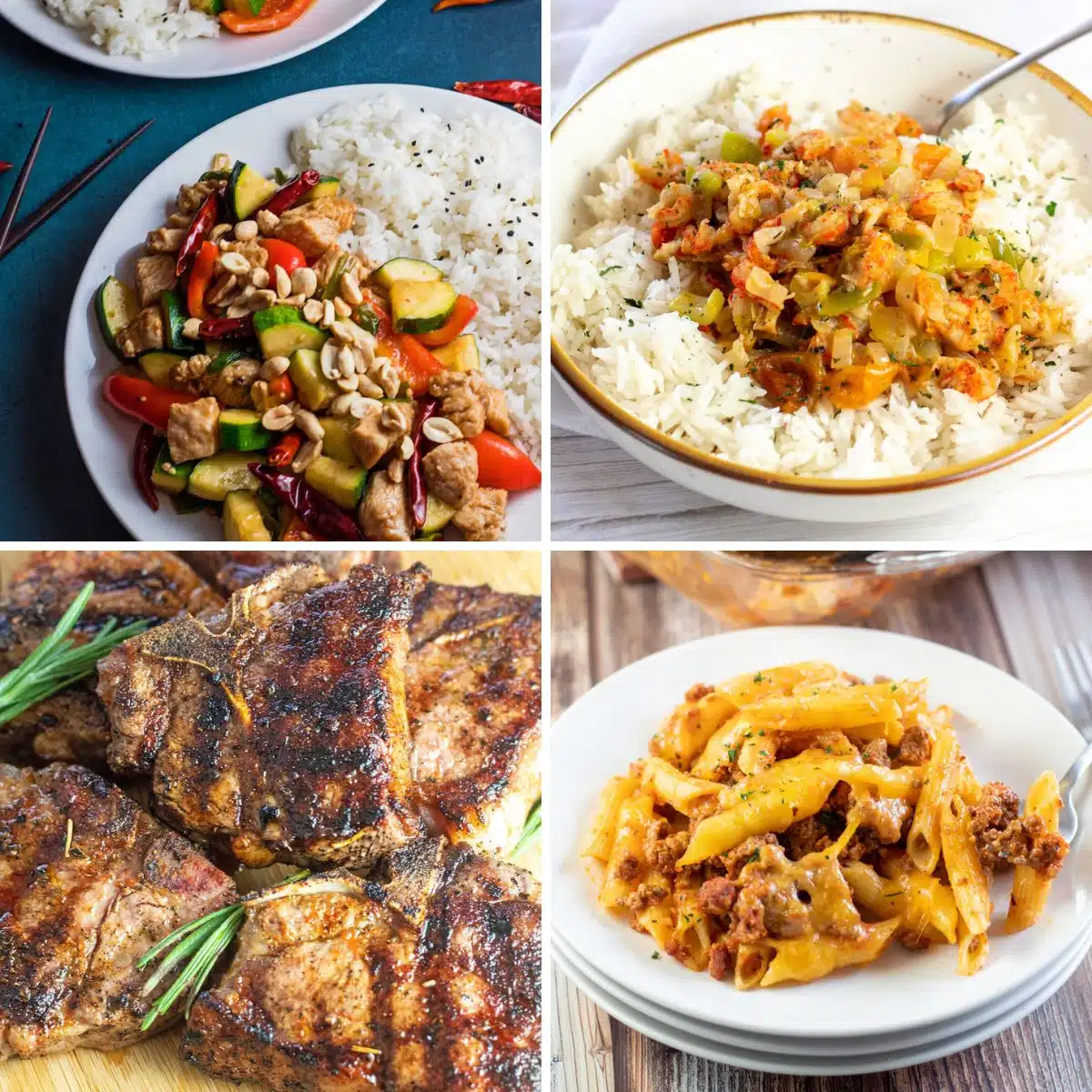 Jump to:
Want More Recipes? Enter your email below and we'll send them straight to your inbox!
1. Grilled Lamb Chops
These grilled lamb chops are all the reason you need to fire up the grill! Covered in my easy and flavorful Mediterranean-inspired lamb rub, these chops have no shortage of flavor.
They are super tender, and the rich, buttery flavor of the lamb meat really shines. If you'd like to see some side dish suggestions, be sure to look at my post dedicated to what to serve with lamb chops!
2. Spanish Seafood Paella
If you are cooking for seafood lovers, homemade Spanish seafood paella is always a show-stopper. It's a savory and smoky one-pot meal consisting of chorizo, bay scallops, mussels, shrimp, steamer clams, and calamari, in a bed of saffron and tomato rice.
It may sound like this paella has a lot going on, but it's easier than it seems. Serve it with some rustic bread, and enjoy!
3. Cabbage Rolls
Cabbage rolls, also known as gołąbki, are a traditional dish served in Poland. They're stuffed with a tasty filling made of pork, beef, and vegetables, then baked in a flavorful tomato sauce.
This savory dish is the perfect weekend dinner for those who want to enjoy a delicious home-cooked meal. Discover the unique taste of Polish cabbage rolls and make them part of your regular weekly menu!
4. Crawfish Etouffee
Crawfish etouffee is a Cajun classic that's sure to bring flavor to your Saturday night meal. It's made with juicy crawfish tails, and tender veggies in a rich sauce served over white rice.
'Etouffee' translates to 'smothered' as in the crawfish are smothered in a super buttery etouffee sauce. This is Louisiana comfort food at its best!
5. Mushroom Risotto
If you're looking for a delicious and comforting Saturday night dinner, then look no further than mushroom risotto. This rich and flavorful dish is made by combining arborio rice, Parmesan cheese, butter, white wine, and of course, lots of mushrooms.
Cook and stir until it is super creamy, then enjoy! The base recipe is made with chicken stock, but you can definitely swap it out for vegetable stock if you'd like to make it vegetarian!
6. Roasted Pheasant
Roasted pheasant is an incredibly delicious poultry recipe that makes a nice change from typical chicken. It's a great way to show off your culinary skills, and you can make it with just a few simple ingredients!
The lean pheasant meat takes on the flavor of my quick homemade poultry seasoning perfectly. Roast it with some baby red potatoes, and you have a hearty meal that will be enjoyed by all.
7. Ground Beef Casserole
Are you looking for a delicious and easy-to-make dinner that will please the whole family? Look no further than this cheesy ground beef casserole!
Made with marinara sauce, penne pasta, ground beef, and cheddar cheese, this casserole is sure to be a hit (especially with a side of oven garlic bread). Simply cook the pasta, brown the grown beef, combine the ingredients, bake in the oven for about 25 minutes, and dig in!
8. Hamburger Helper Beef Stroganoff
If you're looking for a hearty and comforting meal that's just like Hamburger Helper but with an extra touch of flavor, then try this one-pot beef stroganoff!
This tasty twist on the classic dish is made with al dente egg noodles, ground beef, and a rich and savory, sour cream sauce. It's sure to be a hit with the whole family!
9. Panda Express Kung Pao Chicken
Now you can enjoy Panda Express' signature kung pao chicken at home! It's a delicious combination of marinated and wok-fried chicken, tender stir-fried vegetables, and peanuts in an irresistible ginger garlic sauce.
I like to serve it with some fluffy white rice on the side or underneath the kung pao chicken in a bowl. Don't forget the egg rolls!
If remaking your favorite Chinese takeout recipes sounds fun to you, check out my full collection of Panda Express recipes here!
10. Beef Enchiladas
Beef enchiladas are a classic Mexican dish that makes a fabulous dinner any day of the week! I use my own enchilada seasoning blend to season the ground beef for the beef, bean, and cheese filling before wrapping it up in tortillas and smothering them in homemade enchilada sauce. Yum!
Cheese enchiladas, chicken enchiladas, or shrimp enchiladas are always a great choice, too!
11. Garlic Shrimp Alfredo Bake
This baked shrimp pasta casserole is filled with rich, cheesy goodness that can almost guarantee someone will be asking for the recipe. In this quick 30-minute recipe, you'll find tender penne pasta, juicy shrimp, and tomatoes, all in a garlicky alfredo sauce.
Whip up some super easy air fryer garlic bread to serve on the side and you'll have a super satisfying Italian dinner ready in no time.
12. Ground Venison Tacos
Ground venison tacos are a perfect dinner for when you're short on time. Seasoned with a simple blend of herbs and spices, the venison taco meat can be cooked in just 25 minutes.
Use your preferred tortillas and top them with all your favorite taco toppings! If you're looking to elevate your taco nights, ground venison is the way to go.
13. Slow Cooker Beef Bourguignon
Beef bourguignon is a classic French stew that is made even easier in this recipe by using your handy dandy crockpot! Tender chunks of marinated chuck steak, mushrooms, and carrots are cooked in a rich broth, creating an incredibly comforting beef stew that is perfect for chilly evenings at home.
As always, the great thing about using your crockpot is you can set it and forget it until dinnertime. If this soup sounds appealing to you, you'll probably love all of my other crockpot soup recipes too!
14. Baked Beef Back Ribs
If you're looking for some delicious, fall-off-the-bone tender ribs, then look no further than these baked beef back ribs. The ribs are coated in my flavor-packed rib seasoning and slathered in sticky BBQ sauce, so they pack a double punch of BBQ flavor!
Pair your BBQ ribs with some baked mac and cheese and collard greens for a true Southern comfort meal.
15. Chicken Stuffing Casserole
Chicken stuffing casserole is a delicious and comforting dish that is perfect for sharing with family on Saturday evenings. It features tender shredded chicken, fluffy stuffing, mixed vegetables, and a creamy sauce, all baked until golden.
With just a few simple ingredients, you can have this tasty dish on the table in about 30 minutes!
>>>>See all of my recipes HERE<<<<
16. Instant Pot Porketta Roast
If you're looking for an easy and delicious way to make a succulent and juicy Italian pork roast, look no further than the Instant Pot. Your pressure cooker is the perfect way to prepare a homemade roasted pork dinner.
With my flavorful porketta seasoning blend and a few simple ingredients, you'll be able to create an unforgettable dinner that everyone will love!
17. Slow Cooker Pork Loin
Your slow cooker is an easy way to make a succulent pork dinner that's perfectly tender and super juicy. All you need is a pork loin, olive oil, some potatoes, onions, carrots, celery, and a little pork roast seasoning. Throw it all in the crockpot and let it cook on low for 6 hours or on high for 2-3 hours. You'll be rewarded with a flavorful pork roast that your family will love!
For side dish suggestions, check out all of my favorite recipes to serve with pork!
18. Zucchini Boats with Ground Beef
If you are looking for a somewhat low-carb dinner that even the carb-lovers in your family will enjoy, zucchini boats are just the thing! Zucchinis are sliced once down the middle and stuffed with a savory combination of seasoned ground beef, marinara sauce, vegetables, and cheese, then topped with breadcrumbs and baked to perfection!
Zucchini boats make a fabulous side dish for Italian dinners, but they are definitely hearty enough to work as a meal all on their own, too!
19. Pasta Alla Norma
Pasta alla Norma is a classic Sicilian recipe that is sure to tantalize your taste buds. This dish consists of pasta cooked in a savory tomato sauce with soft eggplant, ricotta cheese, a few simple seasonings, and fresh basil.
I typically opt for either penne pasta or spaghetti, but you can certainly give this recipe a go with whatever pasta you have on hand! Start the meal with a light Caprese salad for a restaurant-quality Italian dinner at home.
20. Beef Top Round Roast
Beef top round roast is a delicious and easy-to-make roast beef dinner that always gets rave reviews. It has a gorgeous caramelized crust on the outside, while the meat is still tender and succulent on the inside.
The key to this dish is using the perfect combination of herbs and spices paired with a quick reverse sear at high heat near the end of the cooking time. It's perfect for special occasions but easy enough to make any night of the week!
21. Roast Capon
Capon is a richly flavorful type of poultry that is known for having succulent meat and wonderfully crispy skin when prepared properly. I slowly roast it to perfection in chicken broth with fresh herbs, seasoning, butter, lemon, and garlic to really infuse the meat with flavor.
The sheer size of this impressive 8-10 pound bird paired with the crisp golden brown skin is enough to make this a show-stopping dish for the center of your Saturday night dinner table.
22. Instant Pot Rump Roast
With just a few ingredients and a pressure cooker, you can make a hearty beef roast that is fall-apart tender. All you need is some of my homemade pot roast seasoning, a little beef broth, and some beef tallow or oil. You can even add some chopped veggies to round out the meal!
So bust out your Instant Pot and enjoy the amazing flavor of this beef rump roast this weekend!
23. Moo Shu Pork
Moo shu pork is a classic Chinese dish that makes for a perfect Saturday night dinner. This delicious meal features stir-fried veggies in a savory sauce with delicate moo shu pancakes to wrap everything up!
If your family is a fan of Chinese takeout, they'll surely approve of this tasty homemade version of a takeout favorite!
24. Shrimp Fajitas
Juicy shrimp tossed in fajita seasoning and roasted with bell peppers and onions, a classic Mexican favorite that is both delicious and nutritious! There's very little prep once you slice your vegetables, so fajitas are an easy choice if you don't have a lot of time to work with.
Steak fajitas or chicken fajitas are also great choices. I like to serve my fajitas with some homemade tortillas, sour cream, shredded cheese, and fresh salsa roja so people can make tacos!
25. Ground Beef Tacos
With some ground beef and my zesty beef taco seasoning, you can turn taco night into a weekend celebration! You can use flour or corn tortillas (soft or crispy), plus you have full control over the spice level.
Customize your tacos with your favorite cheeses, sauces, and toppings to truly make them your own!
If you're having a party this weekend, try setting up a build-your-own taco bar! Guests will love getting to assemble their tacos with all their favorite taco toppings!
26. Chicken Burrito Bowls
Chicken burrito bowls are the perfect dinner for anyone looking for a delicious, easily customizable meal. Whether you're in the mood for something spicy or you prefer to keep things mild, these burrito bowls can be tailored to your exact tastes.
I like to start with a base of cilantro lime rice and top it off with cooked chicken strips, diced avocado, mango salsa, cheese, corn, black beans, and sour cream. If chicken isn't your preferred protein, try my steak burrito bowls or shrimp burrito bowls instead!
27. Cornish Pasties
Cornish pasties are a traditional dish originating from Cornwall in England. These pockets of goodness are filled with chunks of beef, potatoes, rutabaga, and onion. They have been enjoyed for generations and are still popular today because they are so satisfying!
The filling is carefully sealed in flaky pastry and baked until golden. You don't need any side dishes to serve with these delightful pasties, though some buttered peas and carrots are always a welcome addition!
28. Steak au Poivre
Steak au poivre is a classic French recipe that can be prepared in less than 30 minutes! It is made with New York strip steak, perfectly seared, then cooked in a rich and creamy cognac sauce. The meat slices like butter, making it the perfect dinner for an extra special Saturday night.
Serve it with your favorite steak side dishes for an incredible meal that everyone will remember.
29. Veal Short Ribs
Veal short ribs will quickly become the star of your dinner table. They are fall-off-the-bone tender and finger-licking good!
First, you quickly sear them to get a nice outer crust, then braise them in the oven until the meat is buttery and tender. To take them up a notch, I added a homemade marsala sauce for an extra touch of deliciousness.
30. Bangers and Mash
Your family and friends will savor every bite of this classic British comfort food. It combines succulent pork sausages with creamy mashed potatoes and plenty of rich onion gravy.
It's simple, filling, and always a hit with kids and adults alike! You don't have to make any side dishes, but some Yorkshire puddings are perfect for soaking up the extra gravy!
31. Pan Seared Scallops
Sea scallops are a super quick and easy protein that will pair well with any of your favorite side dishes! With just a few minutes in a hot pan, you can achieve a crispy golden brown sear while the insides of your scallops cook perfectly.
Sea scallops are easy enough for a casual meal while also elegant enough for an upscale dinner party. For a restaurant-quality scallop dinner, pair them with any of the best side dishes to serve with scallops!
I hope this list helped you come up with the perfect Saturday night dinner plans! Be sure to come back and tell me which recipes you tried in the comments below!
😋 Tasty Side Dish Ideas
📋 Recipe