Amazingly tasty crockpot soup recipes are a wonderfully comforting, and completely satisfying, meal to have waiting for you at home! Simply combine your ingredients in the morning, head out the door, and trust that your slow cooker is working its magic!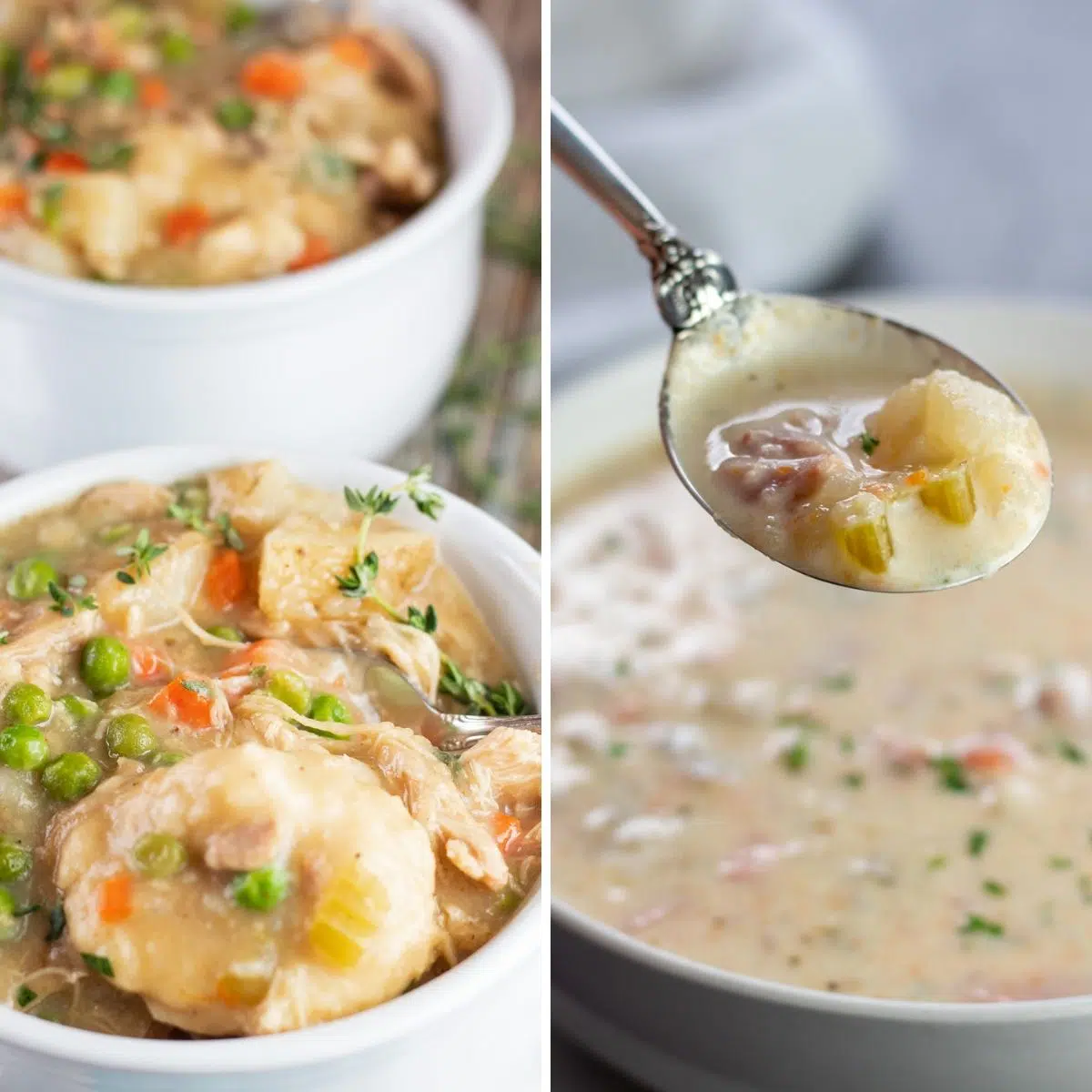 An assortment of incredibly tasty soups that your crockpot will cook to perfection!
I love the ease of the slow cooker! The set-it and forget-it style of crockpots are perfect for any busy person or family-on-the-go!
Whether it's a brisk Fall or Spring Day, or the dead of winter, having a nice hot meal ready when you get home is heaven-sent. Especially on those days packed full of errands, kid's sports, or a rough day at the office.
Jump to:
We've rounded up some of the best crockpot soup recipes. These delicious recipes are easy to prep, throw in the crockpot, and forget about it until dinner time!
They are sure to give you warm and fuzzy feelings like a warm blanket on a cold, rainy day just like any great comfort food!
1. Beef Bourguignon
Beef bourguignon is one of the heartiest beef stews that you could ever make or have the pleasure of eating! Making this lovingly slow-cooked soup or stew in a slow cooker or crockpot just makes complete sense!
Tender pieces of beef are combined with potatoes, carrots, and pearl onions in a rich and savory broth that is sure to please the entire family. Of all the possible crock pot soup recipes that you could make, I have to say this would be my top pick!
2. Beef Stew
Nothing is as wonderful as a classic beef stew, except one that you set in the morning then return to a ready-to-serve stew in the evening! This crockpot beef stew is just as hearty, filling, and stick-to-your-ribs good as any recipe!
The slow cooked stew means that your delicious broth is rich and flavor-packed. It's the perfect base for tender beef and veggies!
3. Three Bean and Beef Chili
Not a soup, not a stew, but definitely in the right place! A rich and delicious crock pot chili just had to be in the list! This classic 3 bean chili is a true crowd-pleaser too!
Serve your chili over rice, corn chips, hot dogs, and more! Or on its own with shredded cheese and a dollop of sour cream. Either way, crackers or cornbread will also be necessary!
4. Chicken and Dumplings
One of my childhood favorites! This is my comfort food and the only chicken soup that I want when I'm feeling under the weather. ❤️
The tender dumplings are the perfect topping and contrast to the rich chicken soup. Loaded with a great assortment of tender vegetables, that are easy to customize to your favorites (or to use up what's in the freezer and pantry!).
5. Loaded Baked Potato Soup
This is comfort soup at its best. Loaded with potatoes, cheese, and bacon, this soup is the classic loaded baked potato taken to the next level.
This soup is luxuriously creamy with soft potato bites and will have you going back for seconds. Top your bowl with some freshly grated cheddar cheese and enjoy!
6. Sausage, Spinach, and White Bean Soup
This soup utilizes Andouille sausage to give it extra flavor. A hearty, healthy soup that develops its flavors with vegetables, broth, and seasonings. A guilt-free pleasure for your taste buds!
7. Butternut Squash Soup
Attention all pumpkin spice fans. This is the soup you'll want to eat on repeat during the fall months. The flavors of the squash with cinnamon and nutmeg are what all pumpkin season lovers wait months for every year.
The coconut milk in this recipe helps give the butternut soup its smooth, creamy texture.
8. Crock Pot Mexican Corn Chicken Soup
In the mood for Mexican Food? In the mood for soup? This dish has you covered. As its name suggests, it's got chicken and corn in it, but that's not all.
The fire-roasted green chilis, black beans, seasonings, and Monterey jack cheese give this soup a little kick and tons of flavor. This delightful dish will satisfy that craving for both Mexican food and soup.
9. Broccoli Cheese Soup
This classic is a soup lover's favorite. No need to go to a restaurant when you can easily make it home.
It's creamy, dreamy, and delicious! The quintessential fix-it and forget-it recipe. The chicken broth and cream used in this recipe help the cheese melt down into the creamy cheesy consistency this soup is known for.
10. Vegetable Barley Soup
How many times were you told to eat your vegetables when you were growing up? I'm guessing a lot! The great thing about this soup is that it is versatile.
Don't like certain vegetables? Easy, swap it out for something you do like. It uses beef broth & seasonings to give it a nice, rich flavor.
This soup is hearty, full of delicious, fresh vegetables, and good for you. You can tell mom you ate your veggies!
11. Zuppa Toscano
This classic Italian soup is a favorite. You have likely seen it on more than one Italian restaurant's menu. It is also a hearty, creamy soup full of flavor.
The Italian sausage used in this recipe along with the kale gives it an extra layer of flavor. You can add crushed red pepper for a kick too.
All in all, this is a one-pot meal that will please any soup lover's taste buds.
12. Seafood Stew
This one is for all you seafood lovers out there. This stew is a gorgeous pairing of scallops, large shrimp, and crab legs.
They all go in a simmering broth full of seasonings, onion, garlic, and baby potatoes. The pinch of cayenne added gives it a touch of extra flavor.
13. Slow Cooker French Onion Soup
Another classic soup made easy with the slow cooker. You don't even need to be an onion lover to love this soup.
The butter and brown sugar are used to give it a sweetness and the fresh thyme and bay leaves add to the flavor profile. Before serving, the fun part is topping the soup with cheese and bread and throwing it under the broiler.
Once the cheese has melted and the bread is toasted, it's time to dig in!
14. Creamy Ham and Potato Soup
The name says it all! Tender pieces of perfectly cooked potatoes are slightly mashed in this creamy soup with diced, cooked ham.
Add a few vegetables for flavor, just the right amount of seasoning, and you have a winning dinner that everyone will love!
15. Creamy Tomato Basil Soup
This soup is an absolute favorite for kids and adults alike. It's your traditional tomato soup's rich aunt. You don't even need to be a soup lover to love this soup.
The sweetness from the tomatoes, the creaminess from the butter and cream, the punch of the basil, and the parmesan cheese all take this soup to the next level. I bet you'll have to make a grilled cheese sandwich to dip into this bowl of goodness.
16. Creamy Chicken and Mushroom Soup
This is a classic soup made easy with the fix-it and forget-it style. Mushroom lovers unite with this hearty and wonderful soup. A simple yet elegant soup that is full of mushrooms, chicken, and bursting with flavor.
17. Corn Chowder
Corn has been a staple in our diet across the world for thousands of years. It's no wonder we would make a lusciously rich soup out of it!
This chowder uses fire-roasted corn, potatoes, bacon, and a variety of other ingredients including chili peppers to give it an earthy, bold flavor.
18. Cheeseburger Soup
We Americans love our cheeseburgers so it's no wonder we would turn it into a soup. This slow cooker soup has the heartiness and indulgent flavors of our beloved classic.
Filled with ground beef, onion, cheese, and potatoes this soup won't disappoint. It's so good I bet you can't eat just one bowl!
19. Chicken Tortilla Soup
This classic soup is a favorite and on most restaurant menus. Although this soup has many ingredients, making it is simple since all you need to do is throw it all in the crockpot and let it do its thing!
With onion, garlic, enchilada sauce, cumin, chili powder, and many other flavors, this soup is better than your local restaurant. When you're ready to serve, squeeze some fresh lime and top with avocado and you'll be in soup heaven!
20. Crockpot White Chicken Chili
There are a lot of different ways to make chili (beans, no beans, etc.) depending on what region you live in. This spin on classic chili is a favorite at our house.
Using chicken, diced chiles, white beans, cumin, cayenne, and other ingredients, this chili has a nice kick to it without being too spicy. It's flavorful, hearty, and sure to be a new favorite!
Which one of these fantastic soups has a flavor combination that you're looking forward to trying next? Let us know in the comments below!
📖 Recipe Card