Quesadillas vs Mulitas vs Sincronizadas: A complete guide to the similarities and differences between these three tasty Mexican dishes! From ingredients to cooking methods, I cover everything you need to know! Keep reading to explore why you need to make each one!
Guide To Quesadillas, Mulitas, and Sincronizadas
Mexican cuisine is known for its rich and diverse flavors, and among its most popular dishes are quesadillas, mulitas, and sincronizadas! These three tasty dishes all feature tortillas and cheese as their main ingredients, but they are prepared and presented in slightly different ways.
In this ultimate guide, I will explore the similarities and differences between them to help you better understand these delicious Mexican dishes! No matter which one you choose to make, you are sure to satisfy your Mexican-food cravings!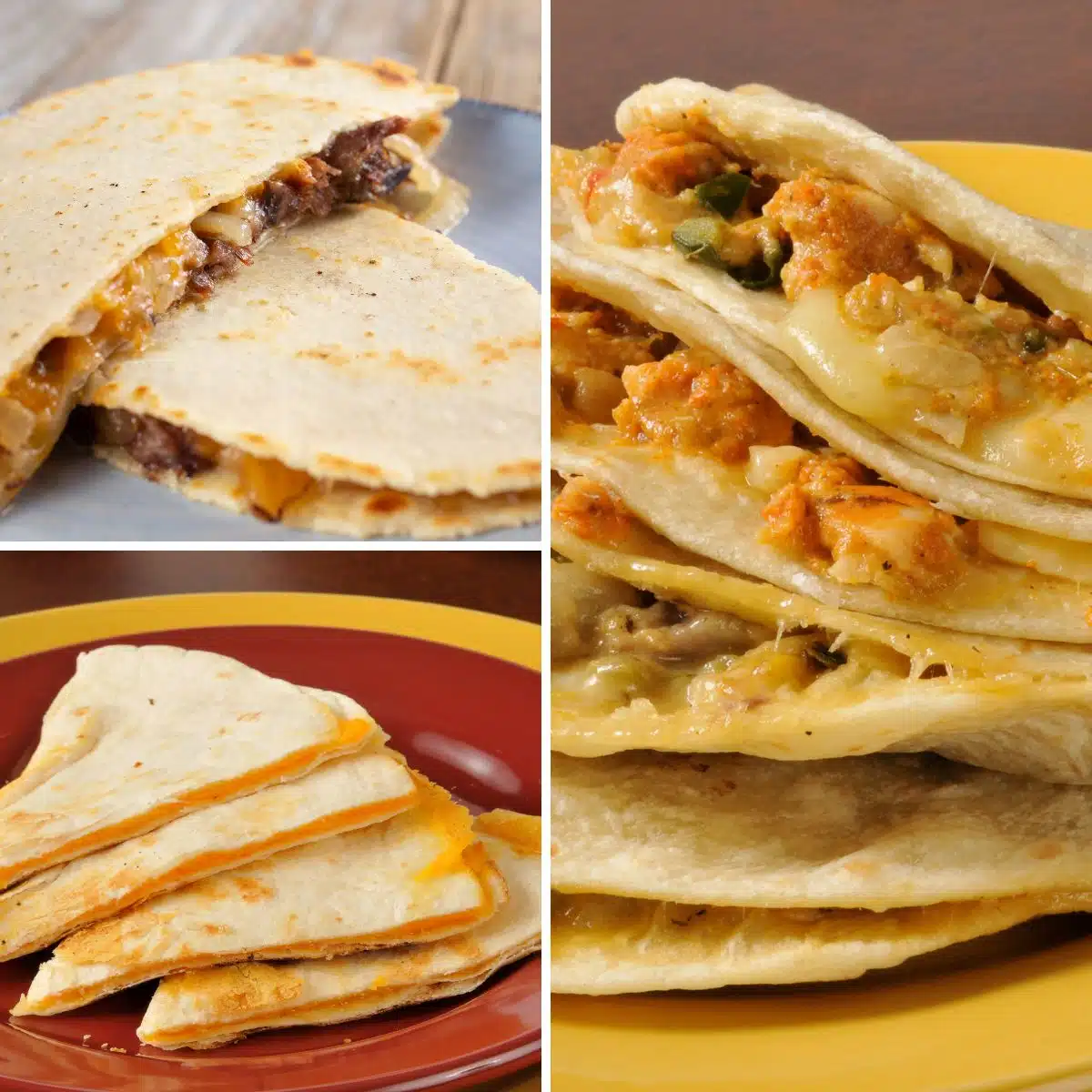 Jump to:
What Are Quesadillas?
Quesadillas are perhaps the most well-known of the three dishes! Traditionally, Mexican quesadillas are made with a single tortilla made from masa (corn dough) filled with a small amount of cheese, then cooked on a comal (a flat griddle). The cheese used in quesadillas is usually Oaxaca, asadero, manchego, or Chihuahua cheese.
In contrast, American quesadillas are often made with a flour tortilla and include other ingredients like chicken, beef, peppers, onions, and various kinds of cheese like cheddar and Monterey Jack. Also, a larger amount of cheese is used and you'll often see them made with two tortillas rather than one.
How To Make Quesadillas
A corn or flour tortilla is lightly covered with cheese on one side then it's folded in half to form a half-moon shape. Then the quesadilla is cooked on a griddle or in a pan until the cheese is melted. Quesadillas are served hot with salsa, sour cream, guacamole, or chopped cilantro.
What Are Mulitas
Mulitas are a delicious and popular Mexican snack that originated in the northern state of Sonora. They are similar to quesadillas but with one specific requirement that sets them apart. A quesadilla turns into a mulita when meat is added to the filling!
How To Make Mulitas
Mulitas are made by sandwiching two tortillas together (instead of one) with cheese and other fillings in between. Then they are fried in oil until the cheese is melted and the tortillas are crispy.
The fillings in mulitas can vary depending on personal taste, but they often include carne asada, chicken, pork, or even chorizo. The meat is typically seasoned with a blend of spices, including cumin, chili powder, and garlic, to give the meat a bold and flavorful taste!
In addition to meat, mulitas can also be filled with beans, vegetables, and different types of cheese. They are often served with salsa, guacamole, or other toppings, such as chopped onions, cilantro, and lime wedges.
>>>>See all of my recipes HERE<<<<
What Are Sincronizadas
Sincronizadas are essentially a type of quesadilla, but with a few key differences from the more traditional version of the dish. A true sincronizada is made with ham and cheese.
While quesadillas usually only have a small amount of cheese, sincronizadas are stuffed to the brim with a variety of ingredients, such as ham and cheese (most popular), chorizo, mushrooms, and jalapenos. This makes them a heartier and more satisfying meal than a simple quesadilla.
Another difference between sincronizadas and quesadillas is their size. Sincronizadas are larger than quesadillas and are cut into quarters or eighths before serving. This makes them a great option for sharing with friends or family.
How To Make Sincronizadas
Instead of using a single tortilla, sincronizadas are made with two and are prepared more like a sandwich. Most of them are made with flour tortillas, but corn tortillas can be used as well.
They are typically made by placing ham, vegetables (tomatoes, lettuce, onion), and Oaxaca cheese in between two flour tortillas, then the sincronizada is grilled until the cheese melts and the tortillas turn slightly crispy.
Sincronizadas are usually served with pico de gallo, guacamole, and sour cream. These toppings add extra flavor and texture to the dish and help balance out the richness of the cheese and fillings.
Quesadillas vs Mulitas vs Sincronizadas: Key Similarities & Differences
Quesadillas, mulitas, and sincronizadas are three popular Mexican dishes that share some similarities but also have significant differences. One key similarity between these dishes is that they are all made with tortillas and cheese.
Quesadillas are the most well-known, but the most simple with only just cheese. Mulitas and sincronizadas, on the other hand, are filled with a lot more ingredients, usually including meat. Sincronizadas are considered a cross between a quesadilla and a sandwich. Mulitas are fried in oil, but quesadillas and sincronizadas are cooked on a griddle.
Whether you prefer the classic cheese-filled quesadilla or the heartier mulita or sincronizadas, you will surely enjoy the flavors and textures of these delicious dishes.
Now that you know all of the differences and similarities between quesadillas, mulitas, and sincronizadas, have you made any of them before? If so, which one is your favorite? Leave a comment down below to let me know!
😋 Tasty Mexican Recipes
Do you love a recipe you tried? Please leave a 5-star 🌟rating in the recipe card below and/or a review in the comments section further down the page.
Stay in touch with me through social media @ Pinterest, Facebook, Instagram, or Twitter! Subscribe to the newsletter today (no spam, I promise)! Don't forget to tag me when you try one of my recipes!
📋 Recipe
Print Recipe
Leave A Comment
Love This Recipe?
Click On A Star To Rate It!
Quesadillas vs Mulitas vs Sincronizadas (The Complete Guide): Steak Quesadillas
Quesadillas vs Mulitas vs Sincronizadas: A complete guide to the similarities and differences between these three tasty Mexican dishes! From ingredients to cooking methods, I cover everything you need to know! Keep reading to explore why you need to make each one!
Pin Recipe
Share on Facebook
Ingredients
1

tablespoon

olive oil

(extra virgin)

1

lb

skirt steak

(or flank steak, diced into bite-sized pieces)

1

tablespoon

beef taco seasoning

8

large

flour tortillas

1

cup

Mexican cheese blend

(shredded)
Instructions
Heat 1 tablespoon of olive oil in a large skillet over medium-high heat.

Add the diced steak and beef taco seasoning to the hot skillet and toss to fully coat the steak. Cook the steak until all sides are nicely browned, then transfer to a plate or cutting board and wipe out your pan.

1 lb skirt steak,

1 tablespoon beef taco seasoning

Add a little more olive oil to the pan and place one tortilla in the center. Top the tortilla with ¼ of the diced steak and ¼ of the shredded cheese then place a second tortilla on top and use your spatula to gently press it down.

8 large flour tortillas,

1 cup Mexican cheese blend

Cook your steak quesadilla until the tortillas have browned and the cheese is melted inside (about 3-4 minutes per side). Repeat this same process with each quesadilla.

Slice each quesadilla into wedges if desired and serve immediately.
Equipment You May Need
Notes
If you'd like to add some veggies, saute some sliced bell peppers and onions before assembling your quesadillas!
For spicier quesadillas, you can add a pinch of crushed red pepper flakes to the beef taco seasoning.
I prefer using 2 tortillas for my quesadillas, but you could also use 1 tortilla and fold it in half after adding the steak and cheese (you will want to use ⅛ of the meat and cheese per tortilla). 
To store: Let the quesadillas cool then place them in an airtight container and refrigerate them for up to 4 days. You can also place them in a heavy-duty freezer bag with the air squeezed out and freeze them for up to 3 months.
To reheat: For the crispiest quesadillas, reheat them in the air fryer at 350°F (175°C) for 3-4 minutes. You can also reheat them in the oven at 350°F (175°C) for about 10 minutes. Microwave reheating is possible, but the quesadillas won't retain their crispness. Simply place stacked quesadilla slices on a plate and heat in 30-second increments until warmed to your satisfaction.
Nutrition
Calories:
445
kcal
(22%)
|
Carbohydrates:
30
g
(10%)
|
Protein:
36
g
(72%)
|
Fat:
19
g
(29%)
|
Saturated Fat:
8
g
(50%)
|
Polyunsaturated Fat:
2
g
|
Monounsaturated Fat:
7
g
|
Trans Fat:
0.01
g
|
Cholesterol:
99
mg
(33%)
|
Sodium:
794
mg
(35%)
|
Potassium:
518
mg
(15%)
|
Fiber:
2
g
(8%)
|
Sugar:
3
g
(3%)
|
Vitamin A:
277
IU
(6%)
|
Vitamin C:
2
mg
(2%)
|
Calcium:
278
mg
(28%)
|
Iron:
3
mg
(17%)
difference between Quesadillas vs Mulitas vs Sincronizadas, Quesadillas vs Mulitas vs Sincronizadas, steak quesadillas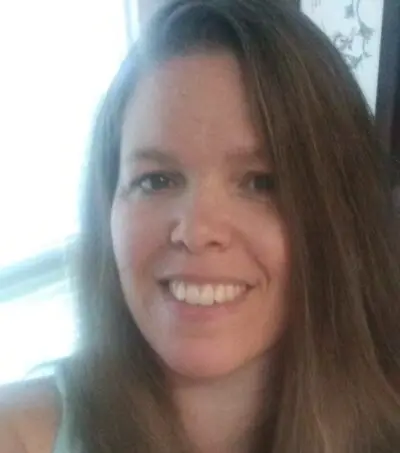 Angela is an at home chef that developed a passion for all things cooking and baking at a young age in her Grandma's kitchen. After many years in the food service industry, she now enjoys sharing all of her family favorite recipes and creating tasty dinner and amazing dessert recipes here at Bake It With Love!