These Traditional Yorkshire Puddings are such a treat, they are more than just a dinner roll as they are truly a show-stopping basket of goodies to indulge in! Even though I serve these up traditionally at holiday meals, I always think to myself that they would be oh so wonderful as a part of breakfast.
The only problem is, there is never any leftover for the following morning!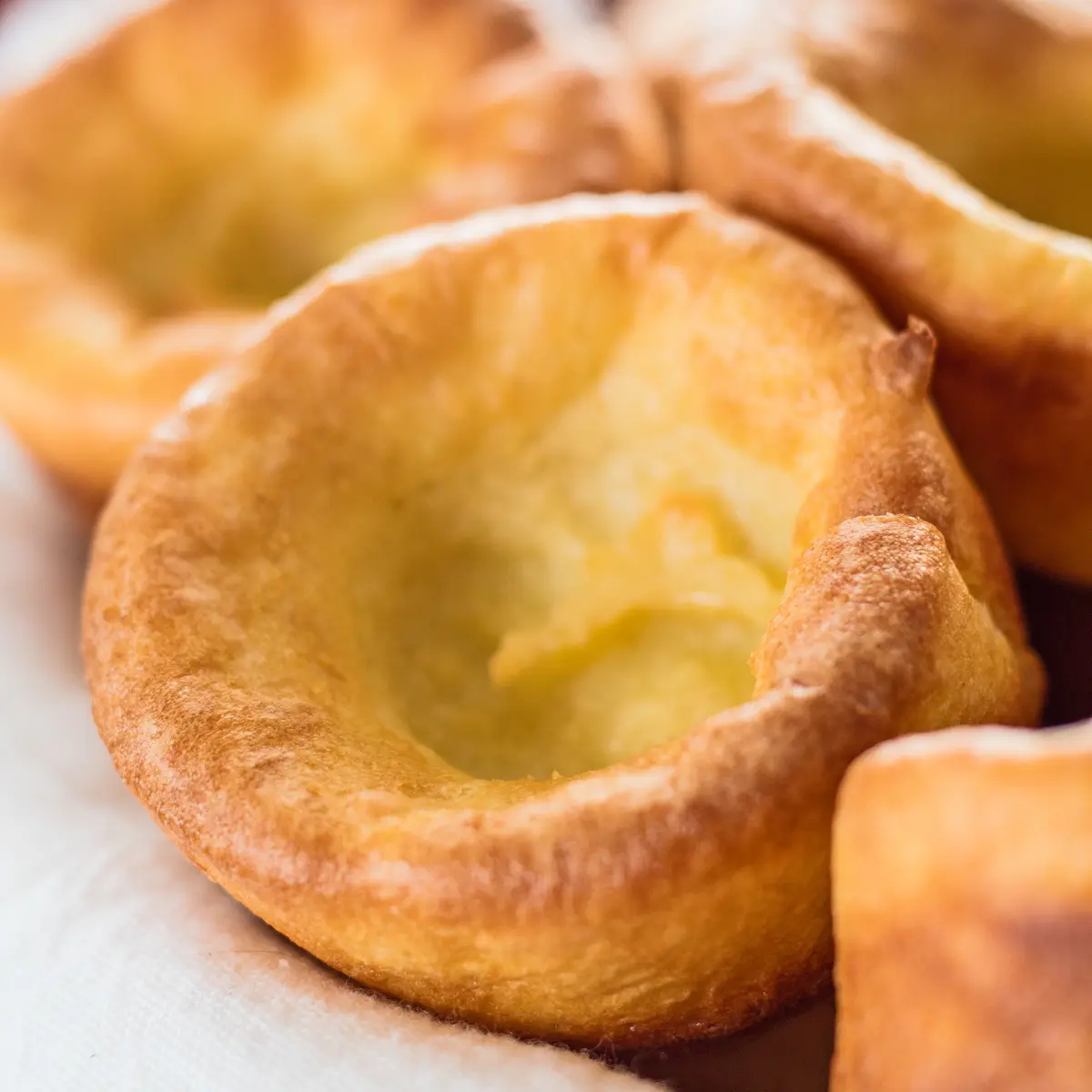 My best and easiest no-fail Yorkshire puddings recipe that'll have you hooked for life!
Of course, these delicious egg-based rolls are something that I was inspired to try a long time ago in my early years of watching Chef Gordon Ramsay. The towering British popovers looked amazing and they were just something I knew I'd love!
I have perfected Gordon Ramsay's Yorkshire Puddings and just love to make them whenever I serve up a prime rib or roast beef! Plus, the kids have always been absolutely entertained watching these bake up in the oven.
Jump to:
Just when you think nothing is really happening, the batter comes together, and all of a sudden they are higher than the baking pan!!
You can use drippings from your prime rib roast (in the muffin pan) but vegetable oil works just as well. The most important thing is to leave your oven door closed until you are sure that the Yorkshire Puddings are ready.
❤️ Why You'll Love This Recipe!
They're Impressive! Since these Yorkshire puddiings are not the average dinner roll, your family and friends will easily be impressed when you serve these up with any meal!
So Tasty! The righ eggy batter is flavor-packed and amazingly delicious!
Fun To Make! Other than being extremely careful when handling the hot pan and oil, the kids in your family will love watching the puddings to see how big they can get! Additionally, you can stuff the center of the rolls with mashed potatoes, gravy, etc.!
🥘 Ingredients
5 ingredients and you're on your way to baking up these tasty dinner rolls! There's absolutely nothing special needed to make Yorkshire puddings!
All-Purpose Flour - The bulk of your puddings and what gives them texture (along with the eggs).
Salt - The touch of salt adds flavor to all bread recipes, and highlights the richness of the eggs.
Eggs - And lots of them! The eggs are what makes these delicious bread rolls so darn yummy! (See my tips & notes section below about adding an extra egg white too!)
Drippings or Oil - Use the drippings from your roast to line each muffin tin cavity or your popover tins. If not using the drippings, melted lard or vegetable oil works too. (See my tips & notes section below on the best oils to use.)
Milk - I like lowfat, skim, 1% or 2% milk for getting beautiful Yorkshire puddings.
🔪 Step-by-Step Instructions
Perfect Yorkshire puddings are about as easy as they can be! There are quite a few tricks noted below, but the basics shared here are my no-fail recipe!
Whisk. In a large mixing bowl, whisk together 1 ¾ cup all-purpose flour and 1 pinch of salt to distribute the salt through the flour.
Add and combine. Make a well in the center of the flour and add the 4 large eggs, 1 ½ tablespoons of drippings, plus ½ of the milk portion (¾ cup). Mix until all of the flour is moistened and you have a slightly lumpy batter.
Whisk until smooth. Add the remaining portion of milk and whisk until the batter is smooth. Leave the batter at room temperature and allow it to rest for a minumim of 15 minutes, preferably 30 minutes or overnight.
Preheat. While the batter is either resting or returning to room temperature, preheat your oven to 450°F (232°C). Portion out drippings, melted lard, or vegetable oil into the muffin tin or popover tins then place the pan into the oven as it preheats. *Once the oil is smoking, it's ready to add your batter to.
Portion and bake. Whisk the batter before portioning into the muffin or popover tins, filling each tin ¾ full with batter. Bake the Yorkshire puddings for 10-15 minutes until fluffy and golden. *Do not open your oven door until the puddings are done! If you do have to, be sure that you're extra gentle!
Serve. Remove from the oven when done and serve immediately.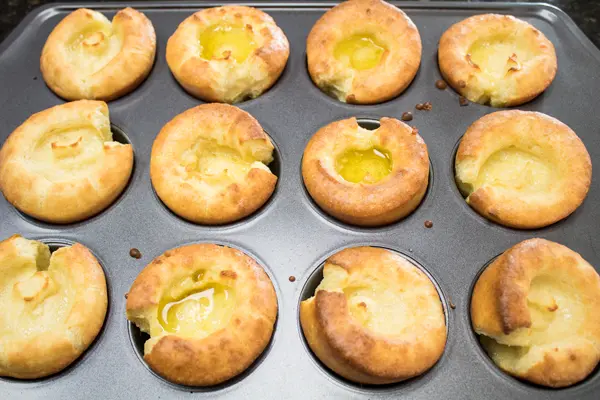 Wrap the baked Yorkshire puddings in a kitchen towel if waiting to serve them with your meal. These tasty popovers are the BEST EVER dinner roll to enjoy with any Sunday roast or holiday meal. Enjoy!
Be sure to check out my 'What to Serve with Prime Rib' page for more perfect appetizers, sides, and desserts for your holiday dinner!
My British Christmas Cake is another wonderful part of any Christmas dinner!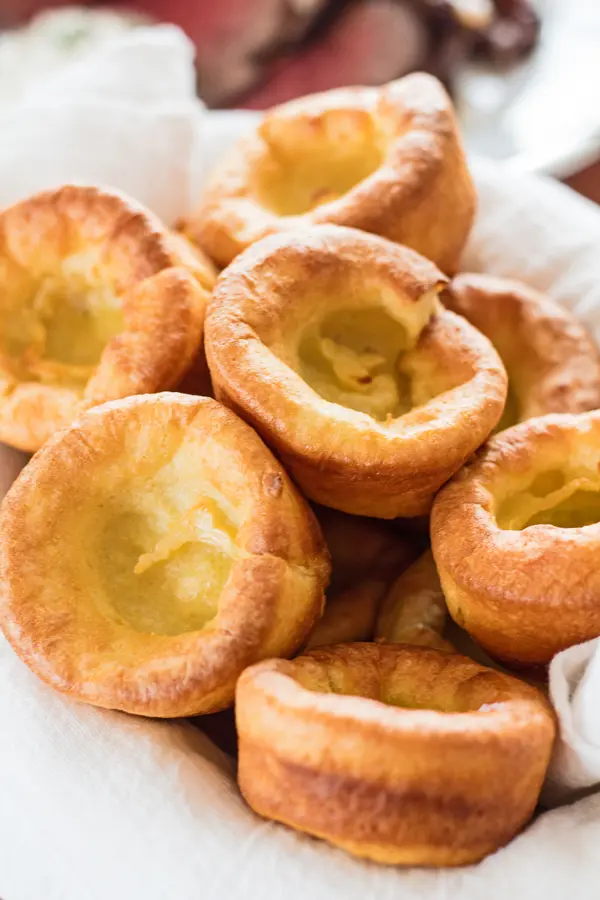 💭 Angela's Tips & Recipe Notes
Add a bit of water to make the popovers crispier on the outside and taller too.
Add 1 ½ tablespoons water in your measuring cup then top it off to 1 ½ cups total liquid (with the milk).
Want some sky-scraping popovers? Add an extra egg white!
The added egg white makes the popovers lighter and airier. This not only makes the texture superb, but also adds extra height.
If possible, and you've planned ahead, the best Yorkshire puddings result from a batter that has been rested.
Resting your batter overnight will yield tastier popovers or puddings.
If baking your Yorkshire puddings now, rest the batter for at least 15 minutes but preferably 30 minutes.
Bring your batter to room temperature before baking.
Room temperature batter bakes faster and more evenly, and will allow the Yorkshire puddings to rise to impressive heights.
If mixing and baking right away, use room temperature eggs and milk to get this same effect.
Stir before portioning.
Whether you've rested your batter overnight, or for the minimum suggested time of 15-30 minutes, giving the batter a quick stir before baking helps to ensure perfect Yorkshire puddings.
Use a high-heat fat (if not using the beef drippings).
As much as I love olive oil, it's not the best oil to use here. Oils with high smoke points like canola oil, sunflower oil, peanut oil, or safflower oil would be better options.
🥡 Storing
Store any leftover Yorkshire puddings in an airtight container and they will keep in the refrigerator for up to 2 days. Or, freeze the popovers in a freezer storage container for up to a month.
Do you love a recipe you tried? Please leave a 5-star 🌟rating in the recipe card below and/or a review in the comments section further down the page.

Stay in touch with me through social media @ Pinterest, Facebook, Instagram, or Twitter! Don't forget to tag me when you try one of my recipes!
📋 Recipe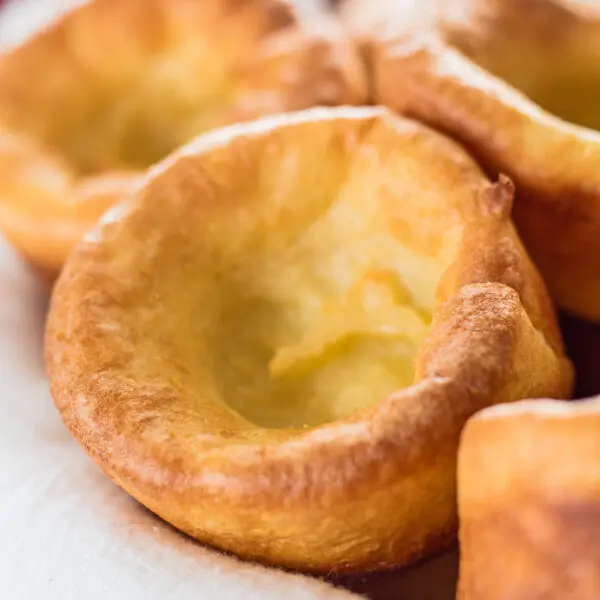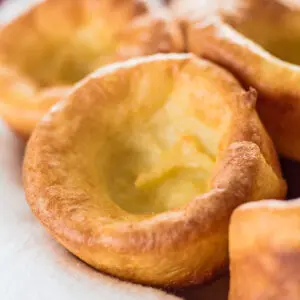 Print Recipe
Leave A Comment
Love This Recipe?
Click On A Star To Rate It!
Traditional Yorkshire Puddings
These Traditional Yorkshire Puddings are such a treat, they are more than just a dinner roll as they are truly a show-stopping basket of goodies to indulge in! Even though I serve these up traditionally at holiday meals, I always think to myself that they would be oh so wonderful as a part of breakfast. The only problem is, there is never any left over for the following morning!
Pin Recipe
Share on Facebook
Ingredients
1 ¾

cup

all-purpose flour

1

pinch

salt

4

large

eggs

(beaten)

1 ½

tablespoon

drippings

(plus drippings or vegetable oil for muffin pan)

1 ½

cups

milk

(10 fl oz - divided into two portions of ¾ cup each)
Instructions
In a medium to large mixing bowl, mix the all-purpose flour and salt and form a well in the center of the bowl.

1 ¾ cup all-purpose flour,

1 pinch salt

Add the eggs, drippings, and half of the milk. Combine until smooth but somewhat lumpy.

4 large eggs,

1 ½ tablespoon drippings,

1 ½ cups milk

Add the remaining milk and whisk until smooth. Allow the batter to rest for 30 minutes.

While the batter is resting, preheat your oven to 450 degrees F (232 degrees C). Place a spoonful of oil in each of the pan molds, enough to cover the bottom of each mold then place the pan in the preheating oven to heat the oil. Once the oil starts to smoke, it is ready to have the batter added.

Whisk the batter again, then fill each baking pan mold ¾ full with the batter and bake 10-15 minutes (start checking at 10 minutes). Open the oven gently until completely cooked, if you need to open it prior to the Yorkshire Puddings being fully baked. Once done, remove from your baking pan and serve immediately.
Nutrition
Calories:
130
kcal
(7%)
|
Carbohydrates:
16
g
(5%)
|
Protein:
5
g
(10%)
|
Fat:
45
g
(69%)
|
Saturated Fat:
15
g
(94%)
|
Cholesterol:
75
mg
(25%)
|
Sodium:
80
mg
(3%)
|
Potassium:
110
mg
(3%)
|
Sugar:
2
g
(2%)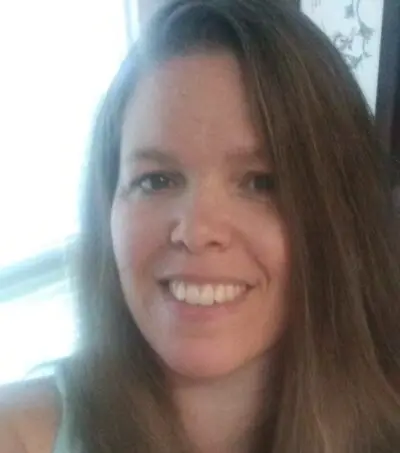 Angela is an at home chef that developed a passion for all things cooking and baking at a young age in her Grandma's kitchen. After many years in the food service industry, she now enjoys sharing all of her family favorite recipes and creating tasty dinner and amazing dessert recipes here at Bake It With Love!