Traditional British Christmas Cake is served throughout England during the Christmas season, and is the origin for our traditional fruit cake enjoyed throughout the States!
There's something amazing about the warm spices, citrus and soaked fruit in a Christmas Cake that combine with the marzipan and royal icing to make a cake that can become such a long standing tradition.
Traditional British Christmas Cake Recipe
These cakes are so popular in England, that a not-so-great sales year lamented only $40M in sales (2015)! Another amazing thing about the Traditional British Christmas Cake, is that it is usually made several months in advance. Talk about the planning...and that is definitely some love that goes into baking this holiday masterpiece!!
Ideally, you would start your Traditional British Christmas Cake several months (2-3 months) in advance, but I have included notes for quick versions in the recipe instructions. Likewise, decorating your baked Christmas Cake can be as quick as coating it with apricot preserves and dusting with confectioners sugar once cooled!
Don't let the lengthy instructions put you off on trying your hand at this Christmas tradition! The steps are simple; soak your fruit, make your batter, bake the cake, and decorate.
Traditional British Christmas Cake Ingredients
Soaked Fruit - (currants, sultanas, raising, glace cherries plus brandy or sherry - or use orange juice)
Cake batter - (butter, brown sugar, eggs, molasses, almonds, zest from a large orange and large lemon, all-purpose flour, and British Mixed Spice Blend)
Covering - (apricot preserves, warm water, and marzipan)
Royal Icing - (egg whites, confectioners sugar, cream of tartar, and fresh lemon juice)
*Note that I have made this Traditional British Christmas Cake in all three methods, the longer brandy-feeding version with both marzipan and royal icing. Soaking the fruit overnight (I also use orange juice as a liquor alternative) - and then either a) dusting with confectioners sugar or b) applying the marzipan covering and frosting with royal icing. All three versions are a delightful treat with amazing flavor!!
Traditional British Christmas Cake
Traditional British Christmas Cake is a beloved Christmas season baking treat in England.
Ingredients
Traditional British Christmas Cake
3

c

dried currants

2 ½

c

sultanas

(golden raisins)

1 ½

c

raisins

2 ½

c

glace cherries

(red or a combination of red & green candied cherries)

½

c

brandy or sherry

(+ more for feeding the Christmas cake - use orange juice to cover fruit completely for soaking overnight, if desired)

1 ¼

c

butter

(salted - softened, at room temperature)

1 ¼

c

light brown sugar

4

large

eggs

(room temperature)

1

Tbsp

molasses

3

oz

almonds

(chopped)

1

zest from one large orange

1

zest from one large lemon

2 ¼

c

all-purpose flour

2

tsp

British mixed spice blend

(see recipe)
Covering
2

Tbsp

apricot preserves

1

Tbsp

warm water

1 ½

lb

marzipan
Royal Icing
3

large

egg whites

(use the best, fresh eggs available)

6

c

confectioners sugar

(sifted)

¼

tsp

cream of tartar

(sifted w confectioners sugar)

1

Tbsp

lemon juice of half a large lemon

(fresh, squeezed)
Instructions
Traditional British Christmas Cake
In a medium bowl, combine all of the fruit (after rinsing). Pour brandy or sherry over, and top off with additional orange juice if desired. Cover with plastic wrap and allow to soak overnight (at least) and preferably for 2 to 3 days, stirring daily.

Preheat your oven to 275 degrees F (135 degrees C) and line a 9 inch round pan (springform or cake pan, with at least 2 inch high sides) with a double layer of parchment paper. *Cut out two rounds of parchment paper, place in the bottom of pan. Cut two long strips from parchment paper about the same width as your baking pan is in height and fit both layers on the inside rim of your baking pan.

In a very large mixing bowl, preferably one that fits a stand mixer, cream the butter and brown sugar together until light, fluffy, and light in color. Add eggs, molasses, add orange and lemon zest, and mixed spice. Mix until well combined.

Add four and mix until flour is incorporated, then fold in fruit mixture (soaked and drained). Transfer batter to lined cake pan, level the top of the batter with a slightly concave surface to prevent the cake from forming a small dome.

Bake at 275 degrees F (135 degrees C) in the center of oven, for about 4 to 4 ½ hours. Check the cake half way through baking to see how the top of the cake looks, cover with aluminum foil to prevent burning, if necessary. Cake is done when an inserted skewer comes out clean.

Remove the cake and allow to cool on a wire rack in the cake pan until cooled. Once cooled, remove from the pan and allow to cool completely on the wire rack. Before storing, use a fine skewer to poke holes intermittently throughout the cake surface to feed brandy or sherry (2 - 3 Tbsp at a time) to the cake.

Cover with a double layer of parchment paper, then wrap in aluminum foil to store in a cool place until reedy to cover and apply icing before serving (up to 3 months for feeding the brandy or sherry to the cake). *Keep the parchment paper in place between feedings, as it will help to keep the cake moist.

When ready to serve the cake, allow three days to cover with marzipan (similar to fondant, made using almond paste) and apply the royal icing.
Covering your Traditional British Christmas Cake
To cover the Christmas Cake, turn the cake upside down so that the flat side up is facing upward. Combine the apricot preserves and warm water, stir to thin and sieve through a fine sieve or cheesecloth. Use the remaining mix to coat the bottom and sides of the cake.

Use confectioners sugar to coat a working surface and roll out marzipan with 2 additional inches than the cake width (9 inch baking pan + 2 inches to cover the cake sides).

Roll marzipan layer up on your rolling pin and transfer to cover the cake. Use your rolling pin to level and smooth the top of the cake and marzipan, then work to smooth the sides of the cake. Your marzipan should cover the cake completely, use a sharp knife to trim any excess marzipan away from the bottom of the covered cake.

Cover the cake again with parchment paper and allow the marzipan to set up (it will dry out a bit) for a few days before spreading the royal icing and finishing the cake decorating.
Royal Icing
Using a large bowl, or the bowl of your stand mixer, whisk the egg whites until frothy and foamy. Add sifted confectioners sugar with cream of tartar to the whisked egg whites gradually, adding 1-2 Tbsp at a time on a low setting.

While still on a low speed, drizzle in the lemon juice and then beat until stiff peaks are formed and you have a thick and glossy royal icing.

Transfer royal icing to the top of your Christmas Cake and spread out over the surface and sides evenly if desired, or use an offset spatula to form roughed up peaks for a textured finish.

Allow the royal icing to form a skin (will not transfer to your finger when touched), then cover loosely with plastic wrap until ready to serve. *I like candied orange peel added to my mixed spice blend, and that is what is used here on my Christmas Cake for garnish.
Notes
*For a quick version, soak fruit overnight and follow the cake baking instructions. Allow cake to cool in baking pan, then transfer cake to wire rack to cool completely. Coat with apricot preserves and either dust the top with confectioners sugar (and serve) or spread royal icing and serve in a few hours after the icing has set up. **The cake pictured here is made the day after soaking the fruit and skipping the marzipan layer, for a faster version. It still tastes incredible but will lack the texture from the time spent feeding the cake brandy or sherry.
Nutrition
Calories:
675
kcal
|
Carbohydrates:
150
g
|
Protein:
11
g
|
Fat:
27
g
|
Saturated Fat:
10
g
|
Cholesterol:
81
mg
|
Sodium:
167
mg
|
Potassium:
690
mg
|
Fiber:
6
g
|
Sugar:
110
g
|
Vitamin A:
489
IU
|
Vitamin C:
3
mg
|
Calcium:
98
mg
|
Iron:
3
mg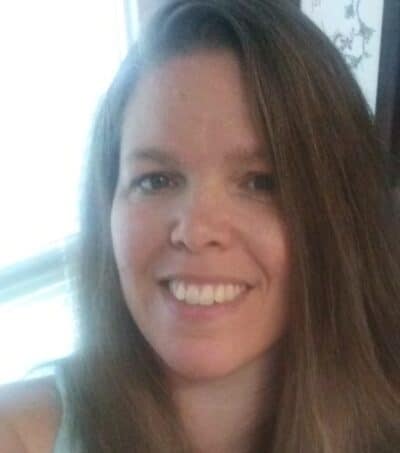 Angela is an at home chef that developed a passion for all things cooking and baking at a young age in her Grandma's kitchen. After many years in the food service industry, she now enjoys sharing all of her family favorite recipes and creating tasty dinner and amazing dessert recipes here at Bake It With Love!