Summer Sunday dinners are a time to gather together with loved ones and enjoy a flavorful home-cooked meal. We've put together a list of the best dinner recipes to share with your family and friends this summer. Whether you are looking for summer Sunday dinners that are quick and easy or a good reason to fire up the grill, you will find it all here!
The Best Summer Dinner Recipes
My favorite day of the week is definitely Sunday when my whole family gets together and we enjoy a homemade Sunday dinner. Sunday dinners are always made with love and feature lots of delicious flavors!
In this article, we are going to teach you how to make plenty of yummy Sunday dinner recipes that you will be excited to share with your friends and family!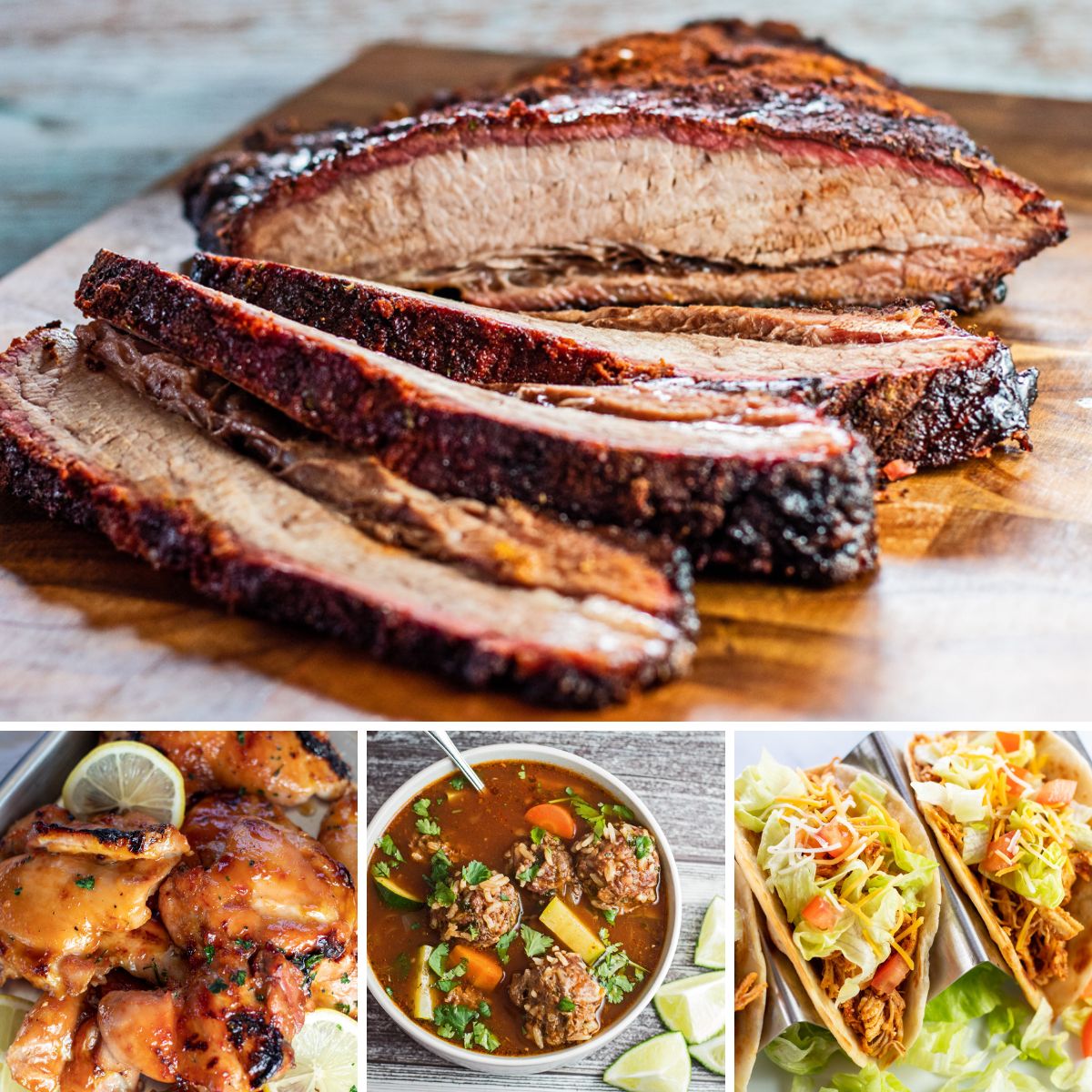 Jump to:
1. Cajun Seafood Boil
First on our list is a delicious Cajun seafood boil! This seafood boil is made with gulf shrimp, crayfish, smoked sausage, corn, and potatoes!
It will be a hit at your next Sunday dinner party!
2. Pan-Seared Cowboy Ribeye
If you want your Sunday dinner to be fit for a king, then you have to try this pan-seared cowboy ribeye! This ribeye is prepared with fresh herbs and garlic, which will have your mouth watering!
3. Baked Eggplant Parmesan
For anyone who wants their Sunday dinner to accommodate everyone, or maybe you or one of your loved ones are a vegetarian, this eggplant parmigiana recipe is a must-try! It's lighter than chicken Parmesan, but equally as tasty!
4. Shrimp Enchiladas
Shrimp enchiladas are savory and perfect for a big crowd! These shrimp enchiladas are made with juicy tomatoes, fresh cilantro, sweet corn, white onion, green chilies, and gooey cheddar cheese!
5. Swedish Meatballs
If you want your Sunday dinner to impress your guests, then you need to make them our Swedish meatball recipe! Classic Swedish meatballs are made with ground beef, nutmeg, garlic, allspice, and onion!
6. Cream Cheese Chicken
I don't know about you, but I love a Sunday dinner that is creamy and packed with delicious spices. This cream cheese chicken recipe is just that and more!
7. Sheet Pan Steak Fajitas
No need to take everyone out to dinner this Sunday because you can serve them restaurant-style cuisine straight from your kitchen!
Tasty sheet pan steak fajitas are made with flank steak, sliced onions, bell peppers, and delicious spices and they are so easy!
8. Stuffed Green Bell Peppers
Growing up my mom used to always prepare stuffed green bell peppers for our Sunday dinners, and let's just say I always went back for a second helping!
These stuffed green bell peppers are made with ground beef, green bell peppers, white rice, onions, tomatoes, and cheddar cheese!
9. Seared Ahi Tuna Steaks
Do you want to serve your guests a gourmet meal this Sunday? Try our seared ahi tuna steak recipe and let the compliments roll in!
These ahi tuna steaks are made with soy sauce, sesame seeds, sugar, and Italian seasoning with a beautiful sear on the exterior!
10. Shrimp Scampi
Let's talk about shrimp scampi! This shrimp scampi is made with butter, white wine, lemon, Parmesan cheese, garlic, and olive oil.
Serve this at Sunday dinner, and all your guests will be lined up for more!
11. Spaghetti Bolognese
The first time I had spaghetti bolognese, I fell in love! This spaghetti bolognese recipe will have you falling in love, too!
It's made with garlic, tomato paste, crushed tomatoes, red wine, onion, celery, carrot, basil, oregano, and of course, spaghetti noodles!
12. Salmon in White Wine Sauce
Salmon is such a versatile fish, that is why it is perfect for Sunday dinner! This Sunday make salmon in white wine sauce to have all your guests in awe of your amazing chef skills!
This Salmon is prepared with white wine, chicken broth, heavy cream, lemon, and Parmesan cheese!
13. Mushroom Swiss Chicken
Mushroom Swiss chicken is a flavorful recipe that's perfect for Sunday dinners. It is prepared with white mushrooms, chicken breasts, garlic salt, and melted Swiss cheese!
14. Margherita Sheet Pan Pizza
Pizza? Did someone say pizza? Anytime there is pizza, I am totally indulging! And you will, too when you try this Margherita sheet pan pizza topped with fresh mozzarella and basil.
15. Slow Cooker Chicken Drumsticks
Slow cooker chicken drumsticks are just what Sunday dinner needs! These chicken drumsticks are flavored with bbq sauce and liquid smoke, your guest will be licking their fingers!
16. Prawn Risotto
Prawn risotto is a unique dish that will liven up your Sunday dinner! This prawn risotto is made with juicy and plump prawns, which will have all your guests satisfied and full!
17. Baked Huli Huli Chicken
Want to prepare your guests a dish that is fun to say and good to eat? Then try our baked Huli Huli chicken recipe!
The Hawaiian BBQ sauce is made with ketchup, brown sugar, soy sauce, pineapple juice, garlic, and ginger and it is a fun Hawaiian twist on BBQ chicken!
18. Albondigas Soup
Albondigas soup is savory and delicious. It is perfect for your next Sunday dinner with friends and family!
This albondigas soup is made with Mexican-style meatballs seasoned with oregano and cumin. It is warm and comforting.
19. Tuna Salad with Pasta
We all love pasta, so why not make this recipe for tuna salad with pasta for dinner this Sunday! This tuna salad with pasta combines tuna, mayonnaise, celery, peas, red onion, dill, and delicious bowtie pasta!
20. Lo Mein
I love lo mein. It's one of those dishes I can never turn down. Try our easy lo mein recipe and have your guests loving it just as much as I do!
Simply combine soy sauce, oyster sauce, cornstarch, mirin, and sesame oil and you will have incredible lo mein in less than 15 minutes.
21. Shredded Chicken Tacos
Shredded chicken tacos are a great way to break the ice at this Sunday's family dinner! These shredded chicken tacos are made with chicken breast, onion, garlic, olive oil, and chicken taco seasoning and it is so versatile!
22. Marinated Grilled Pork Chops
Have a little extra time to prepare this Sunday's feast? Then try these marinated grilled pork chops!
They are made with soy sauce, brown sugar, olive oil, Dijon mustard, Worcestershire sauce, garlic, onion, and pepper. Sere these and your guests will be in awe!
23. Baked BBQ Short Ribs
Baked BBQ short ribs are the perfect addition to Sunday dinner! They are moist and meaty with tons of flavor!
These BBQ short ribs are seasoned with BBQ sauce, brown sugar, liquid smoke, salt, and pepper. They will literally just fall off the bone they are so tender!
24. Grilled Chicken Fettuccine Alfredo
You can never go wrong with pasta dishes! This Sunday prepare your friends and family this grilled chicken fettuccine alfredo recipe!
It's made with fettuccine pasta, grilled chicken breast, and scrumptious homemade alfredo sauce. It is a guaranteed hit!
25. Salmon with Dill Sauce
Salmon with dill sauce is both classy and extremely easy to make! The dill pairs perfectly with pan-seared salmon for a flavorful, well-balanced dish that everyone will love.
26. Smoked Shrimp in Italian Meatballs
Do you want to really impress everyone this Sunday? Make this smoked shrimp in Italian meatballs recipe!
Odds are your guests have never had them and odds are even better that they will enjoy every bite!
27. Million Dollar Baked Chicken Breast
Do you have a million dollars? Me neither, but you can feel like a million bucks with this million-dollar baked chicken breast recipe!
This chicken is made with bacon, chicken breast, cream cheese, mayonnaise, mozzarella cheese, cheddar cheese, and green onions and it is out-of-this-world delicious!
28. Spanish Mussels
These Spanish mussels are a great choice for Sunday dinner! The flavorful sauce is made with onion, garlic, saffron, paprika, white wine, and clam juice!
29. Hawaiian Burger
Burgers are a summertime staple. They are filling and completely customizable!
This recipe for Hawaiian burgers is definitely a go-to for this Sunday's dinner! They are layered with pineapple, lettuce, provolone cheese, and teriyaki sauce.
30. Shrimp with Garlic Sauce
Do you want a Sunday dinner that will have everyone complimenting the chef? Try this shrimp with garlic sauce recipe!
It's made with garlic, chilies, snow peas, carrots, bell peppers, and fresh ginger and it is a quick and healthy meal!
31. Baked BBQ Baby Back Ribs
Baked BBQ baby back ribs are going to be your new favorite main course to make for summer Sunday dinners! These baby back ribs are smothered in BBQ sauce, pork rub, and liquid smoke!
32. Smoked Beef Roast
A smoked beef roast is a delicious addition to the menu for dinner this Sunday! This smoked beef roast recipe is seasoned with salt, pepper, paprika, garlic, and onion powder.
When you spend all day smoking meat, it makes for an incredible flavor that you can taste it in every bite!
33. Instant Pot Jambalaya
Love your instant pot? This Sunday, make Instant pot jambalaya!
This jambalaya recipe includes made sausage, chicken thighs, shrimp, white onion, celery, green bell pepper, and long-grain white rice.
34. Stuffed Italian Sausages
Stuffed Italian sausages are definitely a recipe that you have to try at least once! These stuffed, yes I said stuffed, sausages are so savory that you will want to make them again and again!
35. Chicken Marsala
Ready to have your guests knocking on your door every Sunday? Then serve them this chicken Marsala recipe and they will want to join in on all your Sunday events!
This chicken Marsala is made with cremini mushrooms, chicken breast, Marsala wine, chicken broth, and heavy cream.
These recipes help bring everyone closer and show their love for one another through delicious and flavorful foods! Which of these summer Sunday dinners are you going to try next?
📋 Recipe