Smoked Beef Roast will create the ultimate Sunday dinner. This smokey, intensely beefy roast takes minimal effort. This means you'll have plenty of time to prepare your side dishes for the perfect family meal!
Best Smoked Beef Roast Recipe
This easy-to-make smoked beef roast is an ideal way to take a very cost-effective cut of beef like the eye of round, top round, or bottom round roasts and add amazing flavor! My smoked roast beef is a family favorite dinner for good reason!
I frequently use these beef round cuts as they are low-fat, undervalued, but extremely flavorful. The rich, beefy flavor is incredibly tasty when smoked!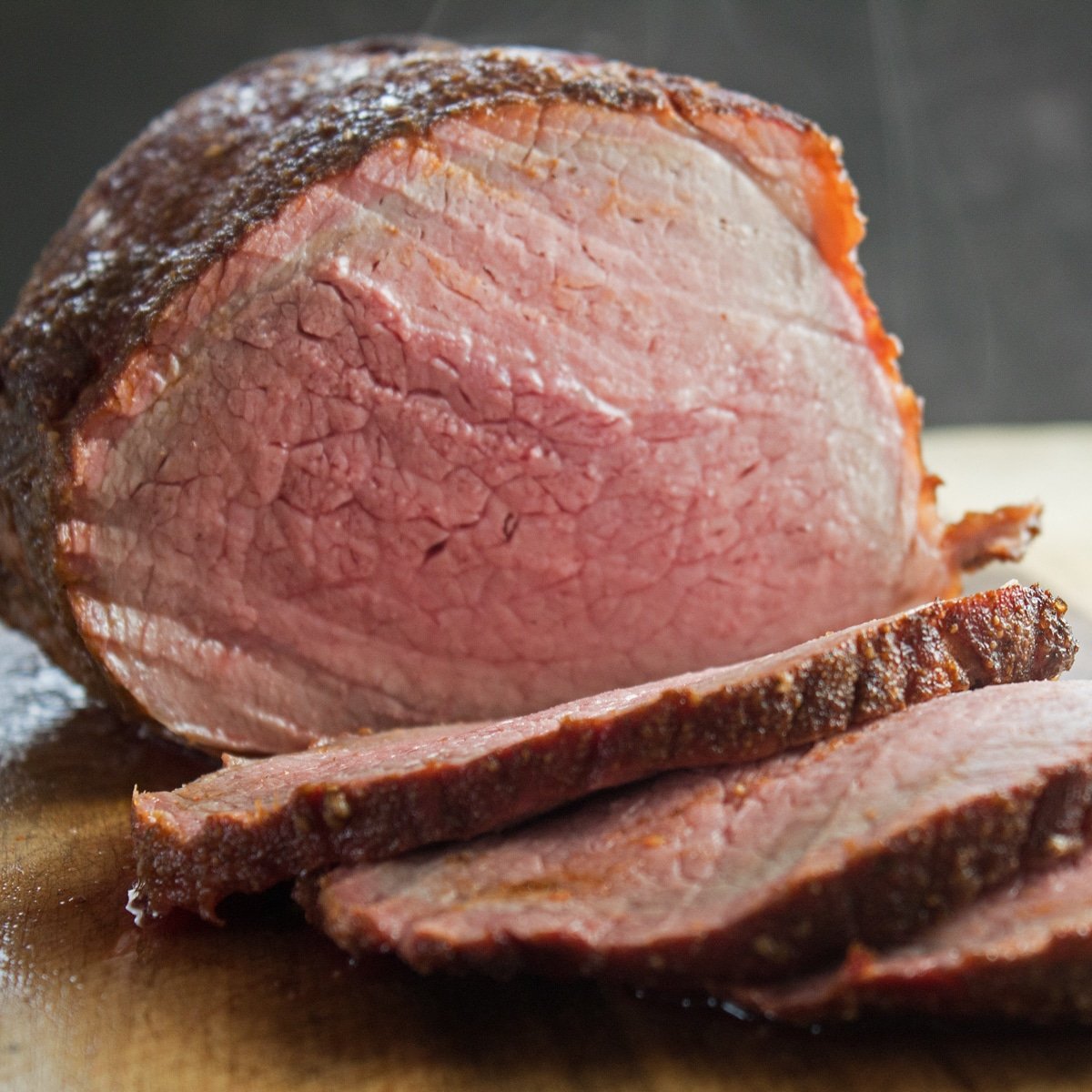 Jump to:
How To Smoke A Roast Beef
Smoking a roast portion of beef is a flavorful way to enhance your roast dinners. You can keep it simple, like I am here, with a basic seasoning blend that's fantastic for beef.
Other options include brining the beef or injecting beef broth into your roast before smoking. Those are other sections I promise to cover soon!
For now, I wanted to touch on some of my favorite things including great, lower-cost beef cuts for roasting and suitable wood flavors to use when smoking beef. Plus all of the simple steps for an incredibly delicious roast beef!
The Best Cut Of Beef For Smoked Beef Roast
I'm using an Eye of Round. It's lean, flavorful, juicy, and tender when cooked low and slow. Plus the leftovers are absolutely perfect for slicing thin and piling high on some smoked roast beef sandwiches or French dip sandwiches.
You can also use the Top Round or Bottom Round as well. These cuts are all part of the beef round, which is described below.
Hindquarter Cut (Beef Rump & Leg)
Generally speaking, this primal cut from the cow is a well-exercised muscle that yields superb results when cooked with care. Because the cuts from the 'Beef Round' are lean with minimal marbling, they will quickly become tough and chewy if over-cooked.
Always watch the roasts carefully, whether they are roasted, braised, or smoked, with a close eye on your beef toward the end of the cooking cycle.
The
beef round

includes:
Top Round - the top round is also known as the 'inside round' and is the top portion of the beef round. It is the most tender of the three beef round portions.
Eye of Round - also called an eye round roast this cut is commonly cut into steaks and used as cube steak. The eye of round is rich in flavor with a good texture when served medium rare!
Bottom Round - the bottom round is usually cut into two portions, the bottom round roast and rump roast. The bottom round is a tougher cut and is typically used as corned beef. The tip of the bottom round is the rump roast and is commonly served as roast beef.
All of the beef round cuts do well when cooked with plenty of moisture. While I would normally baste these roasts, I try to keep my smoker closed from start to finish.
You can, however, add a pan of water to your smoker to enhance the moistness of your smoking beef roast.
Best Wood For Smoking Beef
Oak and hickory are two of the best wood chips to use when smoking meats, along with mesquite which has a strong and distinct smoked flavor. Maple, pecan, and walnut also impart a mild flavor that is good when paired with beef, as well as the fruit tree flavors from apple and cherry woods.
Mesquite – is an oily wood that adds a distinctive flavor to your smoked beef and other meats.
Hickory – adds a strong smoked flavor to your smoked meats and is one of the most popular woods used in smoking.
Apple Wood – adds a great, mild smoked flavor with a touch of sweetness.
Oak – a great smoked flavor that is not overpowering. Oak chips can be used on their own for longer cook times without needing to be combined with any other wood varieties.
Pecan – a wood that is wonderful when used in combination with other woods for smoking. I like to mix pecan chips with a fruitwood for the best flavor and to keep the pecan from adding a pungent flavor.
Cherry – adds a mahogany-like dark coloring to your smoked beef bark. This is a great wood to use in combination with hickory, oak, or pecan. A very versatile wood for smoking any meat!
Maple - even though maple is one I like to use with poultry and sometimes pork, it is a great secondary flavor to combine with stronger woods. The mild maple flavor is slightly sweet and pairs well with hickory.
All of these are wonderful woods to use when smoking beef cuts! You can also get creative, and combine wood chips for customizing your smoked meat flavors.
Oak and hickory are still my top two picks, especially when combined with cherry wood!
Season the Beef Roast
Combine the seasoning in a small bowl. Mix the salt, pepper, paprika, garlic powder, and onion powder until the rub is well blended.
I have three favorite methods for seasoning my roasts:
If I'm thinking far enough ahead and want an amazing crust, I season by applying the dry rub for beef roast directly onto the roast. Leave the meat uncovered and refrigerate it overnight. *This is like a quick dry brine and works fabulously with other meats like pork, lamb, and goat. Allow the meat to come to room temperature for at least an hour before smoking.
Apply olive oil, or your preferred cooking oil, then apply the seasoning blend and distribute the rub evenly by massaging it into the beef cut. Leave your roast out to warm to room temperature for at least an hour before smoking.
Apply Worcestershire sauce and apply the seasoning in the same way as noted above when using olive oil.
Preheat Your Smoker
Once you've selected your desired wood chips or pellets, load the hopper or chip basket and preheat your pellet grill, Traeger, or electric smoker to 225ºF (107ºC). *You get the idea, whatever you're using get things going 🙂
Smoke the Beef Roast
Place the seasoned beef roast directly onto your smoker grill racks. If there is a fat side of your beef cut, roast the beef with the fat facing upward. This allows the fats to break down and keep the roast moist and flavorful, rather than all of the wonderful fatty flavor dripping away directly.
If you have a meat probe available to you, insert the meat probe directly into the thickest portion of the beef roast. Keep the probe away from fatty portions or bone. *A meat probe is ideal, as you can keep your smoker closed throughout the smoking process. This keeps the temperature consistent which is ideal for evenly cooking or smoking any meats.
Smoke your roast at 225ºF ( 107ºC ). Allow the beef roast to smoke for approximately 3o minutes per pound, or 2 hours in the case of this 4 pound eye of round roast.
Remove the smoked roast beef when the internal temperature reaches your desired level of doneness as noted in the section below. I usually remove my beef roasts between 125ºF - 135ºF ( 52ºC - 57ºC ) for a beautifully medium-rare roast.
Cover your cooked roast loosely with a sheet of aluminum foil, in a 'tented' style. Allow the smoked beef to rest for 30 minutes before slicing against the grain to serve.
Internal Temperatures for Smoking Beef Roasts
The level of doneness is based on the internal temperature of the roast as read by a digital meat thermometer. With these leaner cuts of beef ( eye of round - pictured here, top round, and bottom round ) I use the internal temperatures given below for the levels of doneness.
Most importantly, these beef cuts should not be overcooked. Your smoked eye of round ( or top round, or bottom round ) is best served between rare to medium-rare in my opinion.
I recommend medium done at most! Otherwise, the lean cuts tend to dry out rapidly and become tough once cooked beyond medium-rare to medium.
| | | |
| --- | --- | --- |
| 120-125ºF | 49-52ºC | Rare |
| 125-135ºF | 52-57ºC | Medium Rare |
| 135-140ºF | 57-60ºC | Medium |
When serving, slice the roast against the grain. This breaks up the muscle fibers further, making your smoked beef roast portions even more tender!
What To Serve With Beef Roast Dinner
Your spectacular roast is a wonderful part of a Sunday roast dinner. Serve the sliced roast with fantastic potato side dishes like fondant potatoes or Parmesan roasted mashed potatoes. I love sauteed asparagus or garlic green beans for my vegetable side dish, but a simple salad of garden greens is just as tasty.
Don't forget to use your pan juices to make a sensational au jus or beef au jus. And to really make the meal complete try my blackberry crisp or apple dump cake for quick and easy desserts that will feed a family!
Best Smoked Beef Recipes
📋 Recipe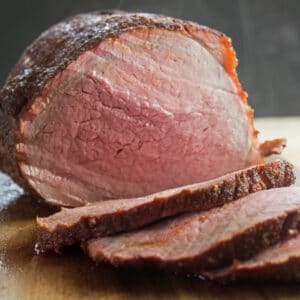 Print Recipe
Leave A Comment
Love This Recipe?
Click On A Star To Rate It!
Smoked Beef Roast
Smoked Beef Roast will create the ultimate Sunday dinner. This smokey, intensely beefy roast takes minimal effort. This means you'll have plenty of time to prepare your side dishes for the perfect family meal!
Total Time
3
hours
50
minutes
Pin Recipe
Share on Facebook
Ingredients
4

lbs

Eye of Round

(or use another lean beef cut suitable for roasting like Bottom Round or Top Round)

2

tablespoon

olive oil

(extra virgin or use Worcestershire sauce)

1

tablespoon

sea salt

1

teaspoon

black pepper

1

tablespoon

paprika

1

teaspoon

garlic powder

1

teaspoon

onion powder
Instructions
Brush olive oil (or use Worcestershire sauce) to coat your beef roast cut.

In a small bowl or a plastic storage bag, combine the seasoning ingredients including salt, pepper, paprika, garlic powder, and onion powder. Apply the seasoning to your beef, massaging the blend into the meat. *Allow the meat to come to room temperature, try to give the beef at least an hour to warm before smoking.

Load the pellet hopper or chip basket with your desired wood chips. Preheat your smoker to 225 degrees F (107 degrees C).

Place seasoned beef into your preheated smoker directly onto the grill. If you have a meat probe to monitor the internal temperature, insert the probe into the middle of the roast. *See notes for proper placement of meat probe.

Smoke for approximately 2 hours at 225 degrees F (107 degrees C), or 30 minutes per pound. Internal temperature should be 120-125 degrees F (49-52 degrees C) for RARE, 125-135 degrees F (54-57 degrees C) for MEDIUM RARE, and 135-140 degrees F (57-60 degrees C) for MEDIUM.

Remove from your smoker and loosely cover with aluminum foil for about 30 minutes to rest the smoked beef roast.

Once rested remove the foil, slice against the grain, and serve.
Equipment You May Need
Notes
*Your meat probe should be placed into the center of the thickest portion of your roast. Make sure that the probe is not in a fatty portion or touching bone.
Nutrition
Calories:
354
kcal
(18%)
|
Carbohydrates:
1
g
|
Protein:
52
g
(104%)
|
Fat:
14
g
(22%)
|
Saturated Fat:
4
g
(25%)
|
Cholesterol:
143
mg
(48%)
|
Sodium:
1002
mg
(44%)
|
Potassium:
823
mg
(24%)
|
Fiber:
1
g
(4%)
|
Sugar:
1
g
(1%)
|
Vitamin A:
431
IU
(9%)
|
Calcium:
47
mg
(5%)
|
Iron:
5
mg
(28%)
Beef, roast, smoked, Smoked Beef Roast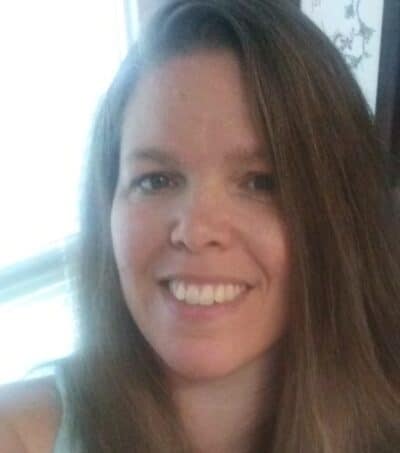 Angela is an at home chef that developed a passion for all things cooking and baking at a young age in her Grandma's kitchen. After many years in the food service industry, she now enjoys sharing all of her family favorite recipes and creating tasty dinner and amazing dessert recipes here at Bake It With Love!