These picnic recipes are perfect for enjoying a leisurely day at the park or lunch on the beach, and they are all easy to transport! Everything can be enjoyed cold or at room temperature, so you don't have to heat a thing. From refreshing chilled salads to staple sandwiches, there are plenty of wonderful picnic recipes to choose from!
Best Picnic Recipes
Picnics are a fun way to spend time with friends and family, and they offer a great opportunity to enjoy some delicious food outdoors! Whether you're planning a romantic picnic for two or a family gathering, the right recipes can make all the difference.
From sandwiches and salads to sweet treats and finger foods, there are countless options to choose from when it comes to picnic food. Keep reading for recipes that are easy to make, transportable, and sure to satisfy everyone's taste buds!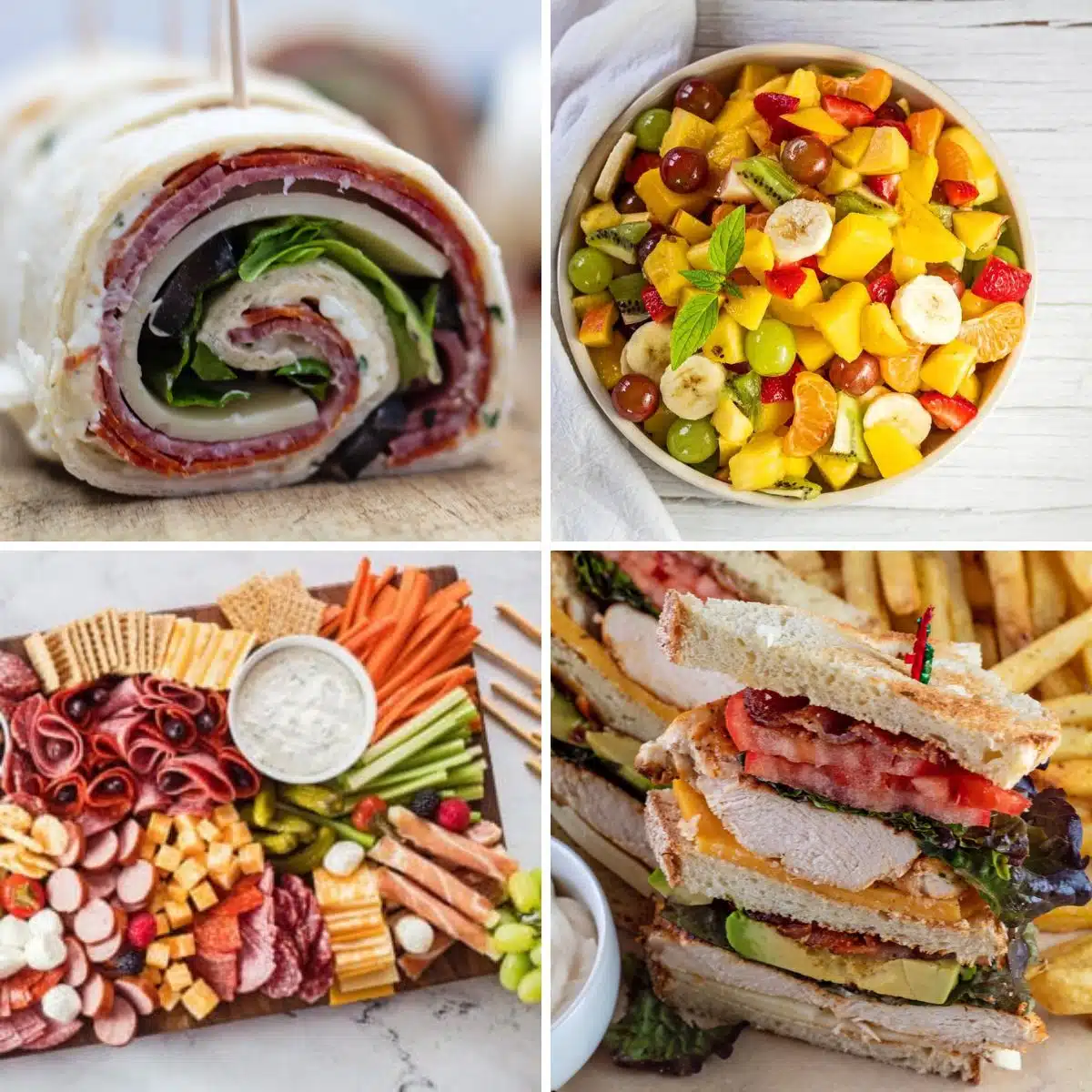 Jump to:
Appetizers
1. Cheese Platter
A cheese platter is a classic addition to any picnic spread and is perfect for those who enjoy grazing on a savory snack! You can choose your favorite cheeses and some fresh fruit, olives, or crackers to customize it to your liking.
Not to mention, a cheese plate pairs perfectly with a big pitcher of fresh and fruity sangria.
2. Charcuterie Board
Charcuterie boards feature an assortment of meats, cheeses, crackers, fruits, nuts, and other tasty bites that are perfect for casual snacking. You can prep everything in advance and toss it in a cooler with a serving board. Just wait to arrange things until you get where you're going!
3. Olive Dip
Chips and dip are one of the easiest dishes to bring along on a picnic. This flavorful olive dip is made with salty green olives, mayo, and cream cheese.
It tastes best chilled, so just plastic wrap it in a bowl and put it on ice! Pair it with your favorite crackers, veggie sticks, or crostinis!
4. Deviled Eggs
Deviled eggs are a staple for any outdoor gathering, and picnics are no different! This is my classic, tried-and-true deviled egg recipe that can be customized or enjoyed as-is.
If you're a deviled egg fanatic like me, you can even invest in a deviled egg plate with a lid for easy transport!
5. Dill Pickle Dip
The creaminess of this dill pickle dip, combined with the briny flavor of the pickles, creates a delicious and addictive taste that's hard to resist! Simply pack the dip in Tupperware and bring along some of your favorite chips or crackers for a delicious summertime snack!
Salads
6. Fresh Fruit Salad
Fresh fruit salad is a refreshing and nutritious option for picnics that is both delicious and easy to make. Simply chop up your favorite fruits (I used bananas, nectarines, mango, kiwi, strawberries, pineapple, and oranges) and toss them together in a large bowl.
Drizzle the super simple honey citrus sauce over the top and chill until you're picnic-ready!
7. Potato Salad
Potato salad is a classic picnic recipe that never disappoints. There's just something about the perfect balance of flavors between mayonnaise, mustard, and pickle relish!
This recipe is my go-to potato salad for any occasion. You can always play around with the flavors by adding your favorite mix-ins!
>>>>See all of my recipes HERE<<<<
8. Egg Salad
The versatility of egg salad is one of the reasons it is so perfect for picnics. It can be served on bread as a sandwich, scooped with crackers, or used as a dip with fresh vegetables! Serving it on a croissant with lettuce may be my favorite option.
9. Pasta Salad with Italian Dressing
Italian dressing provides a zesty and tangy flavor that pairs well with tender cooked pasta and vegetables. Plus, pasta salad can be prepared ahead of time and chilled until you're ready to serve it! It makes a great side dish or vegetarian main course for any picnic.
10. Chicken Salad with Grapes
Chicken salad is another versatile picnic recipe that can be enjoyed as a snack or made into the main course! In this recipe, grapes add juicy bursts of sweetness to every bite, which makes it even more refreshing!
Chicken salad makes fabulous sandwiches, or it can be served over lettuce as a more traditional salad. You can even offer it up as a dip with crackers!
Entrees
11. Salami Sandwich
Sometimes the simplest recipes are the best, and that is particularly true for picnics! This classic salami sandwich on ciabatta bread never disappoints and can quickly and easily be assembled on the spot.
There are no fancy frills or complex sauces. Just salami, lettuce, cheese, bread, and perfectly seasoned mayonnaise!
12. Roast Beef Sandwich
What's not to love about tender slices of roast beef stacked high on crusty bread or rolls? Don't forget a smear of zesty horseradish mayonnaise!
This recipe is a fantastic way to use up any beef roast you may have left over from dinner the day before. Bring some of your favorite chips along and lunch is served!
13. BLT Sandwich
A BLT sandwich is the definition of 'an oldie but a goodie'. You really can't go wrong with the classic combination of toasted white bread, creamy mayonnaise, crispy bacon, fresh lettuce, and juicy tomatoes!
Slice your veggies, cook the bacon, and toast the bread beforehand. That way all you have to do when you get to the picnic is assemble your sandwiches!
14. Pinwheel Sandwiches
Pinwheel sandwiches are a personal favorite because they are easy, and there are so many flavor combinations you can try! In fact, you can make multiple types of pinwheels so that your friends and family can choose from a variety of fillings.
You'll see in this recipe I made Italian pinwheel sandwiches, turkey club pinwheel sandwiches, and tuna salad pinwheel sandwiches. That's just a taste of all the fabulous fillings you can try!
15. Chicken Club Sandwich
If you're looking for a truly satisfying sandwich, this chicken club has everything you could ask for. There's succulent pan-seared chicken breast, crispy bacon, onion, lettuce, tomato, avocado, mayonnaise, and not 2, but 3 slices of bread!
16. Tuna Salad with Pasta
The creamy and satisfying taste of tuna salad combined with perfectly tender bow-tie noodles. It can be served chilled or at room temperature, making it perfect for a summer picnic!
I add red onions and frozen peas to give a pop of color and extra flavor. Serve it as a main course or side dish, it's totally tasty either way!
Desserts
17. Key Lime Pie
You'll love this citrus-packed pie filling made with sweetened condensed milk, egg yolks, and freshly squeezed key lime juice. Everything is baked in a graham cracker crust, then chilled.
The result is a creamy, tangy, and slightly sweet pie that is the perfect ending to any picnic! It's bright, refreshing, and will satisfy any sweet tooth.
18. Banana Bread with Brown Sugar Streusel
Moist and flavorful banana bread is always a welcome sight. This recipe features a sweet and crumbly brown sugar streusel topping that makes the banana bread even more addicting!
Banana bread tastes wonderful at room temperature. Wrap a few slices in plastic wrap and toss them in your picnic basket!
19. Chocolate Peanut Butter Cookies
Who can resist the classic flavor combination of chocolate and peanut butter? Especially when it comes in a decadently soft and chewy cookie package! I roll them in sugar just before baking for a little extra sweetness and crunch.
20. Pasta Frola
Pasta frola is easy to transport and can be cut into small squares or wedges for easy serving during your picnic. It's also a great dessert for those who prefer a less sweet option, as the natural fruit flavors shine through in the filling!
If you're looking for a delicious and unique addition to your picnic spread, this Argentinian lattice tart is a great choice!
21. Lemon Almond Cookies
These lemon almond cookies have a delectably soft texture with a sweet and tart flavor that is refreshing on hot summer days. The recipe itself is incredibly simple, too!
Believe it or not, there are no eggs or sugar in these cookies (just a little powdered sugar in the lemon glaze)! You won't even need a mixer!
With these recipes in your arsenal, you'll be picnicking like a pro in no time! Make sure to come back and tell me how everything turned out by leaving me a comment below!
📋 Recipe