A great walnut substitute is not hard to find, just take a look at this list of easy alternatives for walnuts in any recipe! Whether you have a nut allergy or you simply aren't a fan of walnuts, you have plenty of options to choose from. Don't miss out on your favorite recipes, try one of these substitutes today!
Best Walnut Substitutes
Finding out mid-recipe that you are out of an ingredient is the worst. Especially when the ingredient you are missing is one of the best parts! Walnuts are one of those ingredients.
They are the perfect addition for adding some extra texture to your favorite baked goods. Moreover, they are also a delightful addition on top of salads and other savory dishes.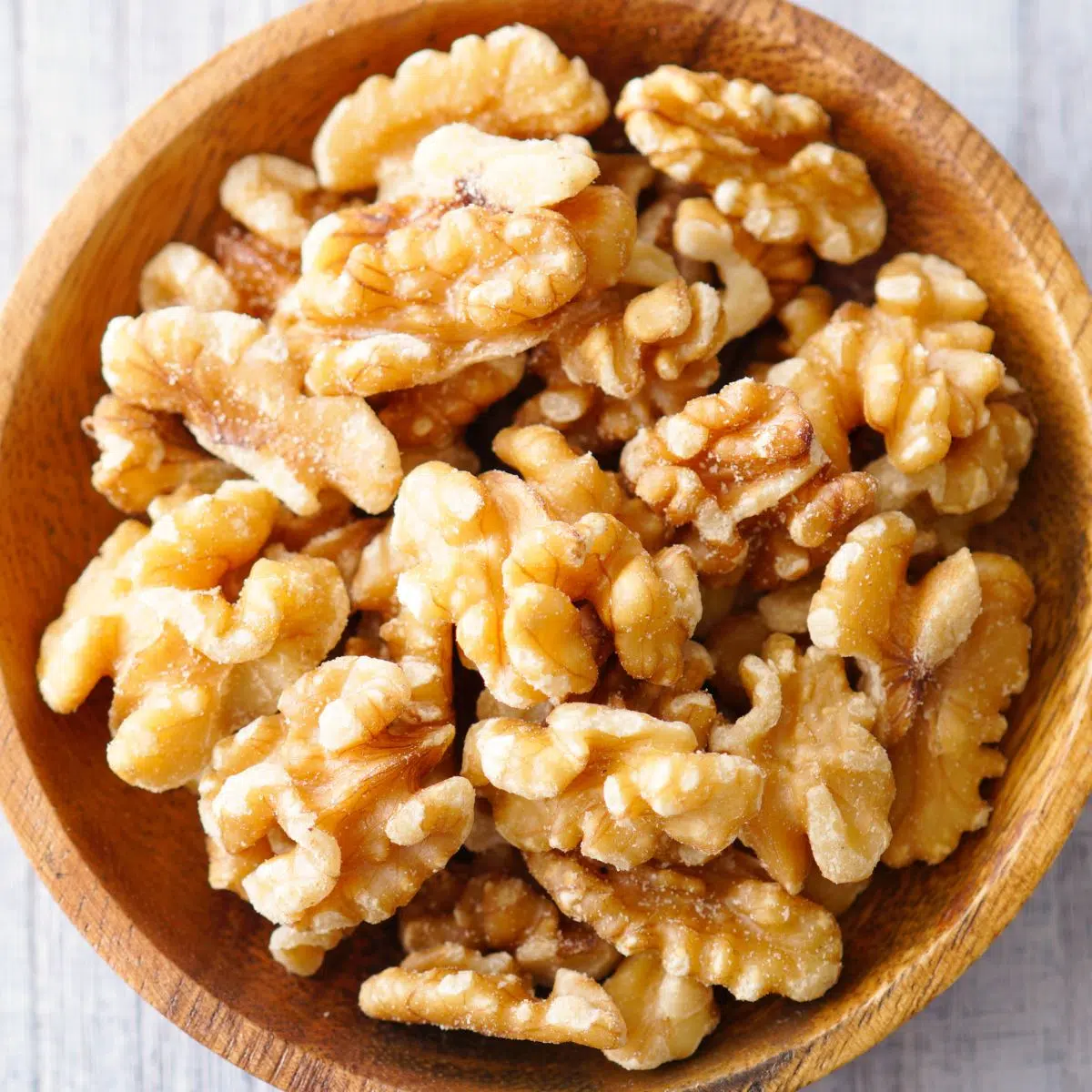 Jump to:
While you can leave walnuts out of many recipes without impacting the taste, there is no need to miss out on that favorite little crunch. Especially with so many walnut substitutes to choose from. Check out my favorite alternatives for walnuts.
Whether you need a substitute for your favorite banana bread or because you have a nut allergy, these substitutes will get the job done.
The Best Substitute For Walnuts
1. Pecans
The best substitute for walnuts is pecans. Pecans have a similar look, texture, and taste. Although, compared to walnuts the flavor is richer and a bit more savory. This will only enrich the flavor of your recipe though!
Pecans are commonly used in the same types of recipes as walnuts. From being added to cookies or other baked goods for a little bit of crunch or crushed up on top of salads they are an easy and delicious alternative. They can even be used as a crushed coating for chicken and fish.
The only downside to pecans is that they are more expensive than walnuts. Therefore, if you have to run to the store for a replacement you may want to stick with the more affordable walnuts. However, if you have pecans on hand or want to elevate the recipe try them out.
Pecans can be used in a direct 1:1 substitution for walnuts.
Other Tree Nuts
In addition to pecans, almost any other tree nut can be used as a substitute for walnuts. The nuts listed below will offer a similar crunchy texture, whether raw or baked into a recipe.
However, unlike pecans that share a similar flavor profile with walnuts, most other tree nuts have their own distinct flavor. Therefore, using any of these substitutes will slightly shift the flavor of your recipe.
2. Brazil Nuts and Hazelnuts
Some nuts have a milder overall flavor though that will not overpower your recipe. Such as Brazil nuts and hazelnuts. These are both good choices for an earthy and mild flavor that will be similar to walnuts.
These two types of nuts are best used chopped up. They can be used in a 1:1 ratio for walnuts in any recipe.
3. Almonds
Next to walnuts, almonds are probably one of the most eaten nuts. Although they are a common type of nut like walnuts, they have their own distinct taste and texture. However, if you prefer almonds over other nuts, these are a good choice.
Almonds can be used whole, chopped, toasted, or raw. Raw almonds are great for use in baked dishes, while toasted almonds are delicious as a topping. Use in a 1:1 ratio (chopped or whole) for walnuts.
4. Cashews
Cashews have a rich buttery flavor that is not as earthy as walnuts. While not used as much in baking, cashews will maintain their taste and texture.
Therefore, if you like cashews they can be used in a 1:1 swap for walnuts.
5. Macadamia Nuts & Pistachios
Macadamia nuts and pistachios each have their own distinct flavors. Therefore, they will impact the flavor of your recipe significantly. However, both pistachios and macadamia nuts are delightfully decadent and flavorful. Either one will add a wonderful and savory flavor to any recipe.
They can both be chopped up for a wonderful rich coating for chicken and fish. In addition, they both pair excellently with sweets and can be baked into a dessert. Like pecans, these two are more expensive than walnuts though. So, make sure that you love the flavor of whichever nut you choose as a substitute.
Use either in a 1:1 ratio.
6. Peanuts
You may already know that peanuts are not a nut but a bean (or legume). However, they have the same crunchy texture qualities as tree nuts.
One important thing to point out about peanuts is that they are one of the most common foods for people to be allergic to. Therefore, if you are trying to find a substitute for someone with a nut allergy it is best to stay away from peanuts. Instead, aim for one of the completely nut-free alternatives below.
A bonus of peanuts is that they are quite inexpensive. So, if you have some on hand they can work as a nice crunchy topping or coating. When it comes to baked goods though, they don't offer the best flavor and texture as other nuts do.
Although peanuts can be used in a 1:1 ratio for walnuts it is best to start with a smaller amount to avoid changing the taste of your dish too much. Start with half and then add more if desired.
Nut Free Substitutes for Walnuts
7. Pumpkin Seeds
If you are looking for a nut-free alternative for walnuts, then reach for pepitas. Pepitas, aka pumpkin seeds, are a wonderful choice. They have mild flavor and texture that resemble walnuts. Especially when they are toasted!
Pumpkin seeds can be purchased raw, toasted, salted, or unsalted. The most important thing is that you buy the already shelled ones. While pumpkin seeds straight from the pumpkin are good for munching on (shell and all) they do not work well as a substitute.
Use in a 1:1 ration for walnuts.
8. Sunflower Seeds
Another seed option that can work well in certain recipes is sunflower seeds. Once again, make sure you are getting the shelled version. Depending on your recipe (or preference) look for either salted or unsalted.
Unlike pumpkin seeds which are best used toasted, sunflower seeds are tasty and offer a nice little crunch when raw. While they are a good choice as a topping for savory salads or soups these are not the ideal choice for replacing walnuts in baking.
Their smaller size will not provide the ideal texture. Moreover, the earthy taste may not pair as well with your sweet dish in the same way pepitas will.
The volume of sesame seeds is different from walnuts. Therefore, you will want to use less, to begin with. Start with half or three-quarters of the amount called for in your recipe. You can always add more if there is not enough flavor or texture.
Other Seeds
In addition to pumpkin seeds and sunflower seeds, other delicious seeds can be used as alternatives. These choices will provide a fun alternative to walnuts with a new earthy flavor. However, while the seeds listed below are wonderful choices, they will not lend the same texture and taste as walnuts.
Since these three seeds are much smaller than walnuts you will want to use less than the recipe calls for in walnuts. Begin with half and add more if needed or wanted.
9. Sesame Seeds
Sesame seeds can be used raw or toasted. However, as a topping, they are especially delicious toasted. This brings out the flavor of the seeds and creates added texture.
10. Flax Seeds
Flax seeds have a nice nutty flavor and can be used as a topping on salads, soups, and even ice cream. However, they will not have the same crunch as walnuts.
If you want more of a crunch, then use whole flax seeds rather than ground flax seeds.
11. Chia Seeds
Chia seeds have a milder flavor than other seeds and nuts. Therefore, you may not recognize the texture or taste all that much. However, they will add a boost of nutrients.
Leave Them Out
While there are several choices for delicious alternatives to walnuts another option is to simply leave them out. In most recipes, walnuts are an addition but not the main ingredient. Therefore, leaving them out may miss the texture, but it will not impact the overall flavor.
More great substitute pages to help you out with all of your cooking and baking!
We hope we've helped you find the perfect walnut substitute for your recipe! Let us know which substitute worked best for you by leaving us a message in the comment section below!
Do you love a recipe you tried? Please leave a 5-star 🌟rating in the recipe card below and/or a review in the comments section further down the page.
Stay in touch with me through social media @ Pinterest, Facebook, Instagram, or Twitter! Subscribe to the newsletter today (no spam, I promise)! Don't forget to tag me when you try one of my recipes!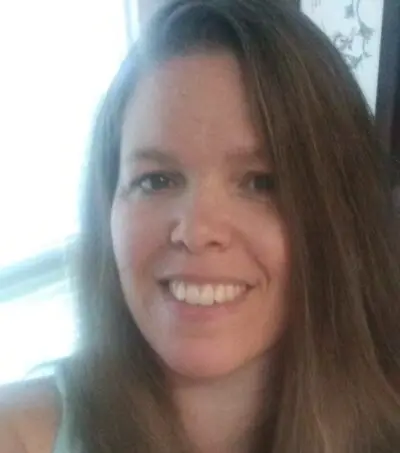 Angela is an at home chef that developed a passion for all things cooking and baking at a young age in her Grandma's kitchen. After many years in the food service industry, she now enjoys sharing all of her family favorite recipes and creating tasty dinner and amazing dessert recipes here at Bake It With Love!