The very best recipes for summer lunch ideas are those that are light, quick and that can be loved and shared with the whole family! Whether you're hanging out with a group of friends, have family visiting, or are just home with the kids on summer vacation, these summer lunch ideas are sure to be a hit with everyone!
The Best Summer Lunch Recipes
Summer is such a fun time- between swimming, hanging with the kids, visiting family, and lounging outside, you are bound to get hungry! I have gathered together the best summer lunch ideas that are sure to please everyone whether it be a large crowd, your kids, or even by yourself!
This list contains classics like egg salad sandwiches as well as new and fun twists like sweet potato sushi! I know you will be able to find something for any craving you might be having!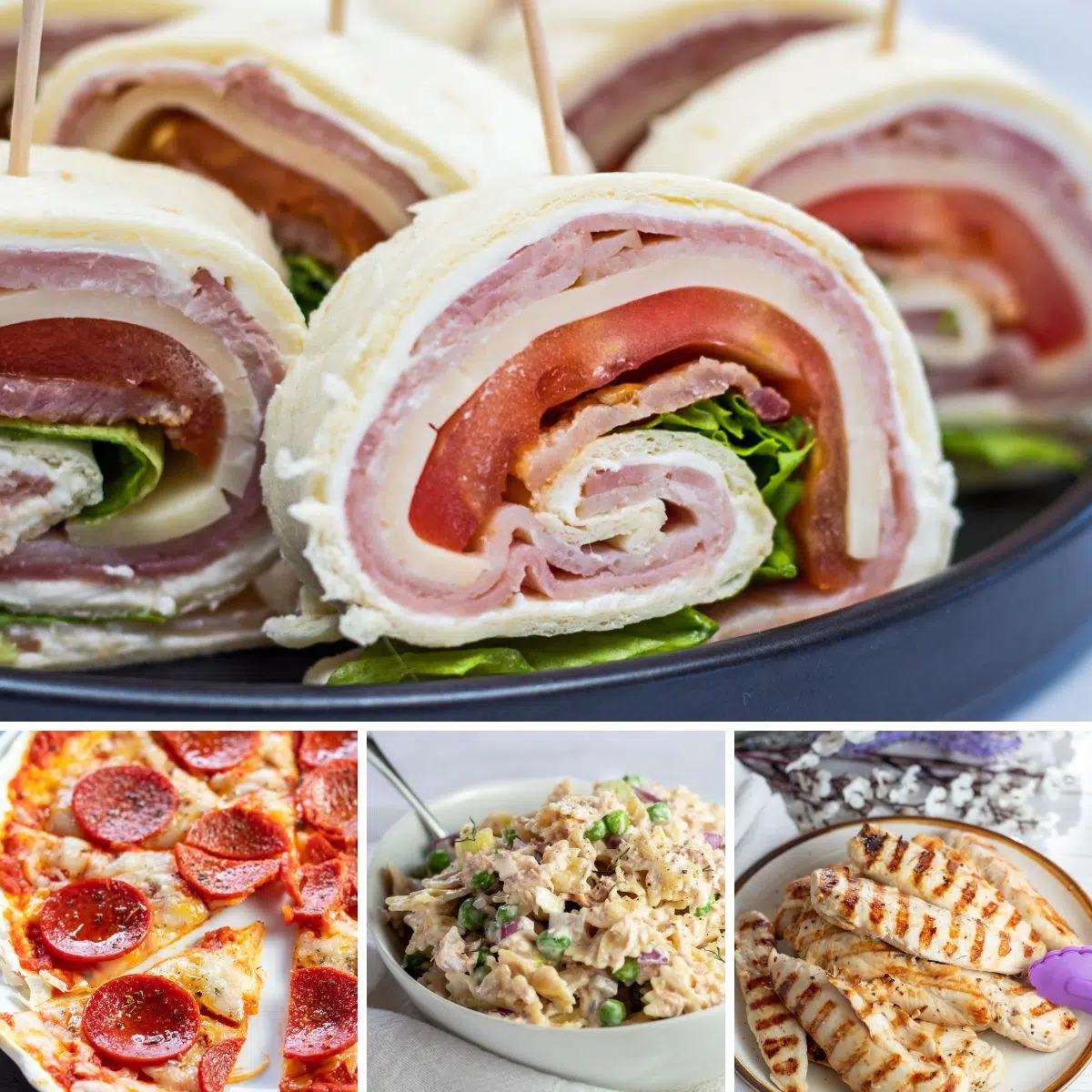 Jump to:
1. Wedge Salad
This refreshing wedge salad is great for those hot summer days. It's simple and light, yet delicious and satisfying!
2. Seared Ahi Tuna Steaks
This dish can be ready to eat in only 10 minutes, but it'll taste as if it took much longer. The sesame seed crust on these Ahi Tuna steaks will have you wanting to eat this all week!
3. Egg Salad Sandwiches
This classic lunch idea is made with staple ingredients that you probably already have! No need to run to the store, you'll have this sandwich made in no time!
4. Tuna Salad with Pasta
Pasta salad is delicious already, throw in some hearty tuna and you'll have a new favorite lunch recipe! This recipe makes 6 servings so you can save the leftovers for another day!
5. Shredded Chicken Tacos
These delicious chicken tacos are a great summer lunch idea for when the kids are out of school! Dress it up or down with any toppings you want!
6. Chicken Club Sandwich
This classic dish is better than anything you'll be able to get at your neighborhood sandwich shop! This sandwich is stacked high with delicious toppings that will satisfy any sandwich craving you could have!
7. Tortilla Pizza
This lunch recipe is an absolute staple in my house as it is so quick and easy, yet delicious! You get all the flavor of your favorite pizza but on a light and crispy tortilla!
8. Air Fryer Frozen Burgers
Yes, burgers can be made in the air fryer and, let me tell you, they are delicious! No need to wait for the meat to thaw, pop them in the air fryer still frozen and you're ready to go!
9. Pinwheel Sandwiches
These little sandwiches are so versatile that you can fill them up with practically anything you want! This kid-friendly lunch is great for serving large groups, too!
10. Best Chicken Tortilla Soup
This delicious, savory soup is loaded with so much flavor that you'll want to eat it again for dinner! Once you make this soup once, your family will request it again and again!
11. Dirty Rice
If you love Cajun food then you are going to love this hearty, flavorful dirty rice! It is one of my favorite summer lunch ideas for when I'm in the mood to mix it up!
12. Microwave Baked Potato
Why wait an hour for a baked potato in the oven when you can have one ready to eat in less than 15 minutes? This is a great option for a truly quick and easy lunch!
13. Pan Seared Salmon
This healthy and quick lunch will have you feeling so good afterward! Loaded with protein and Omega-3s, this is a recipe that you'll love to have around!
14. Cracker Barrel Grilled Chicken Tenders
These kid-approved chicken tenders are so easy, they only use 4 ingredients! Pair them with any side your kids like and you'll have a great summertime lunch!
15. Fish Stick Sandwich
This sandwich is a fun and delicious way to upgrade your traditional fish sticks! With the ability to customize the sandwich to your specific likes, this filling sandwich will be a hit with both kids and adults!
16. Creamy Beef Shells
If you're looking for some comfort food, this savory and cheesy pasta dish is the way to go! Ready in only 20 minutes, you'll be ready to eat in no time!
17. Sweet Potato Sushi
This unique summer lunch idea is such a fun and delicious way to mix up your ordinary lunch routine. The sweet and salty flavors in this vegetarian sushi will have you coming back for seconds!
You can't go wrong with any of these summer lunch ideas! Don't forget to come back and tell us which recipes were a hit at your house!
📖 Recipe Card