Here's what to serve with seafood boil so you can find the best side dishes for your delicious seafood feast! You'll find Cajun favorites, Southern comfort food, and so much more on this list. Try a few different recipes and set up an epic seafood dinner spread!
Best Side Dishes For Seafood Boil
I love a good Cajun seafood boil with a variety of fresh seafood and plenty of butter. Crab, mussels, crawfish, shrimp, clams, you name it, I'll throw it in the pot!
While the seafood is undoubtedly the star of the show, no meal is complete without a few tasty side dishes. Below are some of the best recipes to serve at a seafood boil, no matter what's in the pot!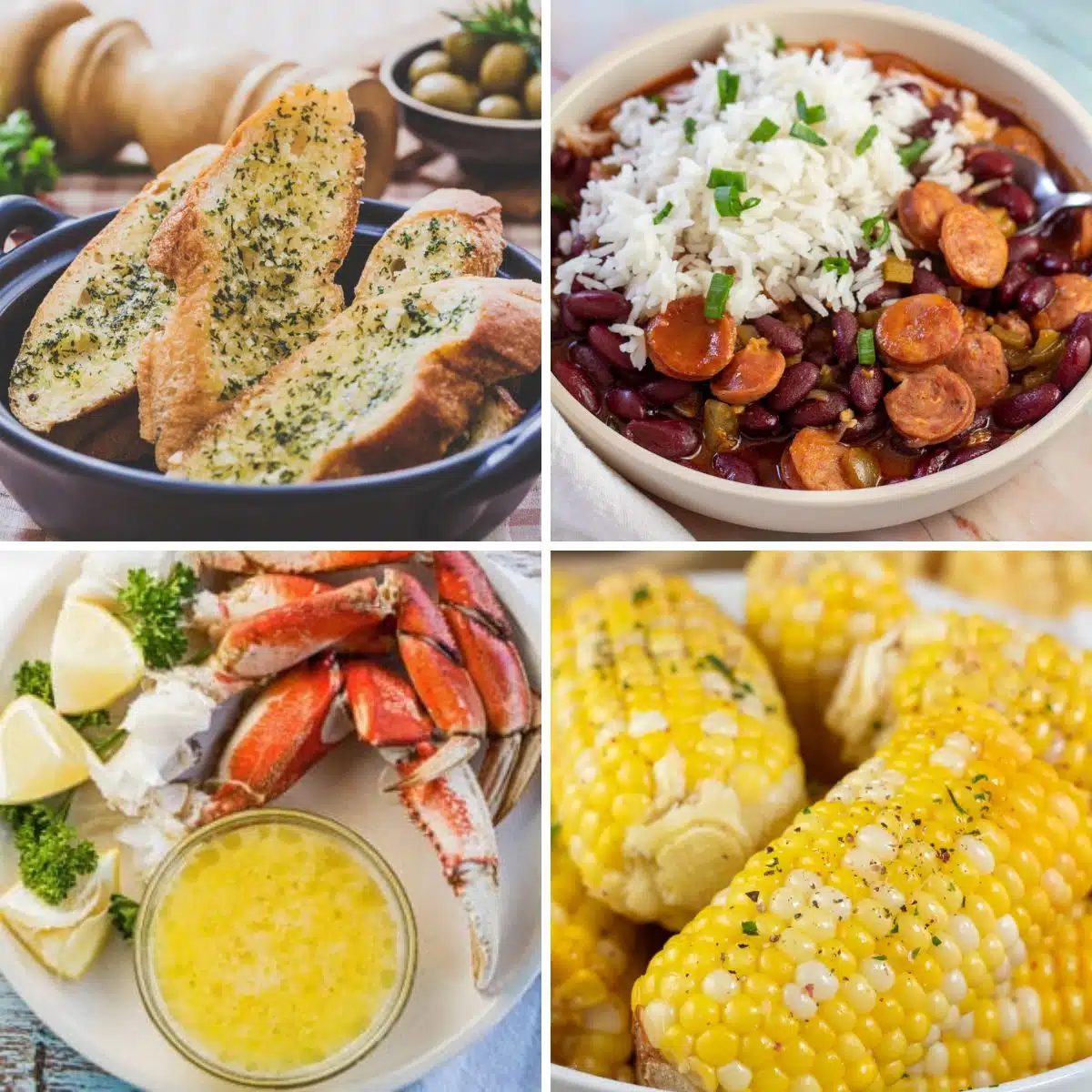 Jump to:
What Is A Seafood Boil
A seafood boil (also called a low country boil or a Cajun boil) involves boiling a variety of seafood with vegetables and spices all together in a large pot.
Typically, a seafood boil is served as a communal meal for a large group of people. It's a prominent Southern tradition, particularly in coastal towns, and is a favorite choice for celebrations of any kind!
A seafood boil usually includes shellfish such as shrimp, crab, crawfish (also known as crayfish or crawdads), and sometimes mussels or clams. Other ingredients can include corn on the cob, potatoes, sausages (like andouille or smoked sausage), and onions. The exact combination of ingredients can vary based on region and personal preference.
1. Oven Garlic Bread
Nothing beats soaking up all that perfectly seasoned seafood broth with toasted bread! When you make it at home, you have complete control over how crispy you make your garlic bread.
2. Coleslaw
Coleslaw is pretty much a staple side dish anywhere seafood is served. The cool, creamy, and crispy texture makes it a great option for hot summer days!
3. Steamed Corn on the Cob
Some people like to boil the corn right along with the seafood, but there's no shame in steaming it on the side, either! When you steam your corn separately, you can personalize it with your favorite seasoning blends.
4. Drawn Butter
If you ask me, a big batch of drawn butter is a must at any seafood boil. Crab legs, crawdads, clams, shrimp, it all tastes even more delicious with a little extra butter!
5. Red Beans and Rice
Red beans and rice is a Creole classic, so naturally, it pairs perfectly with seafood. It's a hearty side dish that is savory, satisfying, and filling, so it's a great choice if you are only looking to serve a couple of sides.
6. Roasted Green Beans
Roasted green beans are a great way to add some green vegetables to your seafood boil. Add a squeeze of lemon on top of the green beans to complement all of that amazing seafood!
7. Mashed Sweet Potatoes
Mashed sweet potatoes are a Southern favorite, and they are super easy to prepare. You can make them buttery and savory, or add honey and warm spices to sweeten them up!
8. Hush Puppies
These crispy fried cornmeal balls are typically served with seafood, so they seem like an obvious choice for a seafood boil! They're just as delicious dunked in tartar or cocktail sauce, too!
9. Roasted Okra
Okra is a common side dish in Cajun and Creole cooking and would be right at home next to a mound of boiled seafood! If you're in a hurry, you can always pop a bag of frozen breaded okra in the air fryer and cook until crispy, too!
10. Sour Cream Cornbread
Cornbread is classic comfort food, and this cream corn cornbread is some of the moistest and most delicious cornbread you'll ever try. The creamed corn gives it a subtle sweetness that's hard to resist!
>>>>See all of my recipes HERE<<<<
11. Smoked Gouda Mac and Cheese
If you're looking for a side dish that will have all the guests talking, this smoked gouda mac and cheese will get the job done. It's rich and creamy with a subtle smokey flavor that will have everyone scrambling for seconds!
12. Deviled Eggs
When it comes to parties, deviled eggs are always a crowd-favorite appetizer. A seafood boil is a party more often than not, so bring on the homemade deviled eggs!
13. Air Fryer Baby Potatoes
While potatoes can be boiled in the pot with the seafood, it's just as easy to toss a few baby potatoes in your air fryer! The inside of these bite-sized potatoes stays nice and fluffy while the outside crisps up beautifully.
14. Caesar Salad
If you've ever had a shrimp Caesar salad, then you know just how delicious Caesar dressing tastes with seafood! It's an easy and light appetizer that will leave you plenty of room for all the delicious food to come.
15. Baked Beans
When I think of cookouts, I think of a big pan of baked beans to go around! My baked beans feature ground beef and bacon, so they are super flavorful and oh-so-satisfying!
16. Cilantro Lime Rice
Sometimes you just want to keep things simple, and when that's the case, a big pot of cilantro lime rice always does the trick. The citrus flavor complements the seafood nicely, and everyone enjoys rice!
17. Clam Chowder
As if an epic seafood boil wasn't enough, you can really impress your guests by starting out with some homemade clam chowder from scratch! The recipe is easier than you'd think, just don't forget the crackers.
18. Butter Swim Biscuits
These fluffy buttermilk swim biscuits can be served with butter or jam, or you can dunk them right in all of that delicious seafood broth! Just set them out on the table and watch them disappear.
19. Fresh Fruit Salad
This fruit salad is made with a rainbow of fresh fruits tossed in a sweet citrus dressing. It's a nice way to contrast the rich and savory (maybe even spicy) flavors of a seafood boil!
20. Creamed Corn
If you prefer corn 'off the cob,' you'll be head over heels for this classic creamed corn! It's ready to eat in just 15 minutes, and even though it's made from a vegetable, it always seems like a special treat.
21. Bacon Wrapped Jalapeno Poppers with Cream Cheese
Spicy jalapenos, salty bacon, and smooth and creamy cream cheese come together to make the perfect balance of flavors! No matter the occasion, bacon-wrapped jalapenos with cream cheese filling are always a hit.
Tips For Choosing What To Serve At A Seafood Boil
If you're trying to find the perfect side dishes for your next seafood boil, here are a few things to keep in mind. You will want to consider the flavor of your seasoning and what additional veggies you'll already have cooking with the seafood!
Complementary Flavors: Seafood pairs perfectly with citrus and herb flavors. A side of lemon wedges for squeezing or a fresh herb salad are both great choices.
Starchy Sides: A starchy side dish can help soak up the delicious spiced broth from the seafood boil. You can never go wrong with bread, cornbread, or biscuits!
Keep It Classic: If your seafood boil is Cajun or Creole-inspired, consider serving traditional Southern sides such as collard greens, okra, or red beans and rice.
Cool and creamy: If you like your seafood with a kick, cool and creamy side dishes are a great way to balance out the heat. Try something light and refreshing, like a cucumber vinegar salad or a creamy chip dip!
Dipping Sauces: Don't forget about dipping sauces! Tartar sauce, cocktail sauce, or a simple lemon butter can take your seafood boil to the next level.
I hope with these recipes and tips; you can throw an amazing seafood boil you won't soon forget! Comment below what kind of seafood you like to add to your seafood boils!
🦐 🐟 🦞 More Seafood Recipes
📋 Recipe