What to serve with tuna steaks: A collection of the best and easiest side dish recipes to serve with your tender and buttery tuna steak! Each side will help turn your tuna steak into a flavorful and well-rounded dinner that your family will love! From savory potatoes to hearty pasta and healthy vegetables, this list has it all!
Best Side Dishes For Tuna Steaks
Tuna steak is an impressive restaurant-quality main course that pairs well with a large variety of different sides! If you're looking for the best and easiest sides that will complete your tuna steak dinner, you've come to the right place!
I've put together a list of my favorite side dishes that are low effort, yet full of flavor and absolutely delicious! From a cucumber vinegar salad to Instant Pot long-grain white rice, you'll be able to find a dish that everyone at the dinner table will love.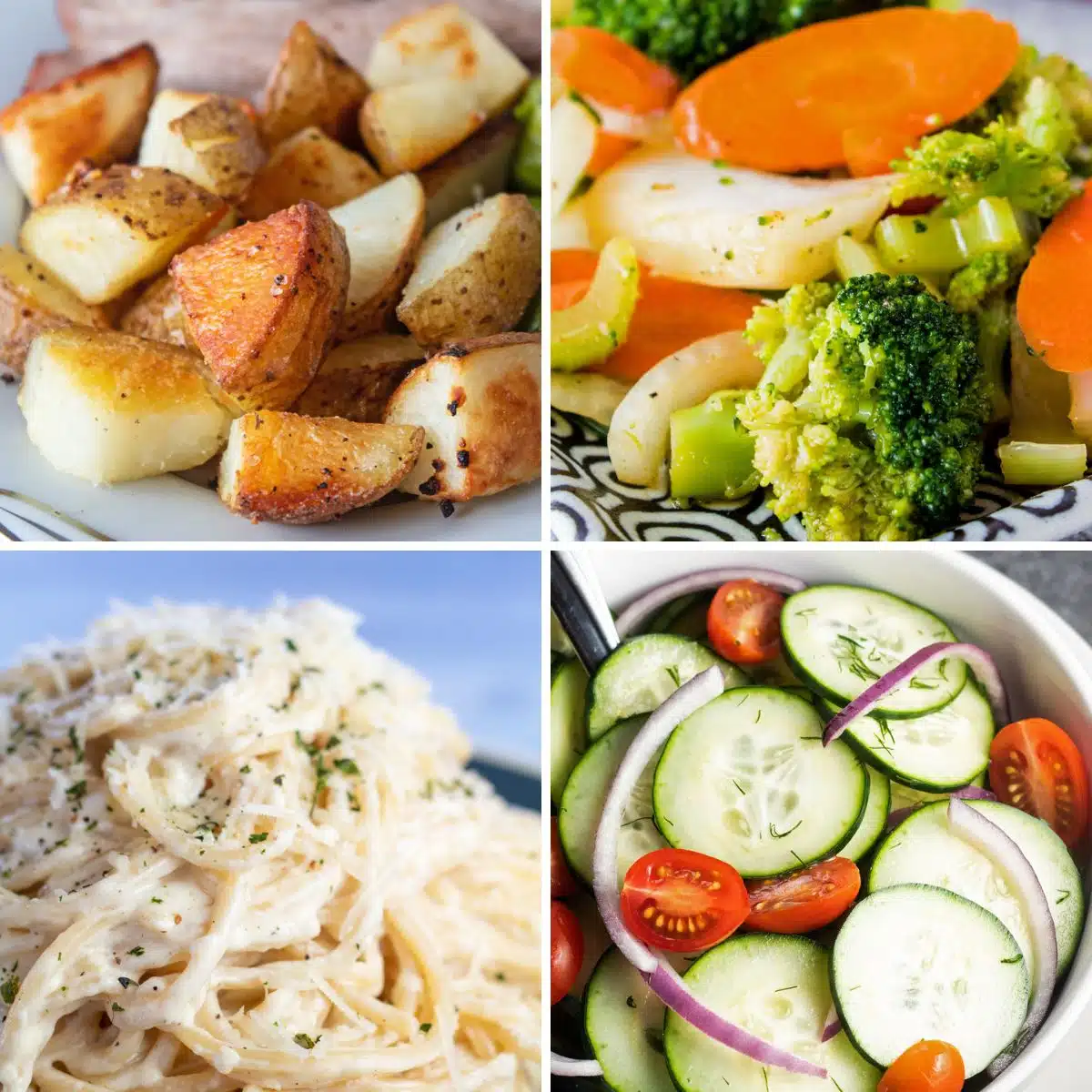 Jump to:
Want More Recipes? Enter your email below and we'll send them straight to your inbox!
For even more side dish ideas, check out my post on what to serve with fish! Every recipe on that list will pair wonderfully with tuna steak as well!
1. Oven Roasted Potatoes
These delightfully crispy oven-roasted potatoes are a super flavorful and easy side to pair with your tuna steak dinner! They're melt-in-your-mouth tender, plus you can use your favorite blend of seasonings to match the flavor profile of the protein you serve it with!
Try my crispy roasted red potatoes, ranch roast potatoes, or curry roasted potatoes too!
2. Sauteed Green Beans
This healthy vegetable recipe uses fresh green beans, but there is no blanching required! Sauteed green beans will come out perfectly tender and crispy every time and will always taste great with tuna steaks!
3. Saffron Jasmine Rice
Saffon jasmine rice brings an elevated flavor to lamb, chicken, and seafood dinners! This recipe uses jasmine (or basmati) rice cooked in saffron-infused water, then it's served with caramelized minced onion and chopped cilantro!
4. Greek Pasta Salad
This greek pasta is a wonderful and light side dish that features farfalle pasta, red onions, kalamata olives, cherry tomatoes, artichokes, and a Greek dressing. It's packed full of flavor and ready to serve in 15 minutes!
5. Cucumber Vinegar Salad
Cucumber vinegar salad has a delightful combination of tangy and sweet flavors! It's a light, crisp side that will pair well with your tuna steak or other proteins.
My Asian cucumber salad would taste wonderful with tuna steak as well!
6. Steakhouse Creamed Spinach
Steakhouse creamed spinach is one of my favorite sides to prepare with tuna steaks because it's so rich, creamy, and easy to make! This recipe features a creamy sauce that consists of mozzarella, cream cheese, and Parmesan.
7. Balsamic Roasted Brussel Sprouts
These quick and easy balsamic roasted brussel sprouts are tossed in olive oil, balsamic vinegar, and honey! They're a fantastic choice when you are needing a vegetable side to round out your dinner.
If your family loves brussel sprouts, my pan-seared brussel sprouts, maple-roasted brussel sprouts, and BBQ bacon-wrapped brussel sprouts.
8. Cream Cheese Stuffed Mushrooms
Tasty mushrooms are stuffed with a mixture of cream cheese, Parmesan cheese, and a handful of seasonings! They're the perfect bite-size appetizer or side to whip up for any occasion.
9. Baked Sweet Potatoes
If you're looking for an easy vegetable side dish that doesn't require much prep work, why not make some tender and fluffy baked sweet potatoes? They can pair well with many different dishes and you make them sweet or savory!
My pan-fried sweet potatoes, roasted sweet potatoes & onions, and mashed sweet potatoes would be great with tuna steak too!
10. Baked Zucchini Fries
Tender zucchini slices are coated with a mixture of Italian seasoned bread crumbs and Parmesan and then the oven takes over! These fries are a great alternative to deep-fried french fries and an easy way to get kids to eat vegetables.
You can pair them with my delicious Cajun dipping sauce or blue cheese dressing!
11. Hibachi Vegetables
These hibachi vegetables are a wonderful addition to tuna steak and other fish too! This recipe features bok choy, broccoli, carrots, celery, and onion, however, you can use any of your favorite vegetables!
12. Cream Cheese Pasta
Everyone will love this pasta that is tossed in a creamy garlic, cream cheese, and Parmesan sauce! It's a comforting side dish that is easy enough to make for any night of the week.
13. Instant Pot Long Grain White Rice
Get perfectly tender and delicious white rice when you cook it in the Instant Pot! All you have to do is wash the rice beforehand and then the pressure cooker takes over.
Also try my Instant Pot cilantro lime rice, Instant Pot basmati rice, and Instant Pot jasmine rice!
I hope that this list has helped you decide what you would like to serve with your tuna steak dinner! Leave me a comment below to let me know which ones you choose to make!
>>>>See all of my recipes HERE<<<<
🐟 Tasty Seafood Dinners
📋 Recipe